Hello from Portland, Oregon!!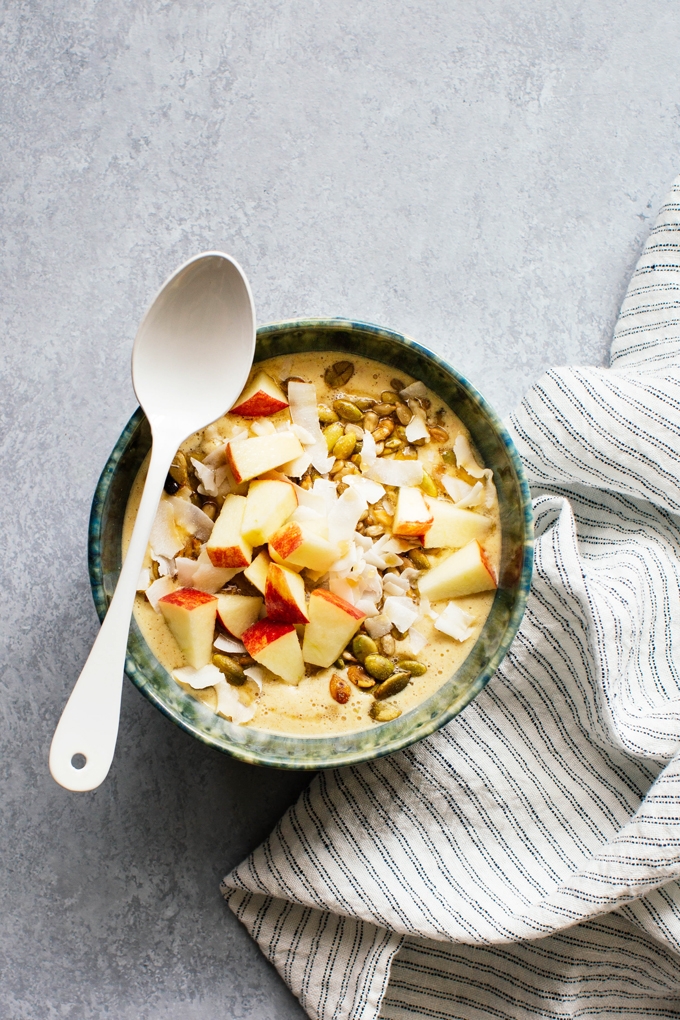 Jorge and I are eating our way through the city over Labor Day Weekend, and if you're interested in checking out all of our delicious travels, come say hello on Instagram!  We're sitting at Pip's Original Doughnuts at the moment, enjoying a plate of freshly-fried mini doughnuts while I finish up this article 🙂
Now, on to the recipe.
This Spiced Oatmeal Smoothie Bowl takes one of my favorite breakfast beverages to the next-level with the addition of healthful toppings, a motley mix of crunchy seeds, shaved coconut, fresh fruit and sweet maple syrup. Out of the glass and into the bowl, the thick smoothie base, flavored with apples, oats and spices, is consumed using a spoon rather than a straw. Toppings are scattered over the surface of the bowl, providing contrasting flavors and textures. Packed with various nutrients, this smoothie bowl can easily fuel an entire morning.  Given how sinfully I've been eating this vacation, I am going to be having one of these smoothie bowls every morning for the next week to balance things out!  Continue reading for the recipe (plus fun variations!).