It has been so HOT in San Diego recently.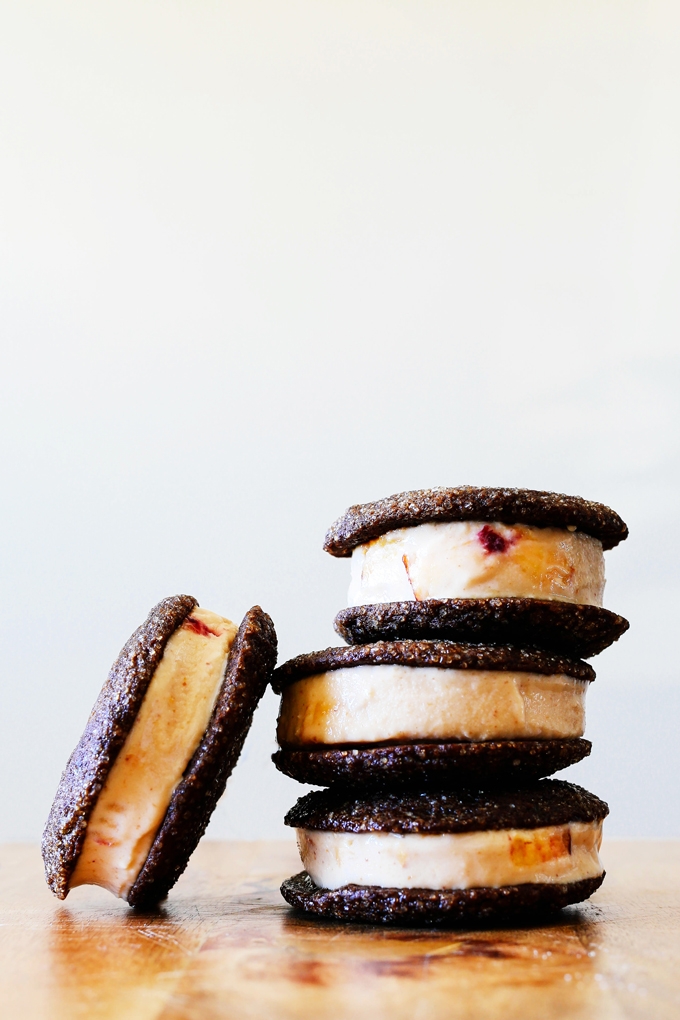 For those of you in typically warmer summer climates, you may laugh at me when I say that it's been an uncomfortable 75 – 80 for the past week.  But those seemingly normal temps have been accompanied by a thick blanket of humidity, something that we rarely get here in San Diego.  I used to deal with humidity all the time when I lived in New Jersey, but I'm coming up on my 11th year in SD, and I've completely lost all tolerance.
This uncharacteristic heat has me craving cold, sweet treats nighty.  My freezer is stocked with various tubs of homemade and store-bought ice creams, including this Fresh Peach Ice Cream.  Made with both a blended peach puree and macerated bits of yellow peach, this egg-free ice cream is just packed with peach flavor.  Like scoopable summer.
When I'm feeling lazy, I'll enjoy a scoop or two of ice cream with some fridge staples, including jam, caramel sauce, or ginger syrup.  OR I'll make ice cream sandwiches with store-bought cookies.  When I'm feeling a bit more ambitious, I'll whip up a fresh batch of cookies for ice cream sandwiches.  Here, I've paired this Fresh Peach Ice Cream with dark, glistening Gingersnaps.  These cookies are bursting with notes of ginger, star anise, brown sugar and molasses. Ginger pairs harmoniously with peach here, forming an addicting sweet treat.  Continue reading for the recipe.