Kitchen Konfidence is officially 4 years old!!!  And I'm celebrating with a cocktail.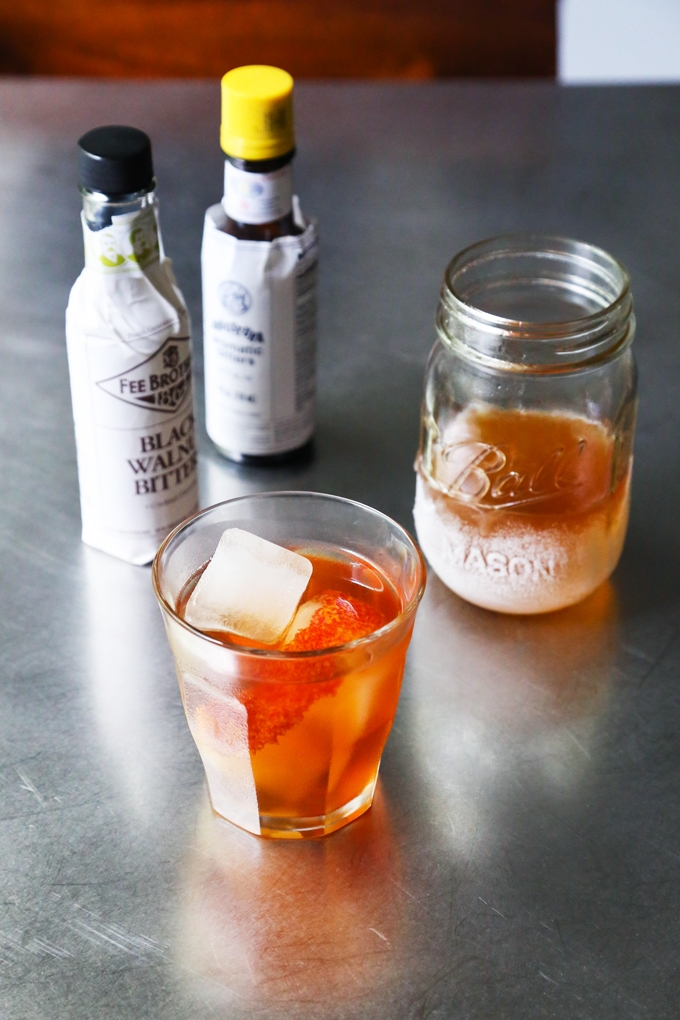 A Brown Butter Old Fashioned to be exact.  This recipes starts with a rapid infusion of bourbon and nutty brown butter.  And by rapid, I mean 24 hours.  In the infusion world, that's fast.  Toasty, aromatic brown butter is added to smokey bourbon, forming, quite possibly, one of the best things EVER.  The smell is incredible, and the taste is just as good.  I had a hard time keeping myself from drinking it straight up.
An Old Fashioned cocktail is typically made with bourbon, sugar, and bitters; served over ice; and garnished with an orange slice.  The first sip of an Old Fashioned is usually quite strong; however, as the ice melts, the drink becomes pleasantly diluted.  Here, I've tweaked the ingredient list just a bit to compliment the Brown Butter Bourbon base.  Black Walnut Bitters are added with Angostura Bitters to add some depth of flavor, and a few drops of liquid smoke compliment the smoky notes found in bourbon.  I've also garnished with a slice of blood orange peel, but you can use a regular orange if you can't find a blood orange.  Continue reading for the recipe, plus my thoughts on 4 years of blogging.