Kale is still frequently on the menu at my house, and this Kale Salad with Miso-Lemon Vinaigrette is my latest creation.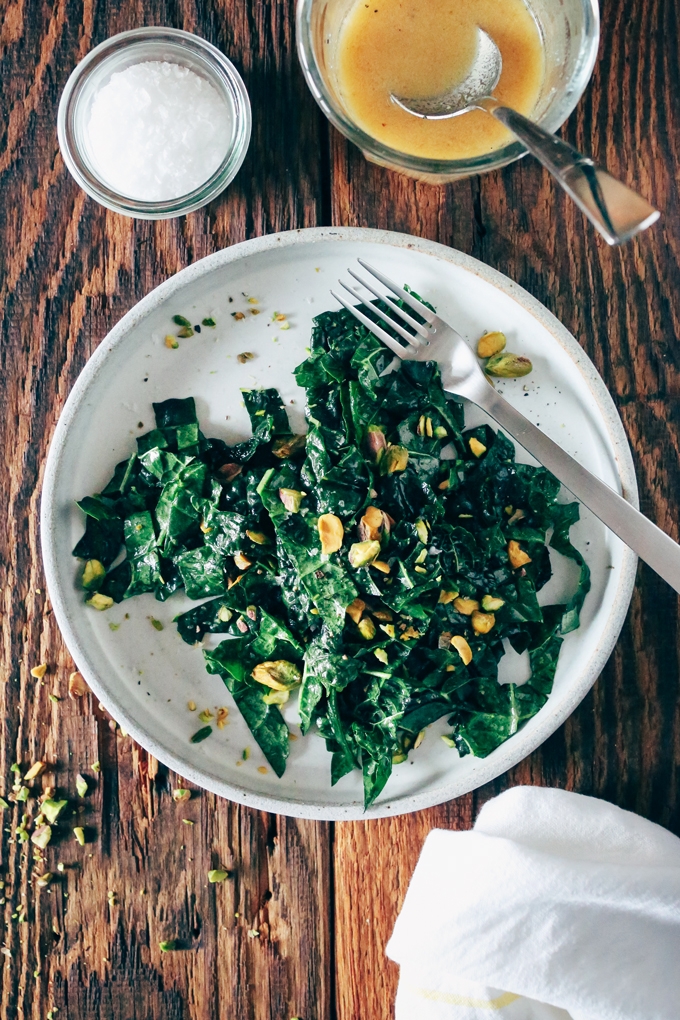 Made with miso, lemon juice, honey, sesame oil, rice wine vinegar, olive oil, salt and pepper, this Miso-Lemon Vinaigrette is simple to prepare, but still packed with flavor.  It's salty.  It's tart.  It's bright.   And it'll make you go "Oh my!" after just one taste.  I've paired this bold dressing with an equally full-flavored green: kale.  Prepared like my Raw Kale Salad, the chopped kale gets tossed with several spoonfuls of vinaigrette, then sits for a short while until tender.  A final sprinkling of chopped, roasted pistachios and flaky sea salt add crunch and contrast.
Miso-Lemon Vinaigrette has become one of our weekly standards, because it pairs so well with many other things.  The sauce is on the thinner side, so it packs a big flavor punch without adding too much heft.  I like to drizzle it on all sorts of salads, roasted vegetables and seafood.  Bonus!  The vinaigrette is made with mainly fridge and pantry staples.  You can keep most ingredients on hand, and then pick up fresh lemons as needed.  Continue reading for the recipe.