I recently made a delicious discovery, and I just had to share.  Hummus with salad.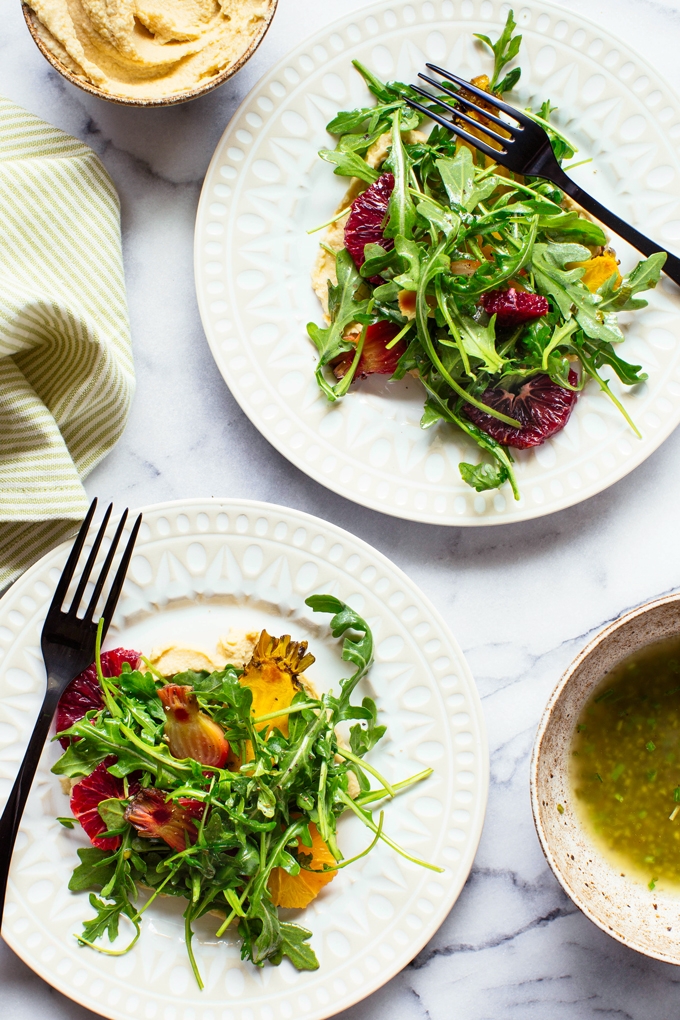 Hummus, that Middle Eastern dip made with chickpeas, tahini, lemon juice, garlic and olive oil, is always in the fridge at my house.  I mainly find myself dipping things into it like pita (regular or crisp), vegetables or chunks of warm, crusty bread.  But I also like to use hummus in more untraditional ways like as a spread for a turkey sandwich or whisked into a lemony vinaigrette.  Here, hummus is the flavor-packed base upon which a bright, sweet-tart salad sits.  Let's dig into it.
This recipe starts with a pale swath of creamy hummus (store-bought is fine here) centered on a salad plate.  Next, a tangle of peppery arugula dressed in a chive vinaigrette is placed on the hummus.  There's three tablespoons of acid to four tablespoons of oil, placing this dressing solidly in the tart-acidic camp.  The salad is finished with sweet rounds of juicy citrus and tender halves of roasted baby beets scattered about.  Each bite is a little tart, a little sweet and a little peppery with a balanced richness from the hummus.  So damn tasty.  Continue reading for the recipe.