Print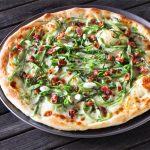 Shaved Asparagus and Bacon Pizza
Please note that I did not include specific measurements for the basic pizza ingredients. I find my pizzas turn out better when I am not worrying about measurements. Simply add ingredients to taste (a sprinkling of this or a drizzle of that).
1/2

pound

asparagus (do not snap the woody ends)

Olive oil

Kosher salt

Freshly ground black pepper

1

ball pizza dough*

Fresh mozzarella cheese, grated (this is to taste, I used about 9 oz.)

Parmesan cheese (avoid the pre-grated stuff)

4

slices

bacon, cooked and crumbled

1

scallion, trimmed and sliced on a bias
Preheat an oven to 500°F.

Using a vegetable peeler, shave asparagus into long, thin ribbons. The best way to do this is to lay the asparagus flat on a cutting board. Hold the woody end of the asparagus to stabilize. Start peeling the asparagus just above the woody end (about 1 inch up). Run the peeler from the bottom to the tip several times (until you can't do it any longer) with each stalk. Some ribbons will be very thin and others a bit thick. This is fine.

Place ribbons in a medium bowl and drizzle with a little olive oil (1 - 2 teaspoons), tossing to coat. They should be glistening and coated, not swimming in oil. Season with a pinch of kosher salt and several turns of black pepper, tossing once again.

Spray a pizza pan or baking sheet with unflavored, nonstick spray. Stretch pizza dough into a round large enough to fit your pizza pan. Very lightly drizzle the dough with olive oil, using your hands to evenly spread the oil around. Sprinkle dough with a small pinch of kosher salt.

Top pizza with grated mozzarella cheese then an even dusting of Parmesan cheese. Pile on shaved asparagus. Transfer pizza to preheated oven and cook until the crust is golden brown (bottom and crust) and the cheese is nice and bubbly (10 - 13 minutes).

Sprinkle with crumbled bacon and scallions then slice and serve.
I don't bother with making my own pizza dough. I purchase top quality dough from my favorite pizzeria for cheap! Check with your local pizzeria to see if they will sell their dough. It should cost $1 - 2. Anything more and you're getting ripped off.