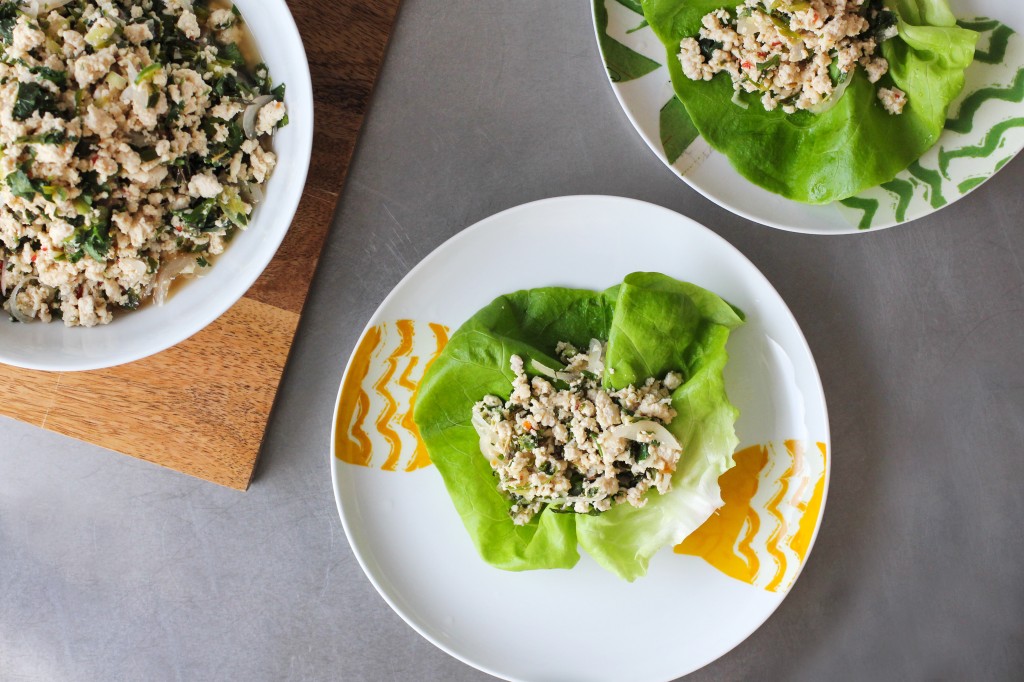 Chicken Larb, a Thai minced meat salad, is made with ground chicken and a boat-load of flavor-packed goodies.  Goodies include: fish sauce, lime juice, garlic-chile sauce, honey, lemongrass, serrano, green onion, shallot, mint and cilantro.
Chicken Larb
Author:
Lightly adapted from Epicurious.
Ingredients
2/3 cup fresh lime juice
1/3 cup fish sauce
1 tablespoon honey
2 teaspoons chile-garlic sauce (like Sambal Oelek or Sriracha)
3/4 cup chicken stock (preferably homemade)
1 1/2 pounds ground chicken
1 cup thinly sliced green onions
3/4 cup thinly sliced shallots
3 tablespoons minced lemongrass
1 tablespoon thinly sliced serrano chile
1/2 cup chopped cilantro leaves
1/3 cup chopped mint leaves
Kosher salt
1 head of butter lettuce (the one with the root ball attached), separated into leaves
Instructions
Whisk together lime juice, fish sauce, honey and chile-garlic sauce. Set aside.
Warm chicken stock in a medium heavy-bottomed pot over medium heat until simmering. Add ground chicken and simmer until cooked through. As the chicken is cooking, stir occasionally to break up the meat. This should take 6 to 8 minutes.
Add green onion, shallot, lemongrass and chiles, stirring to combine. Continue cooking until shallots turn translucent, stirring occasionally (about 4 minutes). Remove from the heat and drain off any liquid in the pot. I do this by clamping the lid on, then cracking it just a hair. I turn the entire pot over the sink and let the liquid drain out.
Stir in lime juice-fish sauce mixture, cilantro and mint. Season to taste with kosher salt (not much is needed if any).
Transfer mixture to a large bowl and serve beside a pile of lettuce leaves. Using a slotted spoon, scoop Chicken Larb on to the lettuce leaves and enjoy!
Chicken Larb is part of my Paleo Recipes: Week of March 18 article.  Check it out here!