Chilaquiles are a Mexican dish made of crispy corn tortillas cooked in green or red salsa. Sometimes they're topped with cheese and sometimes with a fried egg. This Green Chilaquiles recipe is a really delicious variation courtesy of Jorge's Mom!
This post may contain affiliate links.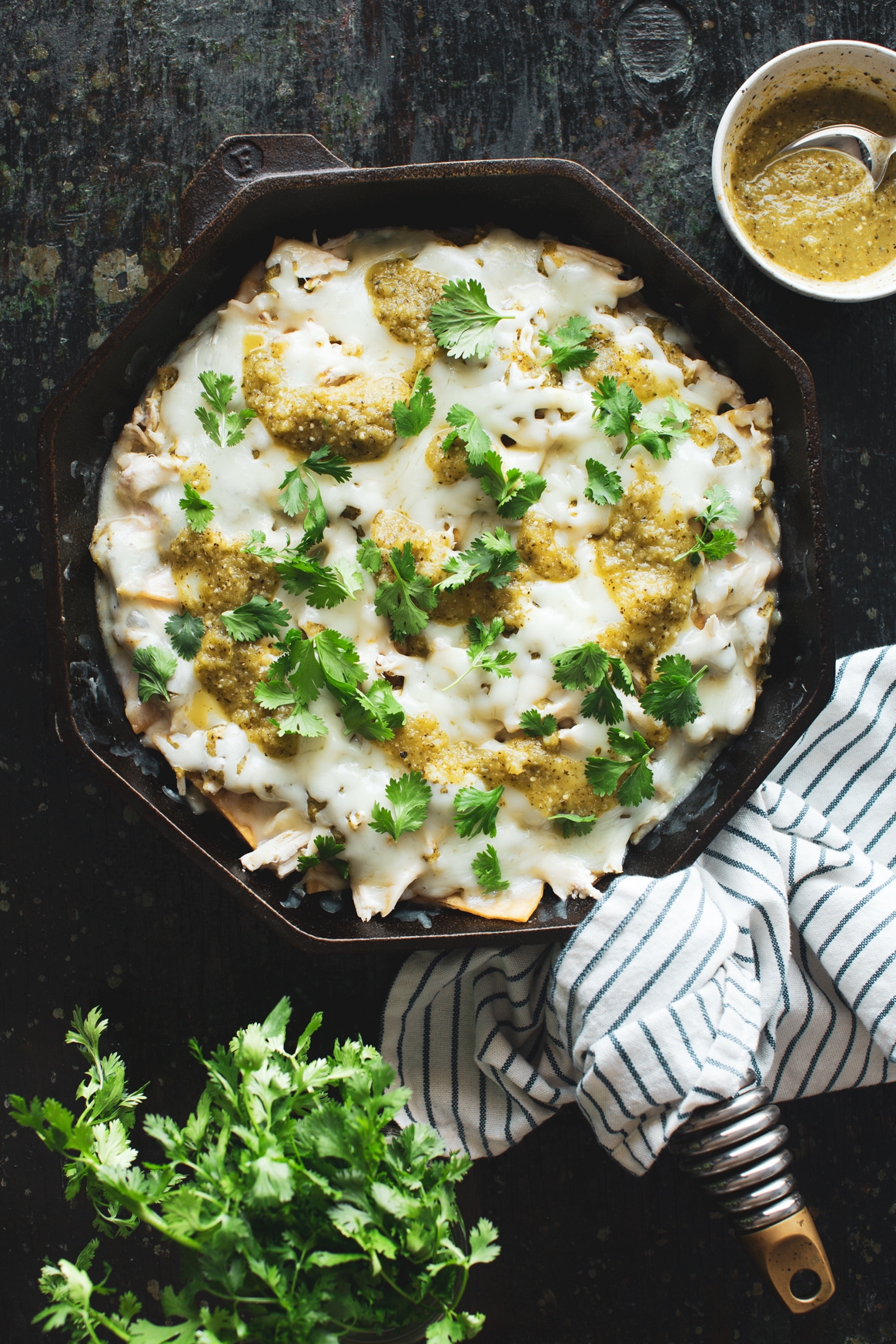 Each month, Jorge and I get together with some friends for a Supper Club. Usually we take turns hosting a themed dinner at someone's house, but sometimes we'll explore a new restaurant in San Diego. It's such a fun way to get together with foodie friends to enjoy a great meal!
A few months ago, the theme for our Supper Club dinner was family recipes, and we were all tasked with bringing a traditional family dish to the table. Something we may have eaten a lot when we were growing up! I brought my mother's Homemade Tomato Sauce that evening and Jorge made these incredible Green Chilaquiles. The tomato sauce was a big hit, but everyone went crazy for these chilaquiles. So of course, I just had to share the recipe with all of you 🙂 Continue reading below for more details!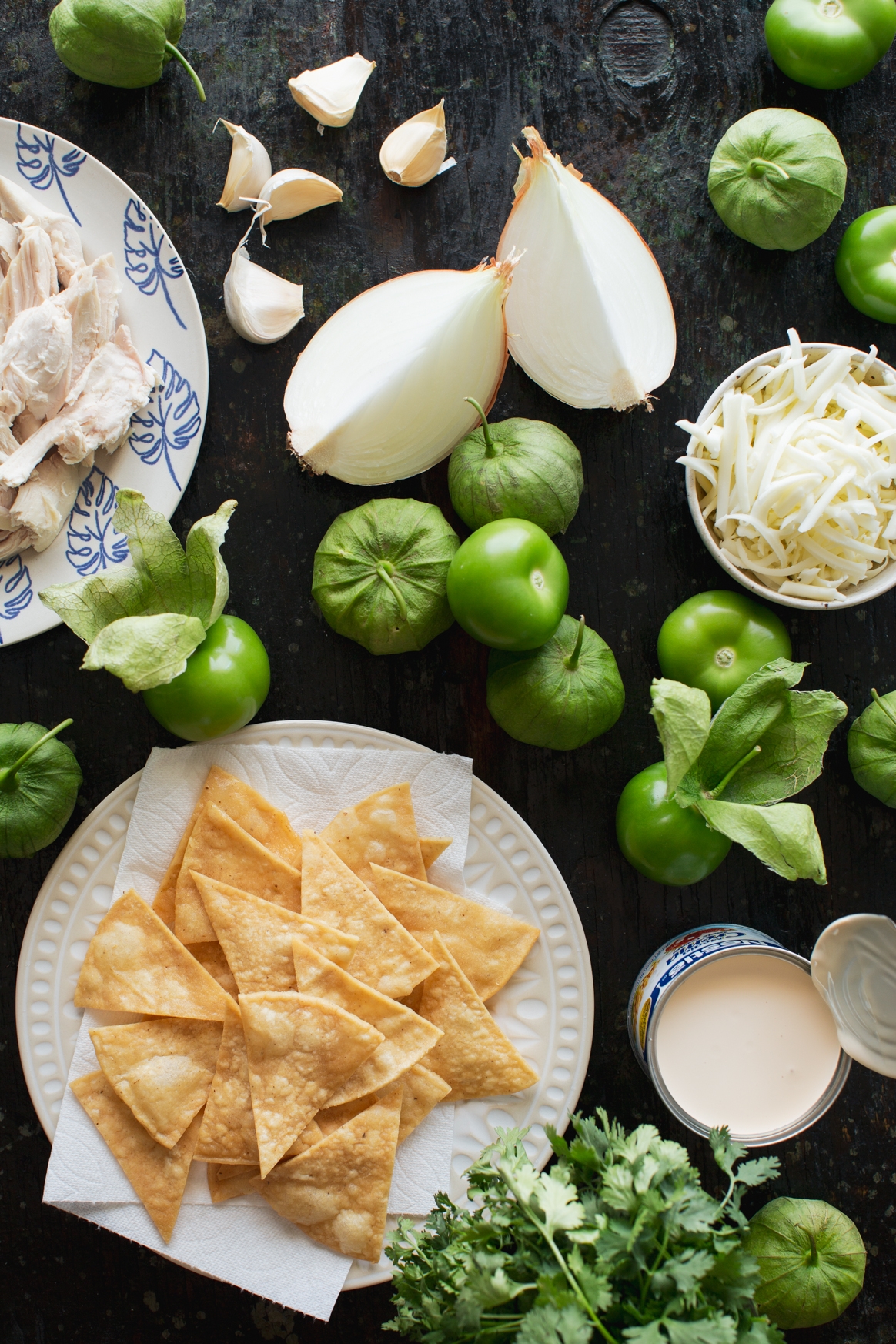 What are chilaquiles?
I first learned about chilaquiles when I moved to San Diego, and I've been in love with them ever since. Chilaquiles are a Mexican dish where crispy tortillas are cooked in a homemade salsa and topped with cheese. Red chilaquiles are made with a tomato-based salsa while green chilaquiles are cooked in a tomatillo-based salsa. Traditional toppings for chilaquiles include Oaxacan cheese, cotija cheese, and/or some sort of protein (chicken, beef, chorizo, fried egg) . Each bite is creamy and spicy with a little crunch here and there from the fried chips.
Chilaquiles are such a satisfying meal in the morning (especially if you are hungover!). In San Diego they are usually served for breakfast, but in Mexico they can be eaten for breakfast, lunch or dinner.
Jorge's Mom likes to make Green Chilaquiles with chips and salsa cooked in layers like a lasagna! You start with a layer of freshly fried corn tortilla chips. You can use thick cut store-bought chips here, but the fresh chips are so much better! Next, top the chips with shredded chicken and a homemade green tomatillo salsa infused with onion, garlic and cilantro. Then, a layer of Oaxacan cheese (Mexican mozzarella) and a full can of media crema (canned cream). You then repeat layers of chips, salsa and cheese. To finish, cook the chilauqiles on the stove top until warmed through and the cheese is melted.
I garnished the dish with some additional salsa and cilantro on top. This is a slight change I made to the original recipe, and one that Jorge does not approve of! The original family recipe doesn't have anything on top, but I think it looks a little prettier with a garnish or two 🙂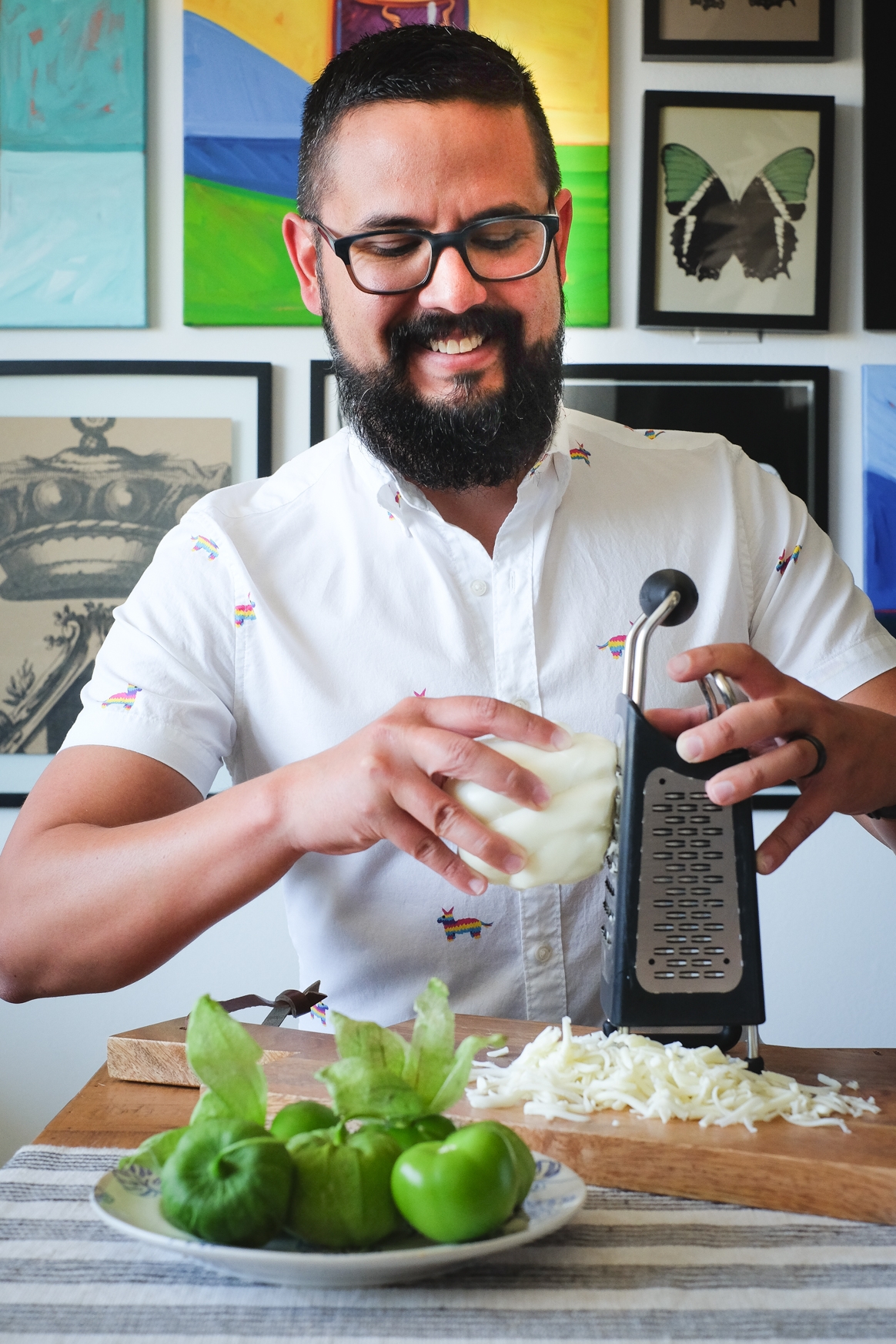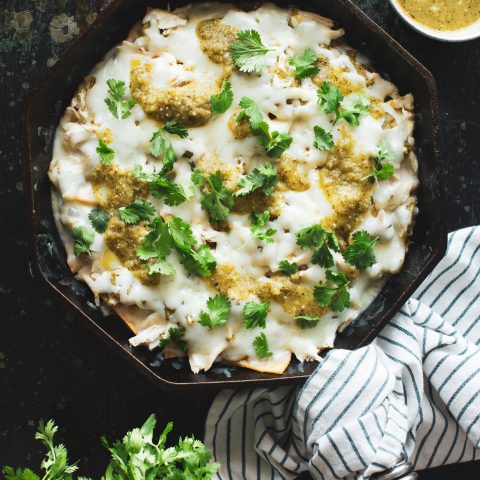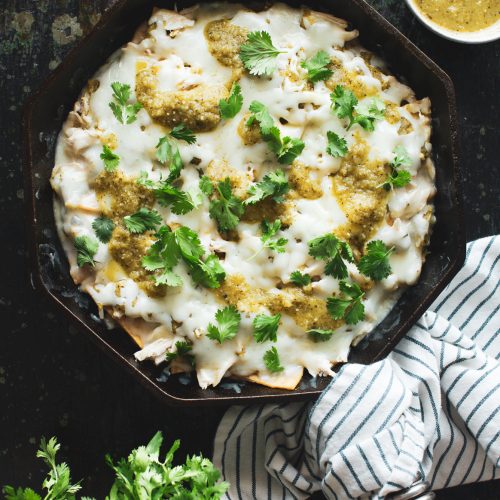 Jorge's Green Chilaquiles
Ingredients
1 1/2

pounds

tomatillos (about 12 to 14), husks removed, rinsed and dried

1/4

onion

4

garlic cloves

1/4

cup

packed cilantro leaves

Kosher salt

1

tablespoon

vegetable oil

1

cooked chicken breast, shredded*

13

ounces

freshly fried tortilla chips** or thick cut store-bought tortilla chips

1

can

(7.6-ounces) full fat media crema (or use heavy cream or sour cream thinned with a bit of water to pourable consistency)

8

ounces

Oaxacan cheese, shredded (you can also use low moisture mozzarella here)
Instructions
Add tomatillos to a large skillet over medium-high heat, and cook, shaking the pan occasionally, until charred in spots and juices start to release(10 – 11 minutes). Transfer tomatillos to a blender along with the onion, garlic, cilantro, 2 tablespoons water and a few pinches of salt, and blend until smooth.

Warm 1 tablespoon oil in a small saucepan over medium heat, then add the salsa. Bring to a boil, reduce heat to low, and cook, stirring occasionally for 10 minutes. Season to taste with additional salt (flavors should be bold).

To assemble, place half the chips in a 12-inch skillet (preferably one with a lid!) in an even layer. Top with half of the shredded chicken, then 1 cup salsa. Drizzle Media Crema evenly over top, then sprinkle with a pinch of salt. Repeat the layers again, topping with remaining chips, chicken and 1 cup salsa (you'll have a little salsa leftover). Finish with an even layer of cheese.

Cover the pan and place over medium-low heat, and cook just until the cheese melts and the chips and salsa warm through (about 10 to 15 minutes). Serve immediately.
Notes
* For this recipe, I used a poached bone-in chicken breast. Here's how I made it: Add chicken to a medium pot with water, 1/2 onion, 2 garlic cloves and plenty of salt. Bring to a boil, reduce heat to medium-low and simmer until the chicken is cooked through. Transfer the chicken to a cutting board, let cool and shred.
** To freshly fry tortilla chips, warm 1/4-inch vegetable oil in a large skillet over medium-high heat. Cut 10 white corn tortillas (about 13 ounces) in 8 even wedges, then working in batches, fry them in an even layer until lightly golden (2 to 3 minutes). Try not to overcrowd the pan. Transfer chips to a paper towel-lined plate.
Tried this recipe?
Tag @brandiego on Instagram so I can check it out!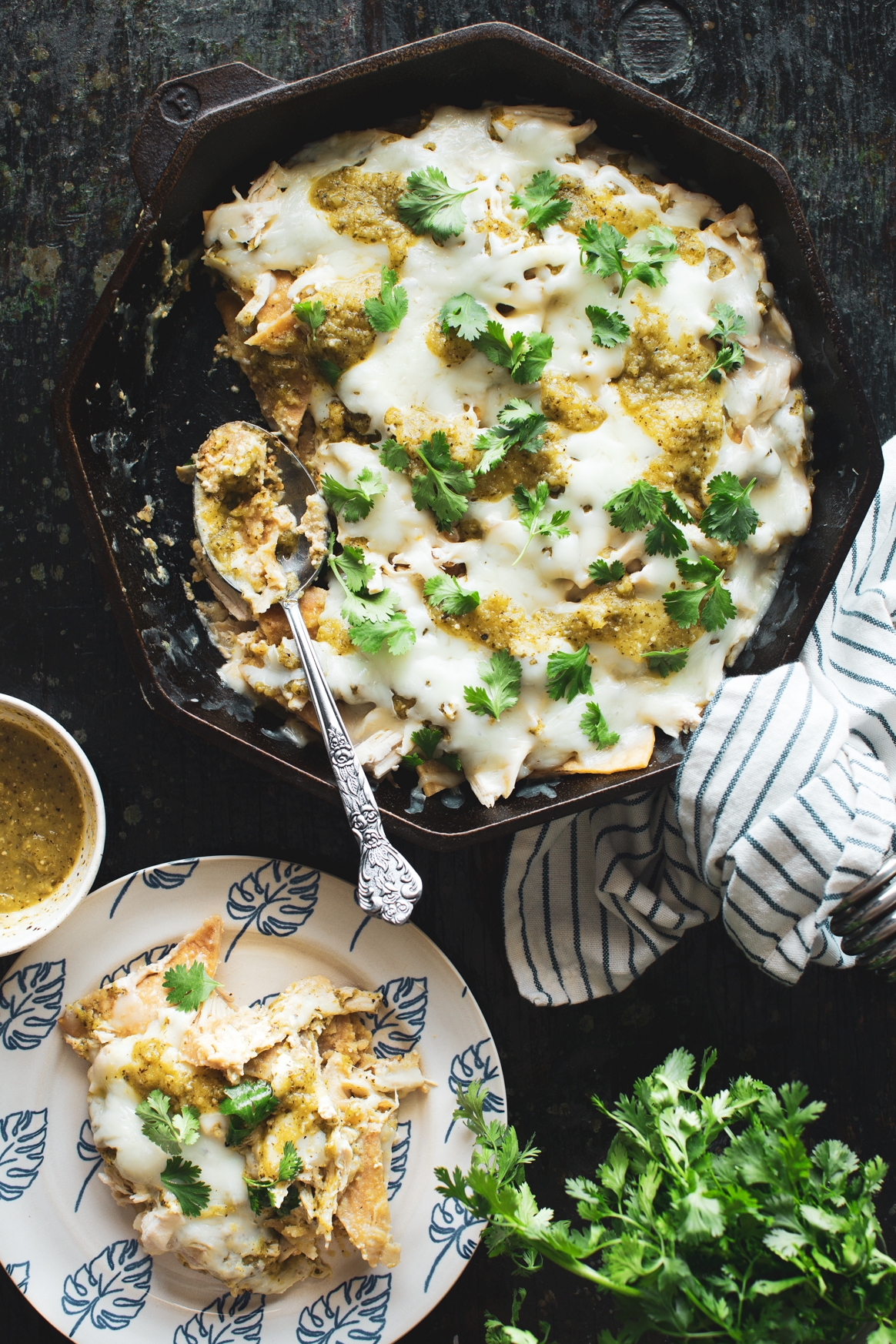 184