Hello friends!! I've got some exciting news to share with you today 🙂
This post may contain affiliate links.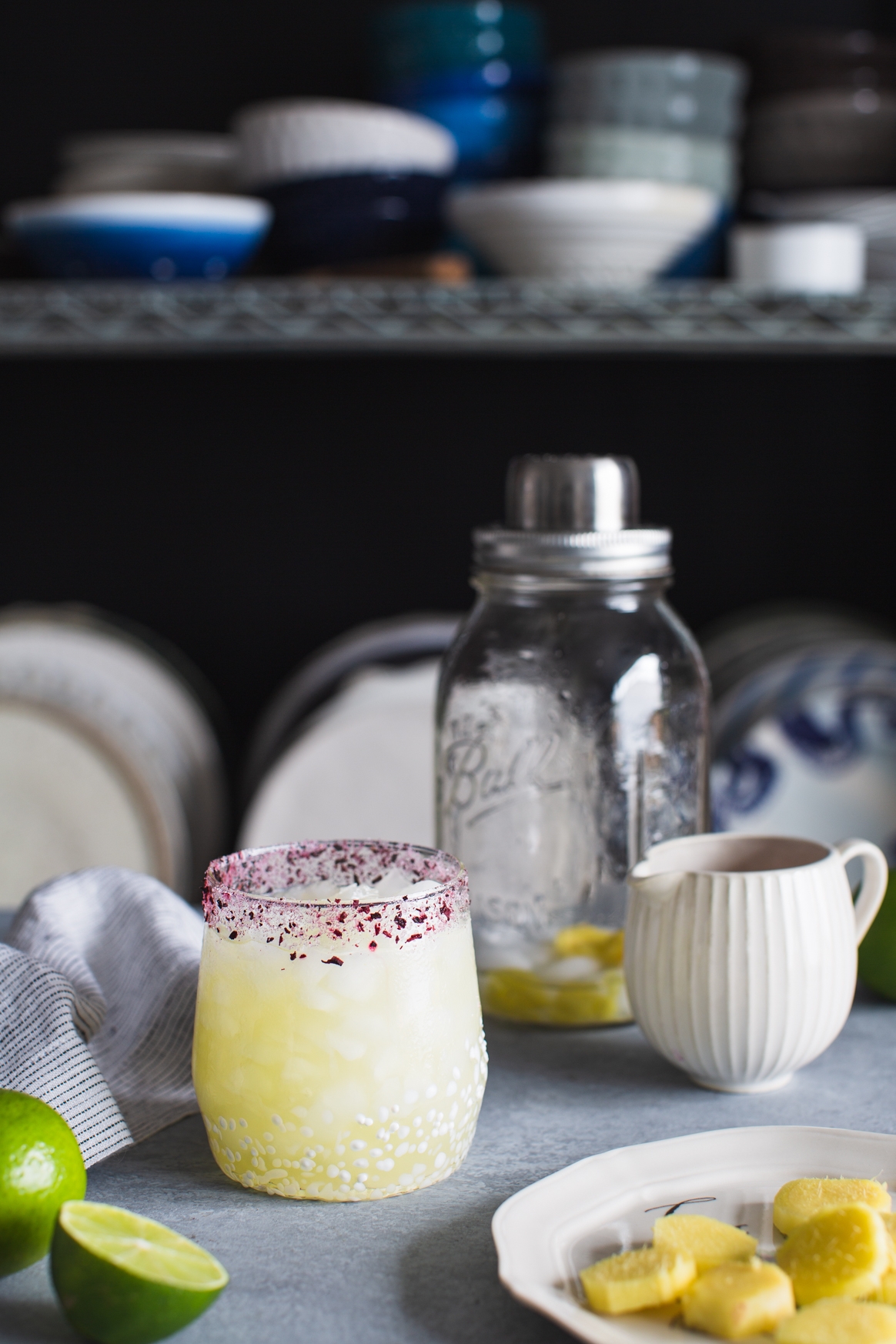 Several weeks ago, Jorge and I went to Mexico City for a long weekend of relaxing, sightseeing and of course, eating. We actually planned our whole trip around a dinner at Pujol (we secured the reservation 5 months in advance!). The dinner was incredible, and I'll get into all the details below. On the way home that night, we decided to walk back from dinner. Just as we were getting back to the apartment, Jorge stopped me on a lush corner on Polanco (a fancy neighborhood) and proposed!!!! I was totally surprised!! I remember being filled with excitement as I exclaimed YES! Jorge and I have been together since October 2011, and I'm thrilled to start this next chapter with him. Continue reading for more about our special evening, engagement announcement photos and a super fresh Ginger Margarita recipe.
Currently ranked at #13 on the World's 50 Best Restaurants list, Pujol by Chef Enrique Olvera was truly an incredible experience. Jorge and I had the option of two different menus—one corn-focused and the other seafood-centric. The corn menu did look good, but we decided to both get the seafood dinner.
As we were waiting for our first course, we enjoyed a couple of cocktails. Jorge had a green drink made with mezcal and hoja santa (a Mexican herb) while I enjoyed a refreshing Ginger Margarita with Hibiscus Salt Rim. The margarita was smooth with a bold ginger flavor, and the hibiscus rim provided little moments of tart saltiness. Both drinks were SO delicious.
We started with two street snacks: baby corn brushed with chile-coffee mayo and a gordita topped with pumpkin butter and pico de gallo. Next, a fresh scallop and chayote squash crudo. After that, we had one my favorite dishes, a white fish ceviche topped with corn juice, corn nuts, celery and yuzu. Grilled octopus with kumquat sauce and pickles came next, and then tender sea bass with plantain puree and tomato marmalade. The sea bass was adorned with a thin, crispy disc of hoja santa.
Before dessert, we enjoyed one of Pujol's famous dishes, a tasting of two moles. The first mole was a young mole, cooked for just 3 days. It was light, spicy and fruity. The second mole was the mother mole, a sauce that has been cooking for 1,858 days. This darker mole was rich and smoky with aromas of chocolate and toasted nuts. Using just homemade tortillas, we gleefully sopped up the plate of sauces.
For dessert, we had a light pastry filled with cherimoya cream paired with sake sorbet and vanilla crumble. They also served a coiled round of crispy, fried churro. The entire meal was so special and I loved every bite!
Inspired by the margarita we had at Pujol, this Ginger Margarita with Hibiscus Salt Rim is actually quite easy to make. You start by muddling peeled ginger with lime juice to release the ginger juice from the tough root. Then, you add agave nectar for sweetness. Silver tequila is the spirit of choice here to keep things light and fresh. Shake everything up and strain into a rocks glass with ice. Finish with a salt rim infused with ground up, dried hibiscus flowers. If you love ginger, you NEED to give this marg a try.
A big thanks to Hello Mikee for all of these fab photos. Jorge wanted to keep the proposal a surprise, so it was just the two of us that evening. We later recreated the moment in San Diego.
Ginger Margarita Recipe with Hibiscus Salt Rim
Inspired by a cocktail at Pujol's Ginger Margarita.
Ingredients
For the hibiscus salt:
1/4

cup

dried hibiscus flowers

2

tablespoons

flaky sea salt
For the ginger margarita:
4

slices

peeled ginger

3/4

ounce

fresh lime juice, plus more for the rim

2

ounces

silver tequila

1/2

ounce

agave nectar
Hibiscus salt, for the rim
Instructions
To make hibiscus salt, place dried flowers in a spice grinder and pulse to the texture of course meal. Add the sea salt, and pulse a few more times to combine. You're not looking for a fine texture here, but you also don't want any big pieces of dried hibiscus-check out the photo above for reference. Store covered at room temperature for several months.

To make the margarita, wet the rim of a rocks glass with lime juice, then sprinkle on hibiscus salt. Fill glass with ice.

Place ginger slices in a cocktail shaker with the lime juice. Muddle well until the ginger pieces start to break up. Add tequila, agave nectar and ice. Cap and shake until well chilled. Strain into the prepared rocks glass and enjoy!
Tried this recipe?
Tag @brandiego on Instagram so I can check it out!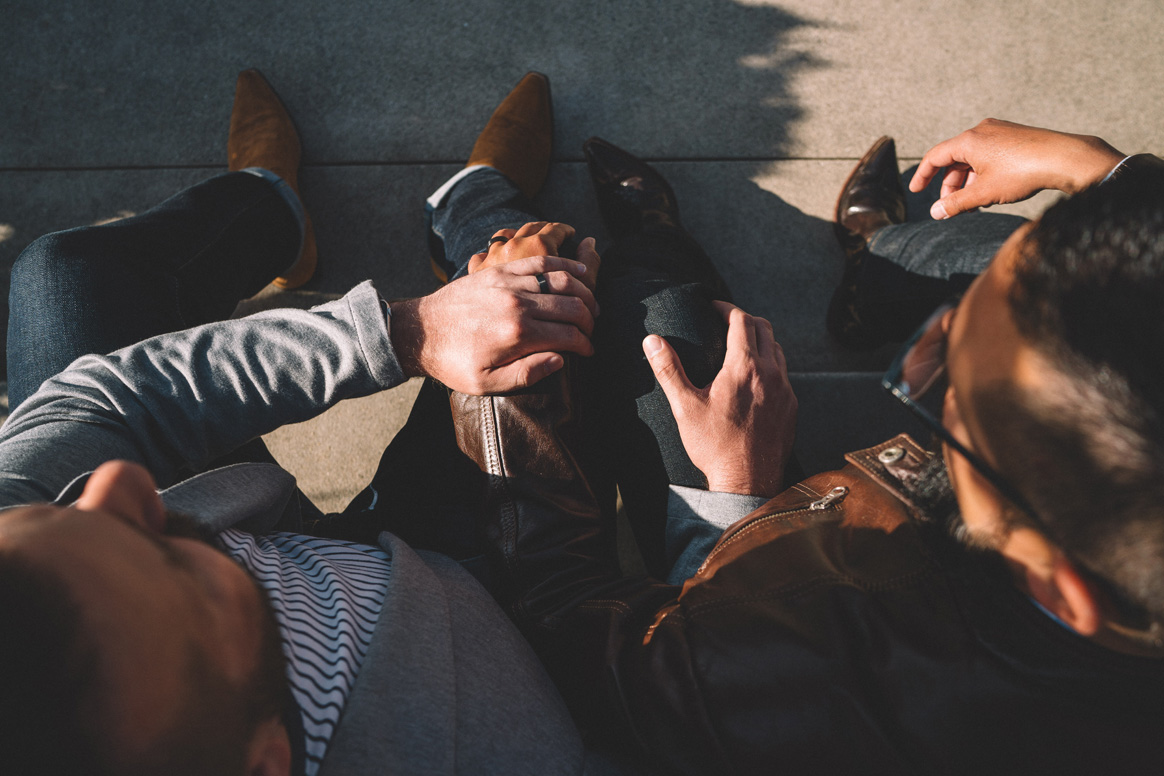 22