Summer is just a few weeks away, and I am ready for warm evenings and al fresco grilled dinners perfumed by the smell of smoldering mesquite charcoal and sweet, floral star jasmine.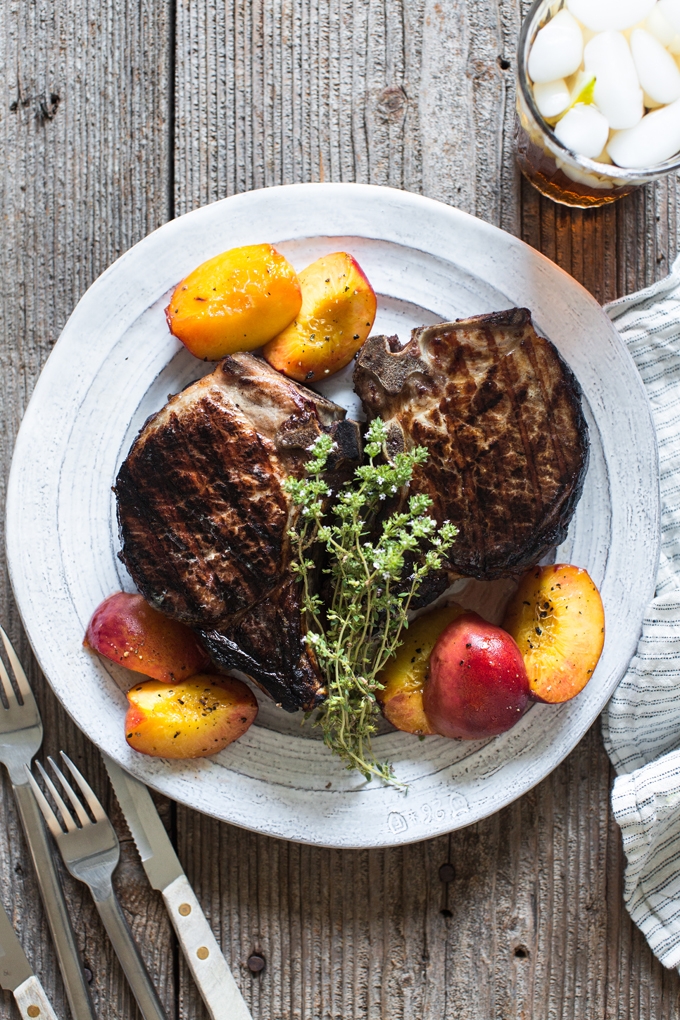 Perfect for a summer evening, today's recipe for Sweet Tea Pork Chops with Grilled Peaches is prepared in partnership with The Coca-Cola Company. Start with two double-cut pork chops brining in an aromatic mixture of Gold Peak ® Sweet Tea , onion, garlic, thyme, bay lemon and black peppercorns. The brine will help keep the pork juicy while it cooks on the grill. Next, cook the chops on the grill over high heat until golden and charred in spots. Finish them off over indirect heat until fully cooked through. The contrast of the charred exterior to the juicy, tender pork within is so delicious.
I've thrown some peaches into the mix to complement the smoky, grilled pork, and they couldn't be easier to make! Toss quartered, ripe peaches with olive oil, maple syrup, salt and pepper, then transfer to a foil pouch. The peaches cook in the foil over high heat until tender. They're sweet and tart with just a hint of smoke. Continue reading for the recipe.