We've been making desserts on the regular here this summer, and this Strawberry Cream Cheese Pie is definitely a favorite.
This post may contain affiliate links.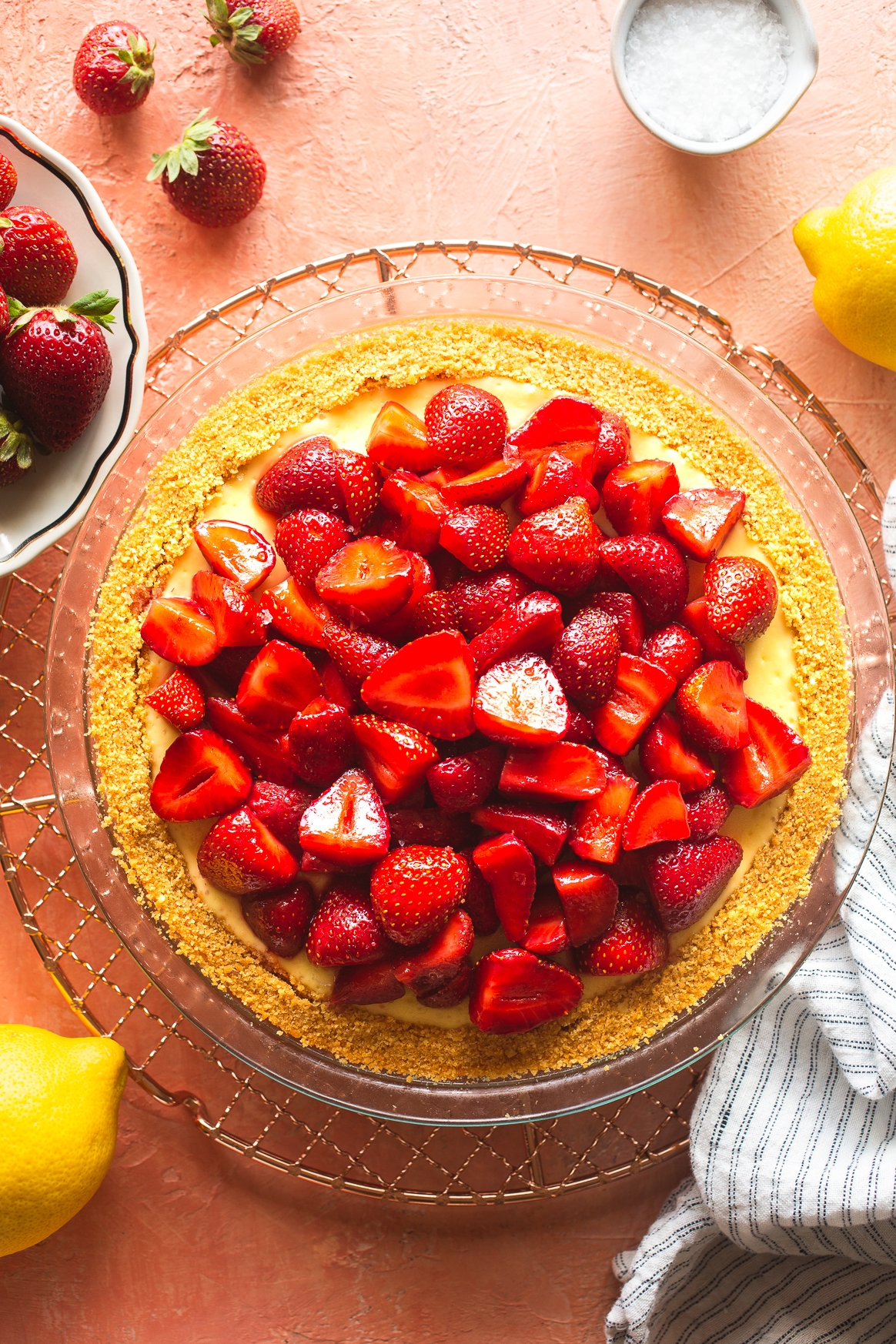 Think of this dessert like a cheesecake, but in pie form. The base is a buttery, crumbly crust made with ground Ritz crackers, and the silky smooth filling is rich with cream cheese and sour cream.
Fresh, ripe strawberries are piled on top, but to be honest, you could use any berry here. Each bite is sweet, salty, creamy and crunchy with a hit of freshness from the tangy strawberries. Such a delight! Continue reading for the recipe.
First, let's talk pie crust. In a food processor, you blitz up Ritz crackers, butter, light brown sugar and just a little salt. The crust is then pressed into a pie plate and baked until golden and firm. This is a fairly salty crust that balances the sweet, rich, tangy notes of the filling.
If you're not into salty desserts, you could certainly use graham crackers or Nilla wafers here. I'd imagine pretzels would be a good substitution as well, but that will take you back in the salty direction.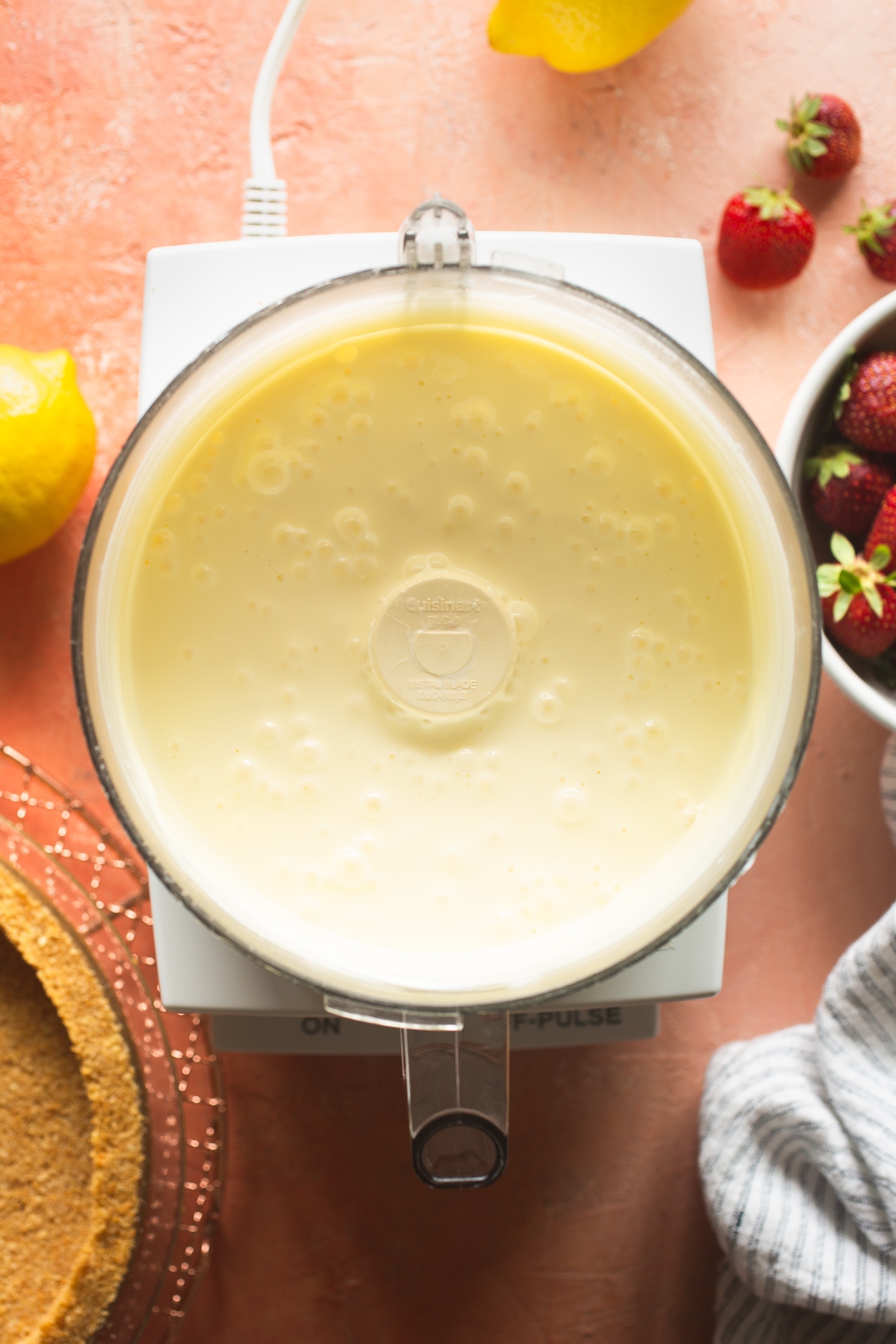 The filling also comes together in the food processor by blending up room temp cream cheese, sour cream, eggs, sugar and lemon juice. You then pour the filling into the cooled pie crust and bake until custard fully sets. Overall this is an easy process, but there are just a couple things to consider to make sure everything goes alright:
The cream cheese needs to be room temp before blending into the filling. If it isn't, it won't fully combine into the rest of the ingredients, and you'll have little globs of cream cheese throughout your filling. We want this to be silky smooth in the end!
Any cheesecake-like dessert can crack if it experiences a drastic change in temperature. For that reason, you need to let the pie sit in oven (turned off, door cracked) for 15 minutes after it's fully done cooking. Then you let it cool to room temp, and then you transfer it to the fridge to chill completely. If you rush any of these steps, there's a chance the cream cheese filling will crack.
And finally, the topping. Ripe strawberries are tossed with confectioners sugar, then piled on top of the cream cheese pie. This makes for a pretty presentation, but it can be a little challenging to slice. If you're not worried about presentation, simply slice up the pie and top with the fresh strawberries afterwards!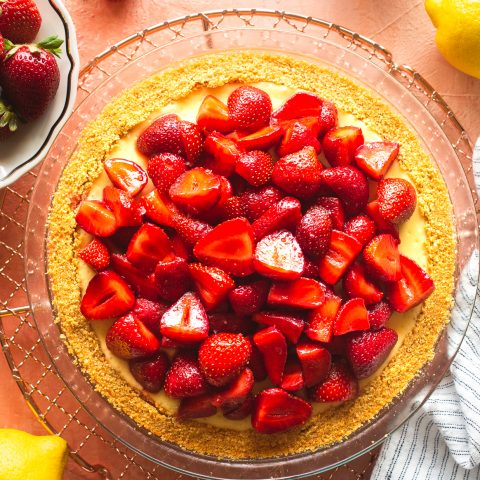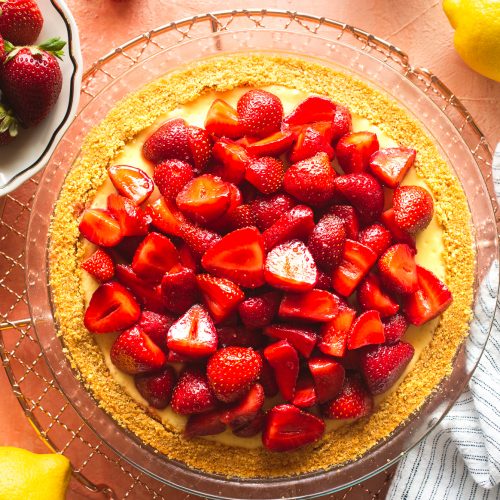 Strawberry Cream Cheese Pie
Ingredients
For the crust:
5

ounces

Ritz crackers (you could also use graham crackers, Nilla wafers or pretzels)

2

tablespoons

packed light brown sugar

4

tablespoons

unsalted butter, melted

Fine grain sea salt
For the filling:
1

pound

(2 packages) full-fat cream cheese, at room temperature (this is very important!)

1

cup

full-fat sour cream

1/2

cup

sugar

2

eggs

3

tablespoons

fresh lemon juice

Fine grain sea salt
For the toppings:
1

pound

fresh strawberries, hulled and halved (or quartered if large)

2

tablespoons

confectioners sugar

Flaky sea salt
Instructions
Start by making the crust. Preheat an oven to 325˚F. Add crackers to a food processor, and blitz to a fine crumb. Add the melted butter, brown sugar and a pinch of salt, pulsing to combine. The mixture should resemble damp sand.

Transfer the crust to a 9-inch pie plate and press evenly and well into the bottom and sides of the plate. I like to use the bottom of a 1/2 measuring cup to help with the pressing. Bake until the crust is set and golden (about 15 minutes). Transfer to a cooling rack once done.

Meanwhile, make the filling. Wash and dry out the food processor, then add cream cheese, sour cream and sugar, blitzing until smooth and scraping down the sides as needed. Add the eggs, lemon juice and pinch of salt, and continue to process until the mixture is completely smooth.

Place the pie plate onto a rimmed baking sheet, then pour the filling into the warm pie crust. You may not use all the filling*. Bake the pie until the filling is set and no longer jiggles when slightly shaken (30 – 35 minutes). Turn the oven off, crack the door and let the pie cool in the oven for 15 minutes. Transfer the pie to a wire rack and let cool completely before transferring to the fridge. Let chill in the fridge for at least 1 hour before serving.

While the pie is cooling, add strawberries to a medium bowl and toss with confectioners sugar. Once ready to serve, pile the strawberries on top of the chilled pie and sprinkle with flaky sea salt.
Notes
*Add any leftover filling to a small ramekin and bake alongside the pie. Pull the ramekin out of the oven after 25 minutes (when you first check on your pie). This cheesecake treat will crack as it cools, but it'll still be a tasty snack!
Tried this recipe?
Tag @brandiego on Instagram so I can check it out!
46