This Instant Pot Rice Pudding is a simple dessert recipe that I prepared countless times last year (and even more this year!). The best part is that it's made with mostly pantry staples.
This post may contain affiliate links.
Jorge just loves rice pudding, so it's something that we've made often in our house over the years. However, I found myself making even more frequently during the pandemic. It's easy, comforting and highly adaptable.
In the past, I've made it on the stovetop, but then I fell in love with an Instant Pot version from Melissa Clark's cookbook Dinner in an Instant. This is my take on her recipe.
Short grain white rice is cooked with milk, cinnamon, vanilla and orange zest. Once the rice is tender, you stir in egg yolks, cream and dried fruit and let thicken a bit. The rice pudding is then transferred to small bowls, covered and chilled for at least 4 hours. I like to finish my rice pudding with whipped cream and grated cinnamon, but that's totally optional. Continue reading for the recipe plus a variation!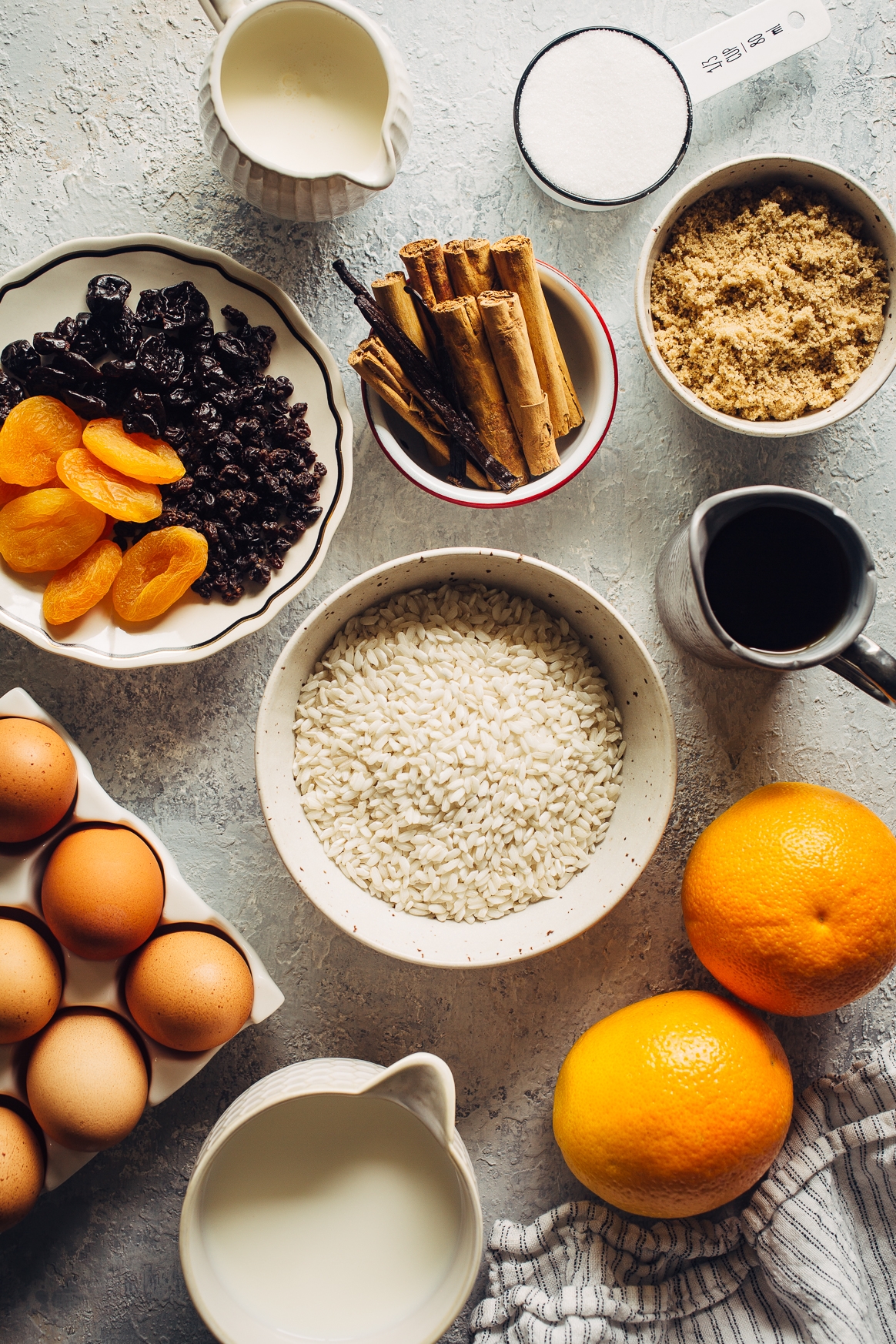 I had mentioned that this recipe is highly adaptable, so here's one way to switch things up. If you leave out the dried fruit, the rice pudding won't thicken as much, resulting in a lighter and thinner dessert. This is great variation for the summer months when you are craving dessert but don't want something heavy.
When going down this route, I like to top my rice pudding with some sweet, boozy dried fruit. You'll find this recipe below as well!
You can also switch up a number of flavorings in the recipe. Feel free to use any dried fruit you've got laying around: raisins, currants, figs, cherries, apricots and prunes would all be lovely.
The spice and citrus elements can be changes as well. Try lemon zest, meyer lemon zest or grapefruit zest instead of orange. Substitute some or all of the cinnamon for cardamom, pumpkin pie spice, nutmeg, allspice and clove. Don't use too much clove though 😉
Instant Pot Rice Pudding
Ingredients
2/3

cup

short-grain white rice (like arborio or carnaroli)

3

cups

whole milk

1/3

cup

sugar

1

teaspoon

finely grated orange zest

1

cinnamon stick (I used a Mexican cinnamon stick here)

Pinch

of kosher salt

1/2

vanilla bean, halved lengthwise (or 1 1/2 teaspoons vanilla extract/paste)

3/4 

cup

heavy cream

2

egg yolks

1/2

cup

dried fruit (raisins, currants, cherries, figs, apricots)

Boozy fruit* (optional)

Ground cinnamon, for serving (optional)

Whipped cream, for serving (optional)
Instructions
Add rice, milk, sugar, orange zest, cinnamon and salt to an Instant Pot. Using the tip of a small knife, scrape the beans out of the vanilla pod, then add those to the pot along with the pod. Stir to combine, clamp on the lid and cook on high pressure for 4 minutes. Let the pressure naturally release for 10 minutes, then release manually.

Remove the cinnamon stick and vanilla bean pod, and discard. Whisk in the heavy cream and egg yolks, and let thicken using the residual heat of the pot (about 4 minutes), stirring occasionally. Stir in the dried fruit for a thicker and creamier rice pudding or omit for a thinner and lighter rice pudding.

Divide pudding between 6 small bowls, then cover each with plastic wrap. Press the plastic into the surface of the pudding to keep a skin forming on the top. Transfer bowls to the fridge and let chill for at least 4 hours.

To serve, top rice pudding with boozy fruit, ground cinnamon and or whipped cream.
Notes
* To make boozy fruit, place

1/2 cup light brown sugar, 2 tablespoons bourbon, 2 tablespoons orange juice, 1 tablespoon water in a small saucepan over medium-high heat.  Bring to a simmer and cook, stirring occasionally, until the sugar has dissolved.  Stir in 1/2 cup dried fruit (chopped if something bigger like a dried apricot), and cook until the liquid thickens to a syrup consistency (3 to 4 minutes more).  Remove from the heat and let cool.  Store covered at room temp.
Tried this recipe?
Tag @brandiego on Instagram so I can check it out!
23