Hi!  I'm Brandon: food explorer, recipe curator, cocktail shaker, dessert lover.  I do all of the cooking, photography and writing here at Kitchen Konfidence.  Coming from an Italian-Eastern European family, my comfort zone is filled with pizza, pasta, and pierogies.  I spent many years cooking in this comfort zone, replicating my family's delicious recipes.  When I moved from New Jersey to California in 2004, I was introduced to a new, intriguing food scene that would eventually ignite my passion for culinary exploration.
Living in San Diego, I have access to an endless source of inspiration: fresh, seasonal produce; a budding restaurant scene; multicultural neighborhoods; and Mexico just 20 minutes away.  Although I'll never stop cooking my family's treasured recipes, I now happily cook out of my comfort zone, tackling new ingredients, techniques and recipes with complete confidence.
I started Kitchen Konfidence in 2010 shortly after I purchased my first DSLR camera.  This website is my way of marrying two of the activities I love the most, cooking and photography.  Over the years, I've helped a number of my friends become confident in the kitchen, teaching them to cook out of their comfort zones.  A friend of mine kindly said, "Cooking Thanksgiving dinner with Brandon is like boot camp.  Get through the experience, and you will be able to cook anything."  My hope is that through sharing recipes on Kitchen Konfidence, I can help other home cooks in the same way.
So what kind of recipes will you find here on Kitchen Konfidence?  My dessert category is by far my largest with a wide variety of sweet treats: hot, cold, creamy, crunchy, chocolaty, fruity, salty, savory.  It's all here.  Next, I love cooking with seasonal ingredients.  Figs in fall.  Quince in winter.  Asparagus in spring.  Watermelon in summer.  Cooking seasonally builds a wonderful sense of anticipation as the months roll on.  For example, when the weather starts to warm in March, I can't wait to get my hands on springtime ramps, green garlic, rhubarb and morel mushrooms.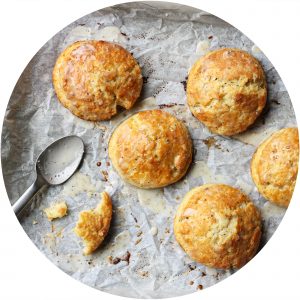 Keep in mind that I am in Southern California, so my season may differ from yours.  Aside from those two major themes, you'll find a number of craft cocktails, DIY foodstuffs, Modernist methods, and multicultural bites (Mexican most of all) on Kitchen Konfidence.  I just love spending time in my kitchen, puttering about for hours working through a recipe.  The big takeaway here is that I'm not afraid to venture into an unknown food realm.  I'm going there.  I'm taking you with me.  And in the end, it's going to be delicious.
This is my amazing boyfriend Jorge (with TiVo the pug).  Jorge's sweet, smart and incredibly supportive.  Sometimes he helps me with the more technical aspects of Kitchen Konfidence.  He also helps with the dishes 🙂  I love Jorge, and I love the time we spend in the kitchen together.  Cooking with friends or loved ones is something I would highly recommend.  It can make the experience more enjoyable, and you'll have someone to share that "yum" moment with after taking the first bite.
I hope you've enjoyed this little look into who I am.  I know I am looking forward to getting to know all of you!  Be sure to check out my Recipe Index for a full list of recipes here on Kitchen Konfidence.  If you make a recipe, please leave a comment, and let me know how it turned out!  I love getting feedback (good or bad).  Thanks so much for visiting, and happy cooking!