Hello friends and Happy Friday!! Today, I'm sharing this simple yet delicious Meyer Lemon Risotto recipe along with a giveaway sponsored by Le Creuset. So exciting!!
This post may contain affiliate links.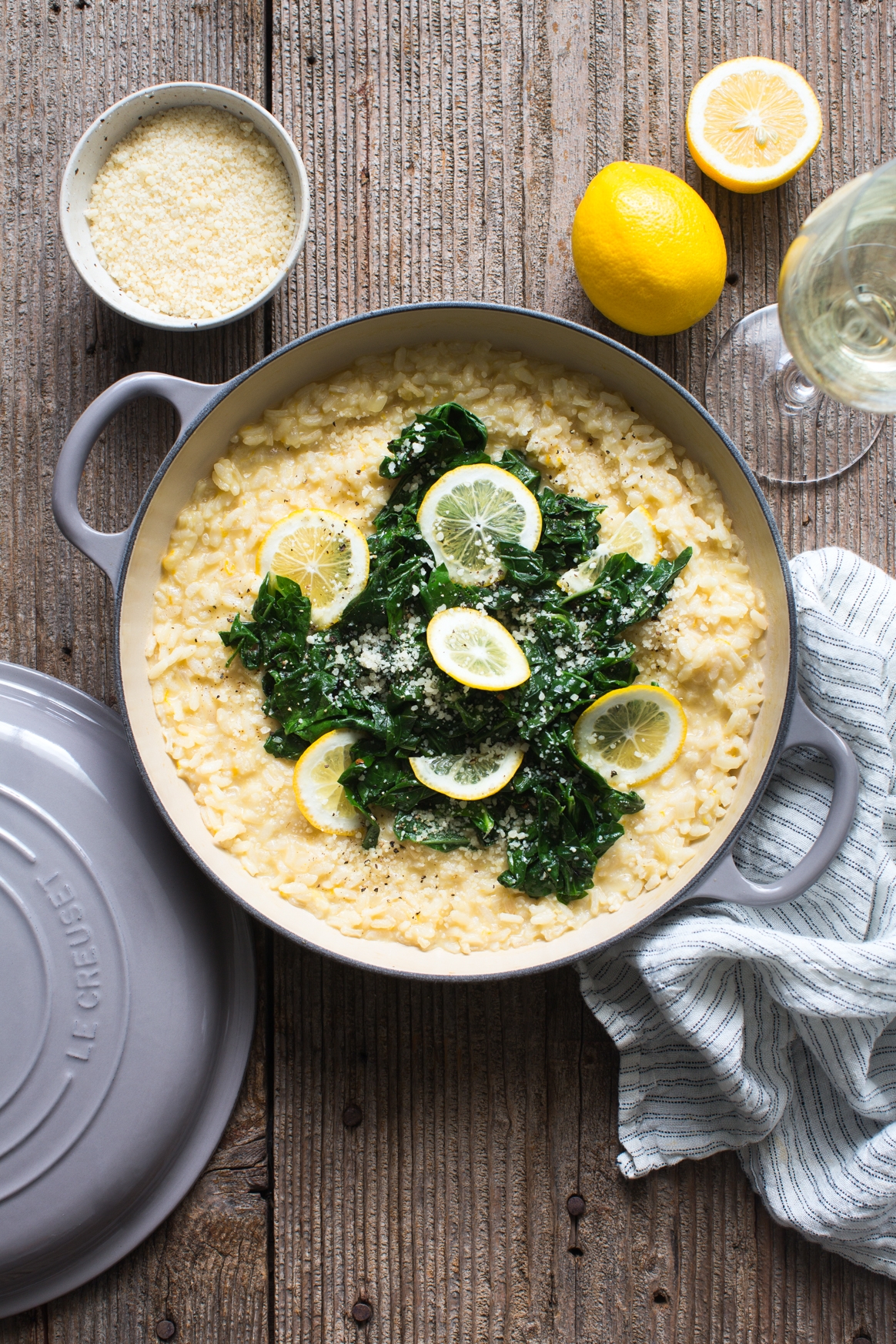 First, let's chat about this recipe for a bit. To make Meyer Lemon Risotto, you start by sautéing onions in a mix of butter and olive oil. Then, you stir in risotto rice and cook for a few minutes until it absorbs some of the fat. Next, you deglaze the pan with a dry white wine like Sauvignon Blanc or Pinot Grigio. Warm chicken stock is then added ladle by ladle, cooking the rice gradually until it's al dente. The risotto is finished with butter, Parmesan cheese, Meyer lemon zest, and Meyer lemon juice. Each bite is rich and creamy with a pleasant brightness from the Meyer lemon.
You could certainly enjoy this risotto as is, but I wanted to put some greenery on top to add a little contrast with each bite. Here, swiss chard is quickly cooked in a punchy oil flavored with garlic and crushed red pepper flakes. The silky greens bulk up the dish to complete meal status while providing a little garlicky heat. You guys, this is SO yum. Continue reading for the recipe along with giveaway details!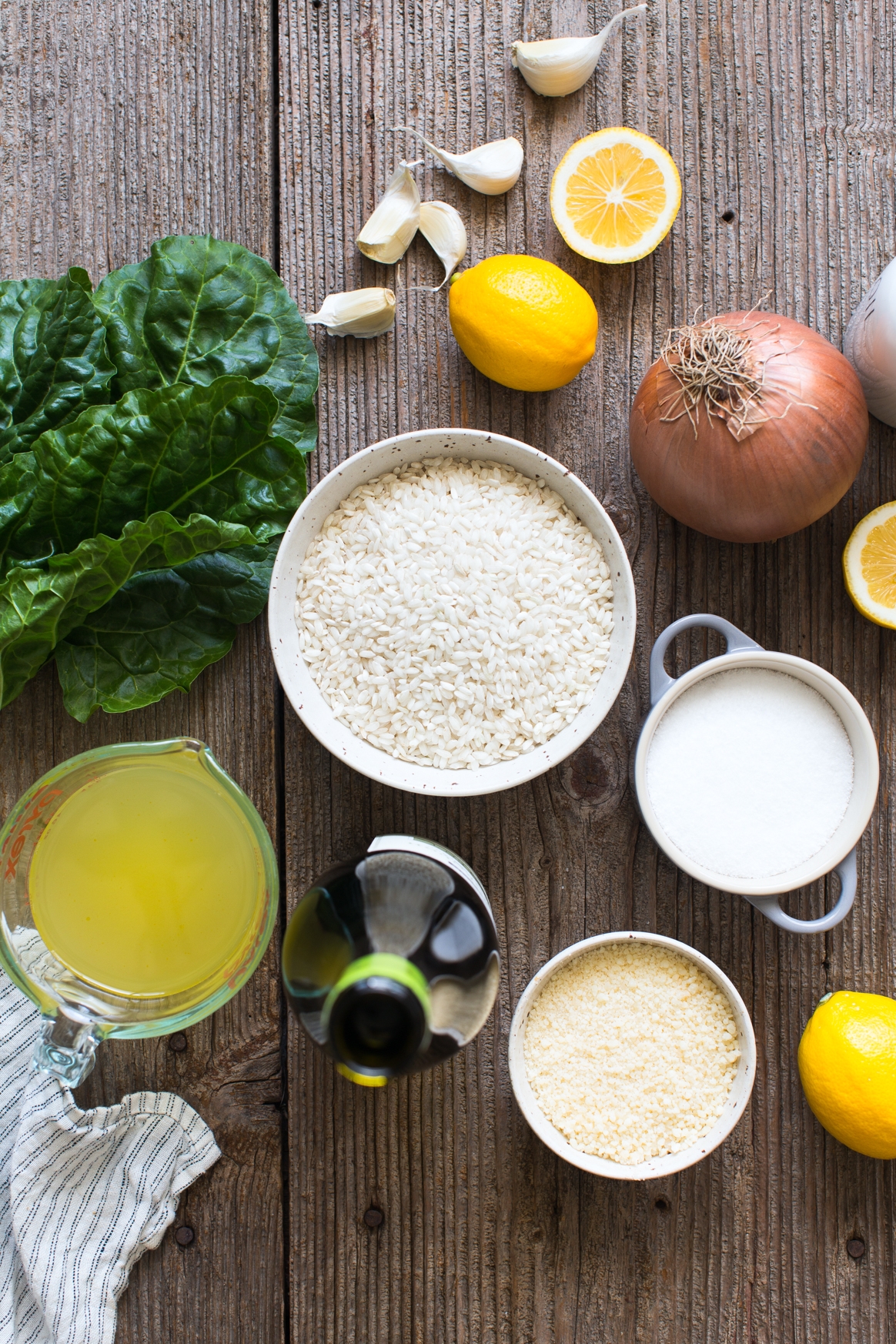 Meyer lemons are one of my favorite seasonal ingredients. They're a cross between a lemon and a mandarin orange. Meyer lemons aren't as acidic as regular lemons and they've got an incredible citrus-floral aroma.
You should be able to find Meyer lemons at the farmer's market right now, and I've also seen them at regular grocery stores (Whole Foods, TJ's, Costco). Just be sure to grab a bunch of them right now while they're still in season!
We've recently become obsessed with Swiss chard. It's such an easy green to prepare. Especially on a hurried weeknight! Simply warm up some olive oil in a large skillet. Add garlic and crushed red pepper flakes, cooking for just a few moments. Throw in chopped swiss chard, and cook just until wilted. Season to taste with salt and pepper. It's a perfect side dish for a weeknight meal, and it's really tasty on top of this risotto!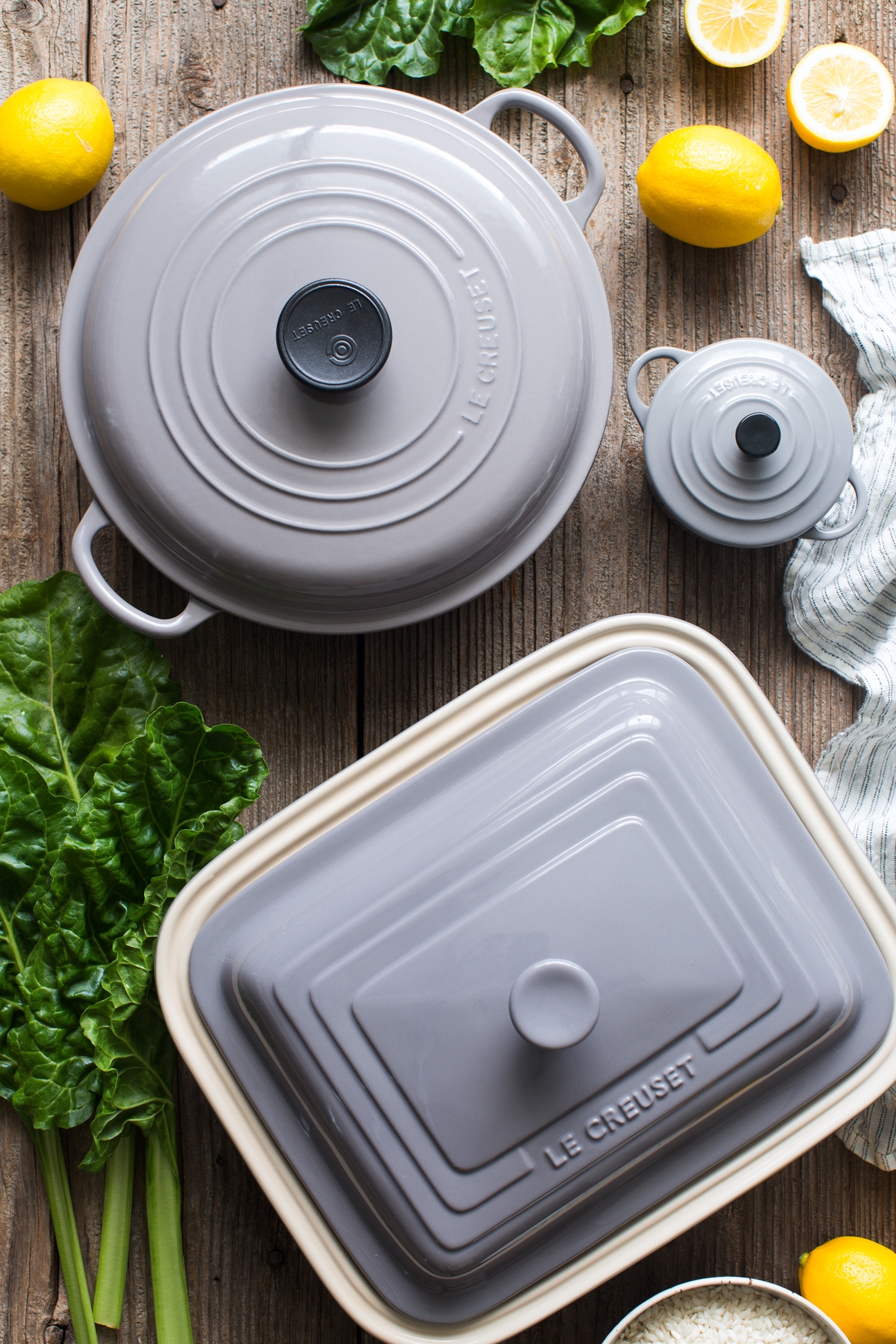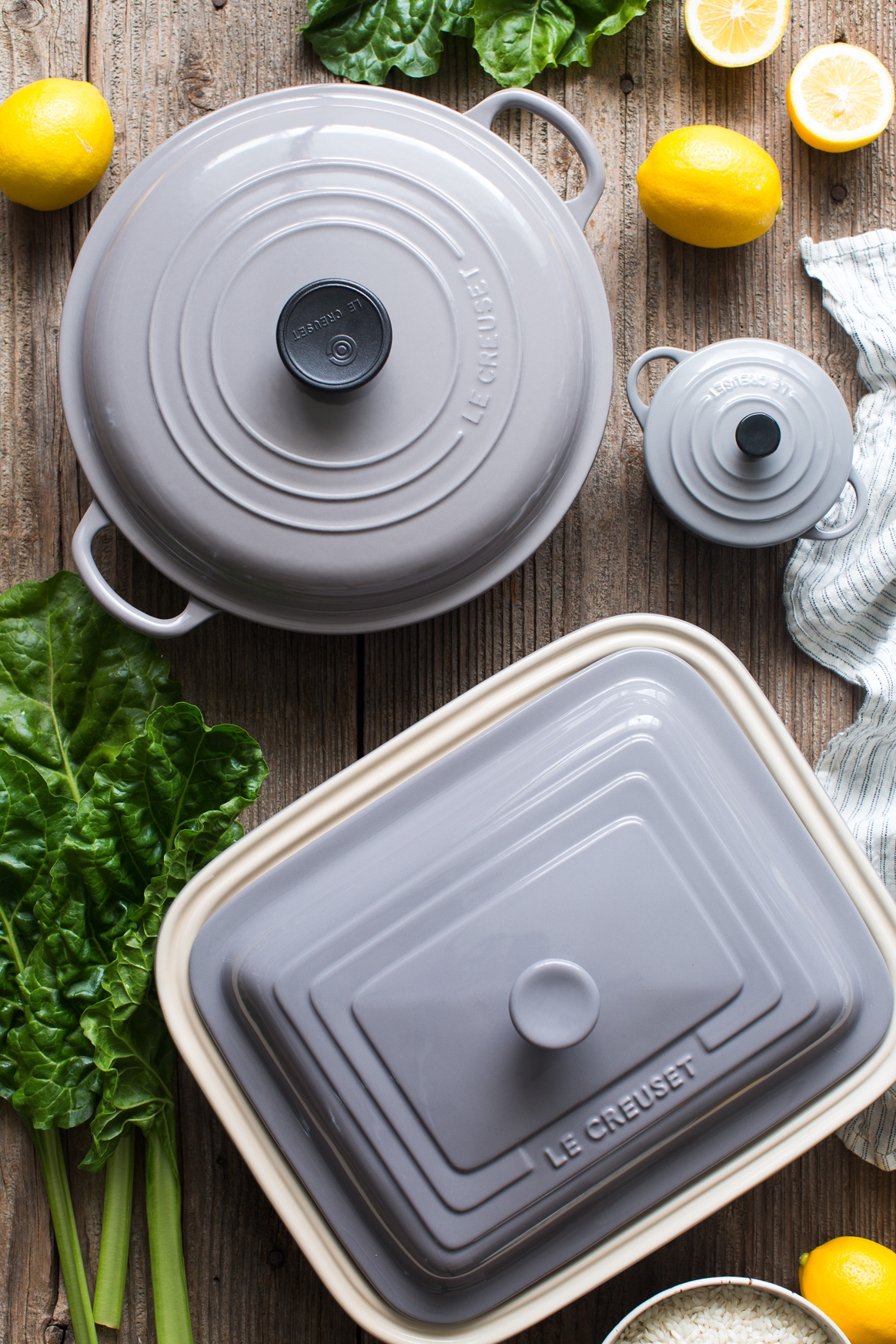 My friends over at Le Creuset graciously sent me a few pieces of their new Gris collection, including a braiser, deep baking dish, and mini cocotte. Throughout 2019, Le Creuset will be releasing rich, new colors available only at their outlet stores. Gris—their first release— is a gorgeous, smoky gray inspired by historic French interiors. It's got subtle hints of taupe and rose. Gris is such a beautiful neutral, and I absolutely love it!
You can find the Gris collection right now at Le Creuset outlet stores, and I'm giving away the 3 pieces above to 1 lucky Kitchen Konfidence reader!! Here's how you can enter for a chance to win:
a Rafflecopter giveaway
The 2.25 quart braiser featured here is the perfect size for making risotto and other rice or grain dishes. It's made of durable enamel-coated cast iron, so it holds heat well and evenly distributes it around the pan.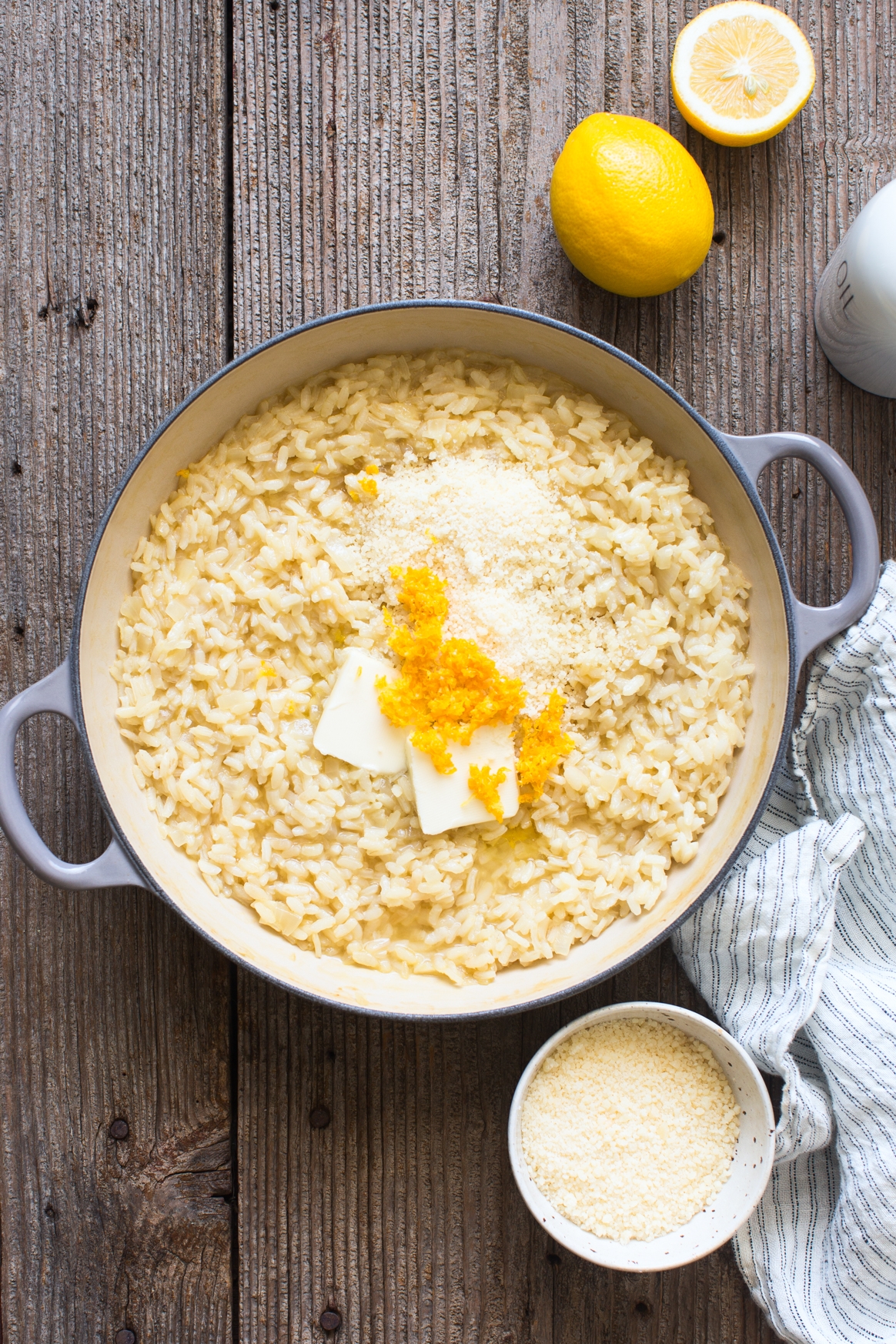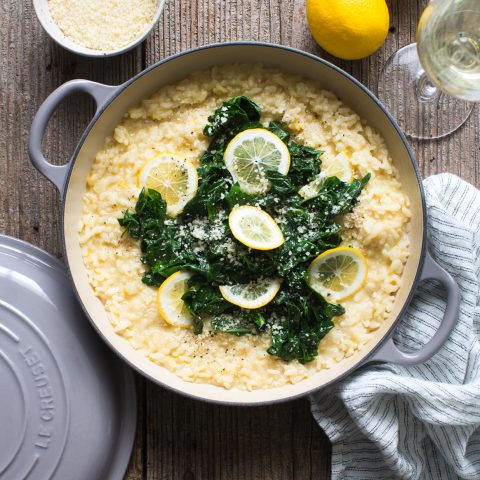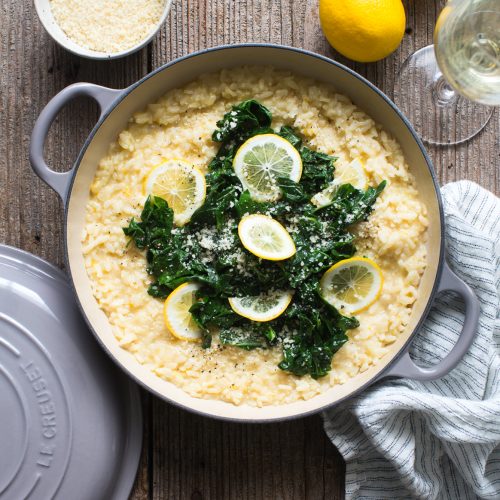 Meyer Lemon Risotto with Spicy Swiss Chard
Ingredients
5

cups

low-sodium chicken stock

3

tablespoon

extra-virgin olive oil, divided

3

tablespoons

unsalted butter, divided

1/2

medium yellow onion, chopped

Kosher salt

1/2

cup

dry white wine (such as Sauvignon Blanc or Pinot Grigio)

1

cup

risotto rice (I used carnaroli rice)

1/2

cup

grated Parmesan cheese, plus more for sprinkling

1

tablespoon

Meyer lemon juice, plus more for squeezing

2

teaspoons

Meyer lemon zest

Freshly ground black pepper

3

garlic cloves, smashed

Crushed red pepper flakes

2

small bunches (about 1 pound) Swiss Chard, stems removed and chopped
Instructions
Bring chicken stock to a simmer in a medium saucepan over medium heat. Once simmering, reduce heat to low, and keep warm.

In a large, heavy-bottom pot, warm 1 tablespoon olive oil, and 1 tablespoon butter over medium heat. Add the onion along with a pinch of salt, and cook until the onion is tender but not browned (5 to 6 minutes). Stir in the rice and cook for 2 minutes, then add the white wine and cook for 1 more minute. Add 1 cup of warm chicken stock and a pinch of salt, and cook, stirring occasionally, until all of the liquid has been absorbed. Continue adding warm chicken stock 1/2 cup at a time, waiting until the stock is absorbed before adding again, and stirring frequently to make sure the bottom doesn't burn. Continue until the rice is cooked through, but still al dente, about 30 – 35 minutes total. You may not use all of the chicken stock. Take the risotto off the heat, and stir in Parmesan cheese, 2 tablespoons butter, and Meyer lemon juice and zest. Season to taste with salt and black pepper.

During the last 5 minutes of cooking, warm remaining 2 tablespoons olive oil in a large skillet over medium heat. Add the garlic and cook, turning once, until the cloves are golden brown. Remove the cloves from the oil (discard or snack on later!), then add a pinch of crushed red pepper flakes and cook for 30 seconds.

Add the chopped greens and cook, stirring frequently, just until wilted (about 2 minutes). Season to taste with salt.

To serve, spoon risotto into a bowl, and top with greens. Finish with a squeeze of Meyer lemon juice, a dusting of Parmesan cheese and a few turns of black pepper.
Notes
The final photo at the top shows sliced Meyer lemons on top.  This was just a stylistic choice for the photo, and not required for the recipe.  Simply squeeze a little Meyer lemon juice on top to get that final hit of citrus.
Tried this recipe?
Tag @brandiego on Instagram so I can check it out!
This post was written in partnership with Le Creuset.  They provided me with 3 cookware pieces along with the giveaway items.  All thoughts, opinions and recipes are my own.
59