Mussels were a family favorite at my house when I was growing up.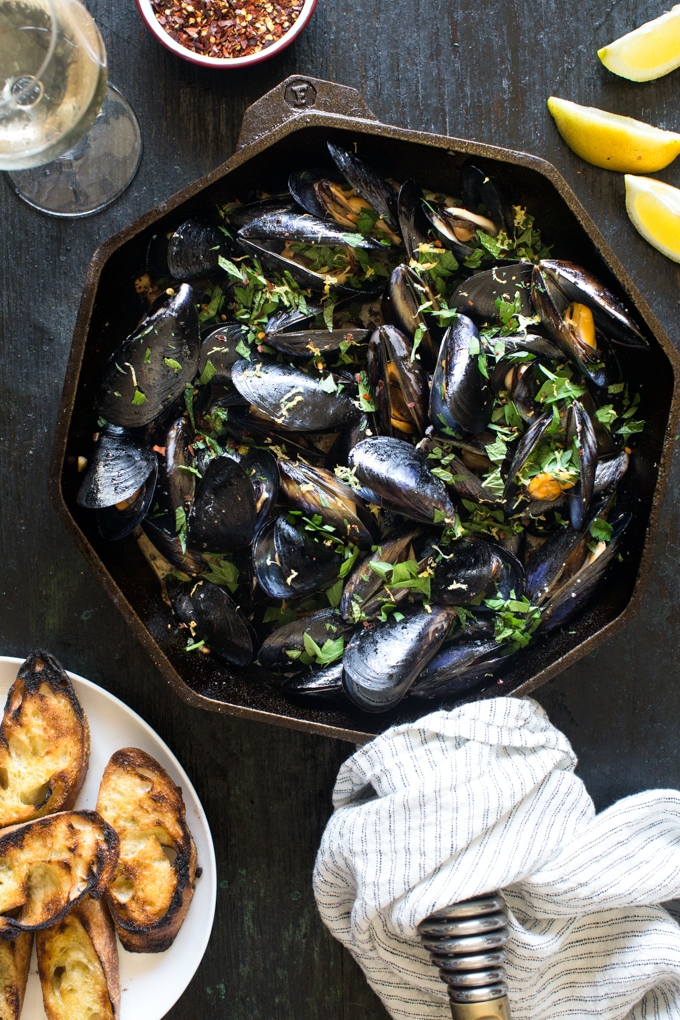 My mom would often prepare them steamed with white wine, garlic and fresh aromatics, or simmered with tomato sauce and spooned over spaghetti.  Either way, toasted bread was always served to sop up all the delicious seafood-infused sauce.  This recipe, inspired by my mom's steamed mussels, comes to you today in partnership with Noble Vines, a California label founded in 2006 by the Indelicato family; a fourth-generation family owned winery that's been making wine in California since 1924.
Given that it's summer right now and I've been grilling and smoking everything, I decided to prepare these mussels over a hot charcoal fire.  You start by heating up a cast iron skillet directly on the grill grate.  Garlic and red chile flakes are then sizzled in olive oil until golden and aromatic.  The mussels join the skillet along with dry white wine like Noble Vines 242 Sauvignon Blanc crisp with notes of white peach, citrus and lemongrass.  You then cover the grill to let the mussels steam while they soak up flavors of smoke and fried garlic.  The dish is finished with fresh parsley, mint and lemon zest.
These Grilled Mussels are a perfect summer meal.  The deep savoriness of the golden garlic is balanced by the fresh herbs, lemon zest and acidity from the white wine.  A natural wine pairing for these mussels would be Noble Vines 242 Sauvignon Blanc.  It's refreshing on a warm evening, and echoes the flavors infused into the dish.  Be sure to serve plenty of grilled bread on the side for dipping.  Continue reading for the recipe plus more on Noble Vines!