Several months ago, I had a grilled kale salad at a special event, and I've been dying to recreate it ever since.
This post may contain affiliate links.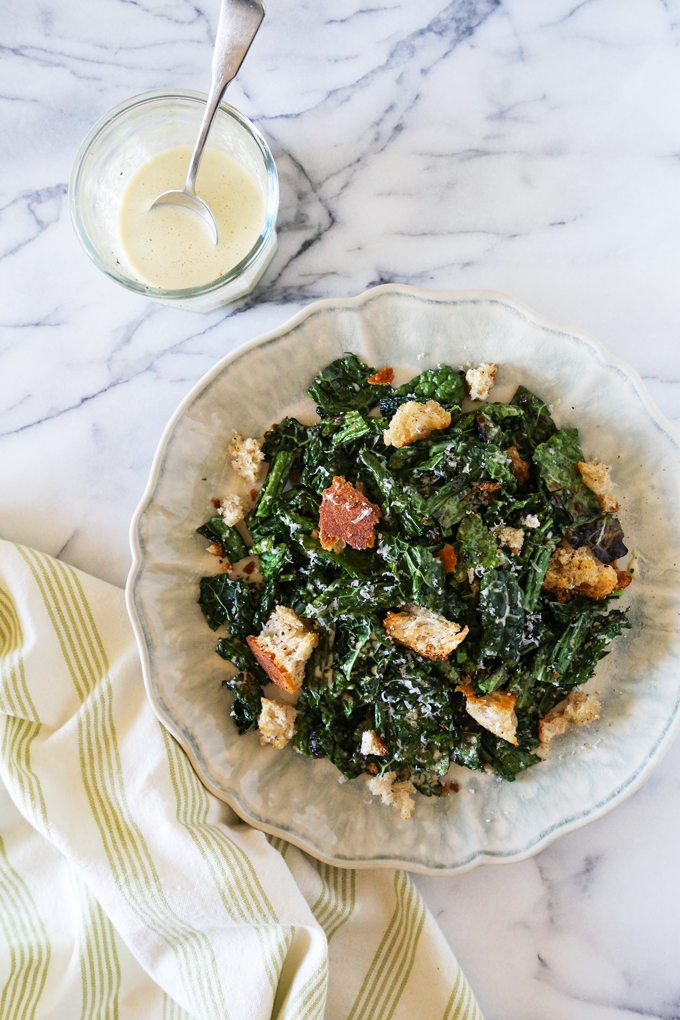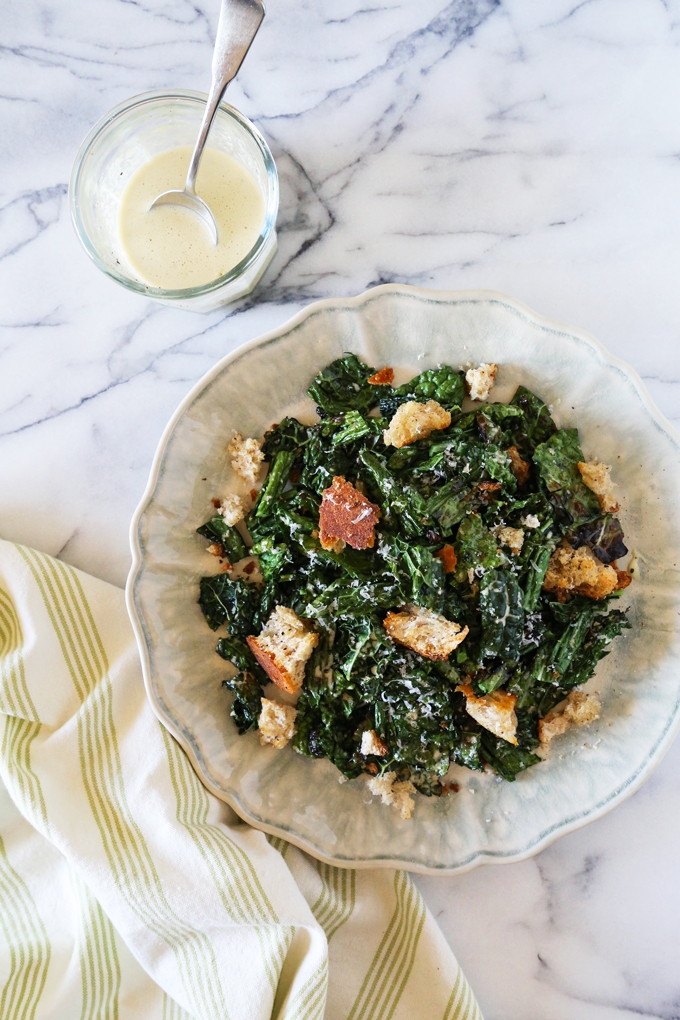 Organic lacinato kale, also known as dinosaur or black kale, is the star ingredient of this healthy, summer salad.  When cooked over hot coals, this leafy superfood transforms into something truly delicious.  Crispy edges provide savory notes of smoke and char while the inner portion of the kale leaf stays tender and chewy.  These grilled greens are tossed in a creamy Caesar dressing spiked with lemon, garlic and Parmesan cheese.  Torn croutons add pops of satisfying crunch.  This salad is a delicious mix of flavors and textures.  Continue reading for the recipe.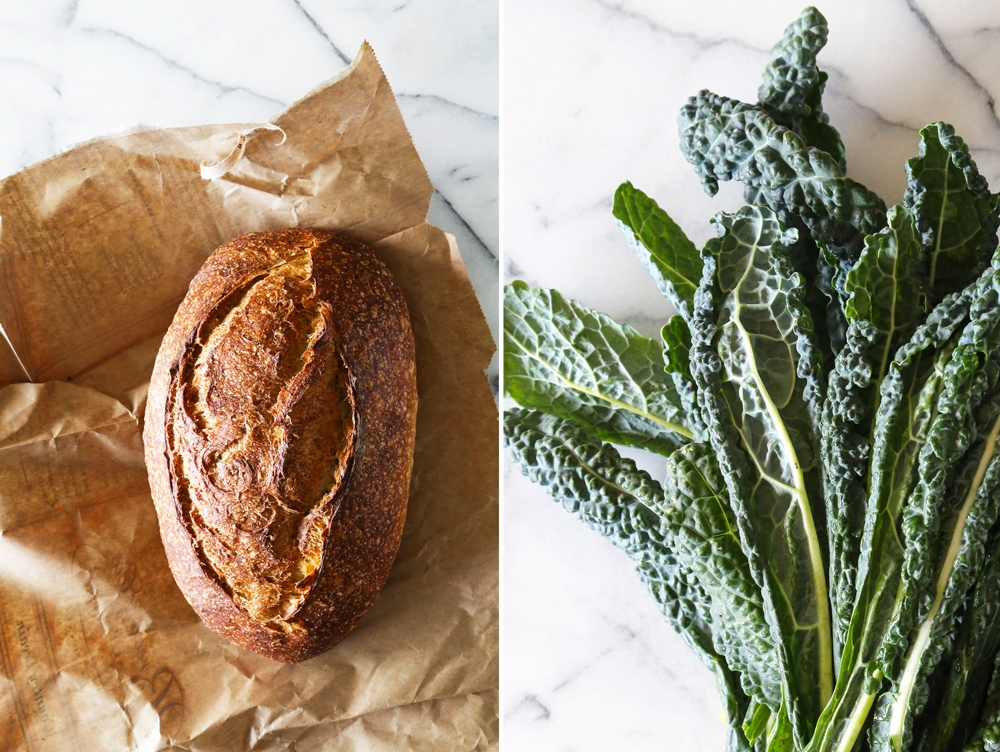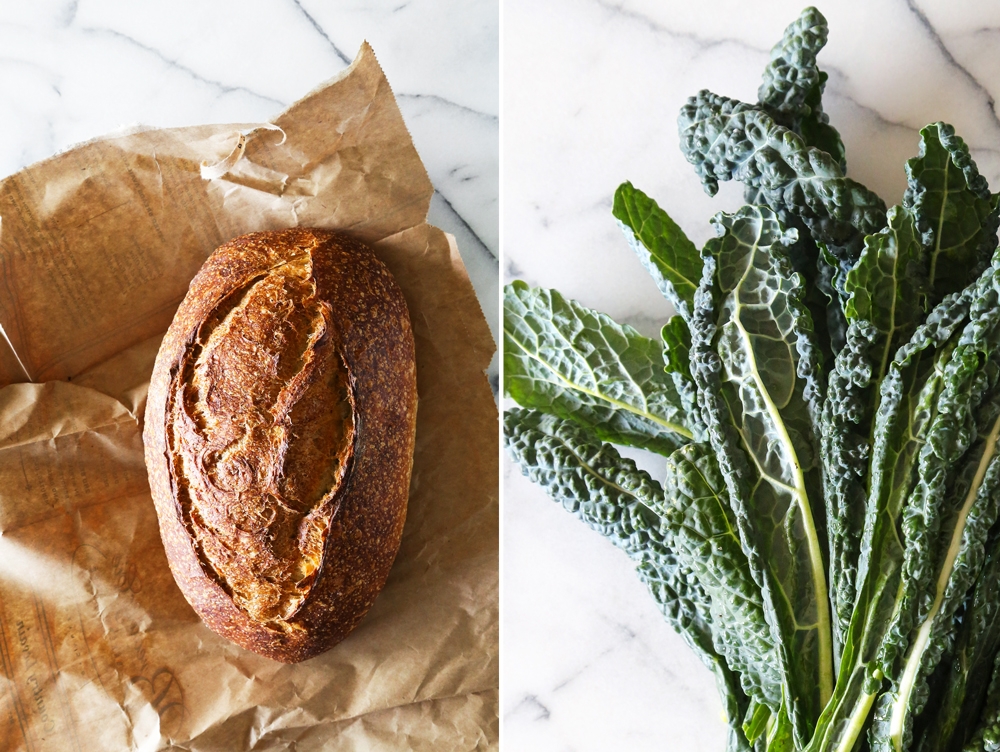 Would you just look at that beautiful loaf?  This Bread & Cie Country Levain has a crisp, golden crust that surrounds a light, airy interior.  When torn to pieces, drizzled in olive oil, and baked until crunchy, this bread makes perfect croutons.  Be sure to tear the bread rather than cut it into cubes.  The uneven pieces will develop varying textures when baked.  Some bits will get wonderfully caramelized while others retain some chew.
Caesar dressing is very simple to make.  Especially with an immersion blender!  A raw egg yolk is a must, and anchovy paste is highly encouraged.  I'll have to admit that I'm still on the fence with anchovies.  Sometimes I like them, and sometimes I don't.  I've really grown to like the anchovy element in Caesar dressing though.  Even the smallest amount will add intriguing depth of flavor.  In this dressing, I use 1/4 teaspoon anchovy paste.  You could certainly add more if you are an anchovy fan.  You can also use whole anchovies that have been chopped up (1 or 2).  I just like the convenience of anchovy paste.
I purchased all of the ingredients needed for this salad at the new Jimbo's… Naturally! now open at Westfield Horton Plaza.  The Caesar dressing can be prepared a day in advance, and stored in the fridge.  Torn croutons can be made earlier in the day, and stored at room temperature.  I'd recommend cooking the kale leaves beside a main course.  Don't fire up the grill just for a salad!  This Grilled Kale Caesar would pair perfectly with a tri-tip roast, brined pork chops or a juicy cheeseburger.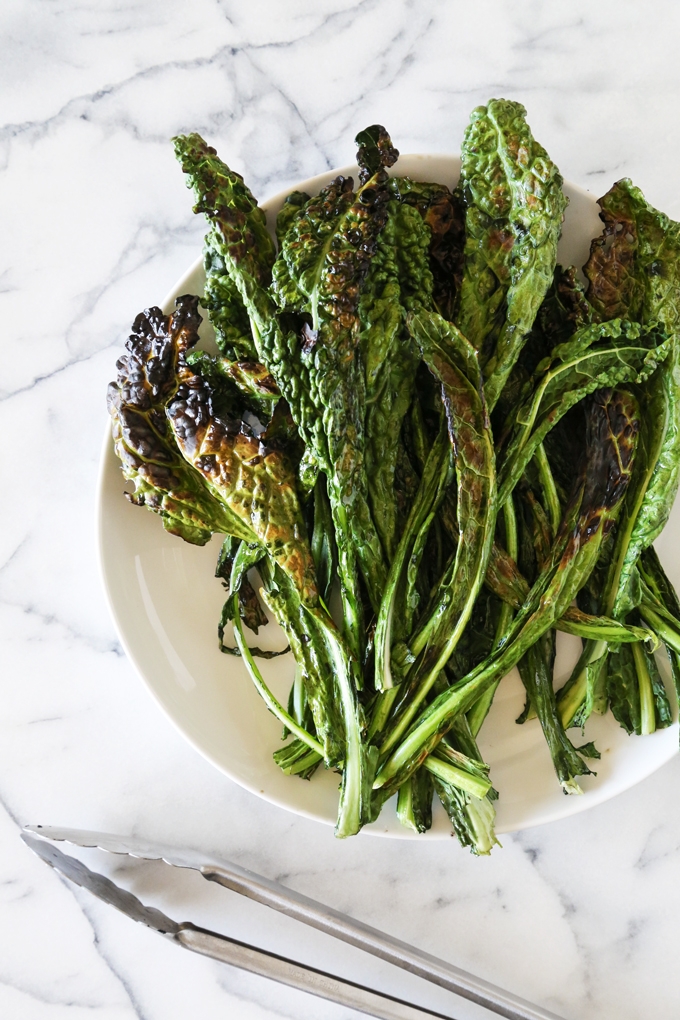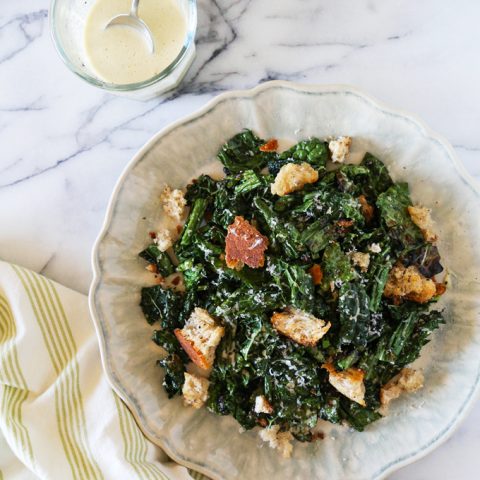 Grilled Kale Caesar with Torn Croutons
Ingredients
For the croutons:
1/2

loaf of country bread

Extra-virgin olive oil

Kosher salt

Freshly ground black pepper
For the salad:
2

bunches organic lacinato kale, also known as dinosaur or black kale

Olive oil

Kosher salt

1

tablespoon

organic red wine vinegar

1

tablespoon

organic lemon juice

1/4

teaspoon

anchovy paste or 2 chopped anchovies

2

cloves

organic garlic, chopped

1

organic egg yolk

Freshly ground black pepper

1/4

cup

extra-virgin olive oil

1/4

cup

freshly grated Parmesan cheese, plus more for sprinkling
Instructions
Preheat an oven to 350°F. Tear bread into 1-inch pieces into a medium bowl. Drizzle extra-virgin olive oil over the bread, and season with a big pinch of kosher salt and several turns of black pepper, tossing to coat. The bread pieces should be well-coated with olive oil. Bake until croutons are golden and crisp (15 – 20 minutes total), turning a few times while they cook. Let croutons cool before using.

Prepare an outdoor grill (charcoal or gas) to high heat. Let the grill grate preheat for 15 minutes, and clean and oil it just before cooking. Drizzle kale with olive oil, and using your hands, rub the oil all over the leaves. Sprinkle with kosher salt. Cook kale in batches on the grill over high heat , turning once, until crispy and charred at the edges (about 2 minutes total). Once cool enough to handle, cut the thick center stems from the cooked kale leaves, and chop remaining leaves. Discard stems.

To prepare the dressing, place vinegar, lemon juice, anchovy paste, garlic, and egg yolk in a wide mouth jar. Add a pinch of kosher salt and several turns of black pepper, then, using an immersion blender, blend until combined. With the blender running, slowly stream in the extra-virgin olive oil until the dressing emulsifies (thickens). If you don't have an immersion blender, you can use a regular blender or food processor. Stir in grated Parmesan, and season to taste with additional kosher salt and black pepper.

To serve, divide chopped kale between 4 salad plates, top with torn croutons and a drizzle of Caesar dressing. Finish with a final sprinkling of grated Parmesan.
Tried this recipe?
Tag @brandiego on Instagram so I can check it out!
I partnered with Jimbo's… Naturally! and Westfield Horton Plaza on this article.  Also, at the time this articles was written I was an employee of Westfield.  All thoughts, opinions and recipes shared in this article are my own.
4