Today, I'm celebrating the release of Whip It Up!, a new cookbook by Billy of Wit & Vinegar.
This post may contain affiliate links.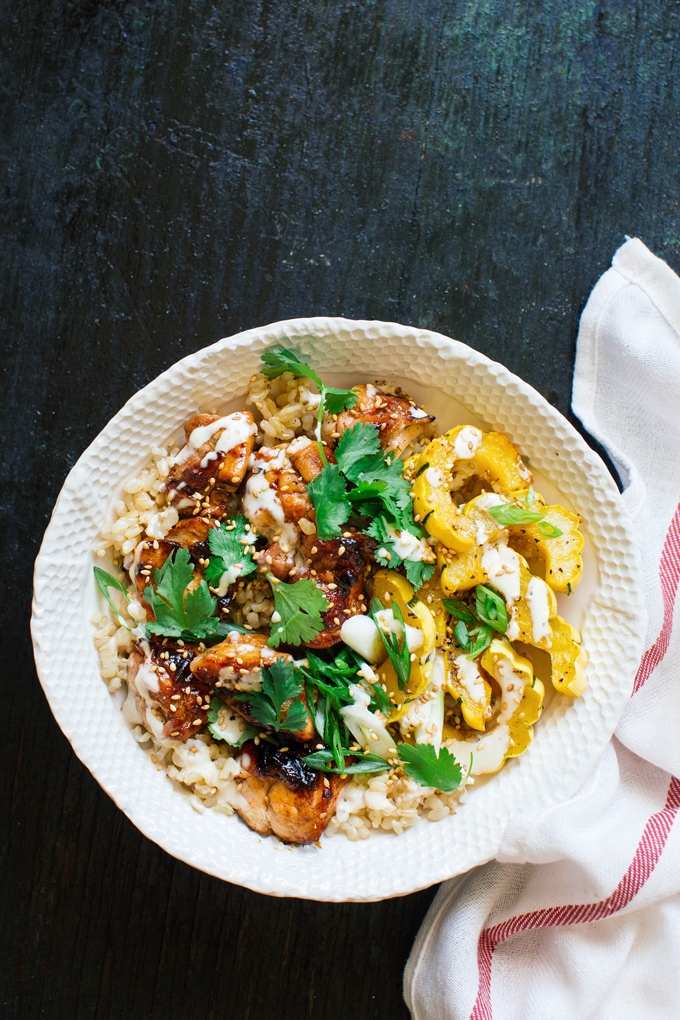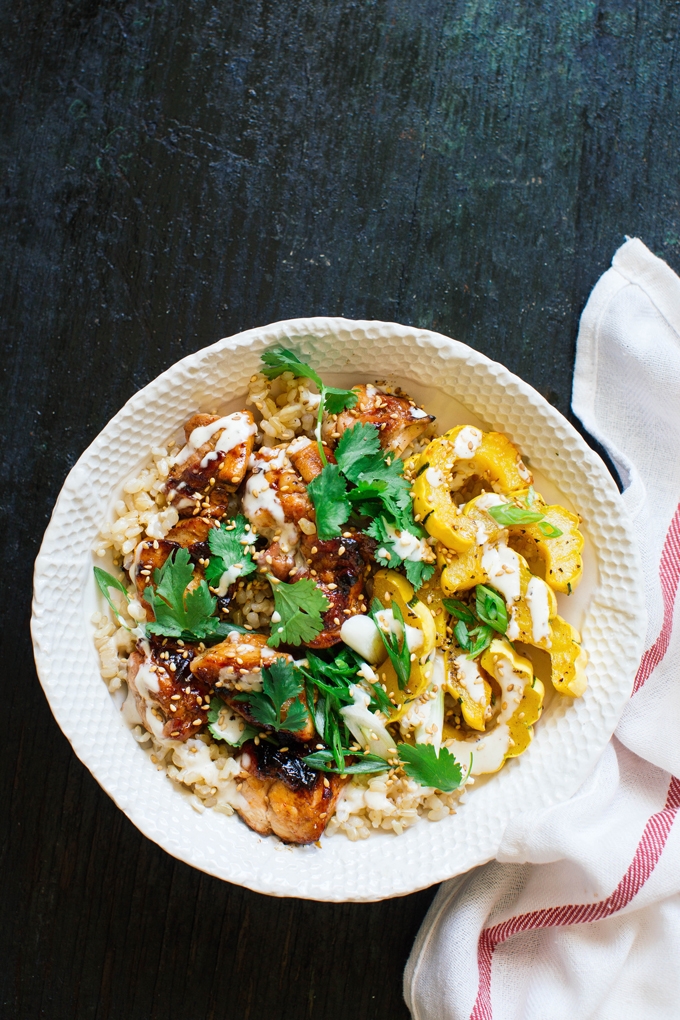 This book is a beauty.  Billy's blogging style is colorful, approachable and entertaining, and Whip It Up! happily follows suit.  You'll find entire sections on morning buns, tacos, cocktails, popsicles and ice cream (with toppings!), plus over 75 other fast, fun recipes.  Whip It Up! offers a variety of flavor profiles, including Mexican, Asian, Italian and American along with plenty of pop culture references and LOL moments sprinkled throughout.  I've got several recipes bookmarked already.  Particularly: Eggs in Srirachatory, Brownie Granola, Buffalo Panzanella, Garlic Musubi Fried Rice, The Whole Enchilada, Brown Butter Walnut Blondies and Bourbon Gingersnap Ice Cream.  And like all the tacos.
These Honey Sriracha Chicken Skewers also caught my eye, because of their simple ingredient list and preparation.  Made with just 6 ingredients (chicken, honey, rice wine vinegar, Sriracha, salt and pepper), this grilled chicken is so darn tasty.  The easy honey-Sriracha sauce flavors the chicken in two ways: before cooking as a marinade and during cooking as a glaze.  As the skewers sit above a hot flame, the honey in the sauce blackens, providing crunchy hits of sweet char.  Soooooo good!  Continue reading for the recipe, plus a fun way to Switch It Up!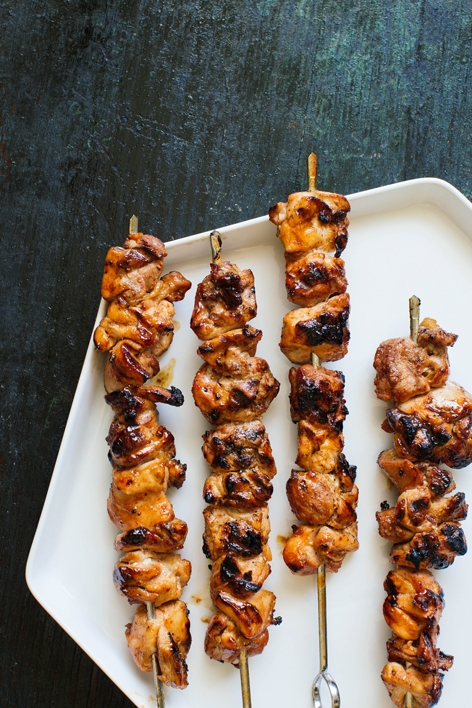 These chicken skewers would be perfectly fine on their own.  To make them into a full meal, I decided to go the bowl route.  Start with leftover rice and simply roasted vegetables.  Here, I am using leftover delicata squash that I previously roasted in olive oil, salt and pepper.  Then, add a skewers worth of grilled chicken to the bowl.  Top with fun things that add contrast in flavor, color and texture like scallion, cilantro and toasted sesame seeds.  Bring it all together with a drizzle of creamy, asian-inspired Tahini Lime Dressing.  This bowl is easy to put together (especially when using leftovers), and super satisfying.
Honey Sriracha Chicken Bowl Recipe
Ingredients
For the dressing:
1/2

cup

tahini

6

tablespoons

water

4

tablespoons

freshly squeezed lime juice

1

tablespoon

sesame oil

1

clove

garlic, grated or minced

1

squeeze of honey

3/4

teaspoon

kosher salt, plus more to taste

Freshly ground black pepper
For the bowl:
3

cups

cooked brown rice

2

cup

simple roasted vegetables (delicata squash shown here)

4

skewers of Honey Sriracha Chicken (recipe below)

4

scallion, thinly sliced on the bias

Cilantro leaves

Toasted sesame seeds
Instructions
To make the dressing, combine tahini, water, lime juice, sesame oil, garlic, honey, kosher salt and several turns of black pepper in a medium bowl, and whisk to combine. Season to taste with additional salt and pepper.

To make the bowls, divide the rice between 4 shallow, wide bowls, and top each with 1/2 cup roasted vegetables and 1 skewers worth of chicken. Top each bowl with 1 sliced scallion, a small handful of cilantro leaves, and a sprinkling of toasted sesame seeds. Drizzle each bowl with Tahini Lime Dressing, and serve with extra dressing on the side.
Tried this recipe?
Tag @brandiego on Instagram so I can check it out!
Honey Sriracha Chicken Skewers
Ingredients
1/2

cup

runny honey

1/2

cup

rice wine vinegar

3

tablespoons

Sriracha

1

teaspoon

kosher salt, plus more to taste

1/2

teaspoon

freshly ground black pepper

1 1/2

pounds

boneless, skinless chicken thighs (about 5), cut into 2-inch cubes

Vegetable oil, for brushing
Instructions
Whisk together honey, vinegar, Sriracha, kosher salt and black pepper in a medium bowl. Place chicken in a large zip-top bag. Add 1/4 cup of the honey-Sriracha sauce to bag with the chicken, and smoosh it around to evenly coat. Set aside. Place the rest of the sauce in a small saucepan, and bring to a boil over medium heat. Boil until the sauce has thickened slightly (3 - 4 minutes).

Preheat a gas or charcoal grill over medium-high heat. Brush the grill grates with vegetable oil to keep the chicken from sticking. While the grill is heating up, remove the chicken from the bag and thread onto 4 metal skewers.

Place skewers on the grill, and brush with sauce. Grill for 3 minutes, then flip and brush with sauce again. Grill for 3 minutes, then flip and brush with sauce again. Grill for 3 minutes, then flip and brush with sauce again. Grill for 1 minute then take the skewers off the heat (10 minutes total cooking time). The chicken should be cooked through (but still juicy and tender), and blackened in spots. Sprinkle chicken with a little kosher salt, and let rest for a few minutes before serving.
Tried this recipe?
Tag @brandiego on Instagram so I can check it out!
Billy provided me with a copy of Whip It Up!  All thoughts and opinions are my own.  Get your own copy of Whip It Up! here.  You're seriously going to love this book!
6