Flavored with lemon, tarragon and herbed goat cheese, this Asparagus Risotto recipe is light, bright and perfect for a springtime dinner.
This post may contain affiliate links.
Risotto is one of my favorite meals to make, because I find the process to be simple and comforting. I enjoy the steady stirring, and the finished risotto is always so creamy and lovely. Risotto is also a great base for various different vegetables. You can top risotto with beans and greens, spicy Swiss chard, mushrooms or like in this recipe, asparagus.
Asparagus is always such a treat during the spring months, and this recipe really highlights the flavor. One pound of asparagus are cut into bite-sized pieces, then quickly sautéed before heading into the risotto. Complementary flavors of lemon zest, lemon juice, garlic, tarragon and herbed goat cheese take this dish to the next level. Continue reading for the recipe.
How to Make Asparagus Risotto
To make Asparagus Risotto, you start by cooking onion, garlic and lemon zest in a mix of butter and olive oil. Next, you stir in rice and let cook in the fat for a couple of minutes. You then deglaze the pan with some dry white wine.
At this point, you start adding the chicken stock to the rice a ladleful at a time. With each addition, you need to stir the rice and let it completely absorb the liquid. This gradual process cooks the rice while coaxing out the starch to form a creamy sauce (without any cream!).
While the risotto is cooking, you quickly sauté one pound of chopped asparagus in olive oil until tender and slightly golden.
During the final addition of chicken stock, you stir in some of the cooked asparagus, butter, lemon juice and Parmesan cheese. I've also added another layer of flavor here with herbed goat cheese. If you can't find this, you could certainly use regular goat cheese.
You finish this asparagus risotto with the remainder of the cooked asparagus, more Parmesan, black pepper and chopped tarragon. The tarragon isn't essential to the dish, but it does go really well with asparagus.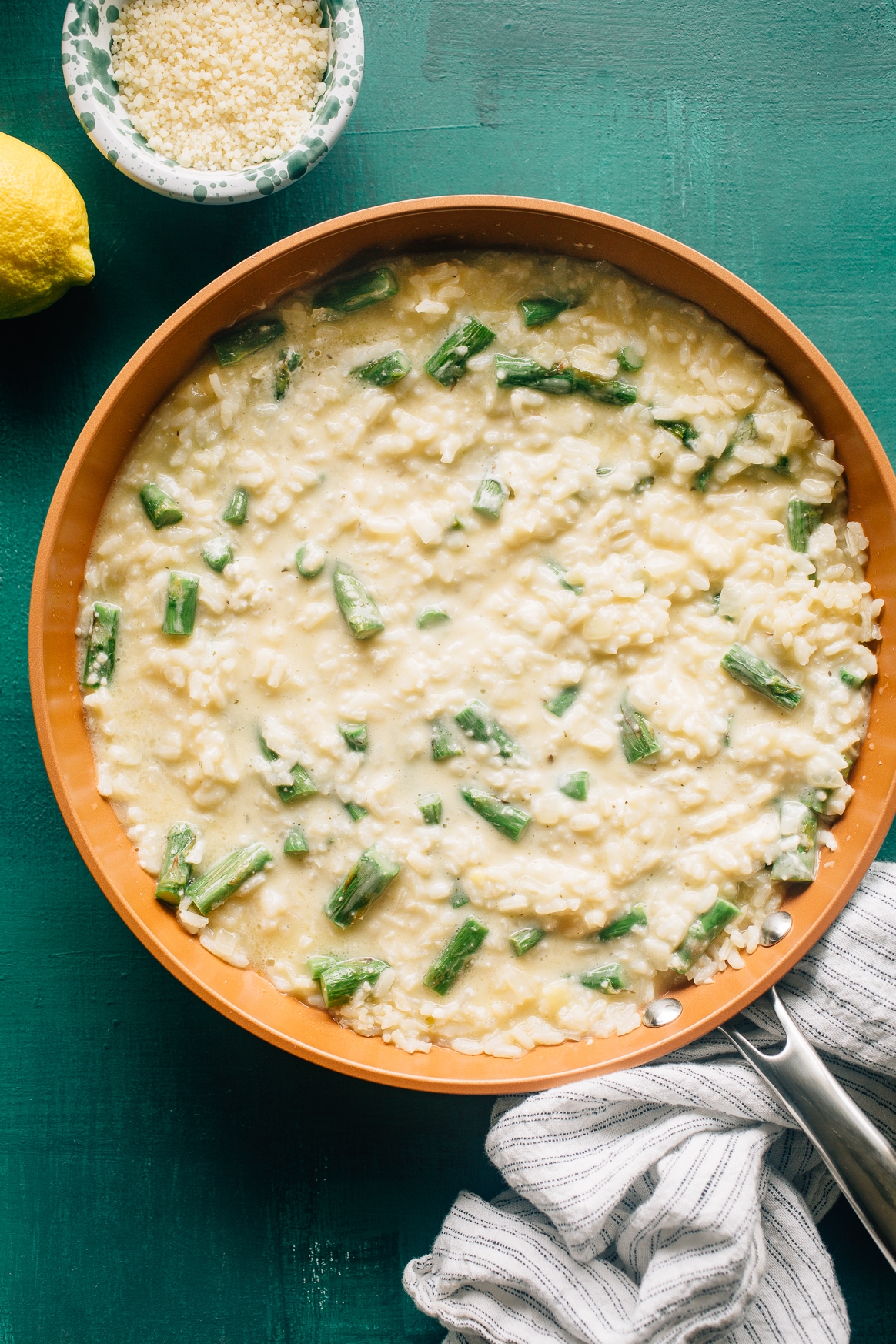 What to Serve with Asparagus Risotto
Asparagus Risotto can certainly be enjoyed on its own, but it also pairs beautifully with chicken and seafood. I recently enjoyed it with some spicy, garlicky shrimp.
For a beverage pairing, try the dry white wine you used in the risotto (Sauvignon Blanc or Pinot Grigio) or a refreshing cocktail like an Aperol Spritz or Gin & Tonic.
Asparagus Risotto
Ingredients
5

cups

low-sodium chicken stock

3

tablespoon

extra-virgin olive oil, divided

3

tablespoons

unsalted butter, divided

1/2

medium yellow onion, chopped

2

cloves

garlic, minced

4

strips of lemon zest

Kosher salt

1/2

cup

dry white wine (such as Sauvignon Blanc or Pinot Grigio)

1

cup

risotto rice (I used arborio rice)

1

pound

asparagus, woody ends trimmed, cut into bite-sized pieces

1/2

cup

grated Parmesan cheese, plus more for sprinkling

1

teaspoon

lemon juice, plus more as needed

2

ounces

herb goat cheese, crumbled (you can use regular goat cheese here as well)

Freshly ground black pepper

1

tablespoon

chopped tarragon leaves (optional)
Instructions
Bring chicken stock to a simmer in a medium saucepan over medium heat. Once simmering, reduce heat to low, and keep warm.

In a large, heavy-bottom pot, warm 1 tablespoon olive oil, and 1 tablespoon butter over medium heat. Add the onion along with a pinch of salt, and cook until the onion is tender but not browned (5 to 6 minutes). After 3 minutes add the garlic and lemon zest. Stir in the rice and cook for 2 minutes, then add the white wine and cook for 1 more minute. Add 1 cup of warm chicken stock and a pinch of salt, and cook, stirring occasionally, until all of the liquid has been absorbed. Continue adding warm chicken stock 1/2 cup at a time, waiting until the stock is absorbed before adding again, and stirring frequently to make sure the bottom doesn't burn. Continue until the rice is cooked through, but still al dente, about 30 – 35 minutes total. You may not use all of the chicken stock.

While the risotto is cooking, warm remaining 2 tablespoons olive oil in a large skillet over medium heat. Add asparagus and cook, stirring occasionally, until just tender (4 to 5 minutes). Take off the heat and set aside.

During the last addition of stock, stir in 1/2 of the cooked asparagus. Take the risotto off the heat, fish out strips of lemon zest and stir in Parmesan cheese, 2 tablespoons butter, and lemon juice. Fold in goat cheese, then season to taste with salt, pepper and more lemon juice.

To serve, spoon risotto in a shallow bowl and top with sautéed asparagus, a scattering of chopped tarragon, a sprinkling of Parmesan cheese and a few turns of black pepper.
Tried this recipe?
Tag @brandiego on Instagram so I can check it out!
24