Ok so today I'm sharing a super fun cocktail + taco pairing prepared in partnership with Exotico Tequila.
This post may contain affiliate links.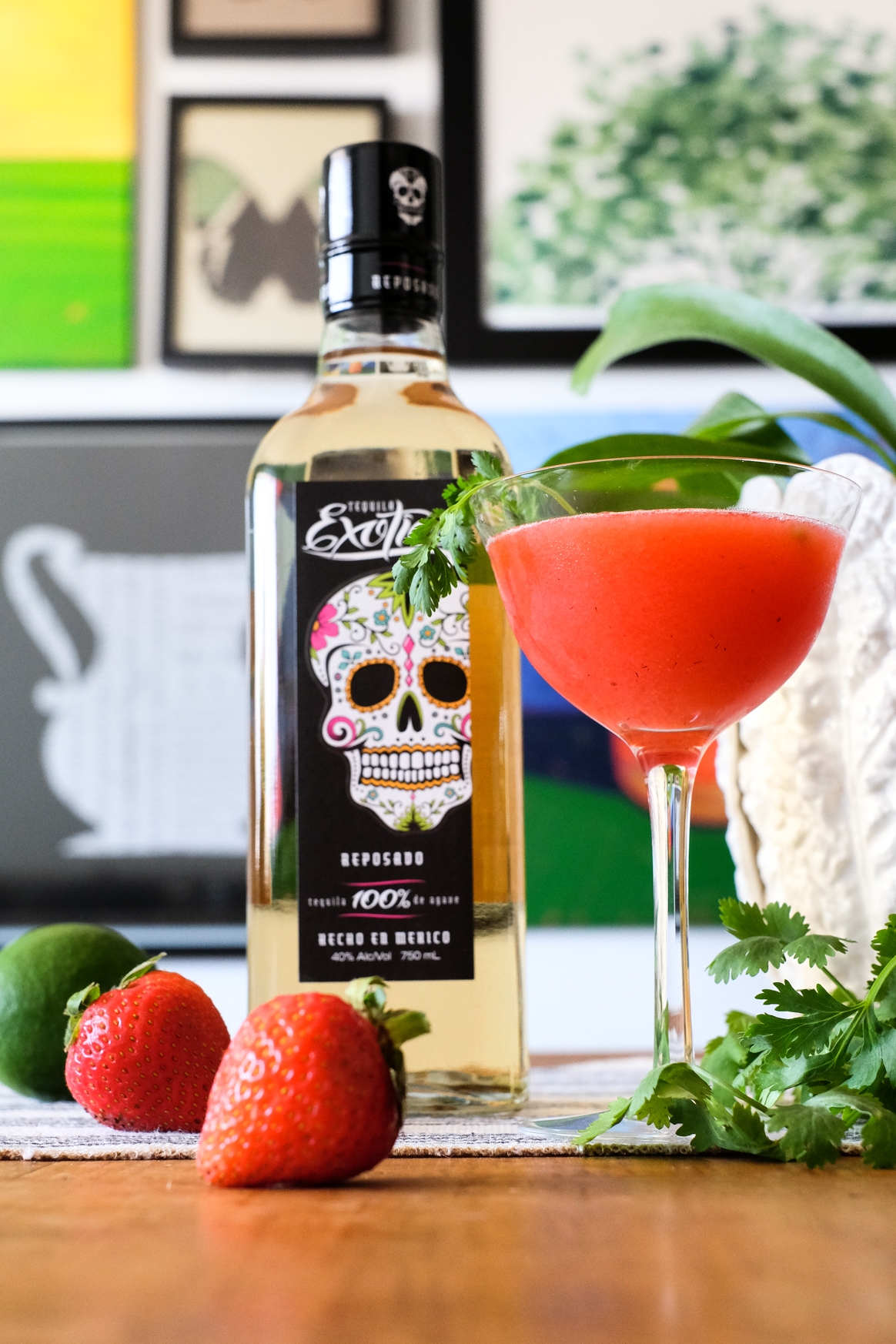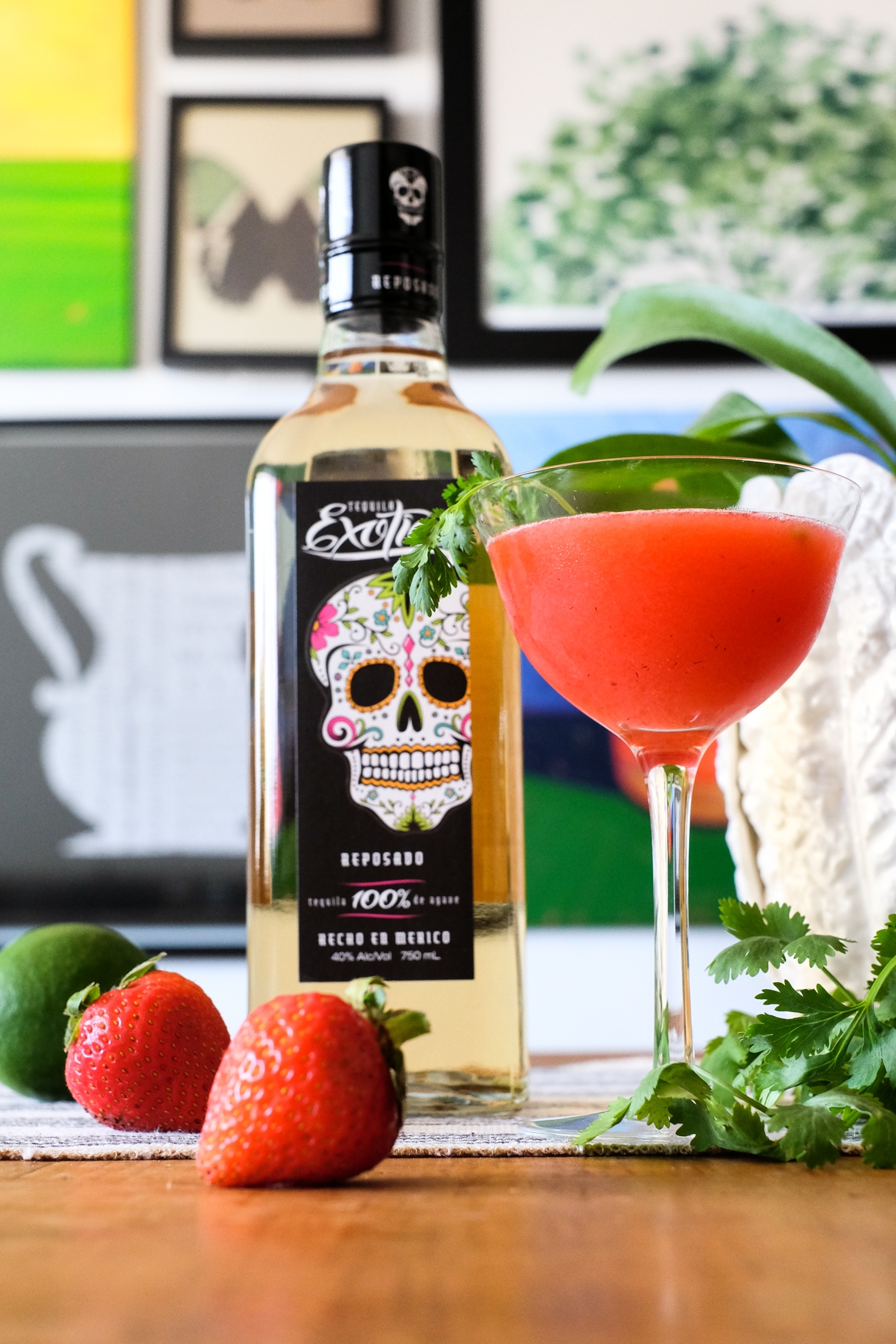 Let's start with the drink.  My La Fresa cocktail is a fresh and vibrant libation made with Exotico Reposado, strawberry puree, cilantro syrup and lime juice.  It's bright and juicy with undertones of vanilla, oak and spice from the reposado.  The cilantro syrup enhances the sweetness of the strawberries while adding a subtle grassy note.  For the taco pairing, I used many of same flavors to create a punchy Shrimp Taco with Strawberry Salsa.
The taco recipe starts with fresh shrimp marinating in lime juice, lime zest, olive oil, garlic and cilantro.  After just 20 minutes, the shrimp are roasted until plump and blushing.  To assemble, pile up shrimp in a charred flour tortilla, then top with a sweet-tart salsa made with strawberries, lime, serrano chile, red onion and chopped cilantro.  Each bite is bold in flavor, but light texture-wise.  A perfect dinner for a warm late summer evening.  Continue reading for the recipes.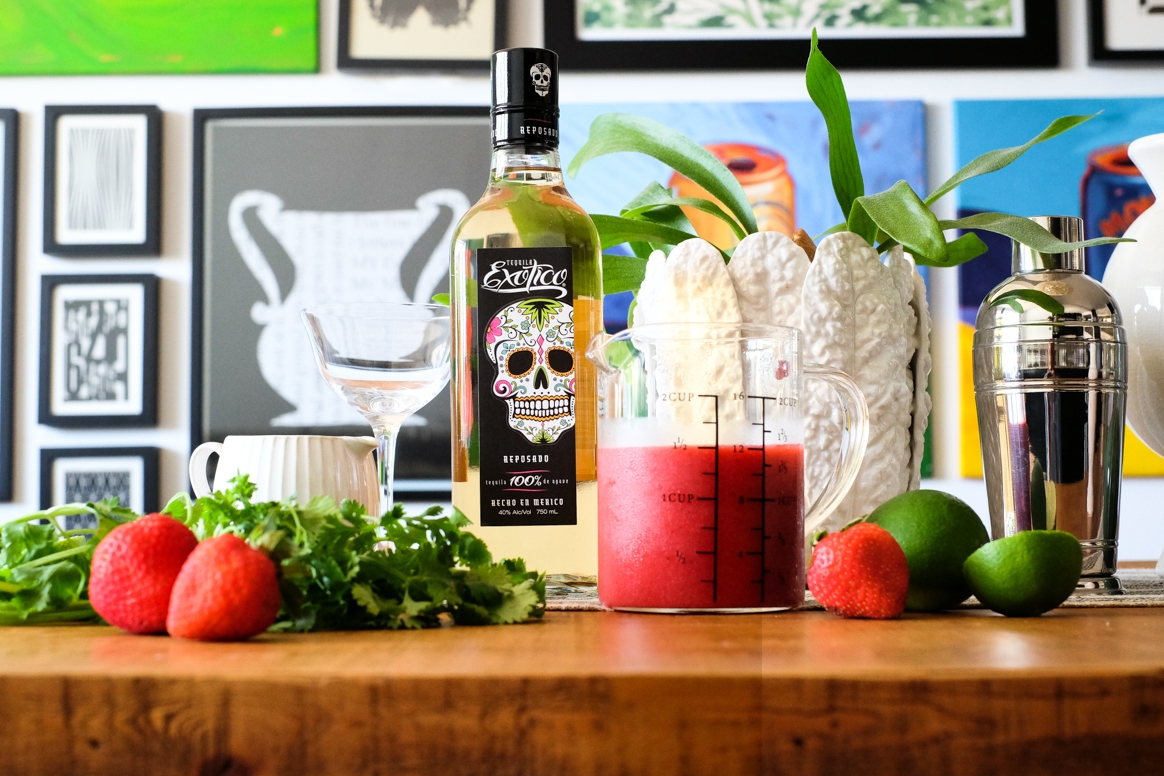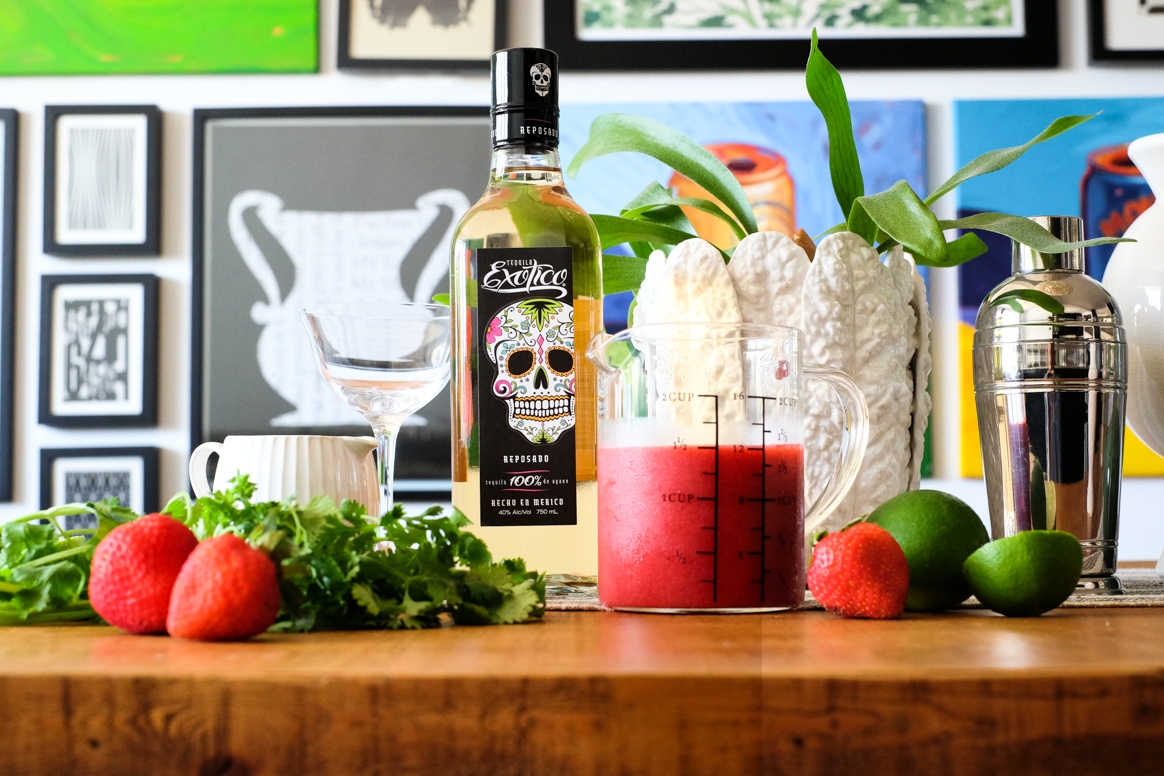 This La Fresa cocktail has a couple of handmade ingredients:
Strawberry puree
Cilantro simple syrup
The first is made by warming up a bunch of halved strawberries in a skillet just until tender.  After that, they get blended and strained into a smooth puree.  One pound of strawberries makes about 1 cup of puree (8 drinks).  I'd recommend making a little more, because the puree is also delicious poured on top of vanilla ice cream or swirled into Greek yogurt!
The simple syrup is prepared by simmering water and sugar with coriander seeds and lime zest.  Once the sugar is dissolved, you take the mixture off the heat and let cool a bit before adding a bunch of cilantro sprigs.  Let the mixture steep for several hours and then strain before using in this cocktail.  You can make both of these items several days in advance and store in the fridge until you are ready to use them.
Exotico Tequila's reposado is aged six months in white oak bourbon barrels, resulting in a smooth spirit warm with notes of vanilla, dried fruit, spices and caramel.  And the oakiness is on the mellow, approachable side.  I'd have to say that Exotico's reposado is definitely a quality tequila for the price point (under $20), and it really blends well into cocktails!
Next, let's talk tacos.  I just love seafood tacos during the summer months, and these Shrimp Tacos with Strawberry Salsa are a real treat on a hot summer day.  The shrimp marinate in just 20 minutes.  Make sure you don't leave them in the acidic liquid for too long or you'll end up with ceviche!  I've prepared these shrimp in the oven, but you could certainly cook them on the grill or stovetop instead.
My Strawberry Salsa is sweet, tart and just a little spicy.  Once you are done mixing everything together, be sure to taste and adjust seasonings.  The flavor can vary depending on the ripeness of the strawberries, so you may need to add a bit more honey for sweetness or lime juice for tartness.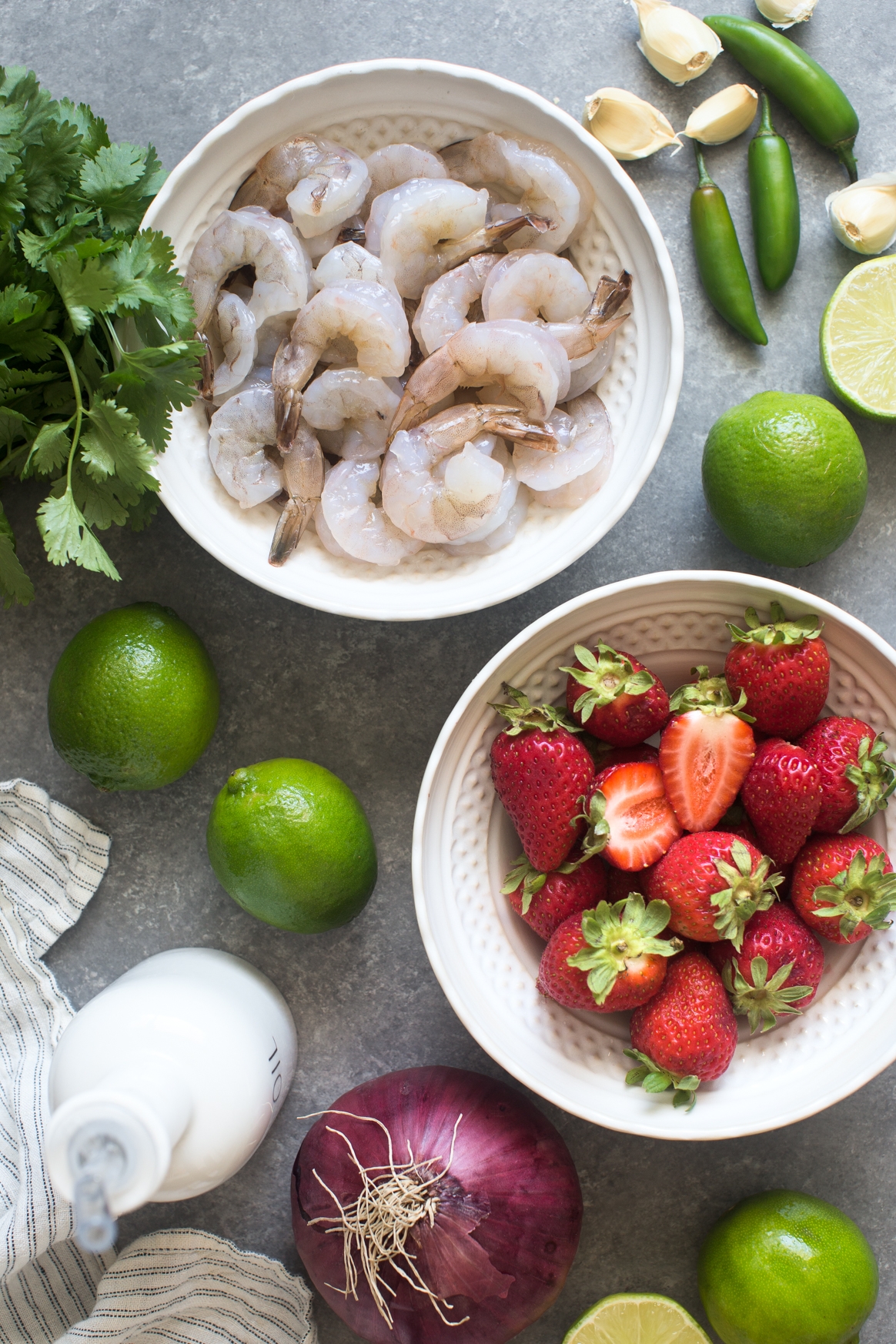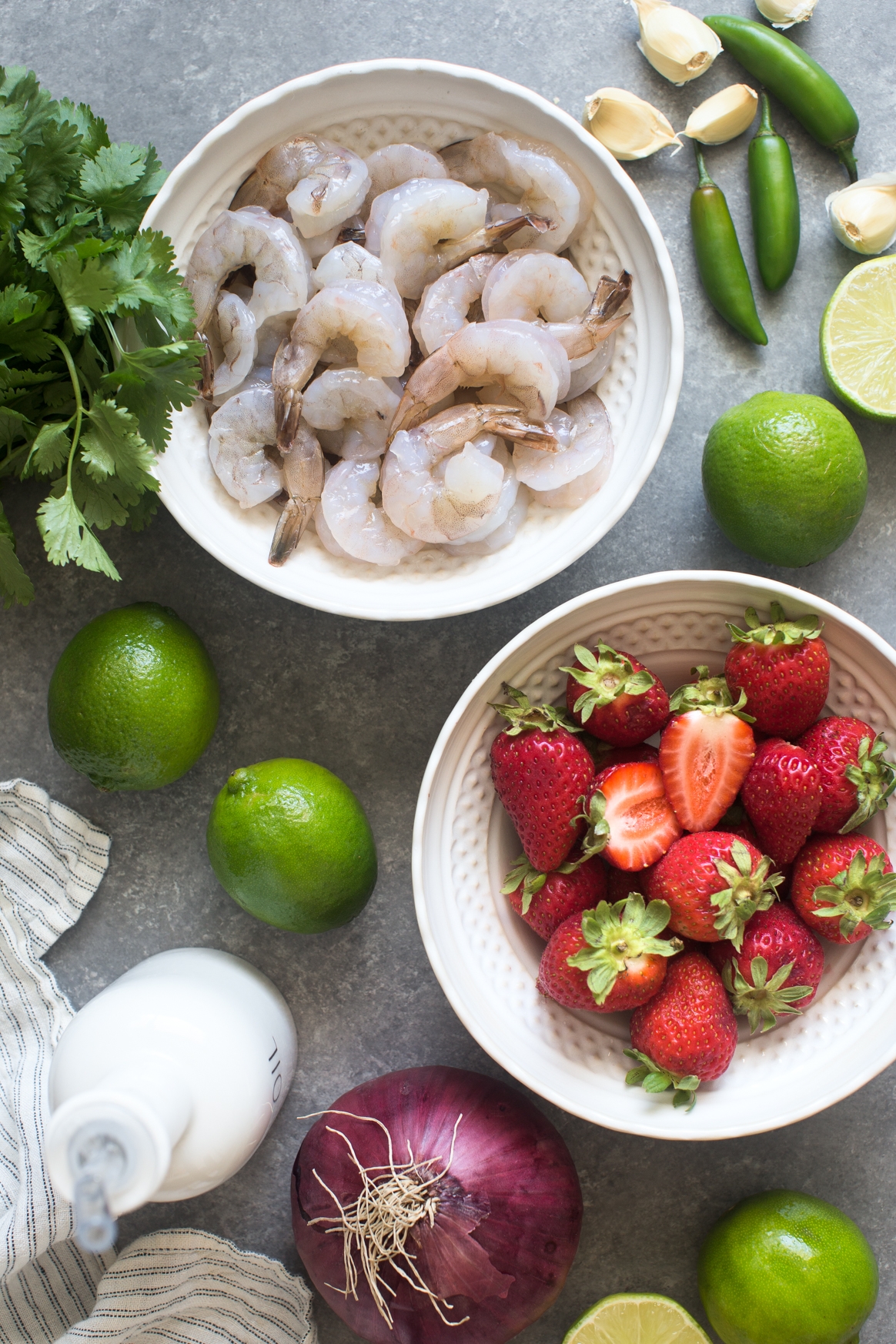 La Fresa Cocktail
Ingredients
For the Cilantro Simple Syrup:
1

cup

water

1

cup

sugar

1

tablespoon

coriander seeds

Zest of 1 lime

1

small bunch (15 to 20 sprigs) cilantro
For the cocktail:
1 1/2

ounces

Exotico Reposado Tequila

1

ounce

strawberry puree (recipe below)

3/4

ounce

Cilantro Simple Syrup

1/2

ounce

fresh lime juice

Cilantro sprig, for garnish
Instructions
To make the cilantro syrup, add water, sugar, coriander seeds and lime zest to a medium saucepan, and bring to a boil over medium-high heat, stirring until the sugar is dissolved. Take the mixture off the heat and let cool for 15 minutes. Add the cilantro sprigs, cover, and let steep for 4 hours. Strain into a clean bowl and store in the refrigerator until ready to use.

To make the cocktail, add tequila, strawberry puree, cilantro syrup and lime juice to a cocktail shaker with ice. Cap and shake until well-chilled. Strain into a coupe glass and garnish with a cilantro sprig.
Notes
* To make strawberry puree give 1 pound (ish) of strawberries a good rinse. Do not dry. Hull and half the strawberries. Quarter any extra large strawberries. Add strawberries to a large saucepan and warm over medium heat, stirring occasionally. Cook until strawberries start to soften and release juices. Remove from heat and transfer to a small food processor. Add a dab of water and process until smooth. Pour mixture through a fine mesh basket strainer into a clean bowl (you can use a spatula here to help press the liquids through strainer). Discard the solids. Let cool before using.
Tried this recipe?
Tag @brandiego on Instagram so I can check it out!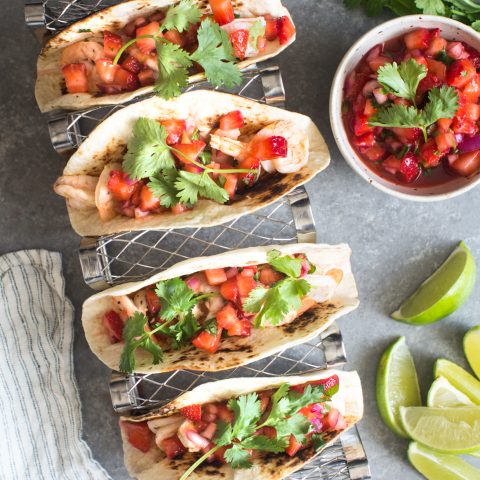 Shrimp Tacos with Strawberry Salsa
Ingredients
For the shrimp tacos:
1

pound

large or medium shrimp peeled and deveined

Juice of 3 limes

Zest of 1 lime

2

garlic cloves finely grated or minced

2

tablespoons

chopped fresh cilantro plus more for sprinkling

1

tablespoon

olive oil

Kosher salt

4

medium (or 8 small) flour tortillas, for serving
For the strawberry salsa:
Juice of 1 lime

Zest of 1 lime

1

teaspoon

honey

Kosher salt

12

ounces

ripe strawberries hulled and diced

Heaping 1/3 cup chopped red onion

Handful chopped fresh cilantro

1

serrano chile (with seeds and ribs*), finely chopped
Instructions
Add shrimp to a large zip-top bag with lime juice, lime zest, garlic, cilantro, olive oil and a couple pinches of salt. Seal the bag, then mush the ingredients around evenly mix everything up. Let marinate in the fridge for 20 minutes.

While the shrimp are marinating, prepare the strawberry salsa. Add lime juice, lime zest, honey and a couple pinches of salt to a medium bowl, whisking to combine. Stir in strawberries, red onion, cilantro and serrano chile. Season to taste with additional salt, honey and lime juice if needed. Flavors should pop! Cover and store in the fridge until ready to use.

Preheat an oven to 400°F and line a baking sheet with parchment paper. Transfer shrimp from the marinade to the baking sheet, then bake until the shrimp are firm and blushing (about 4 to 6 minutes). Don't over cook here.

To serve, warm flour tortillas over an open burner, allowing the flame to char the tortilla in spots. Divide shrimp between warm tortillas then top with strawberry salsa and a final sprinkling of cilantro.
Notes
* Remove seeds and ribs if you don't want the salsa spicy.
Tried this recipe?
Tag @brandiego on Instagram so I can check it out!
This post was written in partnership with Exotico Tequila. Thoughts, opinions and recipes are my own.
26