You guys, I have been dying to share this Shrimp Risotto recipe with all of you, because it's seriously one of the tastiest things I've made all summer long.
This post may contain affiliate links.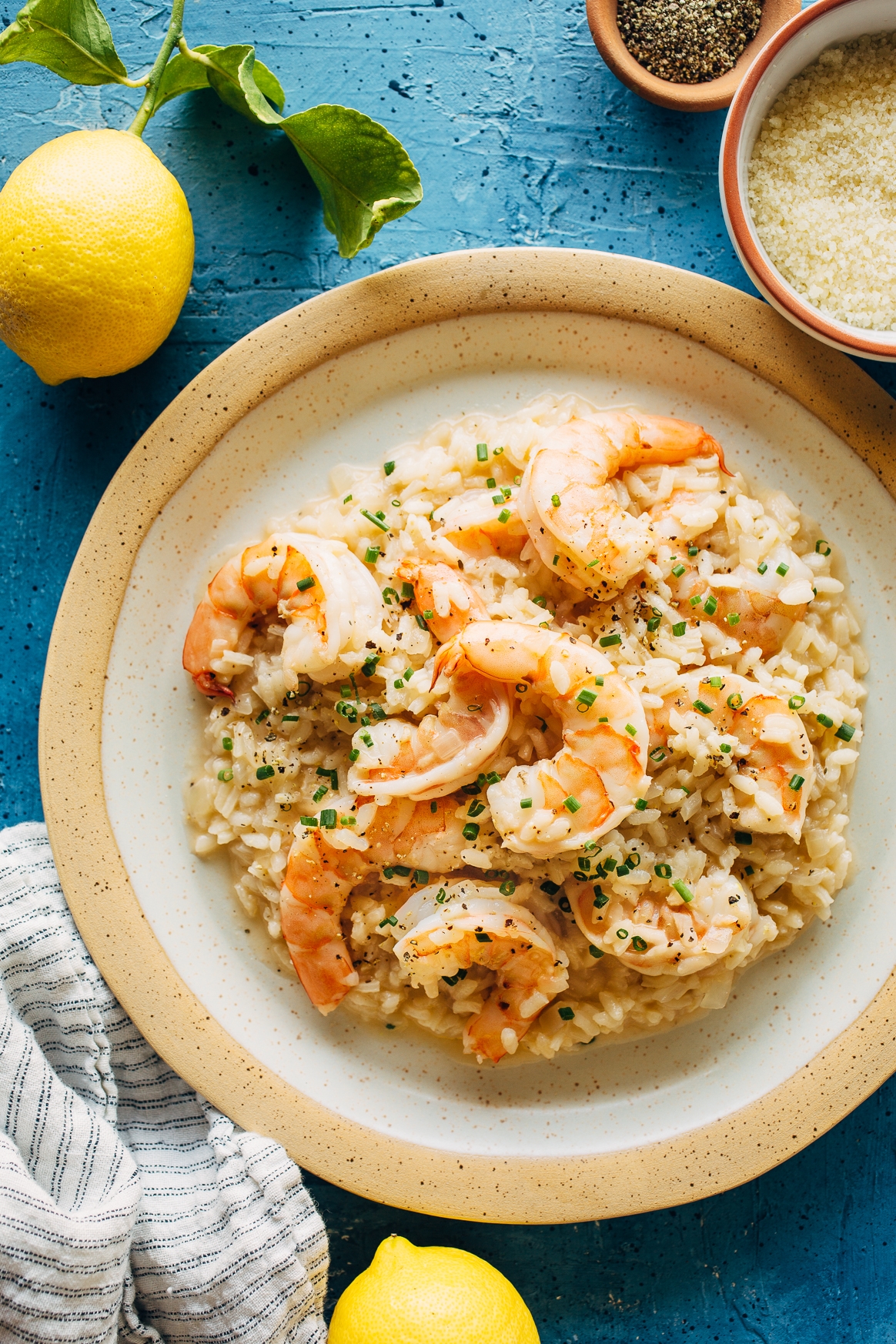 The base of this risotto is a homemade shrimp stock infused with shrimp shells, garlic, black pepper, bay and thyme. The stock simmers for about 1 hour, and as it's bubbling away, your whole house will be filled with an intoxicating seafood aroma.
All of this flavor is then gradually ladled into the risotto in a process similar to my other risotto recipes. The shrimp are swirled in during the final moments of cooking, so they stay nice and tender. If you love shrimp, then this risotto is a real treat. Continue reading for the recipe.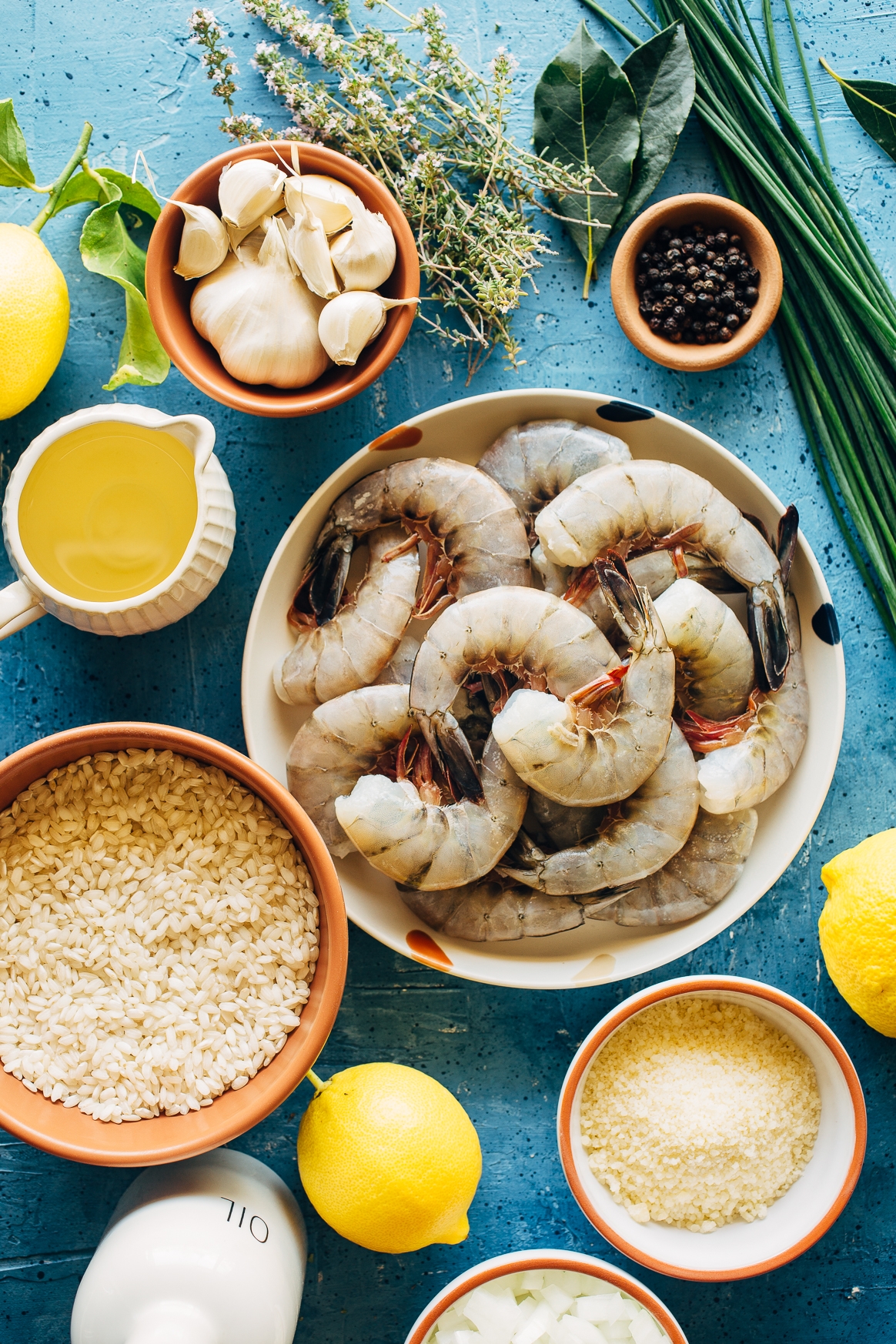 How to make Shrimp Stock
To make shrimp stock, you peel and devein a full pound of large shrimp. The shrimp shells are then sizzled in olive oil along with garlic cloves, black peppercorns, thyme sprigs and bay leaf. Add water and then simmer for about 1 hour. Finish by straining out all of the solids. Now you've got a super flavorful shrimp stock!
Shrimp stock is surprisingly easy to make and it adds some major flavor to this risotto.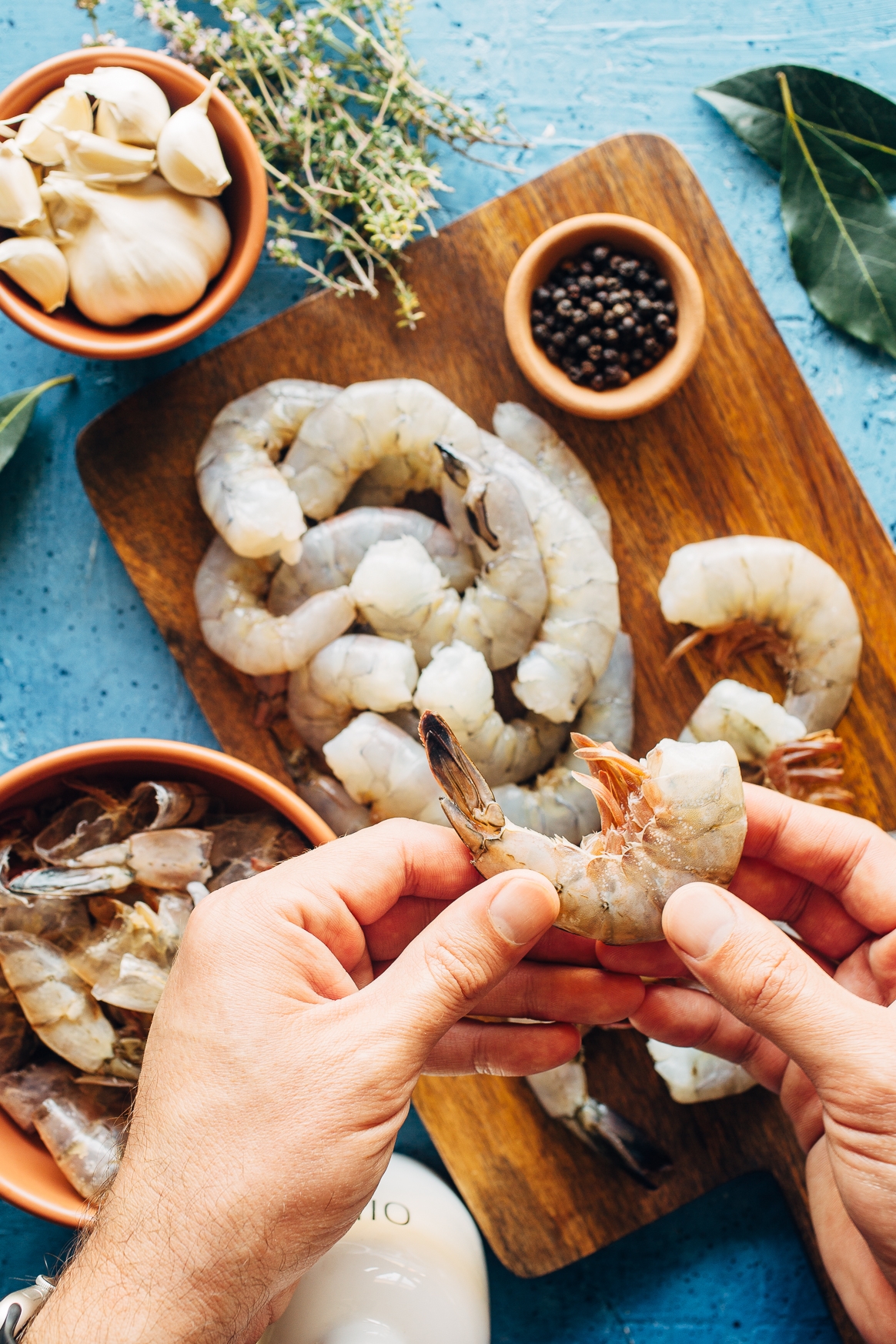 How to make risotto with shrimp
To make shrimp risotto, you start by cooking onion, garlic and lemon zest in a mix of butter and olive oil. You stir in risotto rice and let cook in the fat for a couple of minutes. Then, you deglaze the pan with some dry white wine.
At this point, you start adding the shrimp stock to the rice a ladleful at a time. With each addition, you need to stir the rice and let it completely absorb the liquid. This gradual process cooks the rice while coaxing out the starch to form a creamy sauce (without any cream!).
During the final addition of shrimp stock, you stir in the uncooked shrimp and cook for just 2 minutes. After that, you finish the risotto with butter, lemon juice, Parmesan cheese and chopped chives.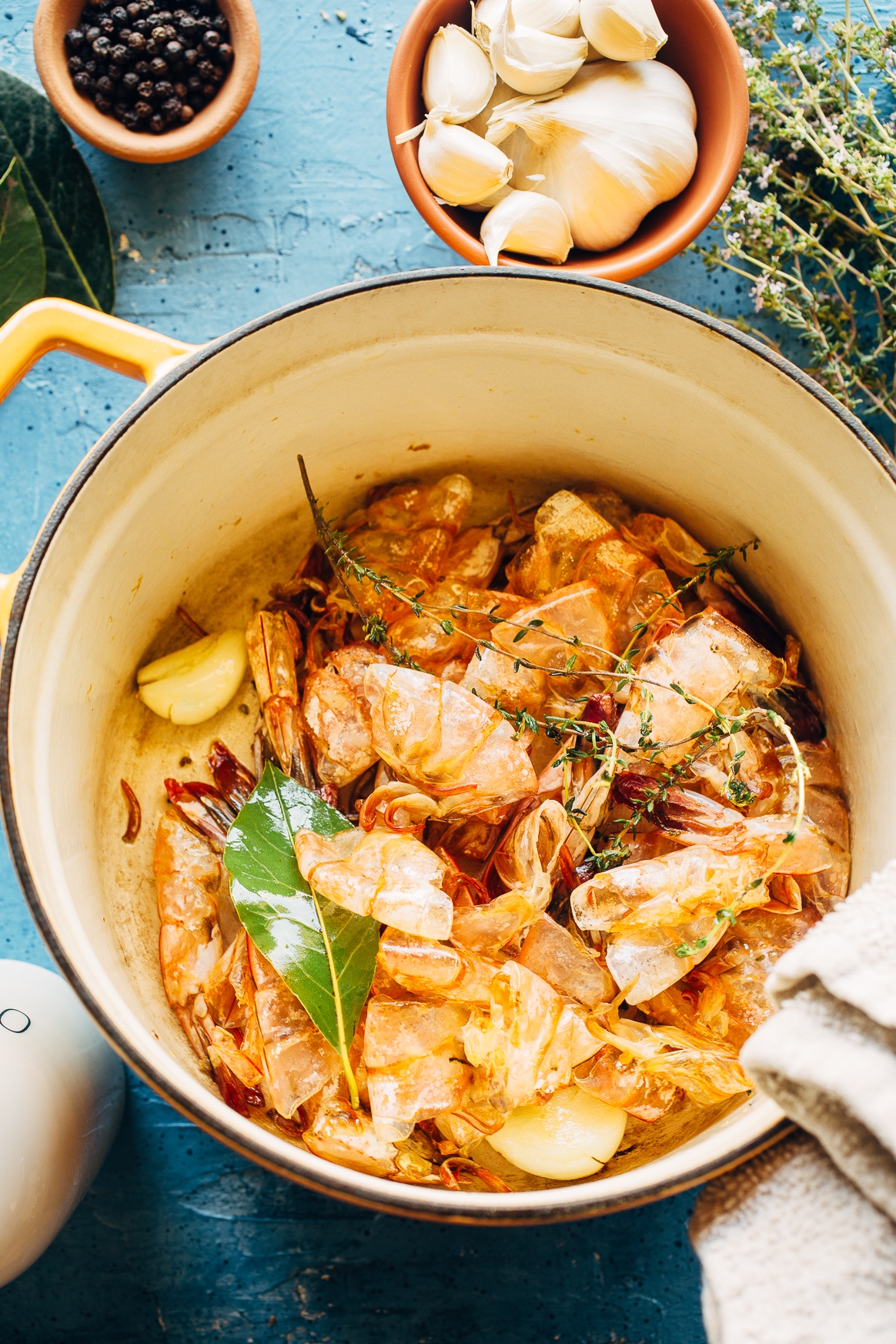 What to serve with shrimp risotto?
I would consider this shrimp risotto to be a complete meal, but you could certainly enjoy it with some crusty garlic bread or something fresh and green. Good options would be a bright side salad, cooked asparagus and wilted spinach or swiss chard.
For a beverage pairing, try the dry white wine you used in the risotto (Sauvignon Blanc or Pinot Grigio), a crisp beer or a refreshing cocktail like an Aperol Spritz or Gin & Tonic.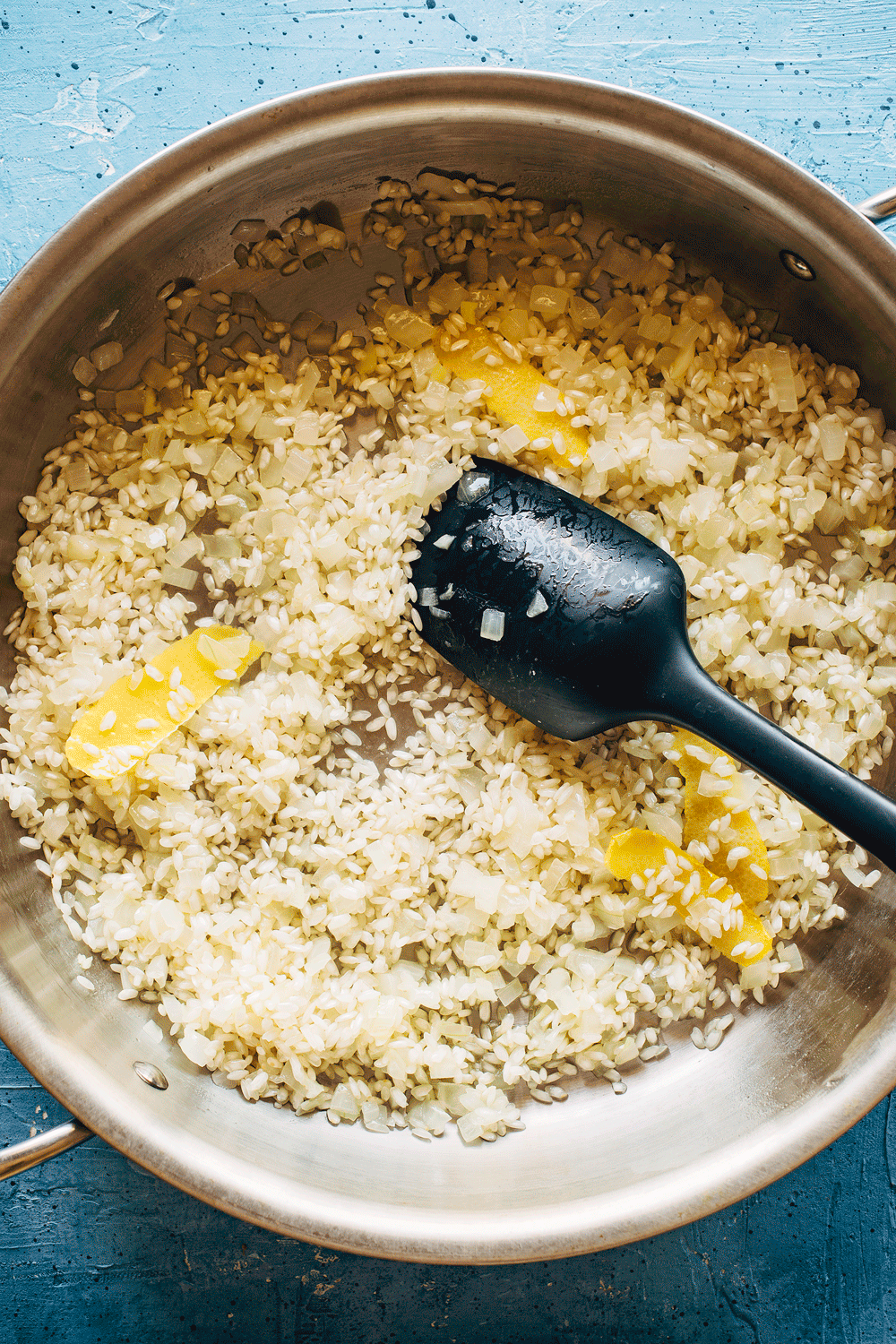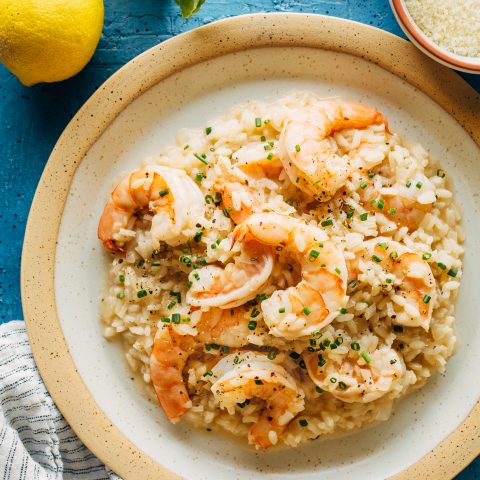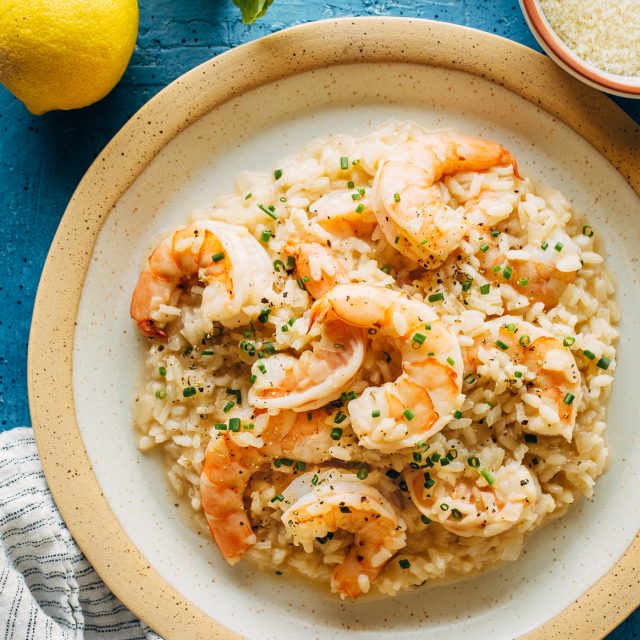 Shrimp Risotto
Ingredients
For the shrimp stock:
1

tablespoon

olive oil

Shells from 1 pound large shrimp (16-20 shrimp)

3

garlic cloves, peeled and smashed

8

black peppercorns

2

thyme sprigs

1

bay leaf

7

cups

water
For the risotto:
1

tablespoon

extra-virgin olive oil

3

tablespoons

unsalted butter, divided

1/2

medium yellow onion, chopped

2

cloves

garlic, minced

4

strips of lemon zest

Kosher salt

1/2

cup

dry white wine (such as Sauvignon Blanc or Pinot Grigio)

1

cup

risotto rice (I used arborio rice)

1

pound

large shrimp, shells removed and used for stock, deveined (16-20 shrimp)

1/3

cup

grated Parmesan cheese, plus more for sprinkling

1

teaspoon

lemon juice, plus more as needed

Freshly ground black pepper

1

tablespoon

finely sliced chives, for sprinkling
Instructions
Start by making the shrimp stock. Warm olive oil in a medium saucepan over medium-high heat. Add the shrimp shells, garlic, black pepper, thyme and bay leaf, and cook, stirring occasionally until the shells are bright red (about 2 minutes). Add water, bring mixture to a boil, reduce heat and simmer until reduced by 1/4 (about 1 hour). Strain and return the shrimp stock back to the saucepan. Keep warm over low heat.

In a large, heavy-bottom pot, warm 1 tablespoon olive oil, and 1 tablespoon butter over medium heat. Add the onion along with a pinch of salt, and cook until the onion is tender but not browned (5 to 6 minutes). After 3 minutes add the garlic and lemon zest. Stir in the rice and cook for 2 minutes, then add the white wine and cook for 1 more minute. Add 1 cup of warm shrimp stock and a pinch of salt, and cook, stirring occasionally, until all of the liquid has been absorbed. Continue adding warm shrimp stock 1/2 cup at a time, waiting until the stock is absorbed before adding again, and stirring frequently to make sure the bottom doesn't burn. Continue until the rice is cooked through, but still al dente, about 30 – 35 minutes total. You may not use all of the shrimp stock.

During the last addition of stock, stir in shrimp and cook until cooked through (about 2 to 3 minutes). Take the risotto off the heat, fish out strips of lemon zest and stir in Parmesan cheese, 2 tablespoons butter, and lemon juice. Season to taste with salt, black pepper and lemon juice.

To serve, spoon risotto in a shallow bowl and top a scattering of chopped chives, a sprinkling of Parmesan cheese and a few turns of black pepper.
Tried this recipe?
Tag @brandiego on Instagram so I can check it out!
66