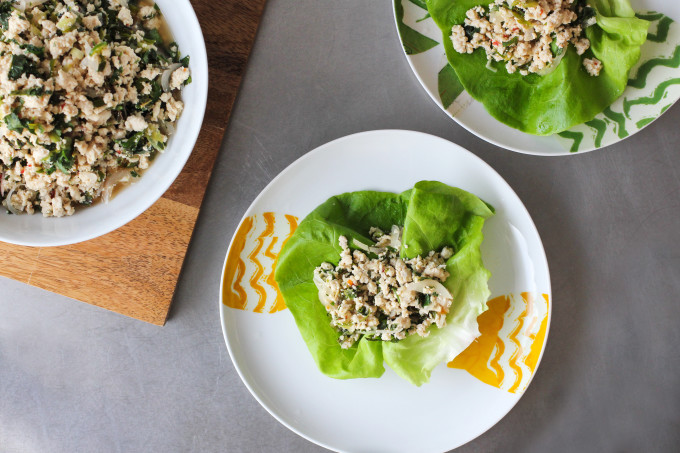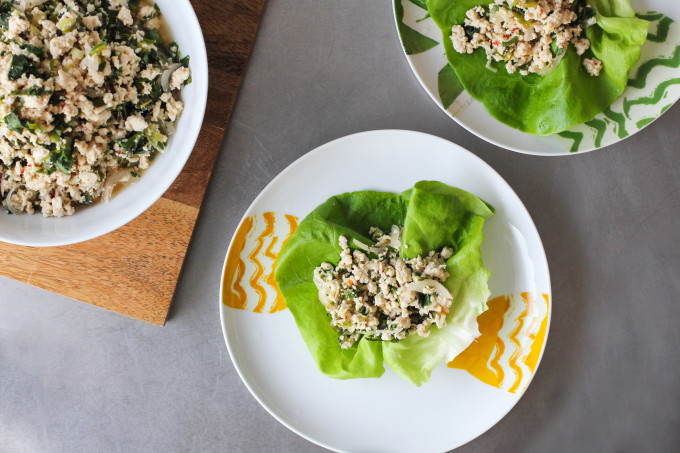 This post may contain affiliate links.
If you haven't been following along over these past 6 weeks, I'm on the Paleo Diet.
  And I need to start by saying I'm now down 13 pounds!  This weight loss is purely from changing my diet.  I have yet to start working out.  I actually hate working out, but I know I need to get started soon.  Over the weekends, I'm still allowing myself to enjoy non-paleo foods (like Homemade Crème Fraîche).  This really helps to keep me on track during the week.
The paleo recipes I've got for you today are:  Flank Steak Salad, Chicken Larb and Green Soup.  These three recipes are packed with flavor and easy to prepare any day of the week.  Also, the leftovers are just as tasty the next day for lunch.  When I eat food that has big, bold flavors, I easily forget that I'm on a diet.  Continue reading for the recipes.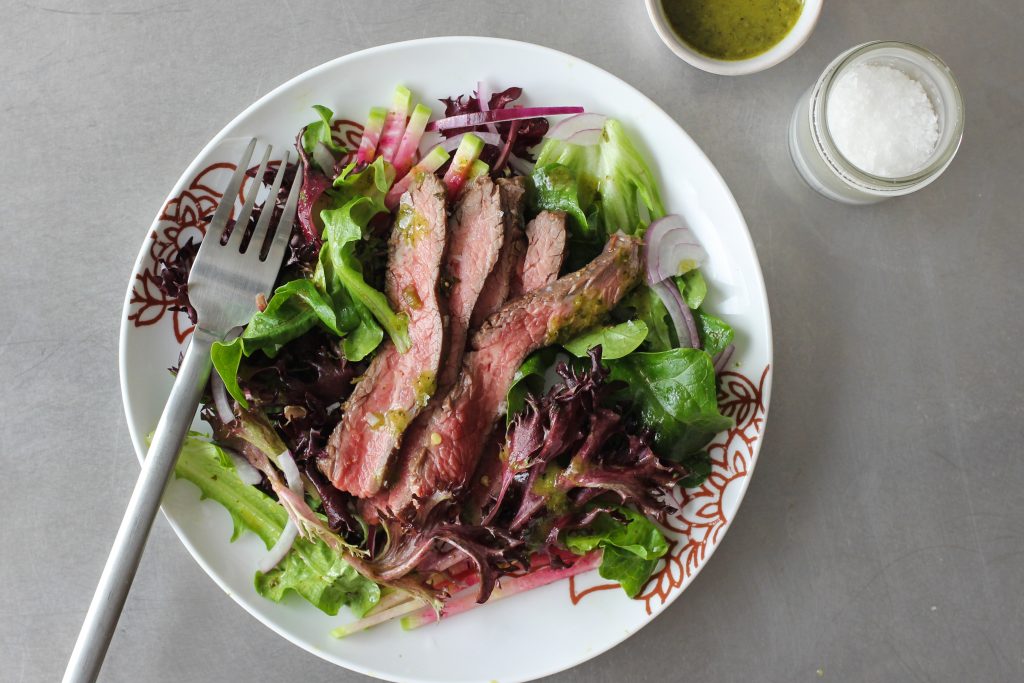 Marinated flank steak broiled until rare is sliced over a salad of mixed greens, red onion and watermelon radish.  The plate is then finished with a vibrant cilantro-lime vinaigrette.  I love this salad.  To me, this feels like a man salad.  The steak is quickly marinated in a bath of lime, garlic, cumin, serrano and cilantro.  The flavors of the vinaigrette echo the flavors of the steak, tying the whole dish together.  To keep with the Mexican theme, I toss red onion and radish in the salad, but you could certainly add other ingredients like tomato, avocado or roasted red pepper.
Leftover steak can be enjoy the next day rewarmed or at room temperature.  Also, if you don't want to go the salad route here, you can enjoy this steak with other sides like roasted sweet potato or grilled peppers and onions.  It's super versatile.  Here's the recipe for Flank Steak Salad.
Next up is Chicken Larb, a Thai minced meat salad made with ground chicken and a boat-load of flavor-packed goodies.  Goodies include: fish sauce, lime juice, garlic-chile sauce, honey, lemongrass, serrano, green onion, shallot, mint and cilantro.  Now I know you may still be thinking about the word Larb right now.  It sounds strange, but trust me, this is so tasty.  To serve, simply scoop the meat mixture into lettuce cups (see top image).  So healthy yet so satisfying.
I was first introduced to larb during a Thai dinner with one of my besties Juan.  I had just moved to San Diego, and was fairly unfamiliar with Thai cuisine.  The explosion of flavor experienced after my first bite was unreal.  I was hooked.  Larb is typically made with ground pork, but I opted for healthier ground chicken.  Get the recipe for Chicken Larb here.
When I'm making a salad for dinner, I usually like to prepare a soup as well.  I find the combination of soup and salad very satisfying.  A complete meal if you will.  This Green Soup is made with deeply caramelized onions, swiss chard, spinach, homemade chicken stock, lemon and cayenne pepper.  This soup has no cream or milk mixed in yet it's still incredibly creamy.  And I just love the balance.  The earthiness of the greens is cut by bright lemon and fiery cayenne.  I should mention that the soup will only stay bright green for a short period of time.  If heated for an extended period of time (or reheated), the soup will turn army green.  Not as pretty, but equally as tasty.  Here's the recipe for Green Soup.
That's it for this week!  Please check back in a few weeks for more Paleo Diet recipes.  I swear I'm going to get to the gym between now and then 🙂
4