You guys!!  Last night we got to see Ina Garten LIVE here in San Diego.  If you didn't already know, Ina is one of my favorite food personalities, and I've learned so much from watching her over the years.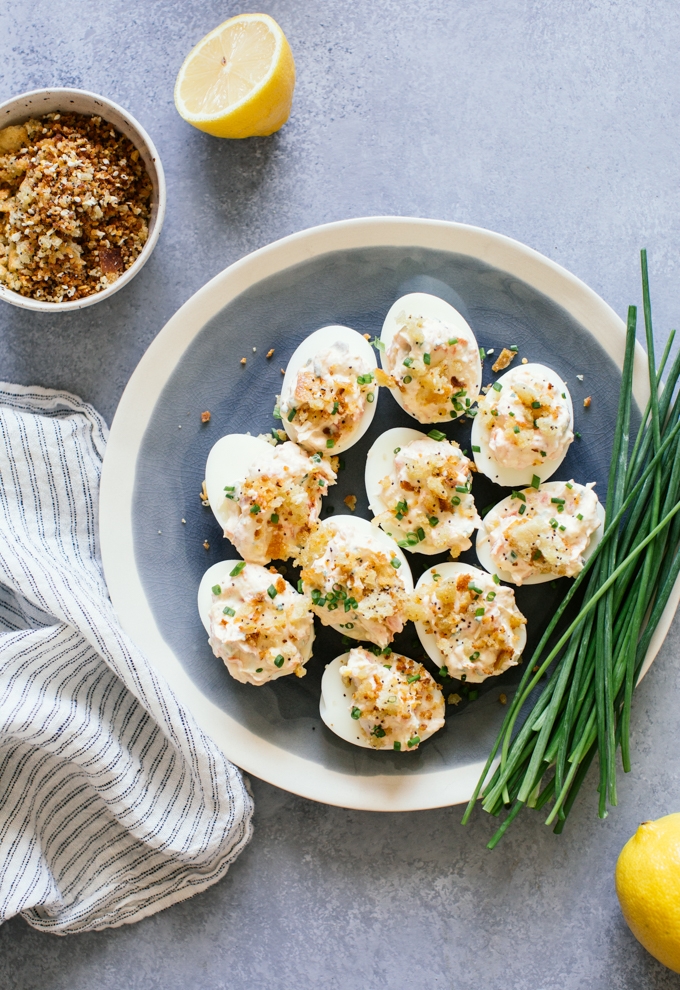 The format of the live appearance was an interview followed up by audience Q&A.  Ina told many stories about her history with Jeffrey and how she built up her business into a cookbook empire.  I just love that she's confident, but still sweet and humble.  I'm sure she could be 100% diva given all of the success she's had, and how rich she is, but she keeps it real.  Last night I got this sense that I was hanging out with an old friend.  She was fun.  She was casual.  She made me smile.  And I think that's why Ina is so successful!  Her recipes are delicious and refined, but still very approachable.  I can only hope to do the same here on Kitchen Konfidence!
Speaking of Ina's recipes, these Smoked Salmon Deviled Eggs are an adaptation of the ones found in her cookbook How Easy Is that?.  Hard-boiled egg yolks are mixed with mayo, sour cream, cream cheese, chives, chopped smoked salmon and fresh lemon juice, then spooned back into halved egg whites.  If you were to stop there, and just eat as is, these deviled eggs would be amazing.  Addicting really.  But I decided to take things over the top with the addition of Everything Bagel-Spiced Breadcrumbs.  To make them, you simple sizzle fresh breadcrumbs in olive oil until golden, then toss with a homemade spice mix that conjures the flavor of an everything bagel.  These crunchy crumbs add a nice contrasting texture while giving you the feel like you're having a bagel with smoked salmon and cream cheese all in one delicious bite.  Continue reading for the recipe.