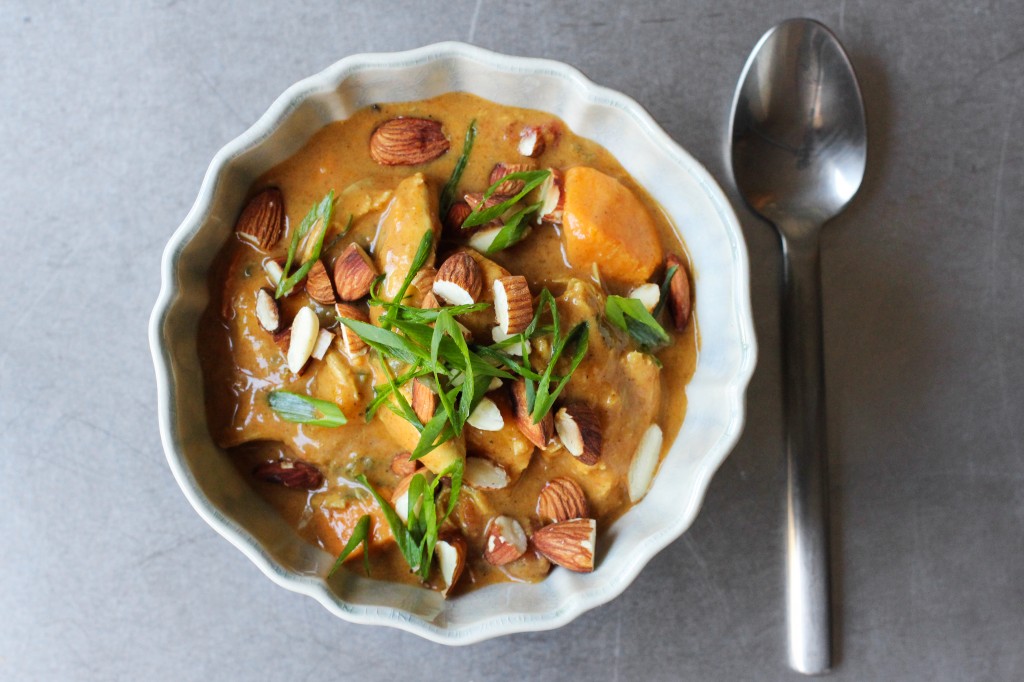 Tender pulled chicken is simmered in an aromatic sauce with sweet potatoes and butternut squash.  The sauce is made with curry powder, onions, tomatoes, coconut milk, ginger, garlic, thyme, Worcestershire, chicken stock, almond butter, cilantro, scallions and red wine vinegar.

Curried Chicken Soup
Adapted from Aida Mollenkamp's Keys to the Kitchen
Ingredients
2 tablespoons coconut oil (or canola)
1/2 yellow onion, thinly sliced
Kosher salt
Freshly ground black pepper
1 pound sweet potato, peeled and cut into a large dice
1 pound butternut squash, peeled and cut into a large dice
2 tablespoons curry powder
2 tablespoons tomato paste
1 tablespoon grated fresh ginger
1 tablespoon grated garlic
1 tablespoon minced fresh thyme
2 teaspoons Worcestershire sauce
4 cups chicken stock (preferably homemade)
1 14 oz. can fire-roasted diced tomato
1 13.5 oz. can coconut milk
Cooked meat from 1 whole chicken
1/3 cup almond butter
2 tablespoons red wine vinegar, plus more to taste
1/2 cup roughly chopped cilantro
6 green onions, thinly sliced on a bias, some of the green parts reserved
1/2 cup coarsely chopped toasted almonds, for garnish
Instructions
Warm coconut oil in a large, heavy-bottomed pot over medium-high heat. Once the oil has melted, add the sliced onion and season with a pinch of salt. Cook until translucent (about 4 minutes).
Add the sweet potato and squash, season with a couple of pinches of kosher salt and several turns of black pepper, and stir to combine. Cook until the sweet potato and squash soften (about 6 to 7 minutes), stirring occasionally to keep the onions from burning.
Add the curry powder, tomato paste, ginger, garlic, thyme, and Worcestershire, stirring to combine. Cook until very fragrant (about 1 minute). Stir in chicken stock, fire-roasted tomatoes with juices and coconut. Bring mixture to a boil, then add chicken meat, almond butter, and a few pinches of salt.
Return the mixture to a simmer and cook for 20 minutes. Stir in red wine vinegar, cilantro and green onions. Cook for 2 minutes, then season to taste with additional kosher salt and red wine vinegar.
To serve, spoon the soup in a bowl (preferably something decorative) and top with toasted almonds and reserved scallion greens.
This Curried Chicken Soup is part of my Paleo Recipes: Week of February 18 article.  
Check it out here!