This post may contain affiliate links.
I must admit that up until this year, I had never thought of toasting flour when making cookies.  Usually, one scoops flour from a bag, levels it off, adds it to other dry ingredients (sifting if ambitious) and eventually mixes with wet ingredients.  Toasting not in the equation!  After reading about toasted flour on 101 Cookbooks, I was instantly intrigued.  This recipe is my adaptation of Heidi Swanson's Quinoa Cloud Cookies and my first experiment with toasted flour.  Featuring a mix of toasted quinoa meal and toasted flour, these flavor-packed shortbread cookies are sweet, nutty, salty and wonderfully textural. Continue reading for the recipe.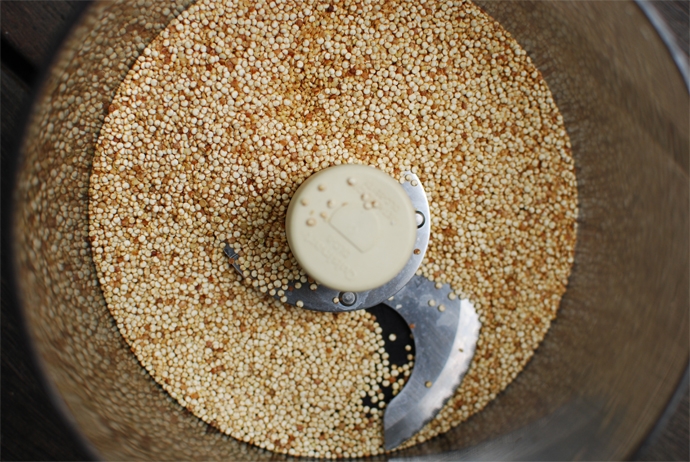 Toasted Quinoa Shortbread Cookies
Ingredients
1

cup

quinoa, rinsed thoroughly and dried

1

cup

all-purpose flour

½

teaspoon

fine grain sea salt

1

cup

unsalted butter (room temperature)

1

cup

sifted fine-grain natural cane sugar (or light brown sugar)

½

cup

bittersweet chocolate shards*

Turbinado sugar, for sprinkling
Instructions
Place quinoa in a large skillet over medium heat. Cook, stirring frequently, until the quinoa is golden, fragrant and toasted. The quinoa should start to pop and feel crispier to the touch (about 15 – 20 minutes). Let cool. Place cooled, toasted quinoa in a food processor or blender and grind as finely as possible.

Add the flour to the same skillet and return to medium heat. Toast the flour, stirring constantly, until it is slightly golden and fragrant (about 15 – 20 minutes). Remove from the heat and sift into a bowl. Set aside to cool or place in the refrigerator for 10 minutes for quicker cooling.

Once the toasted flour is cooled, sift in ¾ cup of the toasted quinoa meal (save any leftover for another use) and salt.

In the bowl of a stand mixer, cream butter on a medium speed. Add the sugar, then cream until light and fluffy (scraping down the sides as needed). Add the flour mixture and stir on low sleep until just incorporated (do not overmix here). Add chocolate shards and stir once again until just mixed in.

Lay out a slipat or large piece of parchment paper. Turn out the dough onto the non stick surface of choice. Gather the dough into a ball, flatten into a ½ inch thick disc, wrap and place in the refrigerator to chill (at least 45 minutes).

Preheat oven to 350°F . Place a rack in the middle of the oven. Line one or two baking sheets with a silpat or parchment paper and set aside.

Once chilled, roll out the dough on your silpat or parchment paper ¼ inch thick. If you find the dough is sticking, you can lightly flour the surface and rolling pin. Use your hands to repair any cracks or splits in the dough. Using a sharp knife, cut dough into desired shapes (I did rectangles) and place on the lined baking sheets (cookie cutters would work fine here as well). Sprinkle each cookie with a good amount of turbinado sugar. Bake for 12 – 14 minute, until the bottoms of the cookies are golden brown. Remove and let cool for 10 minutes on the baking sheet before moving to a cooling rack.
Notes
* You want to avoid using whole chocolate chips here because they will make it difficult to roll out your dough thin enough. Instead, mix in chocolate shards or shavings. You can make shards by chopping up a bittersweet chocolate bar with a knife or box grater. I had bittersweet chocolate chips in my cupboard and chopped them up with my food processor (using one of the disc attachments).
Tried this recipe?
Tag @brandiego on Instagram so I can check it out!
0