This post may contain affiliate links.
So the man and I recently had dinner at Uptown Tavern here in San Diego, and I wanted to share our experience.  Uptown Tavern is a newer addition to the Hillcrest restaurant scene.  Located in the old Ono Sushi spot, Uptown Tavern is serving up some intriguing cocktails and delicious comfort food.  It's food you can easily recognize with the volume turned way up.  After browsing the menu, Jorge and I decided to theme our dinner: Bacon Extravaganza.  From appetizers to desserts, everything we ate had some bacon in it.  Before we embarked on our bacon journey, we decided to start with two cocktails – Hibiscus Lemon Drop (recipe below) and Kiwi Tini.  Bright and balanced, these drinks were the perfect way to kick off a bold, flavorful meal.  Continue reading for more highlights from our dinner at Uptown Tavern.
After our first round of drinks, these Charred Brussels Sprouts arrived.  Glistening with roasted garlic vinaigrette, a mound of golden brown brussels sprouts was topped with crispy bacon, spicy red pepper and a flurry of shaved Parmesan.  Texturally, the center of the sprouts seemed slightly undercooked, but the flavors of this appetizer were really spectacular.  Each bite released an explosion of flavor, causing nothing short of a feeding frenzy.  We finished about 3/4 of the plate below.  And it was a big plate.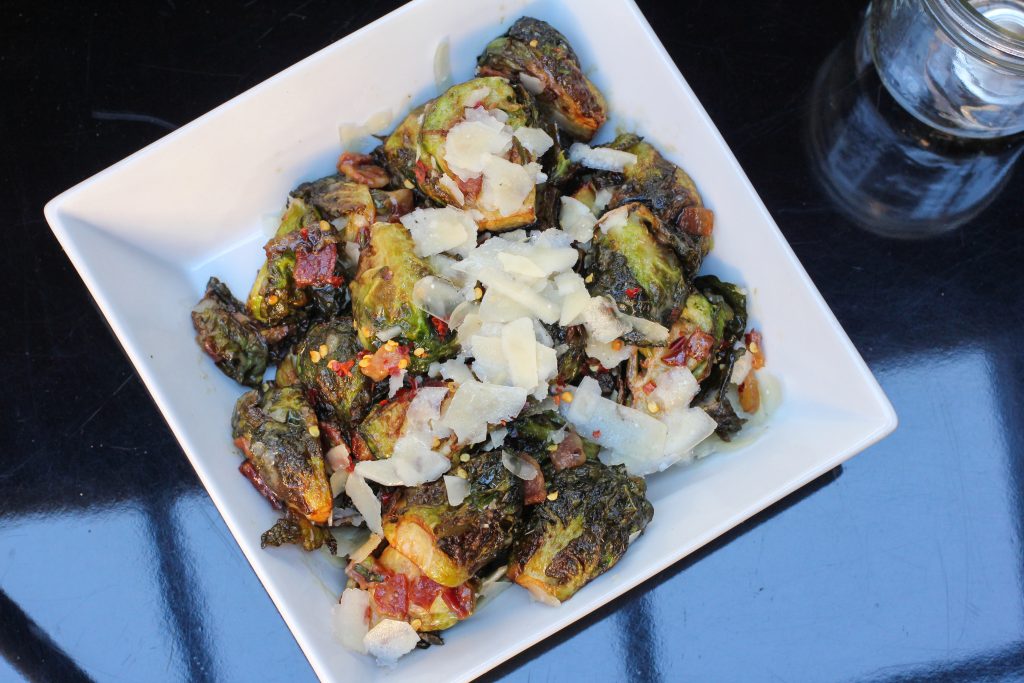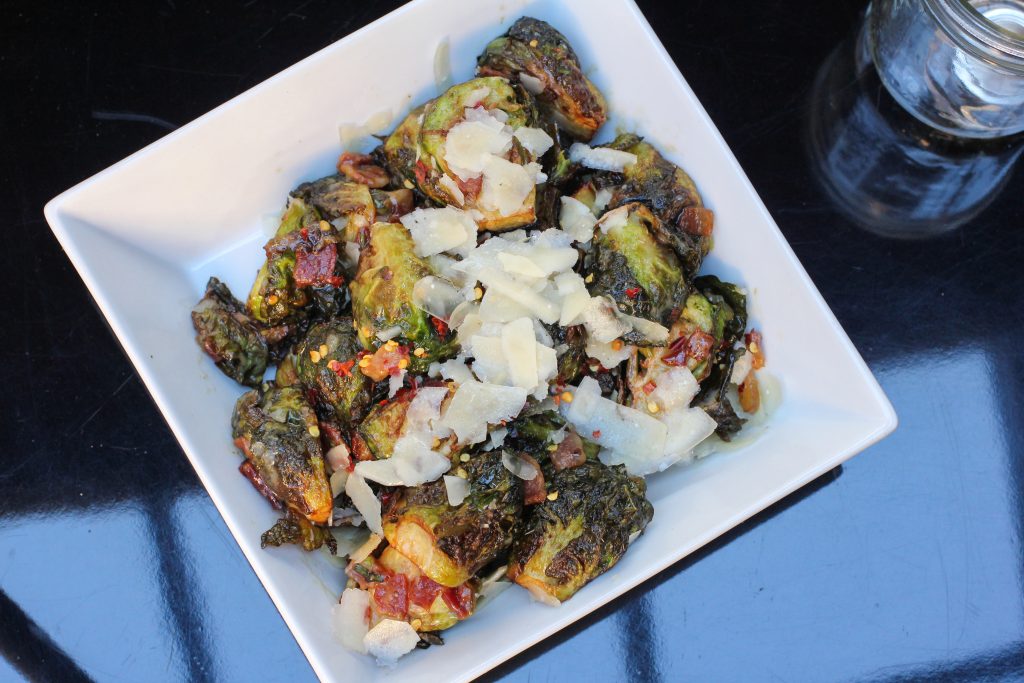 The next stop on our bacon adventure?  Bacon Wrapped Nut-Stuffed Medjool Dates.  Served with a goat cheese mousse, these well-balanced bites were an explicit display of some serious pork on pork action.  The dates were also stuffed with pork chorizo, creating another layer of decadent flavor.  I just loved the contrast of the earthy-sweet dates and the salty-smoked bacon.  We almost ordered another plate.
Before getting to the entree, Jorge and I decided to order one of Uptown Tavern's signature flatbreads and MOAR cocktails.  This round, I opted for a refreshing Lemongrass Collins and Jorge ordered a Lon Chaney (cucumber and gin).  Both drinks were light and bright.  A much welcomed break from our bacon obsession.
Made with crispy bacon, salty gorgonzola, melty mozzarella, sweet onion jam, dried figs and peppery arugula, the Bacon Flatbread was a true symphony of flavor and texture.  With each bite, I got some crunchiness from the flatbread, creaminess from the cheese, and chewiness from the figs.  This is another menu item that really challenged my restraint.  With two more courses still to come, I didn't want to go overboard here, but I really couldn't keep myself from consuming slice after slice after slice.  So delicious.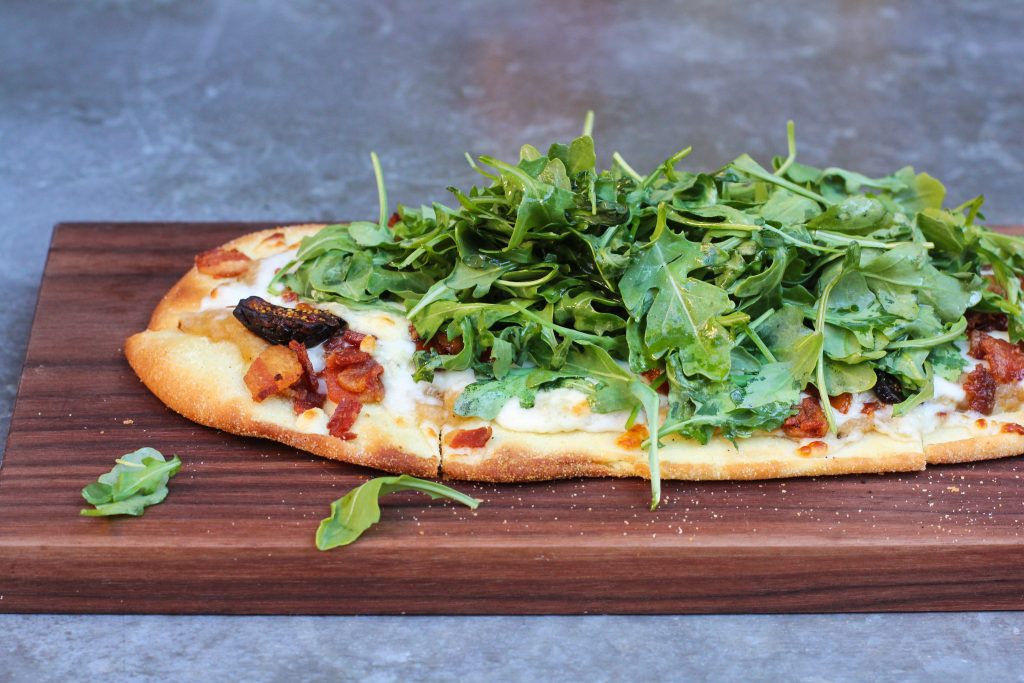 Next up was the Tavern Chicken 'N' Waffle.  Piled high atop a white cheddar and bacon waffle were tender strips of fried chicken tenders.  I was really surprised at how light the breading was surrounding the chicken.  A delicious mix of sweet and savory, this plate of chicken n waffles is one I would definitely order again.
To finish up this bacon extravaganza, we ordered Maple Bacon Crème Brûlée.  The table next to us also highly recommended the Peaches and Cream, so we got that too 🙂  Both desserts were really spectacular.  After a few satisfying cracks of the brûléed sugar, I discovered that the custard below was studded with tiny bits of candied bacon.  The bacon really was the perfect size.  I am not a fan of chewing on big pieces of bacon found in desserts.  The Peaches and Cream was really stunning visually, and even better to eat.  The cream was light and airy, and the peaches were ripe and sweet.
I would highly recommend Uptown Tavern to anyone looking for some delicious cocktails and elevated comfort food.  You won't be disappointed.  In addition to hosting this wonderful dinner, Uptown Tavern also provided me with the recipe to their Hibiscus Lemon Drop.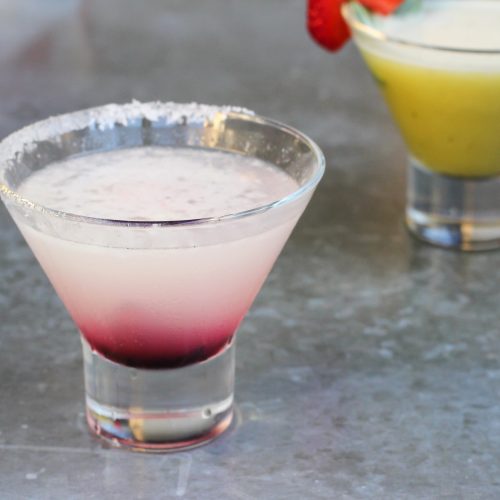 Hibiscus Lemon Drop
Provided by Uptown Tavern.
Ingredients
2

lemon wedges, plus 1 additional for the rim

1 1/2

oz.

Skyy Ginger

1/2

oz.

triple sec

1/4

oz.

simple syrup*

1/4

oz.

fresh lemon juice

Splash of sweet and sour mix

1

Wild hibiscus flower in syrup

White sugar, for the rim
Instructions
Place two lemon wedges in the bottom of a cocktail shaker. Smash up with a muddler or back of a wooden spoon.

Add Skyy Ginger, triple sec, simple syrup, lemon juice, sweet and sour, and ice. Cap the shaker and shake until well-chilled.

Run a lemon wedge around the rim of a short glass. Dip the outside of the rim in white sugar.

Strain cocktail into the prepared glass. Drop one wild hibiscus flower in the bottom of the glass with a spoonful of the syrup. The flower and syrup will drop to the bottom, creating a layered effect.
Notes
* Please don't buy simple syrup. You can easily make it at home. Combine equal parts sugar and water (I usually do 1 cup of each) in a small saucepan. Warm mixture over medium heat, stirring until sugar is dissolved. Bring mixture to a boil, bubble for a minute, then take off the heat. Let cool before using. Done!
Tried this recipe?
Tag @brandiego on Instagram so I can check it out!
1