You guys!  This cocktail is so fresh and so delicious.  You absolutely must give it a try.
This post may contain affiliate links.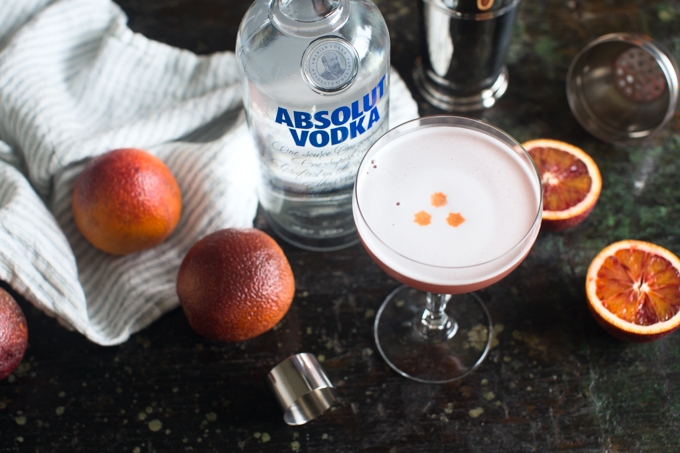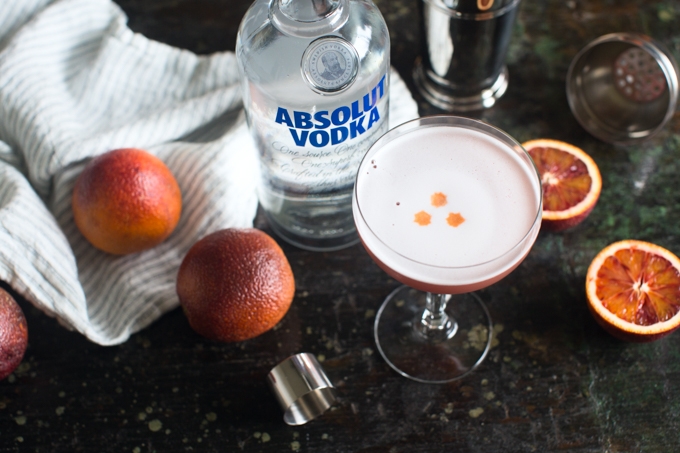 The base of this Blood Orange Vodka Sour recipe is a homemade sour mix made with one of my favorite seasonal ingredients, the blood orange.  Painted in blushing shades of orange and red, a blood orange has a distinct flavor with sweet notes of red berries.  When you slice one open, the fruit inside could be solid orange in color, solid maroon or a speckled mix of both.  To make the sour mix, you start by creating a simple syrup (equal parts sugar and water) infused with grated blood orange zest.  After the sugar is dissolved and the syrup cools, you stir in freshly squeezed blood orange and lemon juice.  Lemon is needed to add some sharpness to the mix.
Once you've made the sour mix, the rest of the cocktail is a breeze.  Fill a cocktail shaker with blood orange sour mix, Absolut Vodka and an egg white.  Shake to froth up the egg, add ice, then shake again to chill the drink.  Strain into a coupe glass and finish with a few drops of Angostura bitters.
Deep rouge beneath a pristine cap of white foam, this cocktail is a beauty perfect for Valentine's Day.  The combination of smooth vodka, ethereal texture and fresh blood orange make for one special drink with your loved one.  Continue reading for the recipe!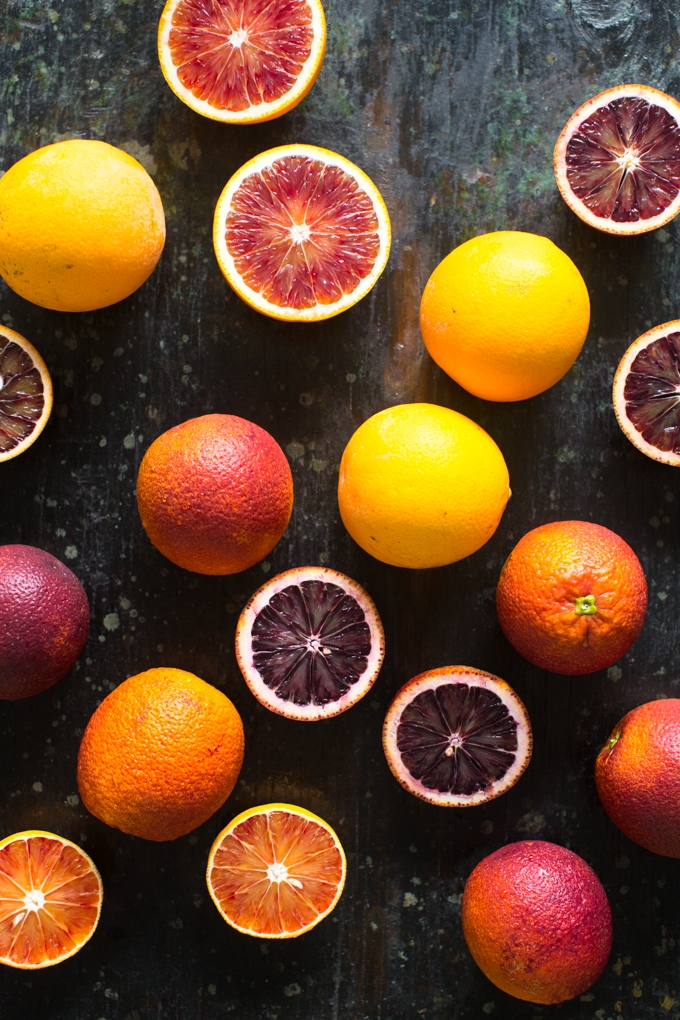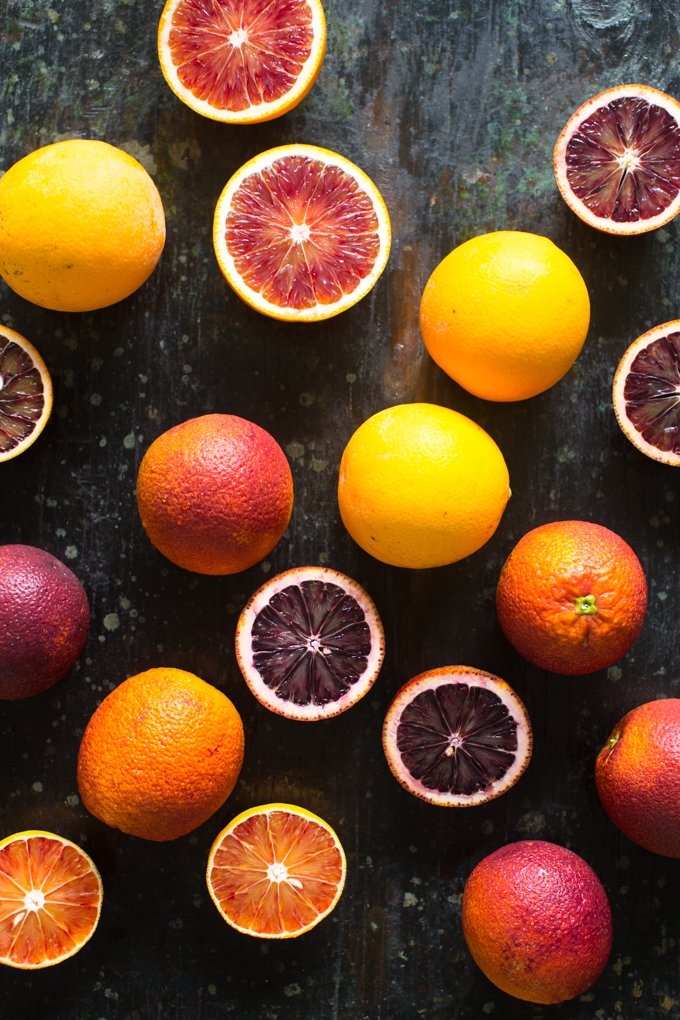 Blood oranges are typically in season from December to May, so get them while you can!  I was able to get a mix of Tarocco and Moro blood oranges here in San Diego for this recipe.  Taroccos usually have a better taste while Moros have that gorgeous maroon color inside.  Use whatever is available in your area!
I've partnered with Absolut Vodka on this recipe, and its Original Vodka is perfect for this cocktail.  The crisp, clean flavor of the vodka really lets the beauty of the blood orange flavor shine through with a very smooth finish.  If you want to serve these Blood Orange Vodka Sours on Valentine's Day, I'd recommend enjoying them before dinner preferably paired with a cheese and salumi board!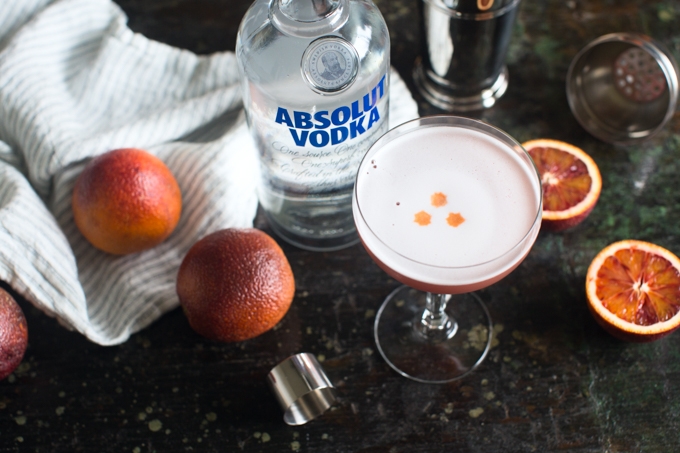 Blood Orange Vodka Sour Recipe
Ingredients
For the sour mix:
1/2

cup

sugar

1 1/2

tablespoons

blood orange zest

1

cup

freshly squeezed blood orange juice (from about 7 oranges)

1

tablespoon

freshly squeezed lemon juice
For the cocktail:
2

ounces

Absolut Vodka

1 1/2

ounces

blood orange sour mix

1

egg white

3

drops Angostura bitters
Instructions
To make the sour mix, combine sugar and zest in a medium bowl, using your fingers to rub the zest evenly into the sugar. Pour sugar into a small saucepan along with 1/2 cup water. Bring mixture just to a simmer, stirring to dissolve the sugar. Take the mixture off the heat, and let cool completely. Stir in the blood orange and lemon juice, then strain into a clean jar. Store in the fridge until ready to use (for up to 1 week). You'll have enough sour mix for 7 to 8 drinks.

To make the cocktail, add vodka, blood orange sour mix and egg white to a shaker with no ice. Cap and shake well to froth the egg white. Add ice and shake again to chill. Double strain into a chilled coupe glass. Let sit for a moment to allow the foam to settle at the surface, then finish with 3 drops of Angostura bitters.
Tried this recipe?
Tag @brandiego on Instagram so I can check it out!
This post was written in partnership with Absolut Vodka. Enjoy responsibly. All thoughts, opinions and recipes are my own. Connect with Absolut Vodka on Facebook, Instagram and Twitter.
16