Good morning and Happy Friday friends!!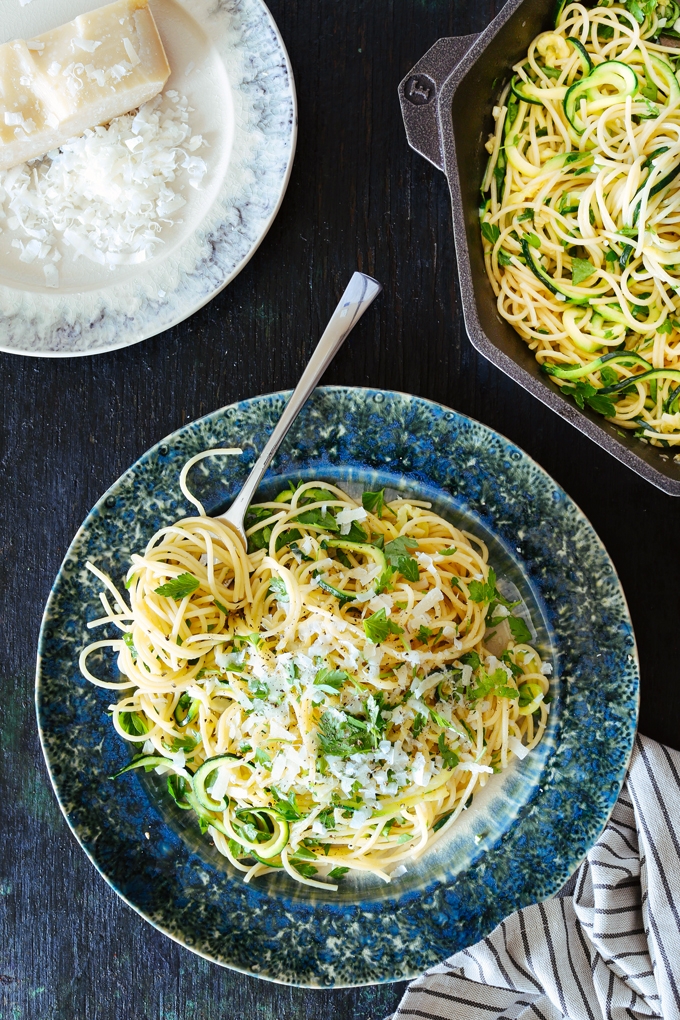 I've been playing catch up all week long after my recent adventures in Tuscany.  Particularly: Halloween and Holiday preparations at the mall, laundry at the house, dinner celebrating Jordan & Jocelyn's latest cookbook last night, and detailed meal prep each morning to keep me from eating fast food throughout the week (something I'm guilty of each time I come back from a trip).  Dinners have mainly been simple preparations of pizza and pasta plus one evening of homemade, from-scratch green chilaquiles wHipped up by the boyfriend (his mother's recipe).
One of my go-to pasta dishes that I made this week is my Garlic Butter Spaghetti with Zucchini Noodles.  Two-toned curls of fresh zucchini are sautéed in garlic butter, then tossed with cooked spaghetti, herbs, Parmesan cheese and black pepper.  A final squeeze of lemon sets off flavors.  What I love most about this recipe is that it comes together in about 15 minutes.  The prep work, sauce and zucchini can all be done while the pasta is cooking.  Everything gets tossed together at the end, and dinner is ready on the table in a matter of moments.  Exactly the recipe I need this week when energy is low and I crash at 8PM because of jet lag 😛  Continue reading for the recipe.