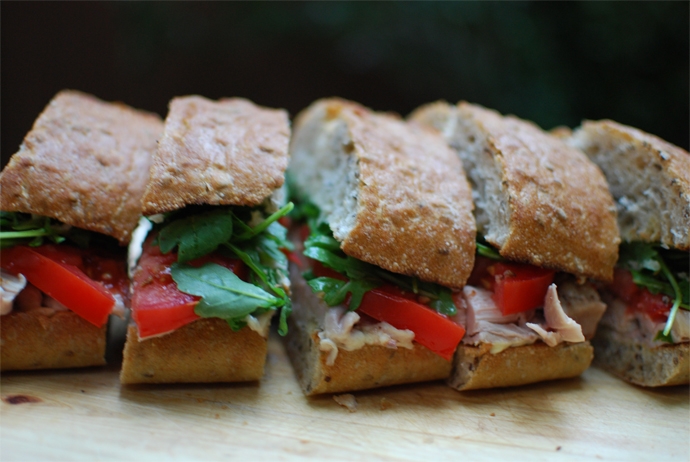 This post may contain affiliate links.
To help combat the temptations of eating out during the week, I am always on the hunt for new dinner recipes that are quick and easy yet substantial and palate pleasing.  A "gourmet" sandwich is a simple and satisfying meal that can come together in a matter of minutes if planned properly.  This Roasted Chicken Sandwich features two homemade sauces – Fennel Mustard and Roasted Garlic Aioli.  Try preparing these sauces over the weekend and storing them in your refrigerator for later use.  Combine these homemade touches with a few store bought elements (did someone say $5 roasted chicken?) for a easy weeknight meal with a delicious "gourmet" feel.  Continue reading for the recipes.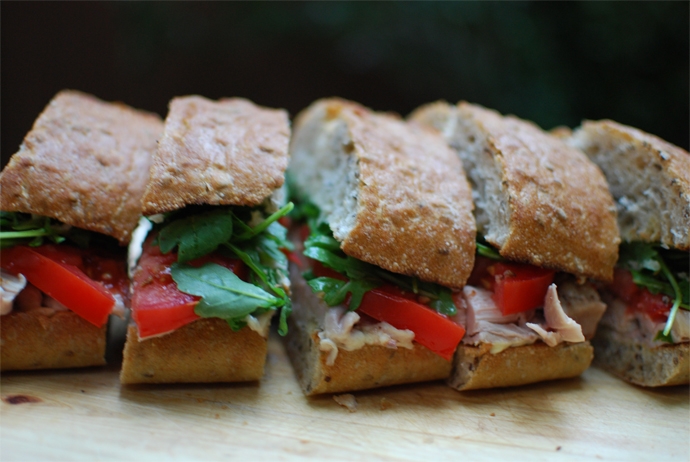 Roasted Chicken Sandwich with Fennel Mustard
Ingredients
1 3

– 4 lb. roasted chicken

1

whole grain loaf of bread

Extra virgin olive oil

Fennel Mustard (recipe below)

Roasted Garlic Aioli (recipe below)

2

– 3 cups arugula

1

beefsteak tomato, sliced

Flaky sea salt

Freshly ground black pepper
Instructions
Preheat broiler on high.

Pull white and dark meat from chicken and set aside.

Slice the whole grain loaf lengthwise. Lay the halves on a baking sheet cut sides up, drizzle lightly with extra virgin olive oil and toast under the broiler til the edges turn a golden brown.

Start constructing your sandwich by slathering the bottom half of the loaf with Roasted Garlic Aioli. Then, spread the Fennel Mustard on the top half of the loaf. Continue by placing a layer of pulled, roasted chicken on the aioli slathered half. Top the chicken with a layer of tomato slices (seasoned with flaky sea salt and freshly ground black pepper) and a couple of handfuls of arugula. Finish by placing the mustard covered half on top and slicing crosswise into individual sandwiches.
Fennel Mustard
Adapted from Thomas Keller's ad hoc at home.
Ingredients
1

tablespoon

vegetable oil

3

cups

fennel, chopped (about 3 – 4 bulbs)*

½

cup

white wine vinegar

1

tablespoon

water

1

teaspoon

dry mustard powder

2

teaspoons

whole-grain mustard

Kosher salt
Instructions
Heat the vegetable oil in a large skillet over low heat. Add the chopped fennel and cook until softened, stirring occasionally (about 25 minutes). The fennel should not start browning and when pierced with a fork, the fennel should still have a little resistance. Add the vinegar and cook until the fennel is tender (an additional 15 minutes). Transfer cooked fennel to a blender or food processor. Add the water and mustard powder and puree (feel free to add a little more water if the mixture isn't coming together). Transfer puree to a bowl and let cool. Stir in the whole-grain mustard and season with salt.

Cover and store in the refrigerator.
Notes
* Chopping fennel can be a bit tricky.  I have found the easiest way to chop fennel is by trimming the root end and peeling off the outer layers (save the small, inner pieces for another use).  Cut those layers in half so you have flat pieces of fennel (see image).  Cut the flat pieces into sticks and then chop.
Roasted Garlic Aioli
Ingredients
2

heads garlic

2

tablespoons

extra virgin olive oil

Sea salt

Freshly ground black pepper

4

large egg yolks***

1

teaspoon

dry mustard

1

tablespoon

water

1 ½

cups

canola oil

2

tablespoons

fresh lemon juice
Instructions
Preheat oven to 375°F.

Slice off the top quarter or third of each head of garlic, exposing the individual cloves of garlic. Place each head of garlic on its own square of tin foil, cut side up. Drizzle each bulb with a tablespoon of extra virgin olive oil and season with sea salt and freshly ground black pepper. Close the foil up around the garlic and roast until soft and golden brown (about 45 minutes). Let cool. Squeeze the soft, roasted cloves out of their skin into a small bowl and set aside.

In a food processor, combine the egg yolks, dry mustard, water, a large pinch of sea salt and a few turns of freshly ground black pepper. Pulse a few times to combine and break up the yolks. While the machine is running, slowly stream in the canola oil until the aioli comes together. Finally, pulse in the roasted garlic and lemon juice**. Taste the aioli and make adjustments. You might need to add more lemon juice, salt or pepper. If you find that the aioli is too thick, simply pulse in some water until you reach the right consistency.

Cover and store in the refrigerator.
Notes
** The amount of roasted garlic added depends on your taste. Start by adding half of the roasted cloves (from one head) and taste. If you find that the aioli is not as garlicy as you like, add more! I added about ¾ of the roasted cloves.
*** To reduce the risk of Salmonella, make sure your eggs are fresh, Grade A or AA, clean and properly refrigerated. If you are nervous about using raw egg, you can simply blend the roasted garlic gloves with 2 cups of store bought mayonnaise.
1