This post may contain affiliate links.
So I had the most amazing lunch at the US Grant recently and I thought I'd share.  Here's what I had:
Starter:  Rigatoni with Pork Shoulder, Cavolo Nero, Roasted Cipollini Onions and Oven Dried Tomatoes
Soup:  The Original "Mock Turtle Soup" with a Sherry Finish
Entree:  Kobe Beef Burger on a Kaiser Roll with Tomato, Red Onion and House Made Pickles
Dessert:  Golden Watermelon Sorbet, Beet Ice Cream and Pear Sorbet
The whole lunch was spectacular, but my favorite course was dessert (no surprise there, right?)  The beet ice cream was rich and earthy touting the most vibrant hue of purple.  Sweet and refreshing, the watermelon and pear sorbets captured the pure essence of the their respective fruit.  After just once taste of the watermelon sorbet, I knew I had to have the recipe.  Shortly after, the head chef graciously shared the recipe with me.  I was actually shocked with the simplicity of the dish.  A mixture of golden watermelon juice and simple syrup produces a smooth sorbet with a clean, crisp flavor.  Sans bells and whistles, this sorbet is a simple celebration of the watermelon.  Continue reading for the recipe.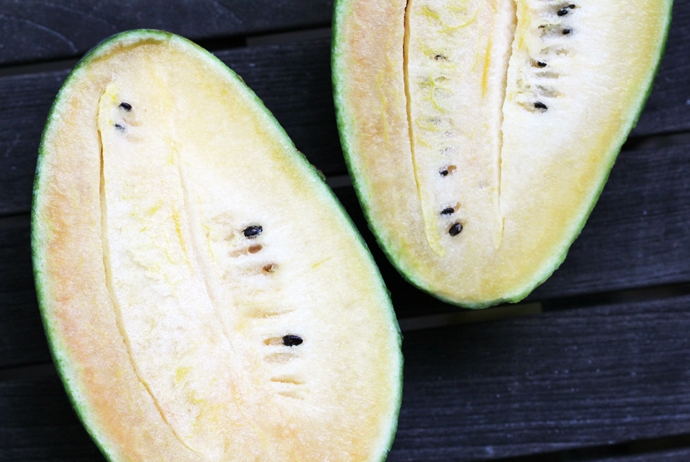 Golden Watermelon Sorbet
Ingredients
1

Golden Watermelon

Simple Syrup (recipe below)
Instructions
Slice golden watermelon in quarters. Cut the flesh from the skin and rind then transfer to a food processor or blender. Process until smooth.

Pour golden watermelon puree through a fine mesh basket strainer into a large measuring cup (4- or 8-cup), using a spoon to expedite the process. If you don't have a large measuring cup, strain into a large bowl with a pour spout then measure in batches. Take note of how much watermelon juice you have (for me, 1 watermelon produced about 2 1/2 cups of juice) then pour juice into a large bowl.

Measure out an equal amount of simple syrup. The ratio of juice to simple syrup should be about 1 to 1. Pour 3/4 of your simple syrup into the juice, stirring to combine. Taste for sweetness and add more simple syrup if needed (I used all of the simple syrup).

Cover the large bowl and transfer to the refrigerator to chill thoroughly.

Freeze sorbet base in an ice cream maker according to the manufacturer's instructions. Finish by freezing the sorbet until hard or enjoy soft immediately.

To make simple syrup: Warm equal parts white sugar and water over medium heat (you'll need 2 - 3 cups of sugar and 2 - 3 cups of water), stirring until sugar is completely dissolved. Bring mixture to a boil, bubble for 1 minute, then remove from heat. Let cool before using.
Tried this recipe?
Tag @brandiego on Instagram so I can check it out!
1