This post may contain affiliate links.
Well I think an introduction is in order here.  Kitchen Konfidence readers, please meet Jorge, my boyfriend.  In just 7 days, Jorge will be embarking on a 4 day 330 mile bike ride that is raising money and awareness for HIV/AIDS-related services.  If you're a regular here on Kitchen Konfidence, you probably know that I usually keep personal chit chat to a minimum.  But I've decided to dedicate this entire post to Jorge and the NorCal AIDS Cycle because it's a cause I'm truly passionate about.  I have several friends affected by this virus, so I try to do my best to raise funds when I can. Unfortunately, I'm not a cyclist.  I'm a writer.  I'm a photographer.  And I'm a home cook.  So I've come up with a fun giveaway below to help raise funds for Jorge's ride that involves some seriously tasty treats.  Continue reading for details.
If you donate just $50 to Jorge's ride, I will personally send you a entire batch of Salted Brown Butter Rice Crispy Squares.  That's right.  12 delicious morsels delivered to your doorstep.  A perfect balance of gooey, crispy and salty, these treats are utterly addicting.  After donating, you'll not only be enjoying the squares pictured below, you'll also have the satisfaction of knowing that you supported a great cause.  A cause much in need of additional funding.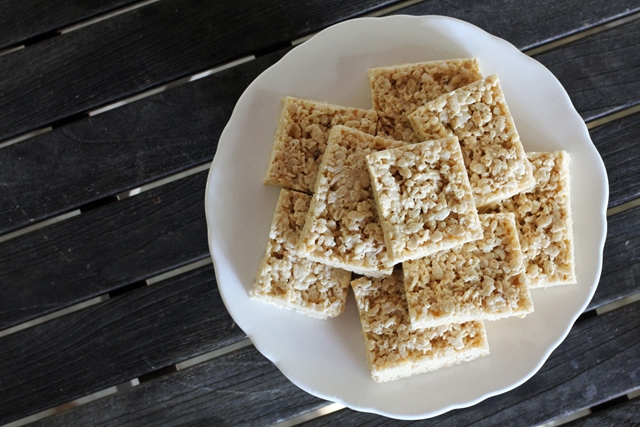 So please, take a quick moment and donate here.  This giveaway is restricted to US residents only.  I wish I could send these scrumptious treats to other parts of the world, but I know they would not arrive in good condition.  Salted Brown Butter Rice Crispy Squares will be sent out one to two weeks after a donation has been made.  A big thanks to all who have donated or plan on donating.  We really, really appreciate it.
0