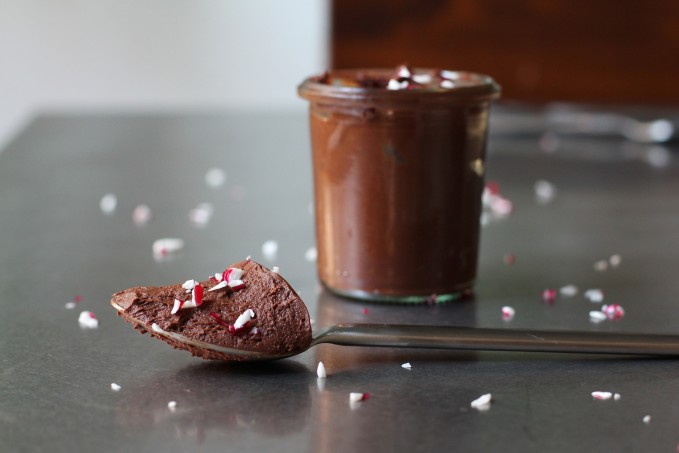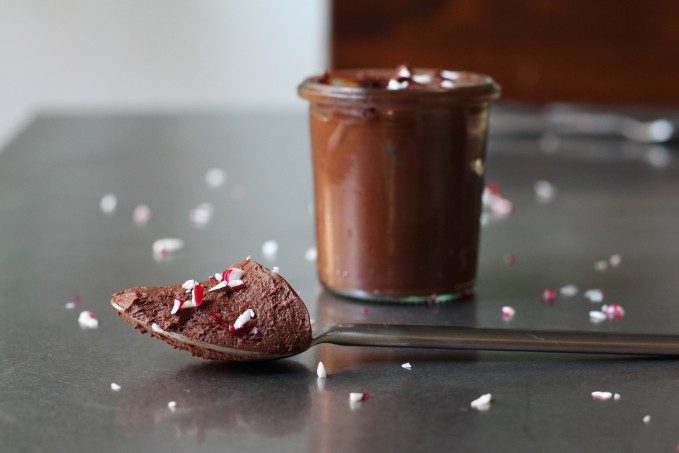 This post may contain affiliate links.
It's right around this time each year that I find myself craving a variety of decadent, chocolatey desserts.  There's just something about the Holiday season that sparks an almost insatiable appetite for indulgence.  Several years ago, I was making batch after batch of Paula Deen's Three Chocolate Cookies.  Then it was sweet and salty Cowboy Cookies.  Last year, my fridge was stocked with Smitten Kitchen's Peppermint Hot Fudge Sauce.  This year, I'm taking things over the top.  Made with just 5 ingredients, 5-Minute Chocolate Peppermint Mousse is a rich dessert with melt-in-your-mouth consistency.  This mousse captures the pure flavor of chocolate spiked with just a hint of peppermint.  Perfect for the Holidays, 5-Minute Chocolate Peppermint Mousse is easy to prepare yet elegant enough for any seasonal soiree.  Continue reading for the recipe.
The star of this dessert is, of course, chocolate.  This means that you really need to use a high quality product.  Avoid Hershey's (yes… even the "special" dark).  Look for brands like Valrhona, Scharffen Berger, or even Ghirardelli.  Your chocolate should be at least 70% cocoa.
In this recipe, chocolate is melted with flavorings and water then whisked over an ice bath until light and creamy.  Seems simple enough, right?  Well it is easy; however, there are a few things that can go wrong.  Luckily, all these issues are fixable, so no need to worry about ruining the $10 of chocolate you just purchased!  Here are some tips and techniques that will help you master this process:
If you find that you've been whisking for a little while and the chocolate is not firming up, you may need to chill your bowl more.  I'll have to admit that I encountered this issue when I first attempted this recipe.  My bowls were too different in size, creating a smaller chilled surface.  I tried again with two other bowls more similar in size, and the chocolate firmed up in a matter of moments. Glass or metal bowls are ideal here.
If you over-whisk the mixture, it will become grainy.  To fix, simply re-melt the chocolate, and begin the process over again.
You can whisk the mixture by hand or with a hand mixer.  A hand mixer is easier; however, it's hard to "feel" when you've achieved the perfect consistency. I like making this mousse by hand, because I can feel changes in resistance.  As resistance increases, I know the mousse is nearing completion.
The ratio I used was 9 oz. of chocolate to 1 cup of liquid.  Deviations from this ratio may cause issues with the consistency.
I added 1 tablespoon of coffee liqueur to give the chocolate more depth of flavor.  As a result, I needed to subtract 1 tablespoon of water from the cup.  You can play around with different liquid flavorings, just be sure the total amount of liquid is 1 cup.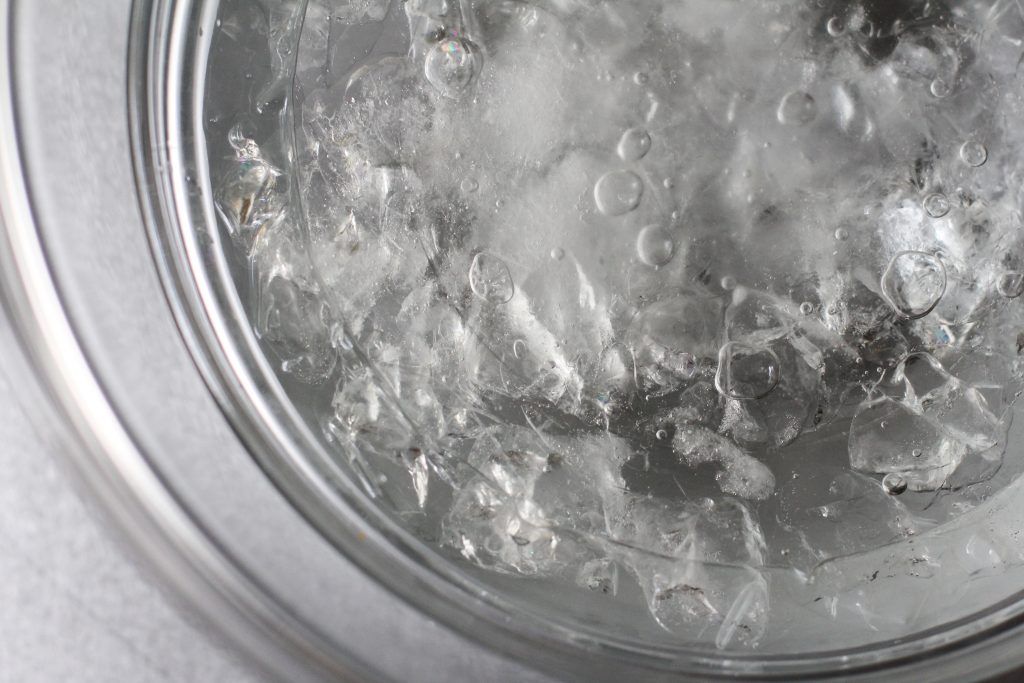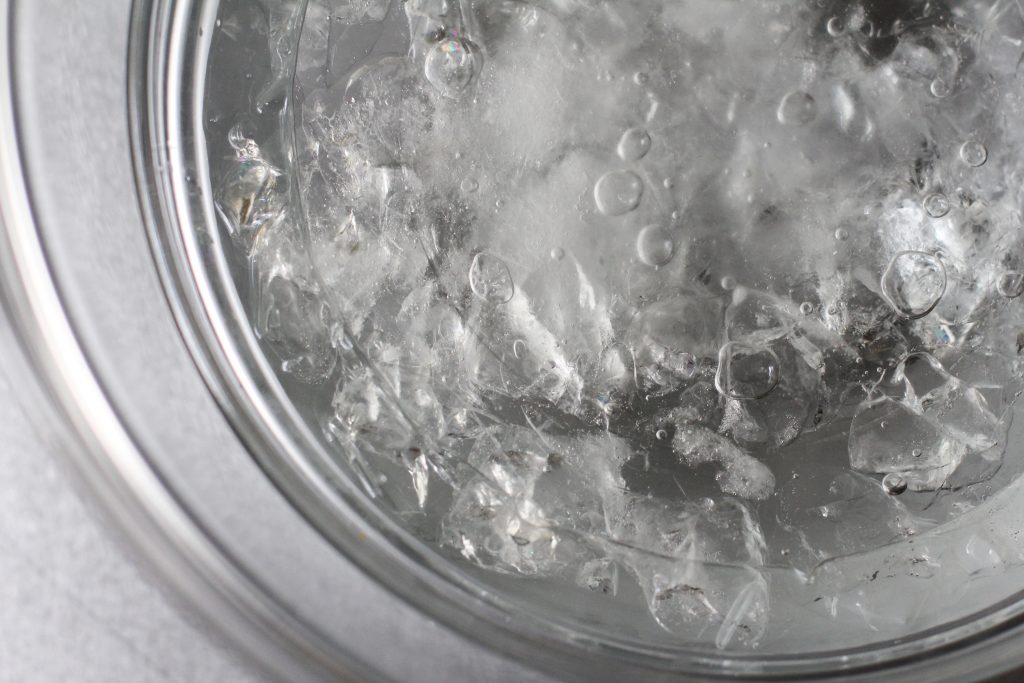 Here are some other flavor combinations you can try:
Chocolate + Orange [Cointreau]
Chocolate + Hazelnut [Frangelico, top with toasted hazelnuts]
Chocolate + Almond [Amaretto, almond extract, top with toasted almonds]
Chocolate + Chile [cayenne pepper]
Chocolate + Sea Salt [top with fleur de sel]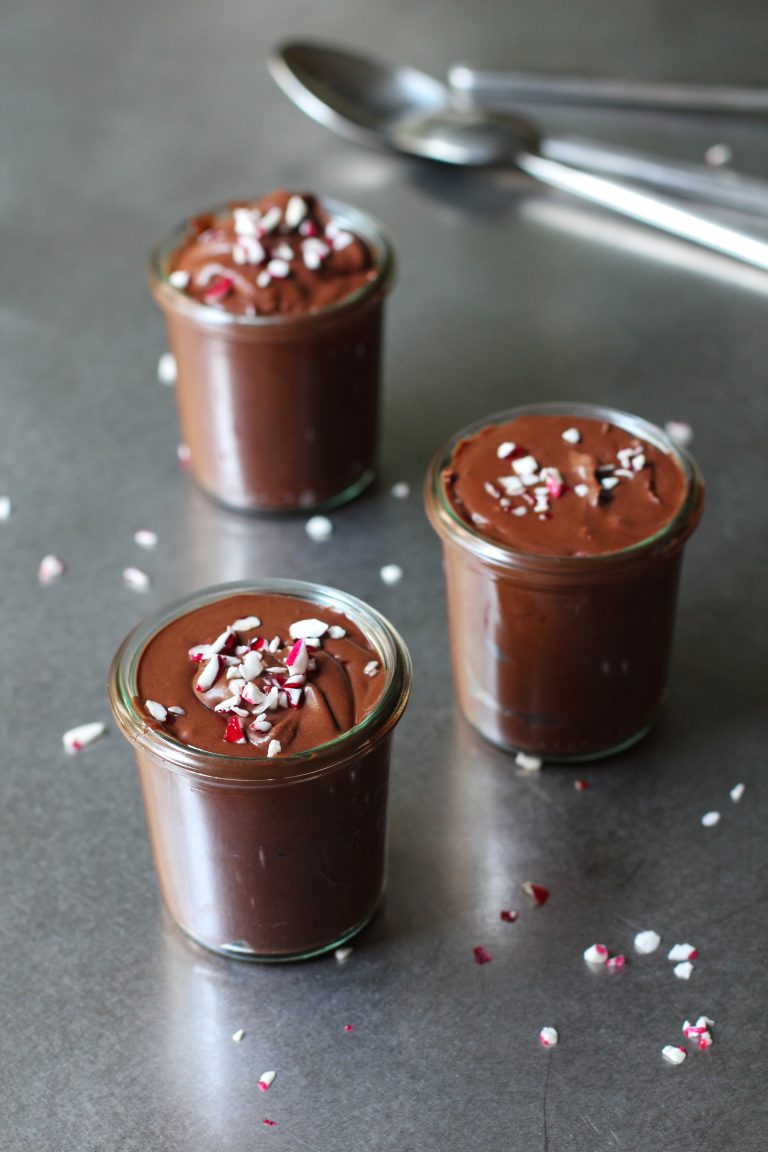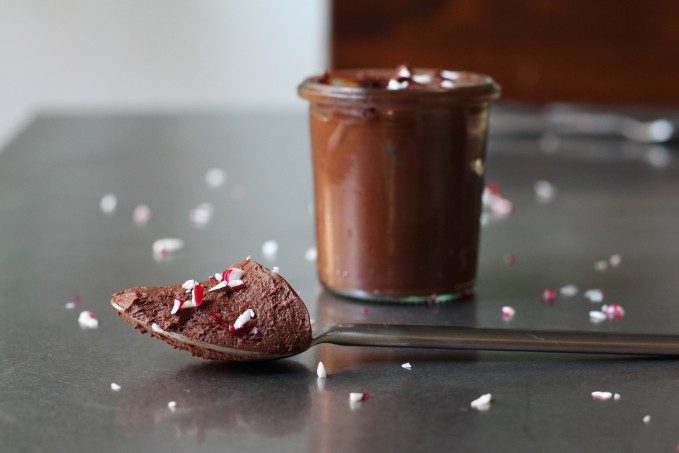 5-Minute Chocolate Peppermint Mousse
Adapted from
here
. Be sure to review the tips and tricks above to ensure success.
Ingredients
9

oz.

high quality chocolate (at least 70% cocoa), chopped

1

cup

minus 1 tablespoon water (see note above)

1

tablespoon

coffee liqueur

2

tablespoons

sugar

1/4 - 1/2

teaspoon

peppermint extract
Candy cane shards, for topping (optional)
Instructions
Fill a medium bowl 3/4 full with ice and water. Set a large bowl on top of the medium bowl, so the bottom of the larger bowl sits in ice water. Set aside.

Add chocolate, water, coffee liqueur and sugar to a medium saucepan. Warm over medium heat, stirring until chocolate is melted and all ingredients are combined. Add peppermint extract, stirring until combined (I added 1/4 teaspoon plus another half 1/4 teaspoon).

Pour mixture into the prepared large bowl. Whisk until the mixture thickens. You can do this by hand or with an electric hand mixer. This should only take a couple of minutes.

Divide mousse between four bowls (or jars), top with candy cane shards, and enjoy immediately.
Tried this recipe?
Tag @brandiego on Instagram so I can check it out!
Related links and recipes:
39