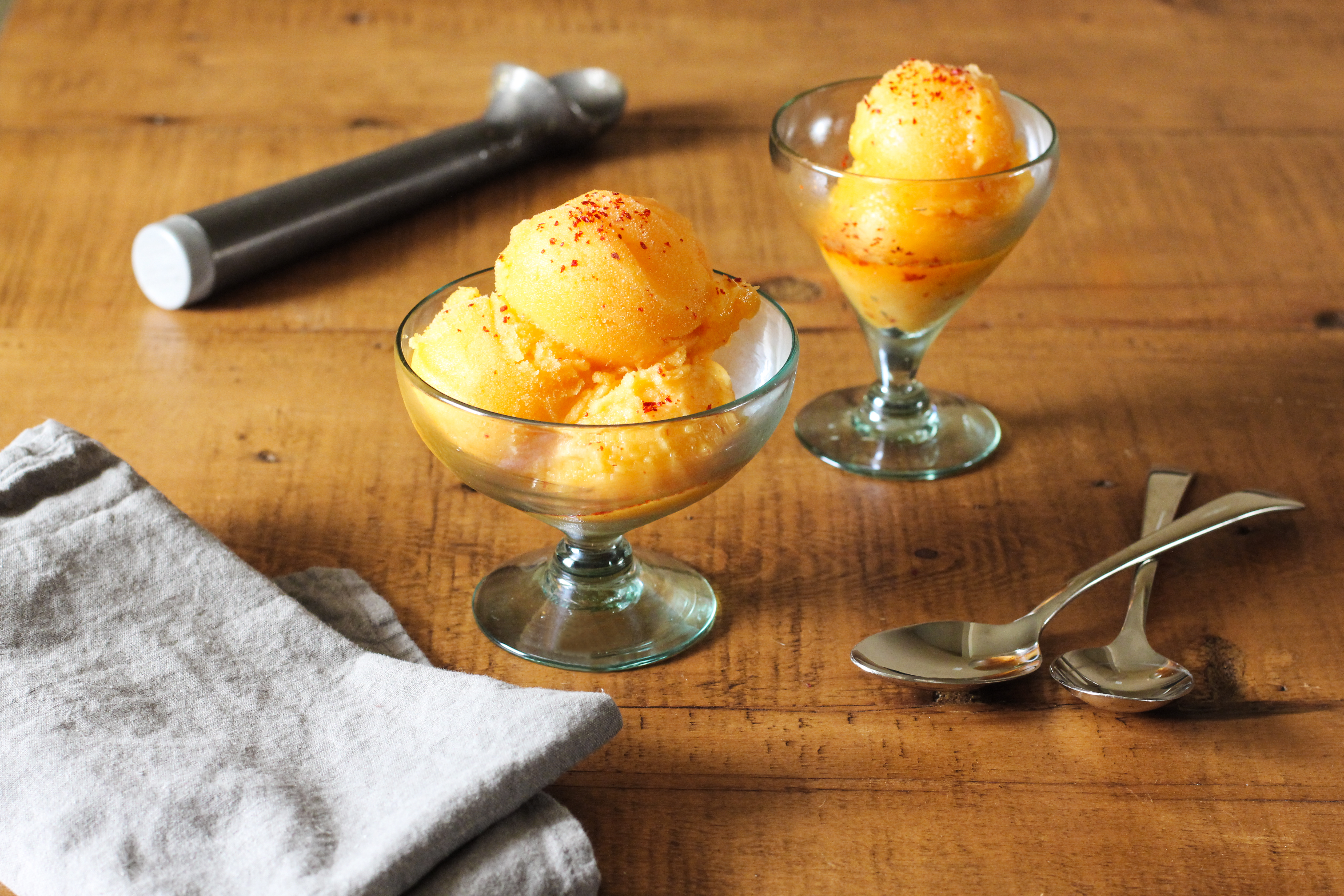 This post may contain affiliate links.
Summer is in full effect here in San Diego, and strangely, it's been quite humid.  This humidity doesn't really compare to the many hot, damp summers spent in New Jersey, but  now, I've completely lost my tolerance to extreme weather conditions.  Any slight deviations from perfection seem to throw off my daily rhythms.  After spending two nights tossing and turning, I installed my little window air conditioner, and made a batch of this Pineapple Tequila Sorbet.  Freshly blended pineapple is flavored with an Aleppo chile, lime, and citrusy tequila.  After a short while in the ice cream maker, this flavorful puree is transformed into scoopable sunshine.  The color really is quite remarkable.  Cool, fresh and bright, one taste of this sorbet will surely banish any warm weather discomfort.  Continue reading for the recipe.
Pineapple Tequila Sorbet
Ingredients
2

pounds

peeled, cored and cut pineapple (from about 1 1/2 pineapples)

3

tablespoons

water

3/4

cup

sugar

1/3

cup

light corn syrup (this will ensure a smooth consistency)

1 1/2

teaspoons

Aleppo chili powder, plus more for sprinkling*

1/2

teaspoon

kosher salt, plus more to taste

1/4

cup

tequila

Juice of 1 lime
Instructions
Place pineapple in a blender and process until smooth. Measure out 4 cups of pineapple puree and reserve the rest for another use (like your morning smoothie). Warm water, sugar, light corn syrup and Aleppo chili powder in a small saucepan over medium heat, stirring until the sugar has dissolved. Return the 4 cups of pineapple puree to the blender, and add the Aleppo chili syrup and kosher salt, blending until well combined.

Transfer contents of the blender to a large bowl, and stir in tequila and lime juice. Season to taste with additional kosher salt. The flavors should be bright. Cover the bowl and chill the sorbet base for at least 3 to 4 hours, or until very cold.

Freeze sorbet in an ice-cream maker according to the manufacturer's instructions. Transfer sorbet to an airtight container and chill in the freezer for two to three hours. To serve, scoop sorbet in small bowls and sprinkle with Aleppo chili powder.
Notes
*Mild and fruity, Aleppo chili powder adds wonderful flavor without much heat.
Tried this recipe?
Tag @brandiego on Instagram so I can check it out!
Related recipes and articles:
Roasted Pineapple Tamales with Riesling Poached Raisins
Smoked Chocolate and Tequila Ice Cream
2