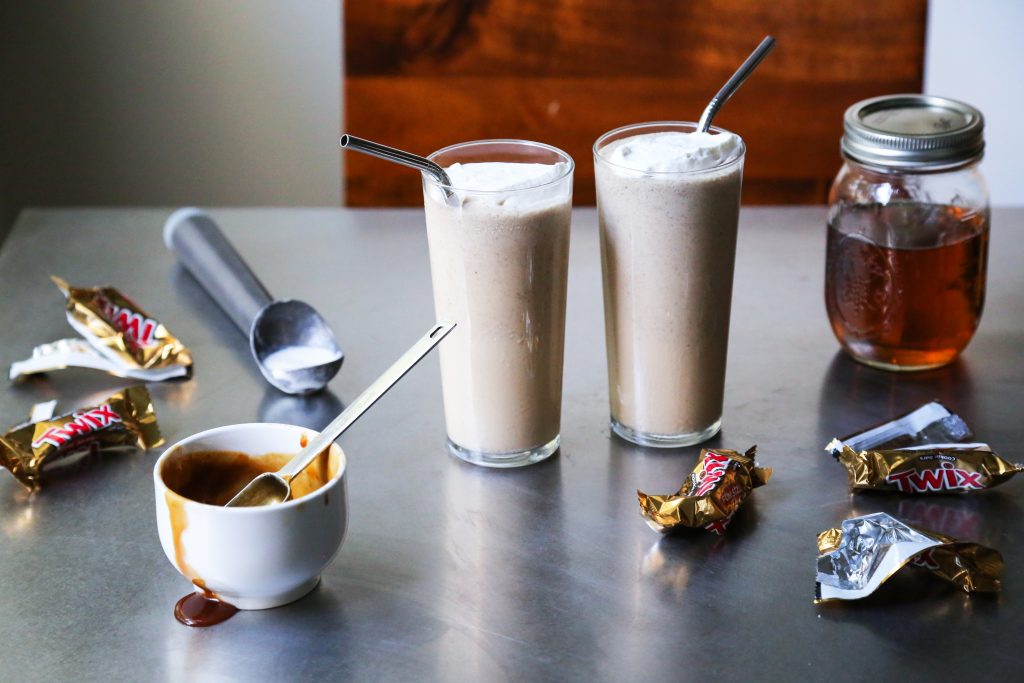 This post may contain affiliate links.
Jorge and I were in Seattle recently, and one of our favorite dessert spots was Hot Cakes in Ballard.  Located on an adorable tree-lined street, Hot Cakes is known for it's molten chocolate cakes and boozy milkshakes.  While I certainly enjoyed the Peanut Butter Cup molten cake that Jorge ordered, my favorite bite (or sip) of the evening was a milkshake made with local vanilla ice cream, extra dark caramel, espresso and rye.  This thing was to. die. for.  Topped with a cloud of whipped cream flecked with fleur de sel, this shake was sweet and salty with deep, dark notes of caramel and bourbon.  As we left Hot Cakes that evening, I just knew I had to try making my own version at home.
This Candy Bourbon Milkshake is my adaptation.  The recipe starts with some homemade bourbon caramel sauce.  Sugar and water are cooked to a deep, deep caramel, then cut with rich, heavy cream.  After the caramel eruption subsides,  smoky bourbon is added.  I used Woodford Reserve here because it has notes of vanilla and honey.  This bourbon caramel sauce is then blended with vanilla ice cream, brewed espresso and more bourbon.  I decided to also throw some candy into the mix, because Halloween is coming, and this is a perfect use up for leftover candy.  You can certainly omit the candy if you like, but it's a fun twist.  The milkshake is then finished with freshly whipped cream and a sprinkling of crunchy sea salt.  So. yum.  Continue reading for the recipe.
The flavor of this milkshake will vary based on the type of candy added.  I used Twix Fun Size here, and the resulting milkshake had a pleasant nuttiness with a chocolate undertone.  You could also blend in Snickers, Milky Way, Almond Joy (one of my favorites), or KitKat.  Candies with chocolate, nuts, caramel, salt or cookies will pair perfectly with the base flavors of vanilla, espresso and bourbon.  Avoid fruit-flavored candies like Starburst, Nerds, Mike and Ike, and Laffy Taffy.
Candy Bourbon Milkshake
Ingredients
To make the salted bourbon caramel:
2

cups

white sugar

1/2

cup

water

1

tablespoon

light corn syrup

1

cup

heavy cream

1/2

cup

good quality bourbon (I used Woodford Reserve)

1

teaspoon

flaky sea salt or kosher salt
To make the milkshake:
3

scoops good quality vanilla ice cream

1/4

cup

brewed espresso, chilled (or strongly brewed coffee)

2

tablespoons

good quality bourbon (I used Woodford Reserve)

1

tablespoon

salted bourbon caramel, recipe below

2

small candy bars, chopped (I used Twix Fun Size, but many others would work well here)
Whipped cream, for topping
Flaky sea salt, for topping
Instructions
Add sugar, water, and corn syrup to a medium saucepan, and bring to a boil over high heat, stirring until the sugar is dissolved. As soon as the mixture comes to a boil, clamp on a lid, and cook for 6 minutes. Remove the lid and check the color and texture of your caramel. It should still be clear, and the bubbles should be large. Continue to cook with the lid off. As the mixture starts to brown and darken in color, gently swirl the pan to mix. Do not stir here. Once the mixture is a dark amber color (not black), take the saucepan off the heat, and carefully add the heavy cream. The mixture will violently bubble up. Let the caramel settle for 1 minute, then stir in the bourbon and flaky sea salt. If the caramel has seized up a bit (hardened), simply return the saucepan to a low flame, and stir just until the mixture smooths out. Let mixture cool completely before adding to the milkshake. Store in the refrigerator for up to 1 week.

Add ice cream, chilled espresso, bourbon, 1 tablespoon salted bourbon caramel, and chopped candy bars to a blender, and blend until smooth and well combined. The texture should be thick, but still very drinkable.

Pour milkshake into a chilled glass, then top with a dollop of whipped cream, and a sprinkle of flaky sea salt.
Tried this recipe?
Tag @brandiego on Instagram so I can check it out!
Related recipes and articles:
Coffee and Rum Milkshake with Salty Chocolate-Covered Coffee Beans
9 Best Boozy Milkshakes in America
Happy Hour Hot Fudge Milkshake
Blueberry Oatmeal Crisp with Bourbon Caramel
5