Did you know that tomorrow is Pi Day?
This post may contain affiliate links.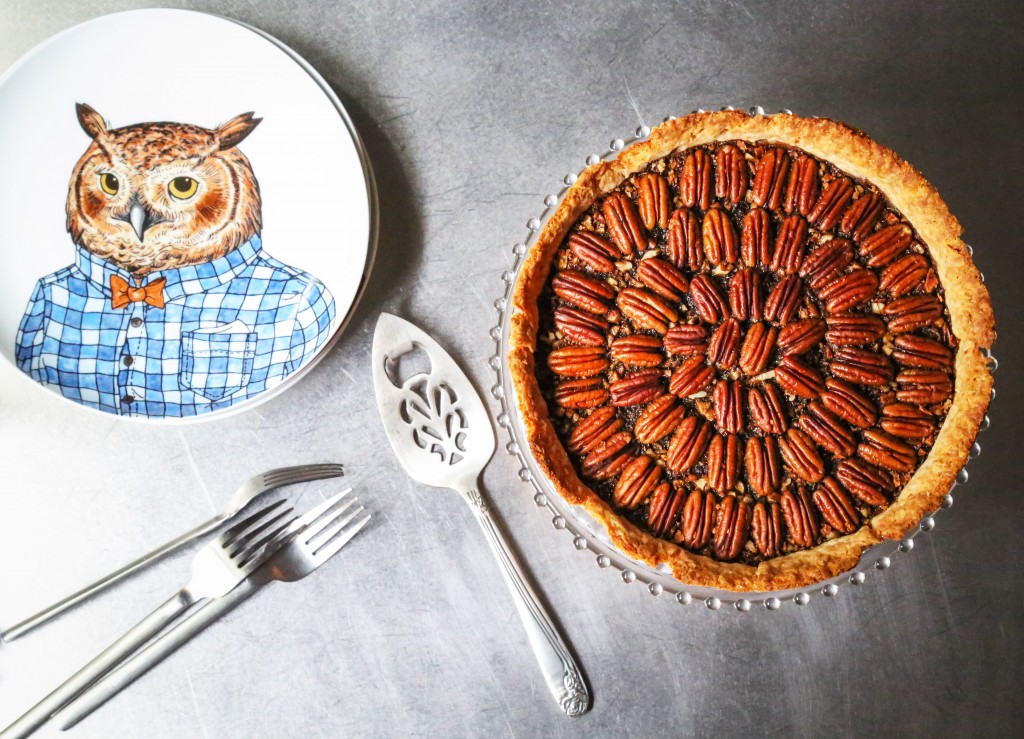 For those of you who are not fully dialed into the geek world, Pi Day is an annual celebration of the never-ending number, π.  This special occasion falls on March 14 each year, because this date represents the first 3 digits of π (3.14).  In celebration of Pi Day this year, I've prepared a tasty Rye Pecan Pie.  Sweet and smokey with just a hint of spice, this Rye Pecan Pie is to. die. for.  Let me explain.
First, this is a deep dish pie.  That means each slice has almost double the amount of crust and filling compared to a regular slice of pecan pie.  And as we all know, more is better.  Second, the filling is spiked with several tablespoons of rye whisky.  This alcoholic addition balances out the cloying sweetness typically associated with pecan pies.  Finally, beneath that beautiful array of pecan halves lies a thin layer of finely chopped pecans.  This delicious duo of pecans provides a wonderful contrast in both texture and flavor.
So today I'm letting my geeky side (I studied Math and Economics in college. Whaaat?) fly free, wishing that, like π, this Rye Pecan Pie was never-ending.  Continue reading for the recipe.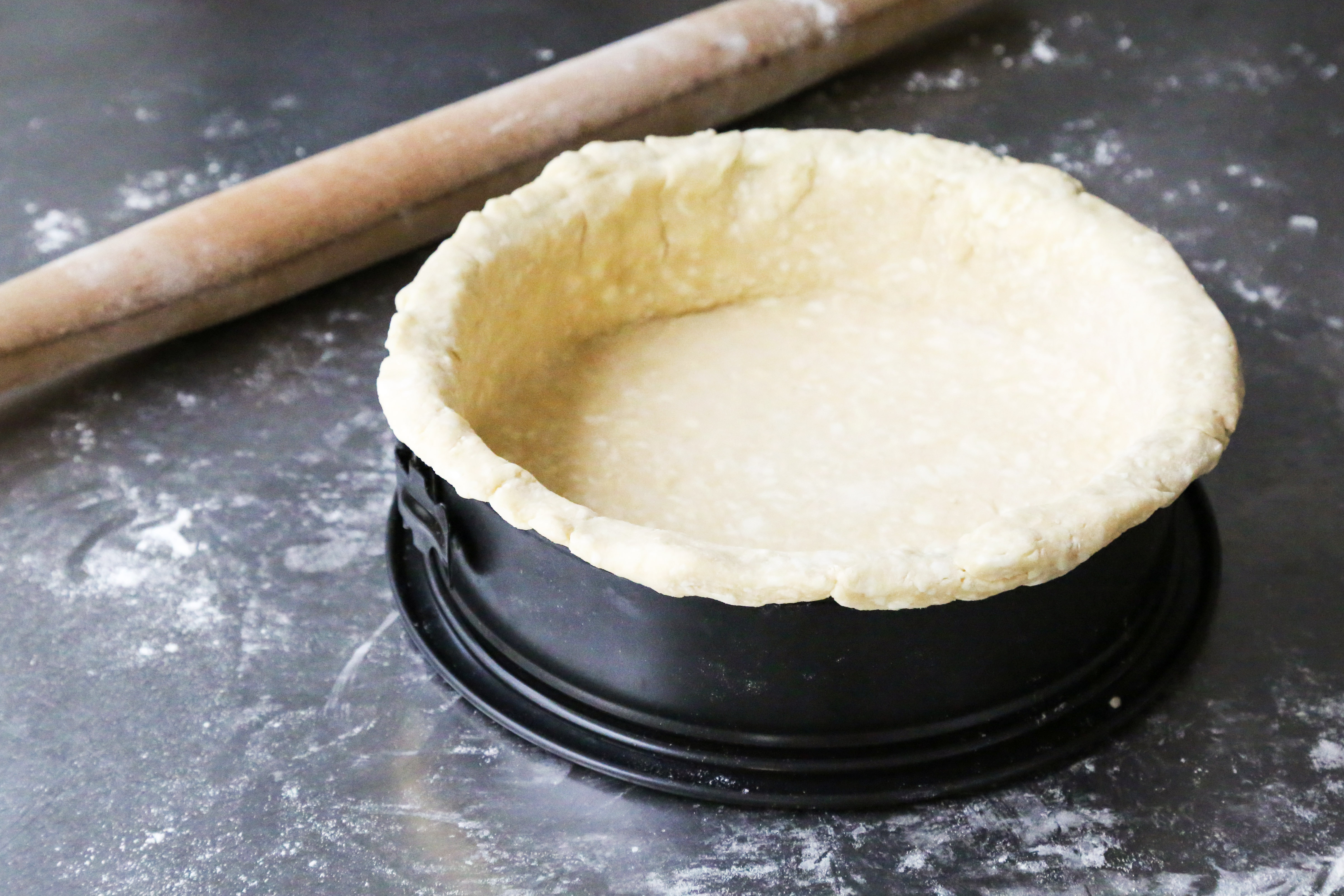 The deep dishiness of this pie is made possible through the use of a springform pan.  Both the top and sides of the crust get wonderfully golden.  After a quick release of the clasp, the outer ring is removed to reveal a beautifully smooth wall of crust below.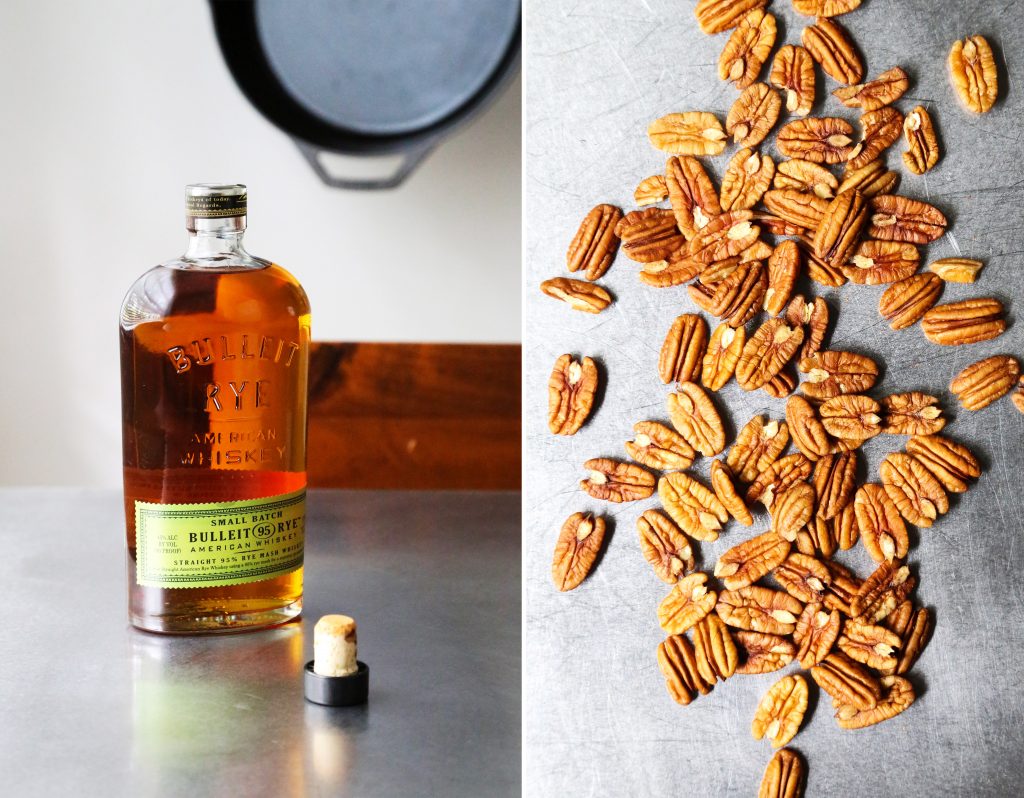 Be sure to use good quality rye here, and fresh pecans.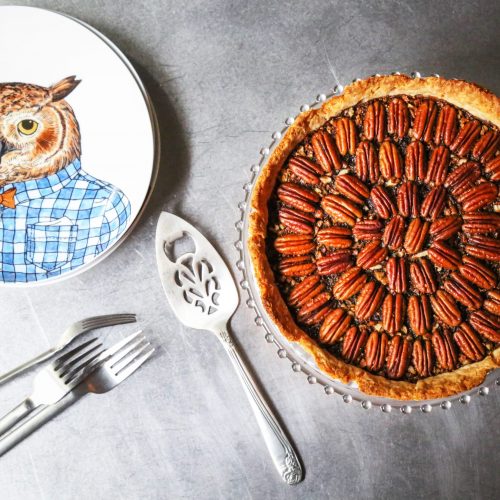 Rye Pecan Pie
Slightly adapted from
here
.
Ingredients
For the crust:
2 1/2

cups

all-purpose flour

1

teaspoons

fine grain sea salt

1 1/2

tablespoons

white sugar

2

sticks (8 oz) cold unsalted butter, diced

1/2

cup

ice cold water, more as needed
For the filling:
5

eggs

1 1/4

cups

light brown sugar

6

tablespoons

unsalted butter, melted

1/3

cup

unsulfured molasses

1/3

cup

light corn syrup

2

teaspoons

vanilla extract

1/4

teaspoon

kosher salt

3

tablespoons

rye whiskey, bourbon would also work here

2

cups

finely chopped pecans

2 1/2

cups

pecan halves
Instructions
In a food processor fitted with a steel blade, pulse together flour, sea salt, and white sugar. Add the cubed butter, and continue to pulse until the butter is cut into pea-sized bits. With the food processor running, slowly stream in 1/2 cup ice cold water until the dough starts to come together. You'll notice a ball forming around the blade. To test the dough, pinch a small amount in your fingers. If it holds together, it's ready. If it crumbles, pulse in a little more cold water, then repeat the test. Turn the dough out on to a work surface, and shape into a flattened disk. Wrap in plastic, then refrigerate for at least 1 hour.

Unwrap the chilled dough and transfer to a lightly floured surface. Roll the dough into a circle 16 inches in diameter. Carefully lift the dough up, and transfer it to a 10-inch springform pan. Gently press the dough into the bottom and sides of the pan, then trim the dough (with a knife or kitchen scissors), so it hangs over the rim by 1 inch (see photo above). Reserve the excess for nibbling plus patching later. Refrigerate the springform pan for at least 1 hour.

Preheat the oven to 400°F and place a rack in the middle of the oven. Place the prepared springform pan on a rimmed baking sheet, and prick the bottom of the dough all over with a fork. Lay a piece of parchment paper inside the pan, so it covers the dough. Fill the parchment lining with pie weights or dried beans. Bake for 20 to 25 minutes, until the sides of the crust have set, and the top of the crust turns a light golden brown. Take the crust from the oven, and lift out the parchment lining (with beans). Patch any holes with reserved dough, then bake for 10 to 15 minutes more, until golden brown. Let cool at least 30 minutes before filling.

Reduce the oven heat to 325°F. Add eggs, brown sugar, melted butter, molasses, corn syrup, vanilla, kosher salt, and rye to a large bowl, whisking to combine. Carefully pour the filling into the cooled pie crust (still in the pan on the rimmed baking sheet). Sprinkle the surface of the filling evenly with chopped pecans. Working from the outside in, arrange the pecan halves in concentric circles until the entire surface is covered (see photo above or below). Save leftover pecan halves for snacking.

Bake for 50 to 60 minutes, just until the filling is firm. You'll know the pie is done when a skewer inserted into the center comes out clean. Some of the overhanging crust may turn very dark brown. It's cool. Don't worry. We'll trim later. Let the pie cool completely, then trim off all overhanging pie crust with a serrated knife. Carefully unclasp the springform ring. Transfer pie to a pretty pie stand.
Tried this recipe?
Tag @brandiego on Instagram so I can check it out!

Happy Pi Day!!
6