I've got a special treat for you all today!!
This post may contain affiliate links.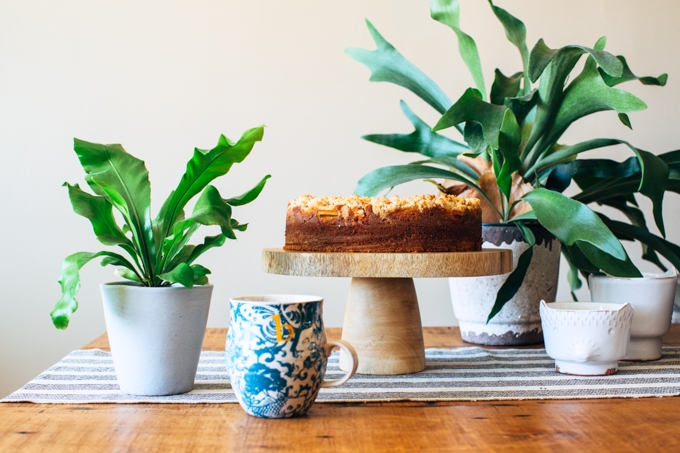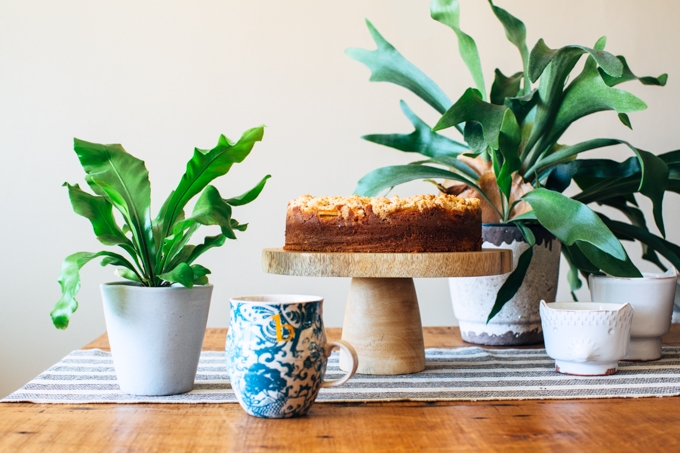 In addition to an absolutely delicious Nectarine Coffee Cake recipe, I'm sharing some interesting coffee details from an interview I recently conducted with Keurig Green Mountain®'s SVP and Managing Director, Lindsey Bolger. First, let's talk cake.
The base here is a simple cake infused with rich vanilla. Whole milk Greek yogurt, a unique addition, provides a slight tang while giving the cake a moist, tender crumb. The next layer up is a jumble of juicy white nectarine slices that turn melting when baked. Finally, the cake is finished with a buttery crumb flecked with bits of almond meal. Each bite of this cake is light and tender with a sweet floral note from the nectarines. The crumbs on top add a nice richness and contrast in texture. Continue reading for the recipe, coffee pairing ideas plus interview details!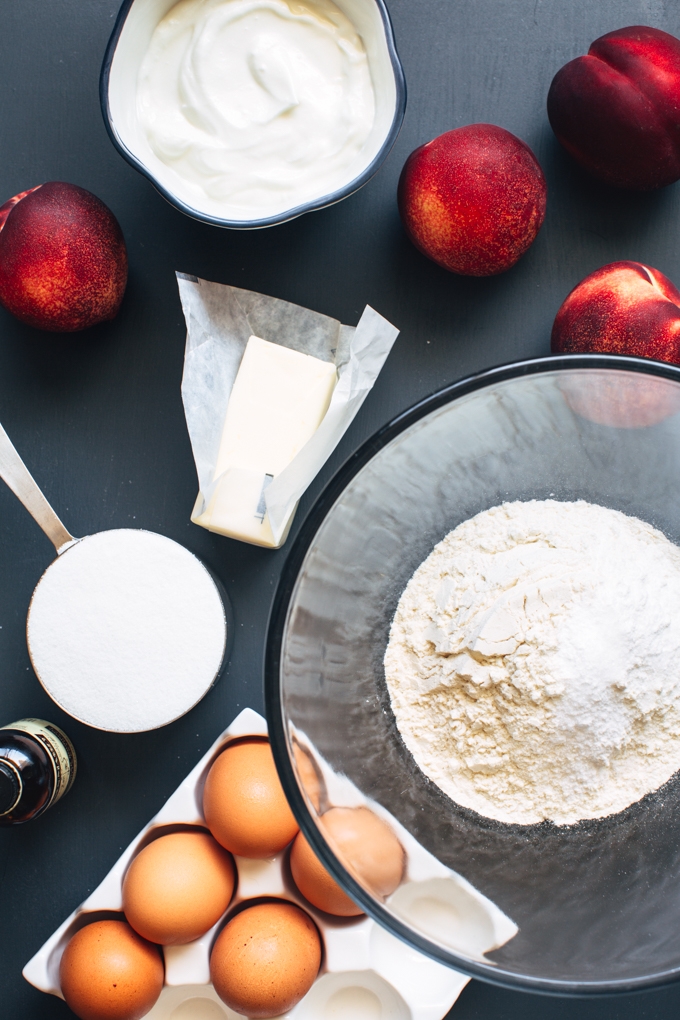 I found the most incredible white nectarines at the market recently that were crisp but still juicy and honey sweet. Pale white and floral beneath a ravishing red skin. Summer stone fruit at its best.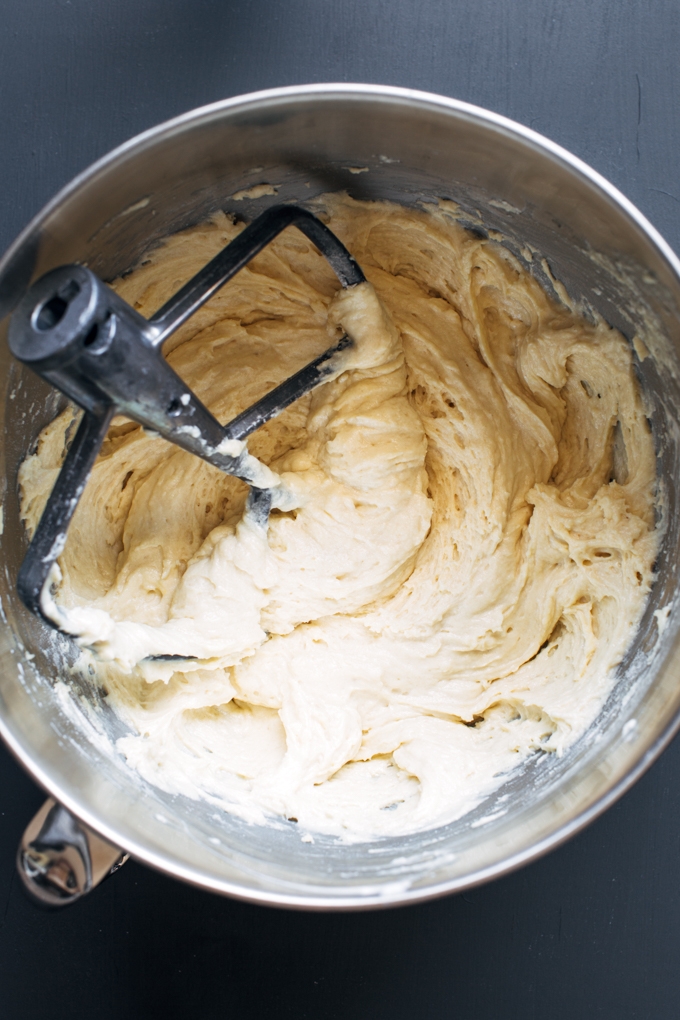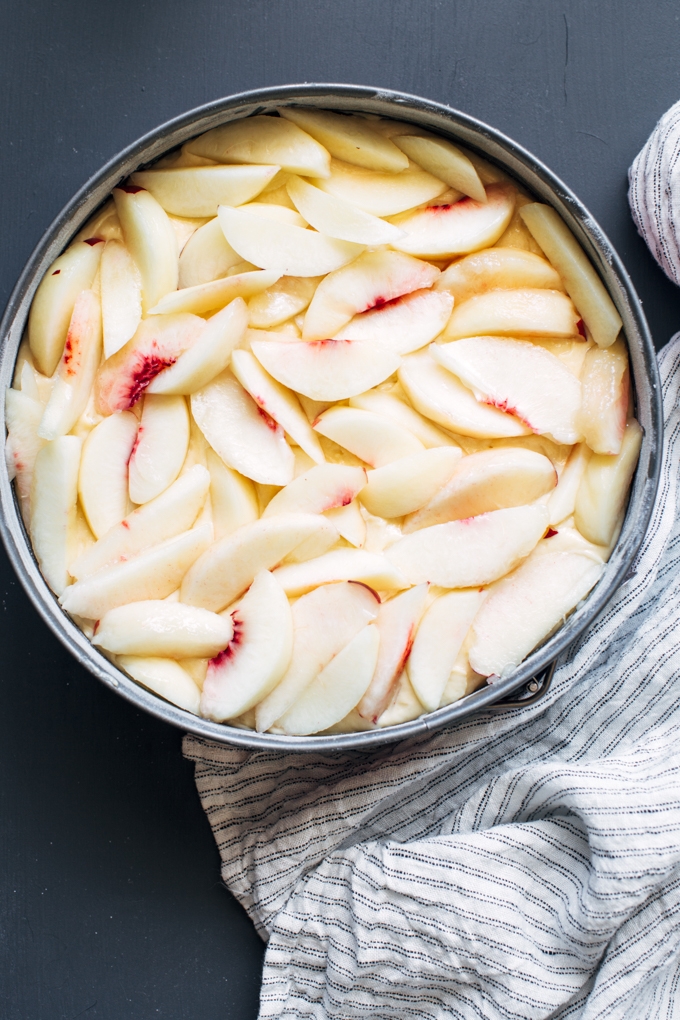 You can easily switch up the fruit in this recipe for whatever stone fruit looks and tastes best at the market that day. Peaches would be lovely here, as would plums. Just make sure the fruit is firm ripe, so you can peel with ease. Sometimes looks and smells can be deceiving, so see if you can have a taste of the fruit before purchasing, so you know exactly what the flavor is.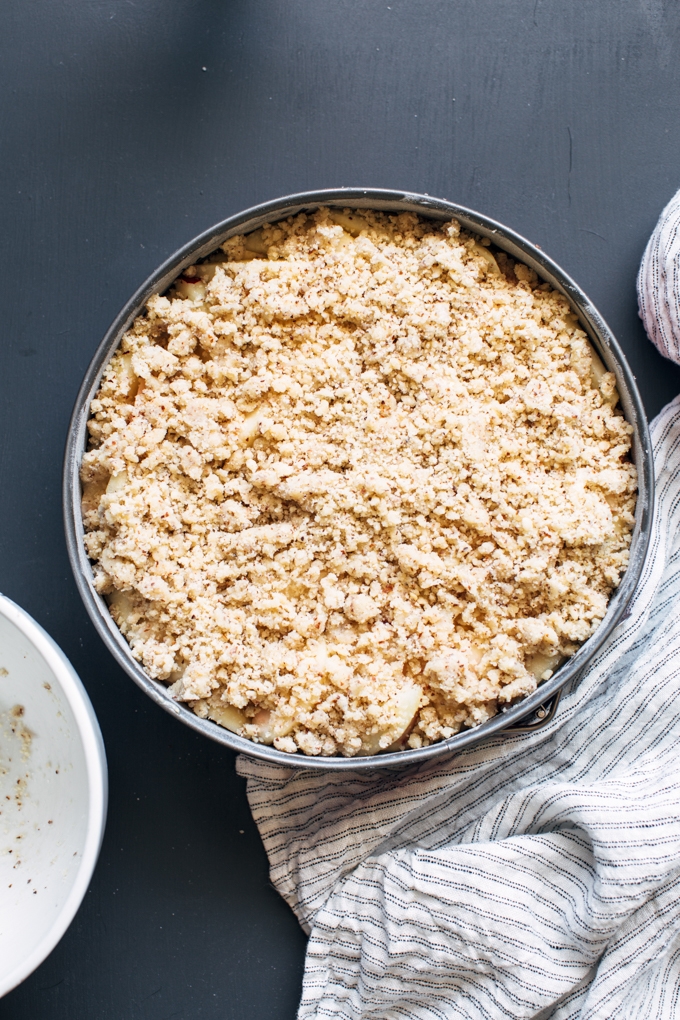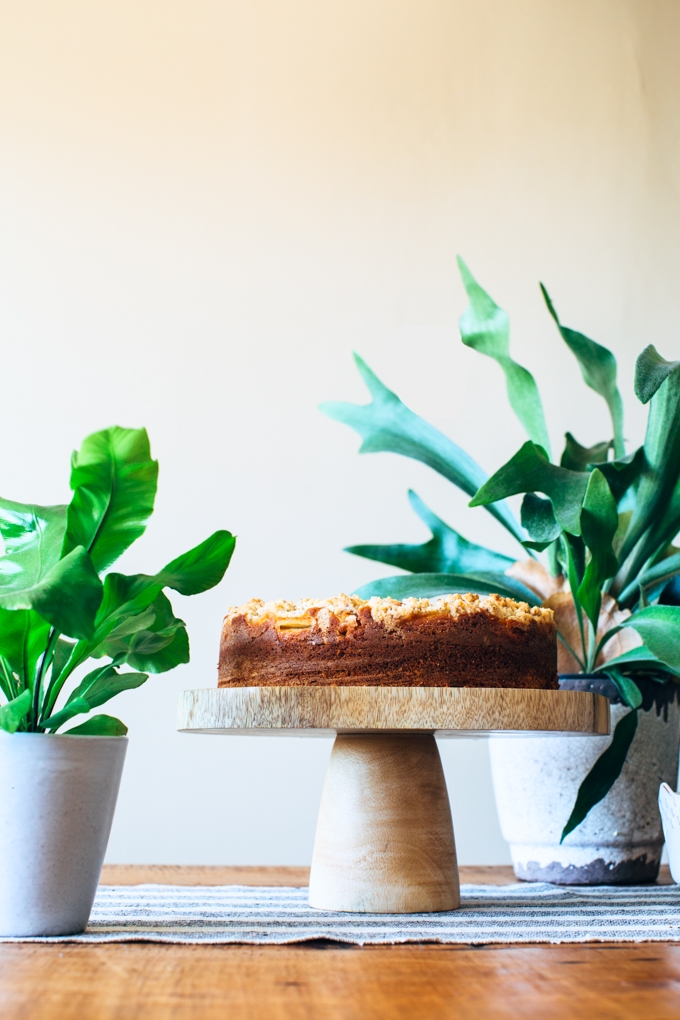 This cake pairs perfectly with Green Mountain Coffee® Organic Ethiopia Yirgacheffe Coffee; a sip of coffee after a bite of warm coffee cake is pure heaven. The lightly roasted coffee has a sweet, floral aroma with notes of ginger and citrus, two flavors that go well with nectarines. I would recommend trying the coffee as is (no cream or sugar) to pick up these tasting notes.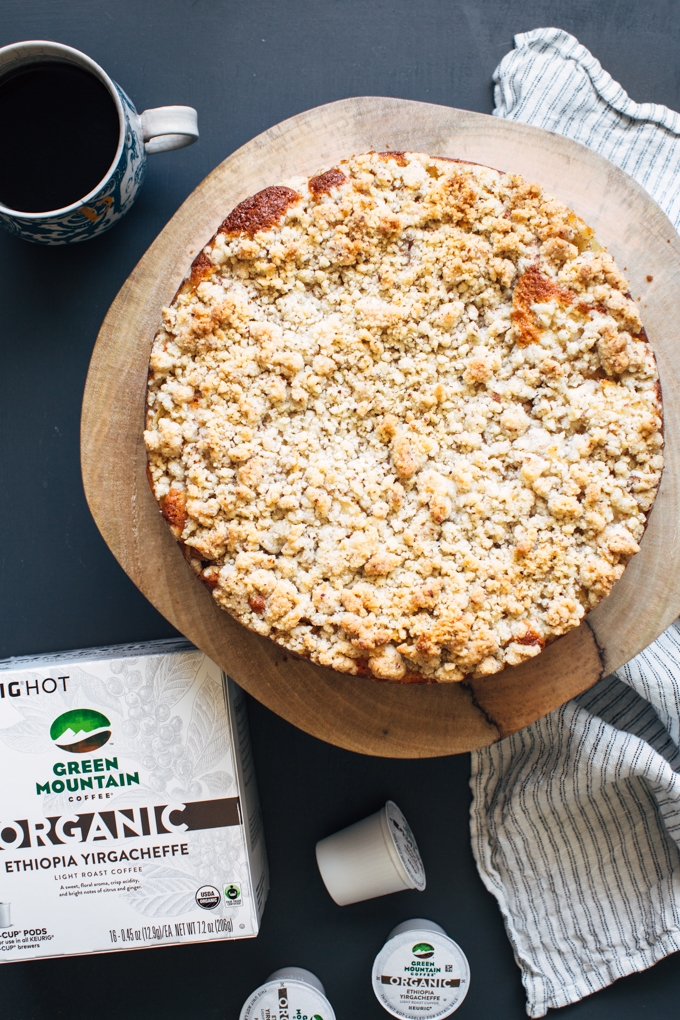 Several weeks ago, I got the chance to chat with Lindsey Bolger, Keurig Green Mountain®'s SVP and Managing Director AND a really passionate coffee person. If you follow me on Instagram, you'll probably notice that I too am passionate coffee person. I enjoy a cup of coffee twice a day and anywhere I travel, I just love tasting new coffee blends or beverages.
In the mornings, I'll brew a pot of coffee made with freshly ground beans to share with Jorge. But in the afternoon, when I'm drinking solo, I reach for my Keurig® K575 brewer to brew a single cup.
Green Mountain Coffee K-Cup® Pods often make it into my afternoon rotation, and I was very pleased to learn that they've got four great organic coffee blends: Ethiopia Yirgacheffe, Peru Cajamarca, Founder's Blend and Sumatra Aceh. During my chat with Lindsey, I learned more about some of these blends along with the history of Green Mountain Coffee® and the brand's coffee sourcing practices.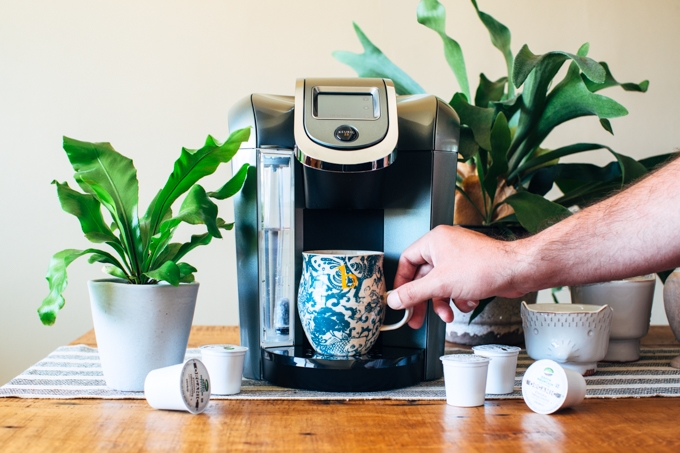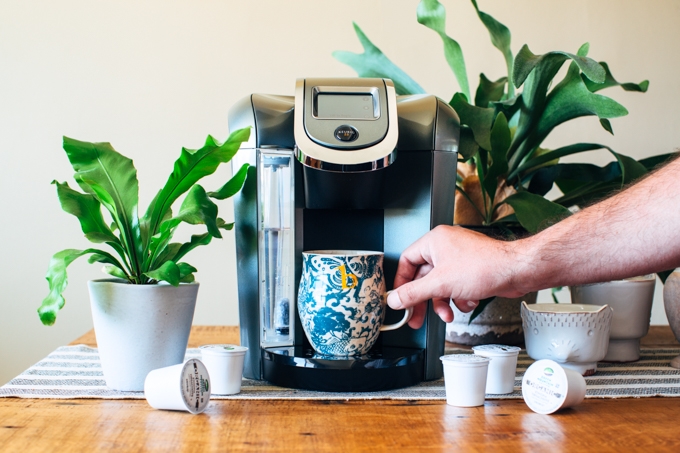 I just love how Lindsey describes the flavor of two of the organic coffees:
Green Mountain Coffee® Organic Ethiopia Yirgacheffe Coffee: with jasmine flower and bergamot aromas; sweet balance, light bodied flavor, clean finish; milk chocolate, dried citrus peel, honey, ginger, brown sugar, caramel notes.
Green Mountain Coffee® Organic Peru Cajamarca Coffee: balanced, sweet, a bit more body; jammy, fruity; raspberry, black cherry, red currant, red fruit, Cabernet.
And when you taste each coffee (without cream and sugar) you really do experience each of these flavors!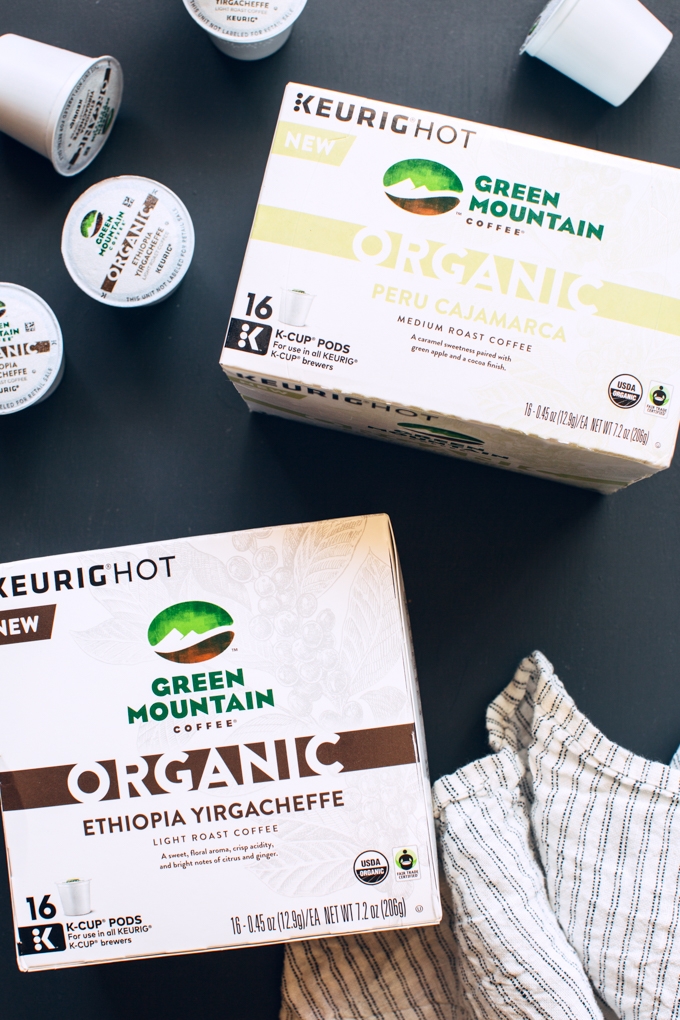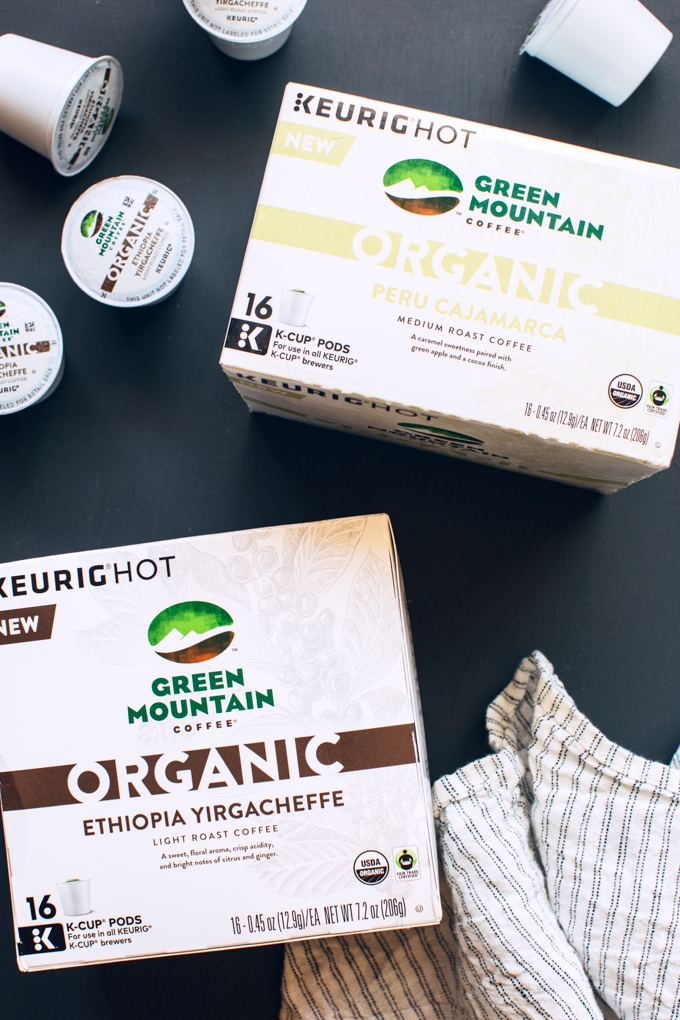 Green Mountain Coffee® started as a small, specialty coffee store in Waitsfield, Vermont in 1981, and his since grown to be America's #1 Single Serve Coffee Brand. At the time, they sourced their beans from importers who brought coffee in from 13 different locations including Columbia, Guatemala and Sumatra. Now, Lindsey leads up an entire team of buyers who source Fair Trade coffee from 28 regions around the globe. The Green Mountain Coffee® team was very passionate about coffee back in the 80's, and their passion and principles still fuel and influence how the larger company operates today!
Lindsey shared a few examples of how Green Mountain Coffee® is helping to improve coffee growing conditions in other countries. She mentioned that Nicaragua is an area of high need, because the soil conditions are hindering coffee production. To help alleviate these challenges, Green Mountain Coffee® has brought in other groups to assist and educate the farmers in the following ways:
Enhance soil through organic compost
Replant farms with better trees
Pest and disease control
Teach farmers to supplement income by diversifying their farms
In addition to helping areas in need, Green Mountain Coffee® also supports emerging origins, including Uganda, Peru, Papua New Guinean, Vietnam, Laos, East Timor and Myanmar. I mean seriously, how fun does this job sound?!
In upcoming years, we may see coffees from these emerging markets trending along with natural and honey-processed coffee. When coffee is processed naturally, the fruit is passively dried off the bean instead of washed off. With honey-processed coffee, the skin and pulp are washed away, but the mucilage remains on the bean. Both these processes affect flavor, often adding sweet, fruity notes.
I really loved chatting with Lindsey and learning a lot more about coffee in general. I would highly recommend you check out Green Mountain Coffee®'s new organic flavors! Now, on to the recipe…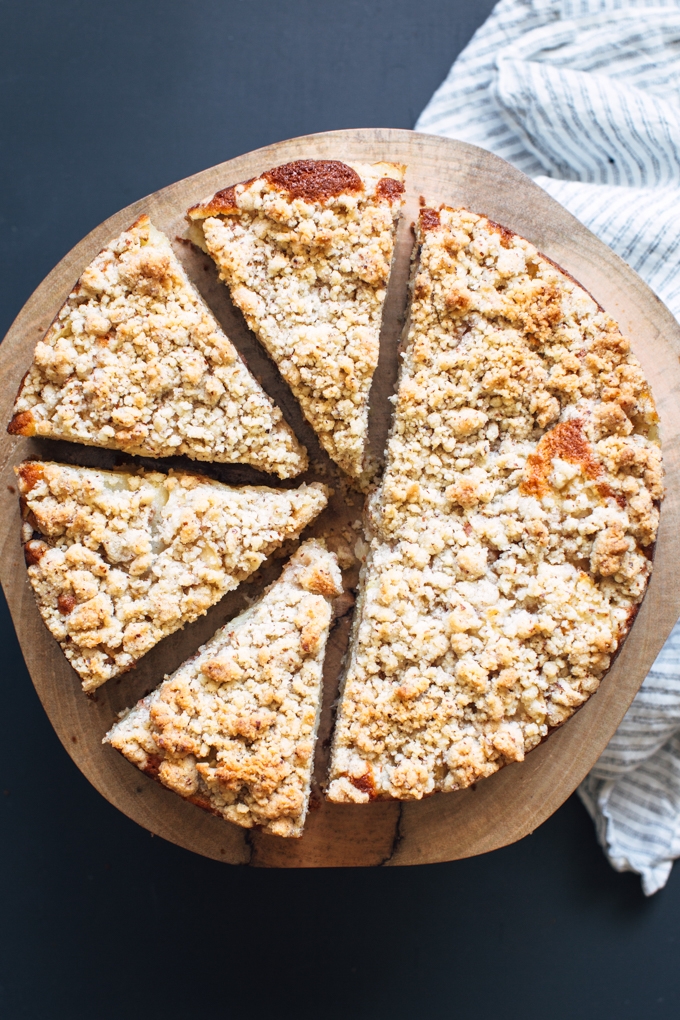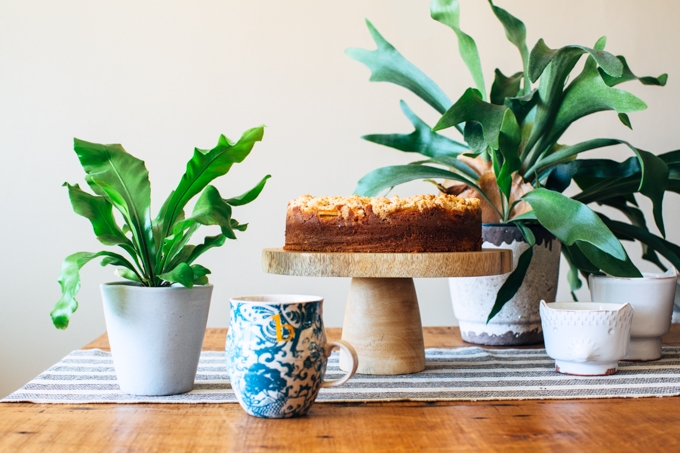 Nectarine Coffee Cake Recipe
Ingredients
For the cake:
2

cups

all-purpose flour, plus more for the pan

1

teaspoon

baking powder

1

teaspoon

baking soda

1/2

teaspoon

fine grain sea salt

1

stick (1/2 cup) unsalted butter, at room temperature, plus more for the pan

1

cup

sugar

2

eggs

1

cup

whole milk Greek yogurt

2

teaspoons

vanilla extract

4

white nectarines (1 1/4 pounds), peeled, pitted and sliced (any stone fruit would work here)
For the crumb:
5 1/2

tablespoons

unsalted butter, softened

1/2

cup

all-purpose flour

1/2

cup

almond meal, ground almonds

4 1/2

teaspoons

sugar

1/2

teaspoon

fine grain sea salt
Instructions
Butter and flour a 9-inch springform pan and set aside. Preheat oven to 350°F, and set a rack in the middle position.

In a medium bowl, whisk together flour, baking powder, baking soda and salt. In the bowl of a stand mixer fitted with the paddle attachment, beat butter and sugar on medium-high until light and fluffy (about 3 minutes). Beat in eggs 1 at a time until incorporated, scraping down the sides as needed. Beat in the Greek yogurt followed by the vanilla. Add the flour mixture in 2 additions, and mix on low just until incorporated. Scrape the batter into the prepared springform pan, and spread out to an even layer. Top with an even layer of sliced nectarines.

In a medium bowl, combine the butter, flour, almond meal, sugar and sea salt, and using your fingers, work the butter into the dry ingredients. The mixture should be uniformly moist with a good mix of small crumbs and bits of butter. Evenly top the nectarines with the crumbs.

Bake the cake until a toothpick (or skewer) inserted in the center comes out clean and the top is golden brown (55 to 1 hour and 5 minutes). Start testing around 50 minutes. Transfer to a rack to cool for 30 minutes in the pan, then remove the ring, and let cool completely before enjoying with your favorite

Green Mountain Coffee® brew

.
Tried this recipe?
Tag @brandiego on Instagram so I can check it out!
This post was written in partnership with Keurig Green Mountain®. Thoughts, opinions and recipes are my own. Connect with Green Mountain Coffee® on Facebook, Instagram and Twitter.
12