Today I'm taking penne vodka, a childhood favorite of mine, and transforming it into a creamy, cheesy baked pasta topped with crunchy basil breadcrumbs.
This post may contain affiliate links.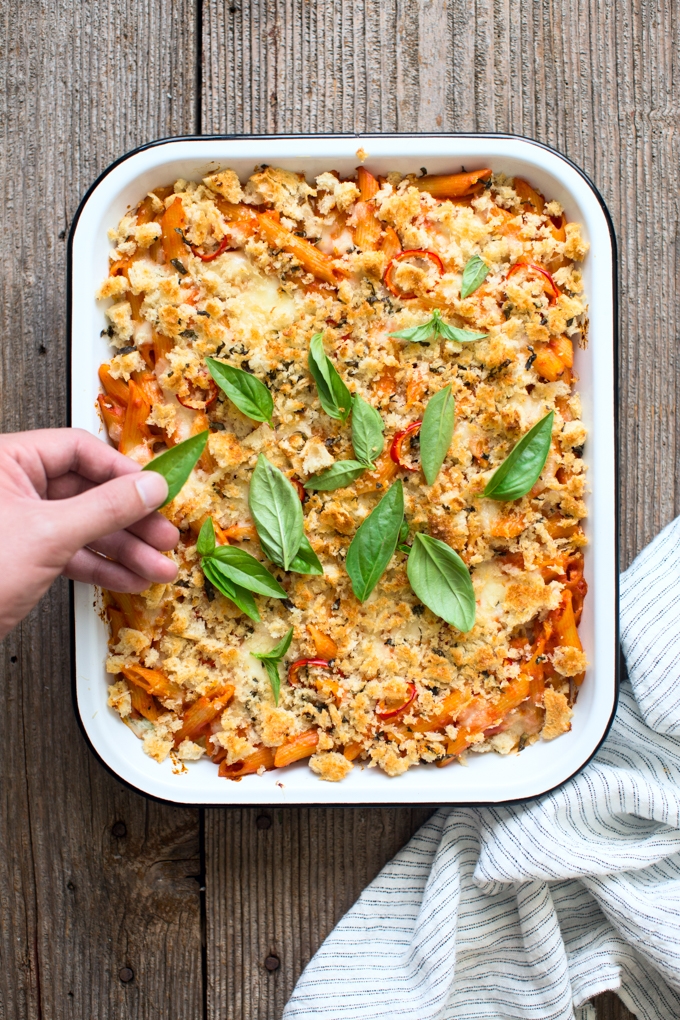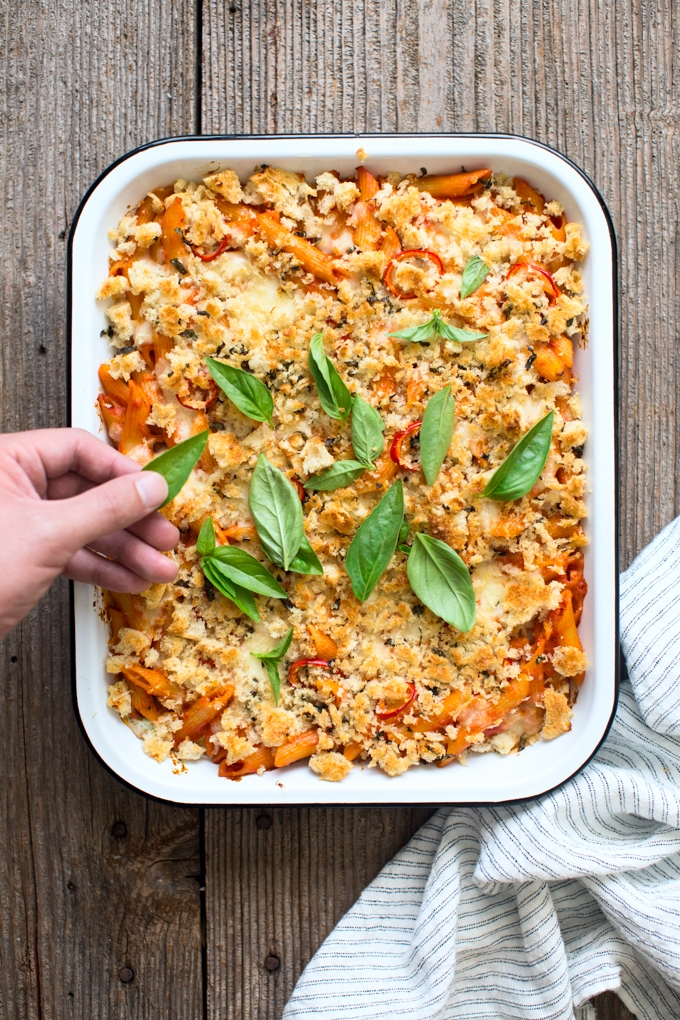 Growing up, my mother never made vodka sauce, but from time-to-time, she would make a special trip to an Italian market to purchase their pre made sauce.  It was rich and silky with some big, bold tomato flavor.  Such a treat.
In this penne vodka recipe, I tried to capture the spirit of that sauce (though it's been a while since I've had it!).  Finely chopped onions, garlic and red pepper flakes are simmered in olive oil then cooked with tomato paste, strained tomatoes and vodka.  Cream is added at the end for richness.  Vodka, although flavorless and odorless, adds some heat and brightness to the sauce once cooked down, helping to balance the cream.
The vodka sauce is then tossed with penne and baked with a Parmesan white sauce, sliced red chiles, fresh mozzarella, and a layer of buttery breadcrumbs infused with basil.  This baked pasta is impressive enough to serve to company, but comforting enough to enjoy on a casual weeknight.  Continue reading for the recipe!
I'm partnering with Pomì USA on this recipe, and I'll have to tell you that I was pleasantly surprised with how delicious their tomato products are.  Here, I am using Pomì Strained Tomatoes, a smooth, uncooked tomato product strained of skin and seeds.  The ingredient list on the BPA-free box lists only one thing:  Tomatoes!  The smoothness of the product really helps to achieve that silky final sauce.  A big thanks to Pomì for introducing me to all of their products, and I will definitely be using them moving forward!
In addition to the tomato-based vodka sauce, this baked pasta is also made with a creamy white sauce.  Ricotta cheese is often used as a convenience item when making baked pasta dishes, but I find that it can get a little grainy when cooked.  To achieve a really luscious baked pasta, you need to use a white sauce.  Luckily, it's very simply to make and is made of pantry/fridge staples.
Red chiles are added to the mix for contrasting flavor and heat, while a topping of basil breadcrumbs provides some nice crunch.  You can make this dish (unbaked) up to 1 day in advance, but I would recommend adding the breadcrumbs on top just before baking.
Baked Penne Vodka with Chiles and Basil Breadcrumbs
Ingredients
For the vodka sauce:
1/4

cup

extra virgin olive oil

1/2

onion, finely chopped

2

garlic cloves, finely chopped

Kosher salt

Pinch

of crushed red pepper flakes

1

tablespoon

tomato paste

1 26-

ounce

box Pomì Strained Tomatoes

1/4

cup

good quality vodka

1/2

cup

heavy cream
For the white sauce:
2

tablespoons

unsalted butter

2

tablespoons

flour

2 1/4

cups

whole milk

1/4

cup

freshly grated Parmesan cheese

Small pinch grated nutmeg

Kosher salt

Freshly ground black pepper
For the basil breadcrumbs:
2

cups

fresh breadcrumbs

1 1/2

tablespoons

chopped fresh basil

1

tablespoon

Parmesan cheese

2

tablespoons

unsalted butter, melted
For the baked pasta:
1

pound

dried penne

8

ounces

fresh mozzarella

Freshly grated Parmesan cheese

Chopped fresh basil

2

red chiles, seeded and sliced (I used Fresno chiles here)
Instructions
To make the vodka sauce, warm olive oil in a medium saucepan over medium heat. Add the onion, garlic, a pinch of kosher salt and a pinch of red pepper flakes, and cook until soft (about 5 minutes), stirring occasionally. Stir in tomato paste and cook for 2 minutes. Add strained tomatoes, vodka and a couple of pinches of salt. Bring mixture to a simmer, then reduce heat to low and cook for 15 minutes, stirring occasionally. Take the sauce off the heat and stir in the cream. Season to taste with salt, then set aside.
To make the white sauce, warm butter in a medium saucepan over medium heat until foaming. Sprinkle flour over the surface of the butter, and then stir to combine. Cook, stirring frequently, until the mixture turns light golden and takes on a nutty aroma (1 - 2 minutes). Whisk in the milk gradually, then bring to a boil. Reduce heat to medium-low and cook, stirring occasionally, until the mixture thickens to the consistency of heavy cream (8 - 10 minutes). Take the sauce off the heat, and stir in Parmesan, nutmeg, a couple pinches of salt and a few grinds of black pepper. Season to taste with more salt and pepper, then set aside.
Preheat an oven to 350°F.

Bring a large pot of salted water to a boil (do this while you are cooking the white sauce). Cook the pasta until just before al dente (2 to 3 minutes shy of the package instructions). The pasta should have some good bite to it, but no crunch. Drain the pasta. Return the pasta to the pot, then fold in most of the vodka sauce. You should have about 1/2 cup sauce leftover for another use. Continue folding until the pasta is well coated. Taste and season with more salt and pepper if needed.

Spoon half of the white sauce into the bottom of a 9 x 13 baking dish. Top with 1/2 of the pasta, 1/2 of the mozzarella, a grating of Parmesan, a sprinkling of chopped basil and 1/2 the sliced chiles. Start the next layer with the remaining white sauce, remaining pasta, remaining mozzarella, a grating of Parmesan and the remaining chiles. Combine breadcrumb ingredients in a small bowl, and season to taste with salt and pepper. Top pasta with an even layer of breadcrumbs.

Bake until the cheese is melted and the sides start to bubble (about 20 minutes). Turn the broiler to high, put the baking dish under the flame, then cook until the breadcrumbs turn golden (3 to 4 minutes). Let sit for 5 minutes before serving. Enjoy with extra chopped basil and black pepper!
Notes
*This baked pasta can be prepared through Step 5 up to 1 day in advance. Just leave the breadcrumbs off until just before baking. Cover and store in the refrigerator. When ready to bake, take the baking dish from the fridge, uncover, top with breadcrumbs and transfer directly to the preheated oven. You'll need to bake for a little longer.
Tried this recipe?
Tag @brandiego on Instagram so I can check it out!
This post was written in partnership with Pomì USA. All thoughts, opinions and recipes are my own.  Connect with Pomì on Facebook, Instagram and Twitter.
9