I hope everyone is enjoying their Holiday season so far! Today's recipe, sponsored by The Coca-Cola Company, is a festive ice cream float that pairs Coca-Cola® with sweet-tart cranberry.

This post may contain affiliate links.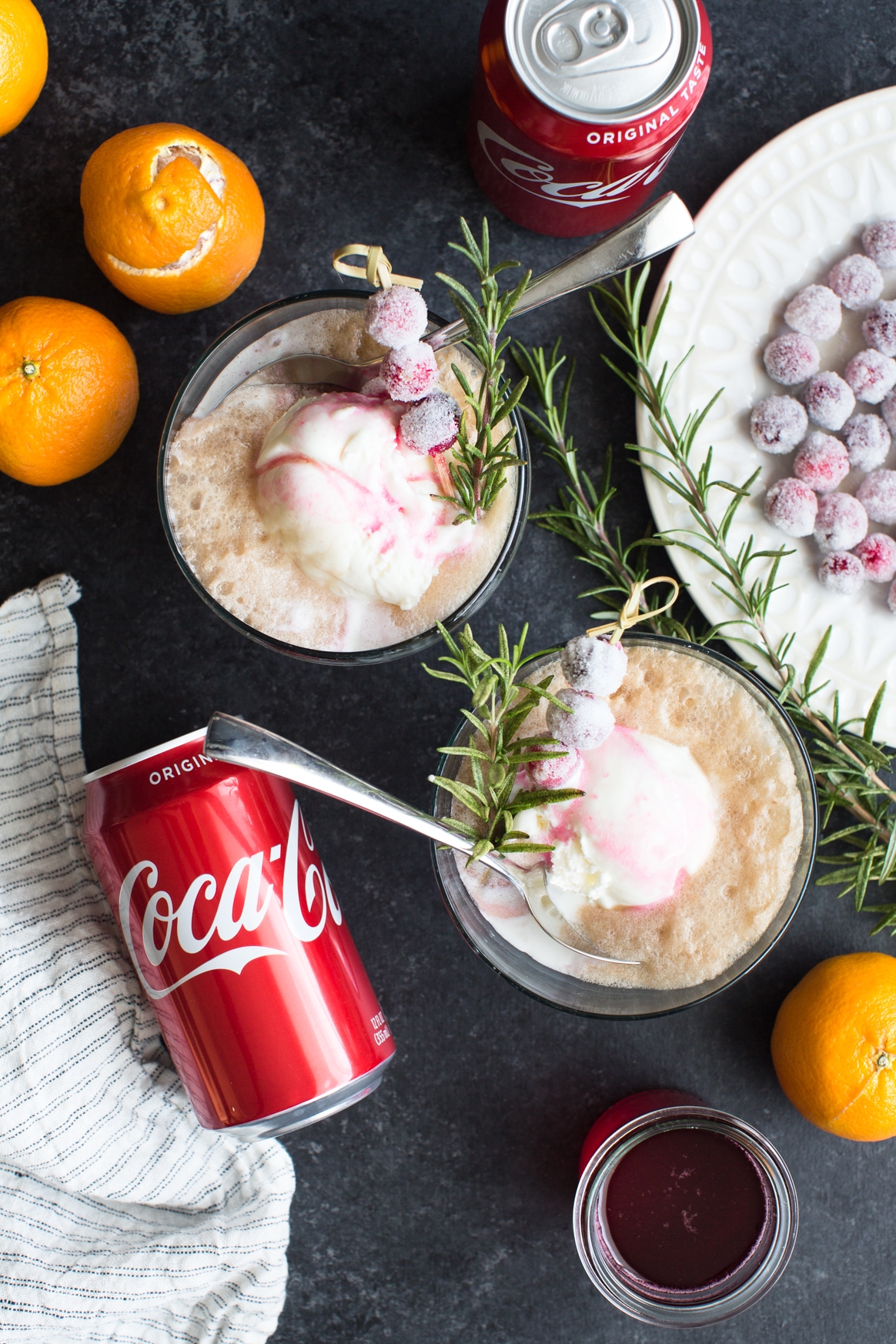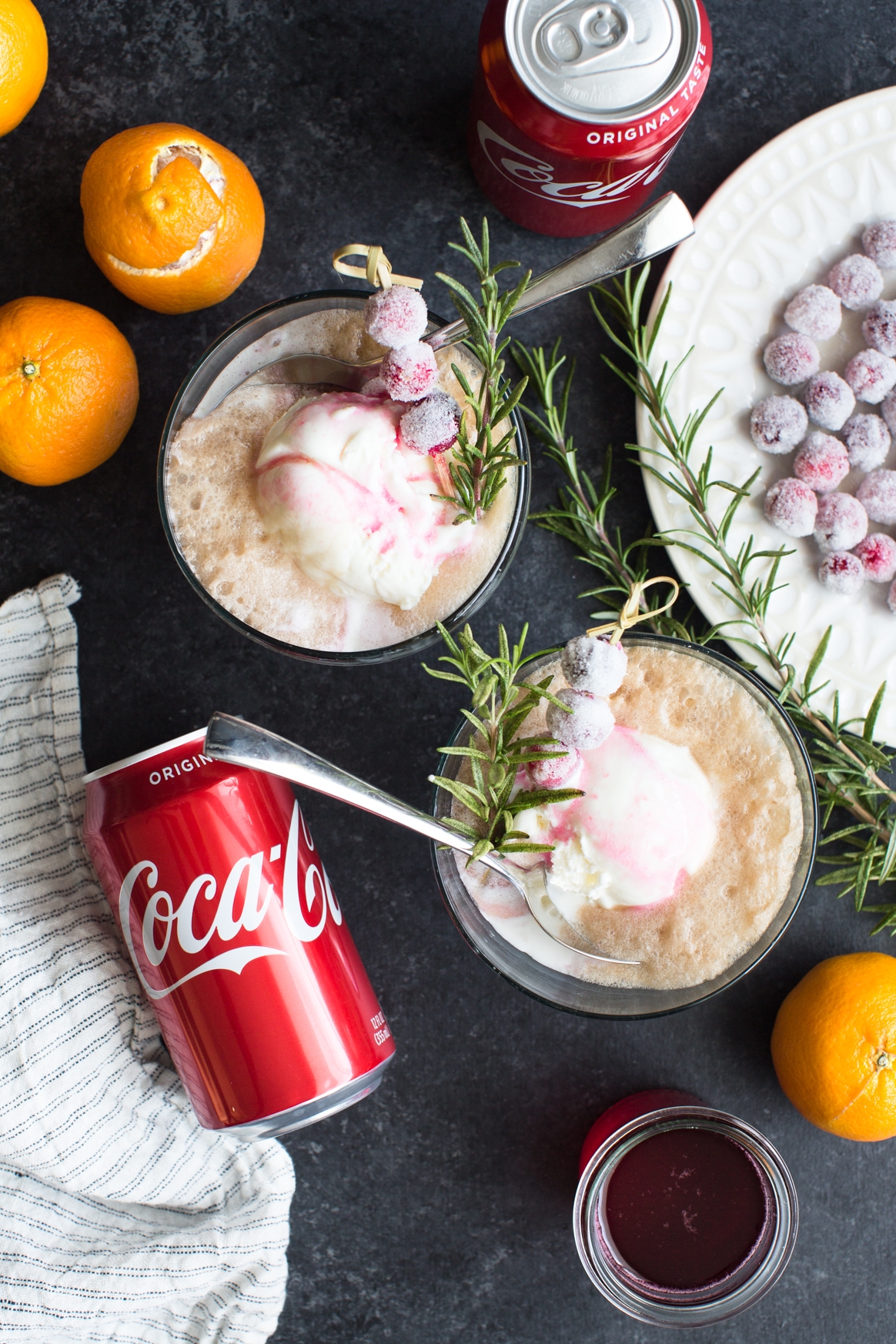 Cranberries, one of my holiday favorites, are actually featured two ways in this recipe. First, they're cooked into a syrup with fresh lemon and clementine zest. The syrup is drizzled over vanilla ice cream and fizzy Coca-Cola®, adding notes of citrus and red fruit to this classic dessert. Next, cranberries are transformed into a glittering confection and used as festive garnish along with sprigs of rosemary. These Sparkling Cranberry & Cola Ice Cream Floats are bright, cheery and perfect for a holiday gathering with friends and family. Continue reading for the ice cream float recipe.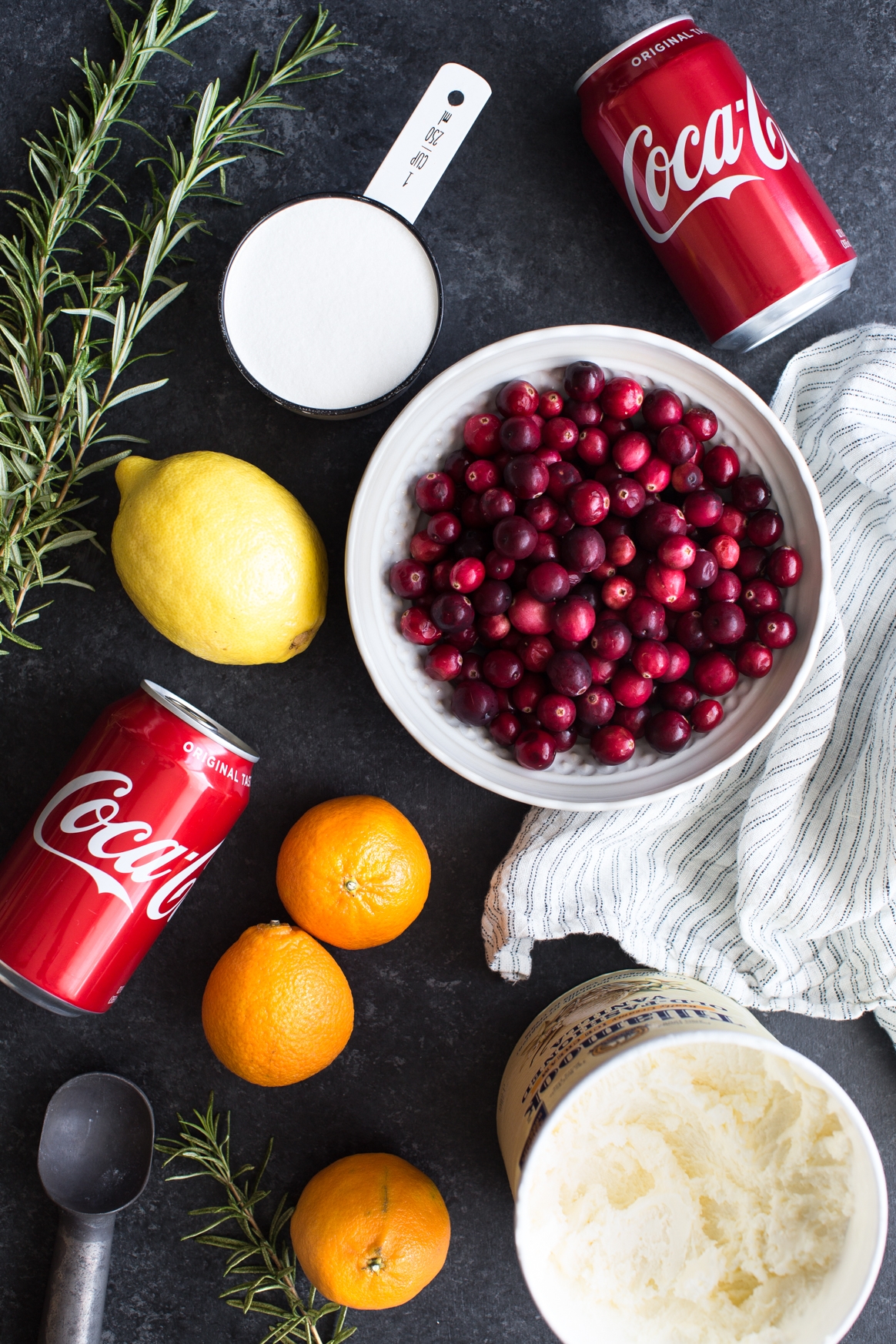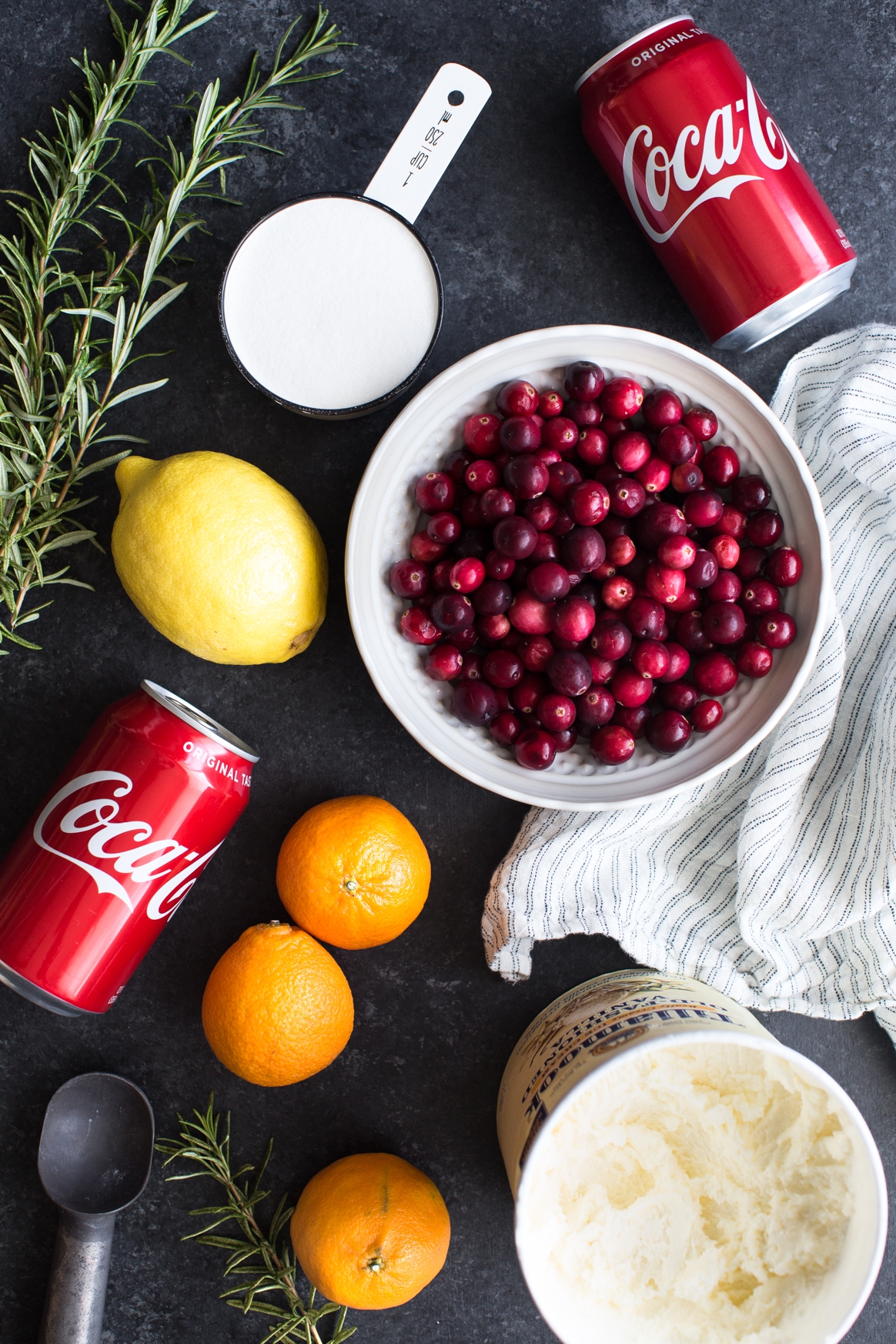 The ingredient list is pretty simple here as both the sparkling cranberries and the cranberry syrup are made with just sugar and water. I added some lemon and clementine zest to the syrup for depth of flavor, but it would certainly be tasty without.
Sam's Club is one of my favorite spots to stock up on holiday entertaining supplies. I live about 5 minutes away from a Sam's Club, and I absolutely love their Scan & Go app. The app allows you to scan products as you are shopping, and you can self-checkout directly within the app. No need to wait in lines! I grabbed the clementines and a 35 pack of Coca-Cola® at Sam's Club for this recipe.
Ok, let's talk sparkling cranberries. I made these for the first time last year, and I absolutely love them!! You start by gently cooking fresh cranberries in a warm simple syrup made with sugar and water. As the cranberries soak up the syrup, they'll soften and lose some of their tart edge. The cooked cranberries are then rolled in sugar and left to dry for a couple of hours. The resulting cranberries are crunchy and sparkling on the outside with a pleasant pop of tartness within.
In this recipe, sparkling cranberries are skewered with a toothpick and used as a garnish. I'd definitely recommend making some extra to snack on during the holiday season!
Sprigs of fresh rosemary are used as a garnish here because to me, they look like little Christmas tree branches. You'll get some rosemary aroma as you enjoy the ice cream float, and you might even get a hint of flavor as you slurp up the last drops.
You can prepare both of the cranberry elements days in advance. Just make sure you've got ice-cold Coca-Cola® and vanilla ice cream on hand, and you can make these whenever the craving strikes!
These Sparkling Cranberry & Coca Ice Cream Floats would be a perfect addition to any holiday bash.  This recipe makes enough for eight floats, so double or triple quantities as needed. Set up an ice cream float station with a bowl of sparkling cranberries, a small pitcher of cranberry citrus syrup, a jar rosemary sprigs in water, and cans of Coca-Cola® on ice.  Scoop vanilla ice cream into bowls or glasses for your guests, and then let them prepare the float to taste.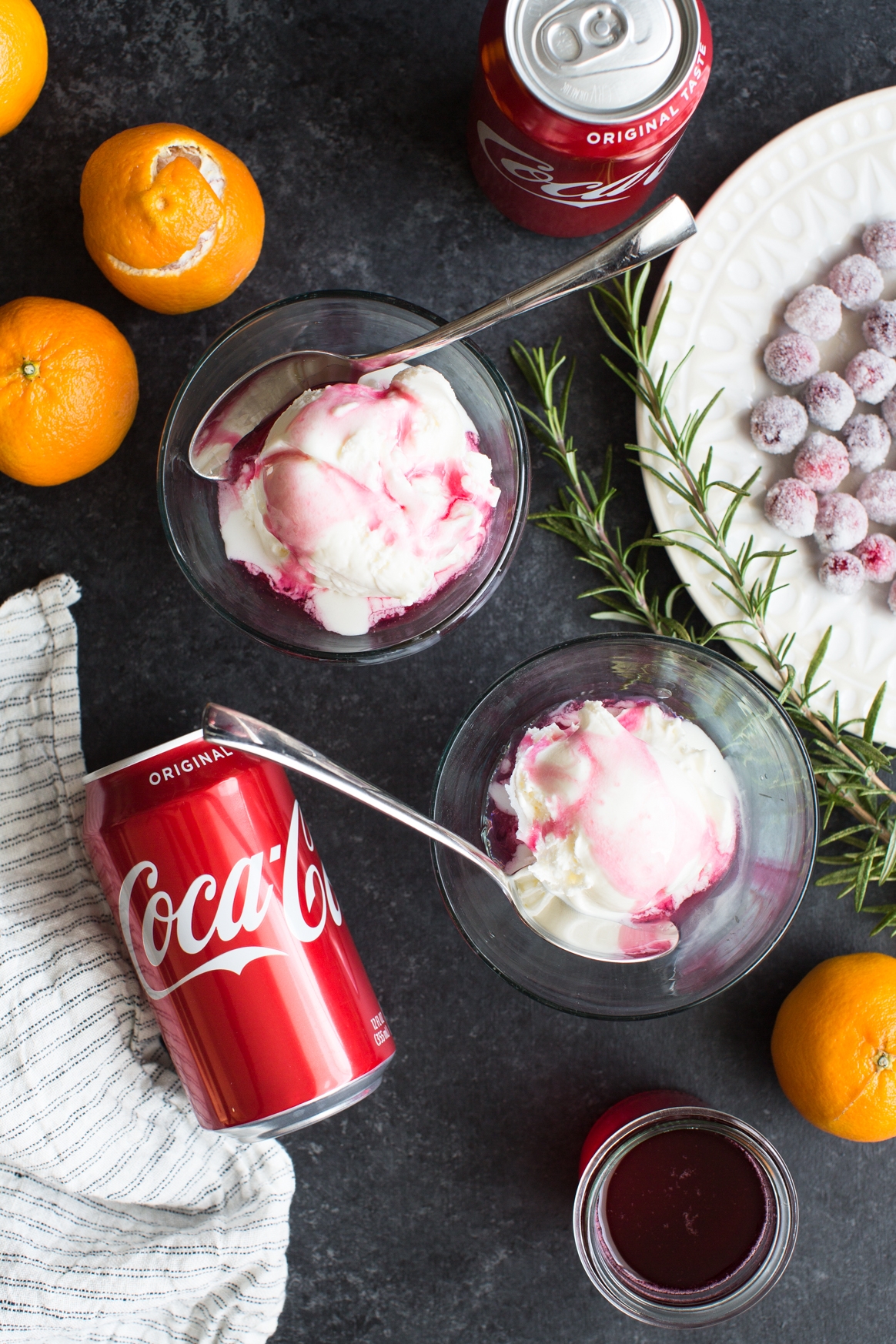 Sparkling Cranberry & Cola Ice Cream Float Recipe
Ingredients
For the sparkling cranberries:
1

cup

sugar, plus extra for sprinkling

1

cup

water

1

cup

fresh cranberries
For the floats:
2

cups

fresh cranberries

1

cup

water

1

cup

sugar

Zest of 1/2 lemon

Zest of 1 clementine (or 1/2 orange)

Vanilla ice cream

Rosemary sprigs, for garnish
Instructions
Start by making the sparkling cranberries. Bring sugar and water to a simmer in a medium saucepan set over medium-high heat, stirring to dissolve the sugar. Take the pan off the heat, and let cool for 5 minutes. Place cranberries in a medium bowl, then pour sugar syrup over the cranberries. Cover and refrigerate for at least 4 hours (better overnight!).

Sprinkle and even layer of sugar on a plate or shallow bowl. Drain the cranberries, place 5 to 6 in the sugar, and using a fork, roll the cranberries around in the sugar until evenly coated. Transfer to a plate, and repeat with remaining cranberries. You don't want to put too many in the sugar at 1 time, because this will cause the sugar to clump. Let dry for 2 hours before serving. Store sparkling cranberries in a sealed container at room temperature.

Next, prepare the cranberry citrus syrup for the floats. Place cranberries, water, sugar and citrus zest in a medium saucepan over medium-high heat. Bring mixture to a boil, stirring to dissolve the sugar. Reduce heat to low, and simmer until the cranberries are falling apart (about 15 minutes). Pour syrup through a fine mesh basket strainer into a clean bowl (preferably with a pour spout). Don't press on the solids, but let them drain over the bowl for a few moments. Let cool completely before serving. Store covered in the refrigerator.

To make an ice cream float, place 2 scoops of vanilla ice cream in a bowl or glass. Drizzle with cranberry citrus syrup, then pour chilled coke over top (I like to let some of the ice cream peek out over the coke bubbles). Garnish with a rosemary sprig and 3 sparkling cranberries skewered with a toothpick.
Tried this recipe?
Tag @brandiego on Instagram so I can check it out!
This post has been sponsored by The Coca-Cola Company. All thoughts, opinions and recipes are my own.

4