Have you seen this trendy egg salad sandwich from Konbi, a cafe in Los Angeles?
This post may contain affiliate links.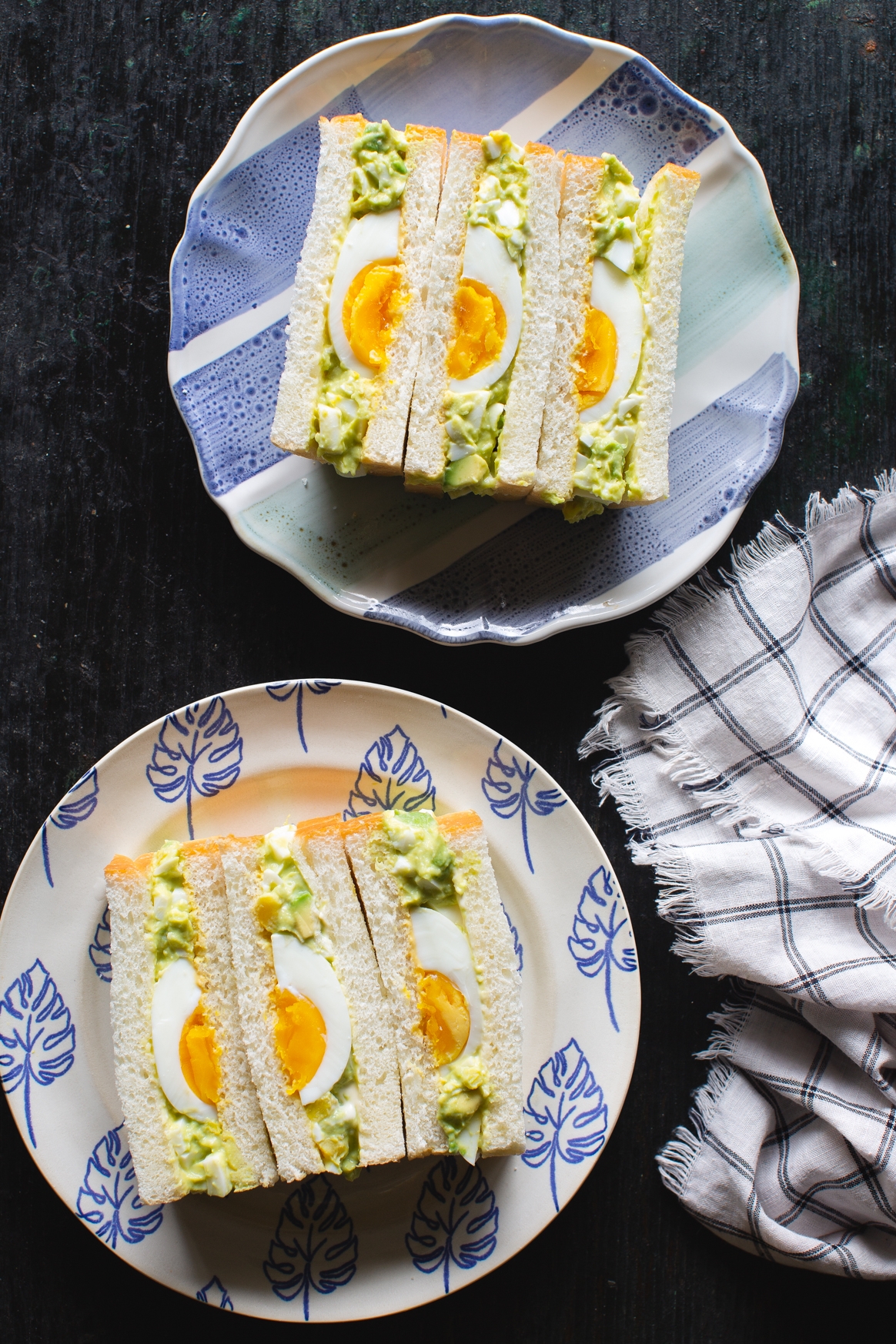 I've yet to get up to LA to give it a try, but luckily the New York Times recently posted the recipe. I made it. I ate it. And I loved it. It's creamy and light with a fudgy soft-boiled egg in the middle.

Sponsored by California Avocados, my version features rich, ripe California Avocados in two ways. You start by making a creamy dressing of sliced scallion, kewpie (Japanese) mayo, Dijon mustard, lemon juice and mashed avocado. You then fold in diced bits of avocado and hard-boiled egg. The avocado egg salad is then sandwiched between two slices of fluffy milk bread, concealing halves of soft-boiled egg within. Each bite is so luscious with a pleasant grassiness from the avocado. Such a treat!! Continue reading for the recipe.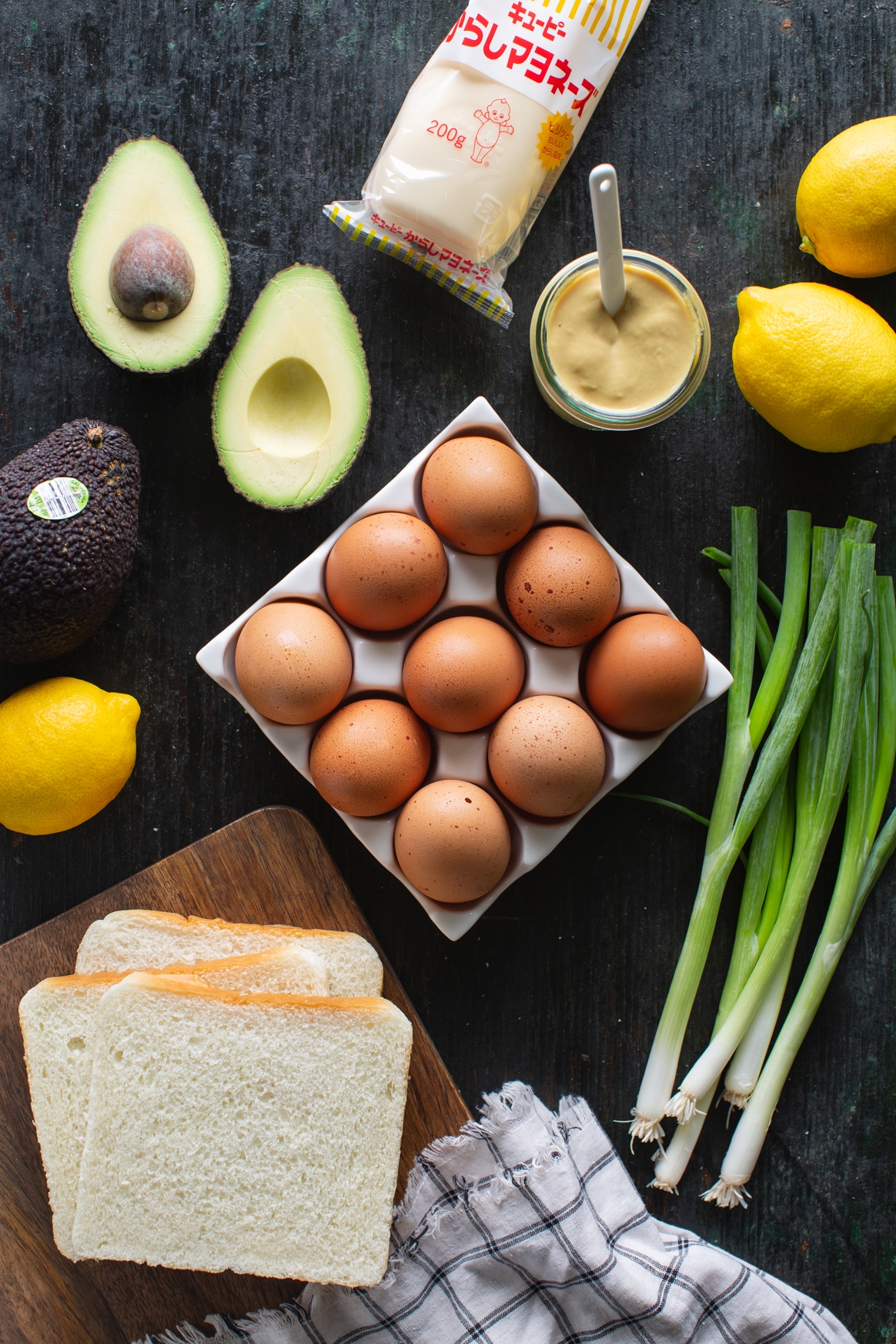 Did you know that June is national California Avocado Month?! June is the peak of avocado growing season, so it's the perfect time to enjoy all things avocado!

Avocados have always been a favorite of mine, and I've had the pleasure of working with the California Avocado Commission for a few years now. It's been such a fun creative challenge to come up with so many different types of avocado recipes. Here are some of my favs:

What are some of your favorite ways to eat California Avocados?!

This recipe includes two Japanese ingredients: kewpie mayonnaise and milk bread. Kewpie is a silky mayo that's got a pleasant sweet tanginess. It also has MSG (which btw is not bad for you). Milk bread is sweet, soft and airy. If you can't find these ingredients, you can certainly use regular mayo and plain white bread.

Just avoid using breads with a stronger flavor like sourdough or whole grain!

Technique-wise, this recipe is fairly simple! You actually boil ten eggs in the same pot, and four of them come out after eight minutes (soft-boiled) while the rest stay in for a full 14 minutes (hard-boiled). The soft-boiled eggs should have a fudgier texture (not runny).

These sandwiches can be prepared in advance and stored in the fridge, but I'd recommend eating them the day you make them. The lemon juice in the egg salad will keep the avocado from turning brown.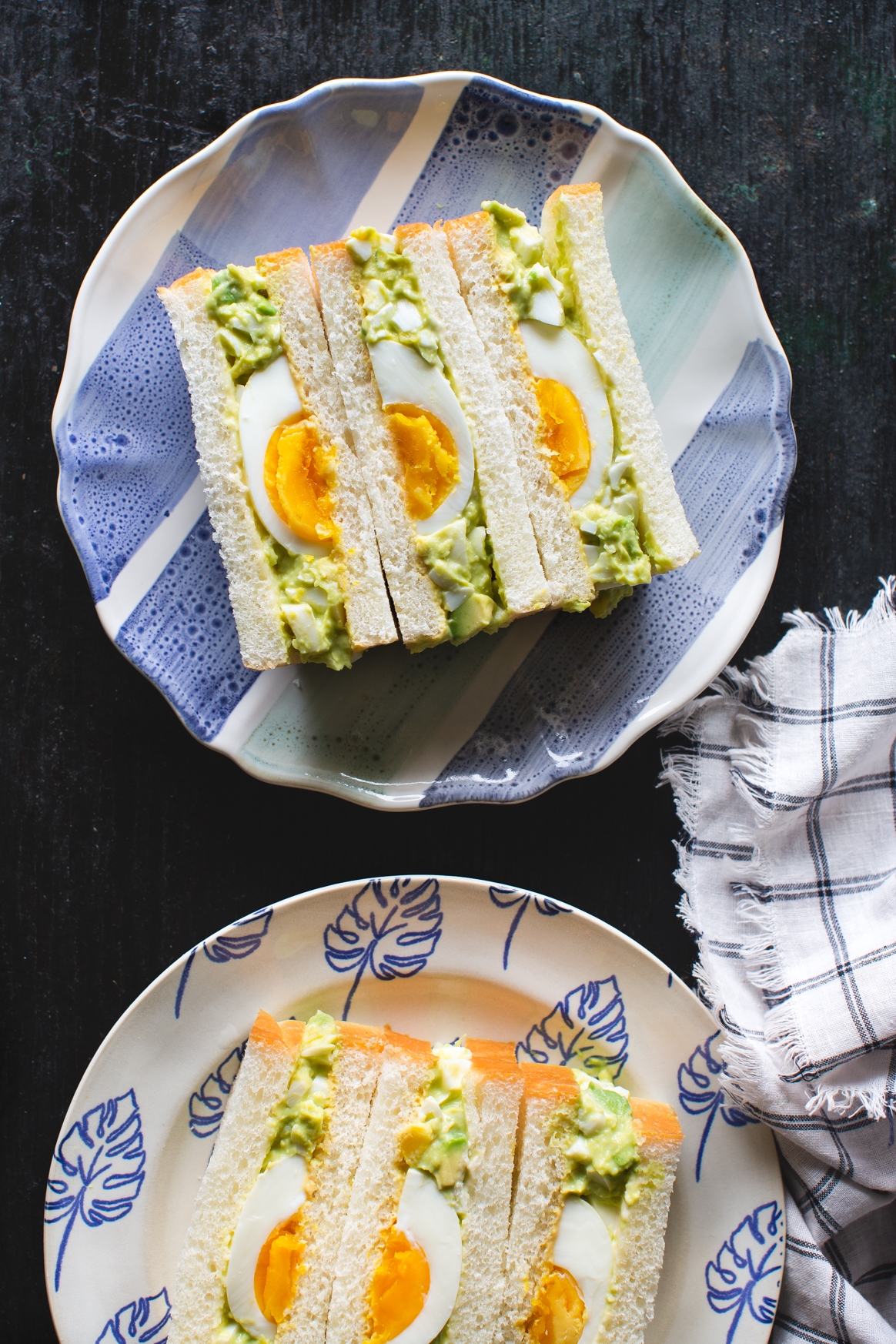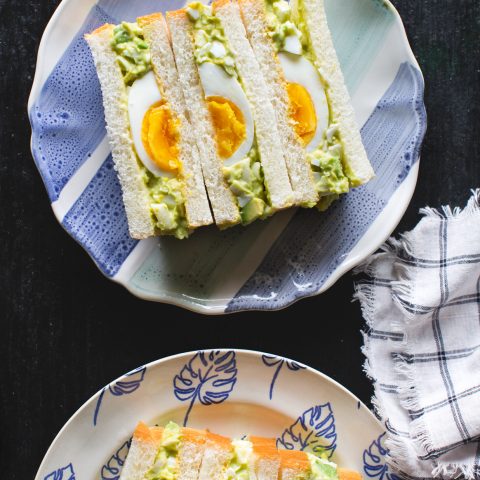 Avocado Egg Salad Sandwich Recipe
Ingredients
1

ripe California Avocado, peeled and halved

1

scallion, roots trimmed, thinly sliced

2

teaspoons

kewpie mayo or regular mayo, plus more for spreading

2

teaspoons

fresh lemon juice, plus more to taste

1 1/2

teaspoons

Dijon mustard, plus more for spreading

Kosher salt

10

eggs*

8

slices

of milk bread or plain white bread
Instructions
Place 1 half of the avocado in a large bowl along with the scallion, mayo, lemon juice and mustard. Using a fork, mash and mix until combined. Season to taste with salt and lemon juice.

Bring a large pot of water to a boil and prepare 2 ice baths. Carefully lower eggs into the boiling water. Once the water comes back to a boil, reduce heat to medium-low and let simmer for 8 minutes. Transfer 4 eggs to one of the ice baths, and continue to simmer remaining eggs for 6 minutes. Transfer the remaining 6 eggs to the other ice bath, and let chill for 5 minutes. While the hard-boiled are chilling, carefully peel and half the soft-boiled eggs. Season with salt and set aside.

Peel the hard-boiled eggs, cut into 1/4-inch pieces and place in the bowl with the prepared dressing. Dice up the other half of avocado and add to the same bowl. Gently fold the egg and avocado into the dressing until well-combined. Season to taste with salt and lemon juice.

To serve, slather 1 slice of bread with a light, even layer of mustard and slather another slice of bread with a light, even light of mayo. Place 2 soft-boiled egg halves down side-by-side in the middle of the mustard-slathered slice. Top with a 1/2 cup scoop of egg salad, spreading it evenly to the edges of the sandwich. Top with mayo-slathered slice. Repeat with remaining bread, eggs and egg salad.

If you want to get fancy with the presentation, cut the sandwich in thirds to reveal cross sections of the soft-boiled eggs. Enjoy immediately or refrigerate for up to 1 day.
Notes
* If you are making these sandwiches for a special occasion, you may want to soft-boil a few extra eggs. I messed up a couple of my soft-boiled eggs as I was peeling them, and I needed to boil a few more to make sure the cross sections were on point! If presentation isn't a worry, then just stick with 10 eggs total.
Tried this recipe?
Tag @brandiego on Instagram so I can check it out!
This post was written in partnership with California Avocados. Thoughts, opinions and recipes are my own.

54