Today's Pumpkin Crème Brûlée Cheesecake recipe—sponsored by The Happy Egg Co.—is a luscious treat perfect for any autumnal occasion.
This post may contain affiliate links.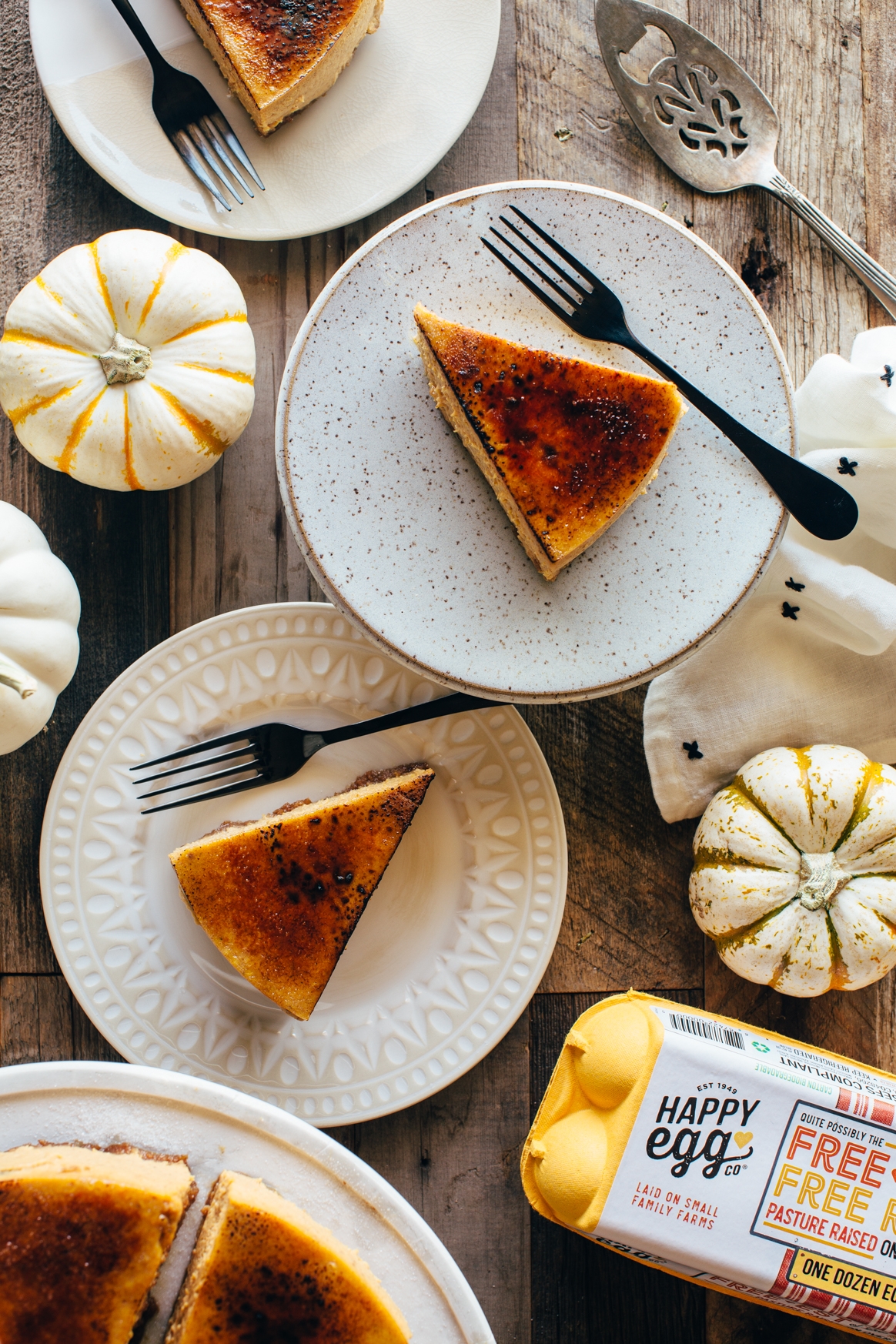 Several weeks ago, I was having dinner at a new Italian spot here in San Diego, and for dessert, I enjoyed a Crème Brûlée Cheesecake made with mascarpone cheese. I loved the brûléed part of the dish so much that I just knew I had to make my own version at home!
This recipe starts with a buttery graham cracker crust infused with brown sugar and cinnamon.  Next, a rich mix of cream cheese, Happy Egg Co. Free-est of the Free Range™ Eggs, sugar, pumpkin, sour cream, vanilla and pumpkin spice baked until silky and firm.  Finally, a shattering top of golden, torched sugar. Each bite has such a wonderfully light texture with plenty of tanginess and spice; while the bitter sugar on top provides some crunchy contrast.  Continue reading for the recipe.
I recently discovered these Happy Egg Co. Free-est of the Free Range™ Eggs in the dairy section of my local Vons, and I was pleasantly surprised at all of the care and attention that goes into producing these eggs.  Sourced from small family farms, these eggs are laid by happy hens that get to enjoy over eight acres of pasture (which is about ten times the space of a standard free-range farm)!
Certified by the American Humane Association, The Happy Egg Co. puts the welfare and happiness of their hens first. I know that I'm always trying to make better choices when it comes to buying food, so I'm glad that these eggs are both delicious and responsibly produced.
Now, let's talk cheesecake.
Making cheesecake at home isn't particularly difficult; however, there are a few techniques you need to learn to ensure everything goes well. Here are some things to keep in mind:
When preparing the cheesecake batter, you need to make sure all of your dairy elements are at room temperature. This includes the cream cheese, sour cream and eggs. When these items are at room temp, they will easily mix well together and not form any lumps. This doesn't mean, let the cream cheese sit for 30 minutes. You need to let these items sit for several hours at room temp before they are ready to use.
Cook the cheesecake in a water bath and let cool in the oven for 1 hour to keep the top of the cake from cracking. You'll need a roasting pan large enough for your springform pan to sit in, and make sure you wrap the pan in 2 layers of foil to keep water from getting into the cake (no one likes a soggy bottom!).
Use an instant read thermometer to check for doneness. You need to turn the oven off when the middle of the cheesecake registers 150°F. I've outlined some visual doneness cues below in case you don't have a thermometer, but that method isn't as accurate. And you don't want to put all this effort into making the cake just to end up with a mushy mess hours later (I learned this the hard way!).
To take this pumpkin cheesecake to the next level, I've finished it with a crunchy brûléed sugar topping. Simply sprinkle sugar on top of the cheesecake and cook it until deep golden using a kitchen torch. Repeat this process to create a thick, shattering layer of burnt sugar. It's not only fun to crack with a spoon, but it also adds bits of bittersweet crunch with each bite.
I'd recommend slicing up the cheesecake first, transferring it to a serving plate and then torching the sugar on each individual slice. This keeps the topping smooth and intact. If you brûlée the whole cheesecake and then slice, you'll have cracked, uneven edges.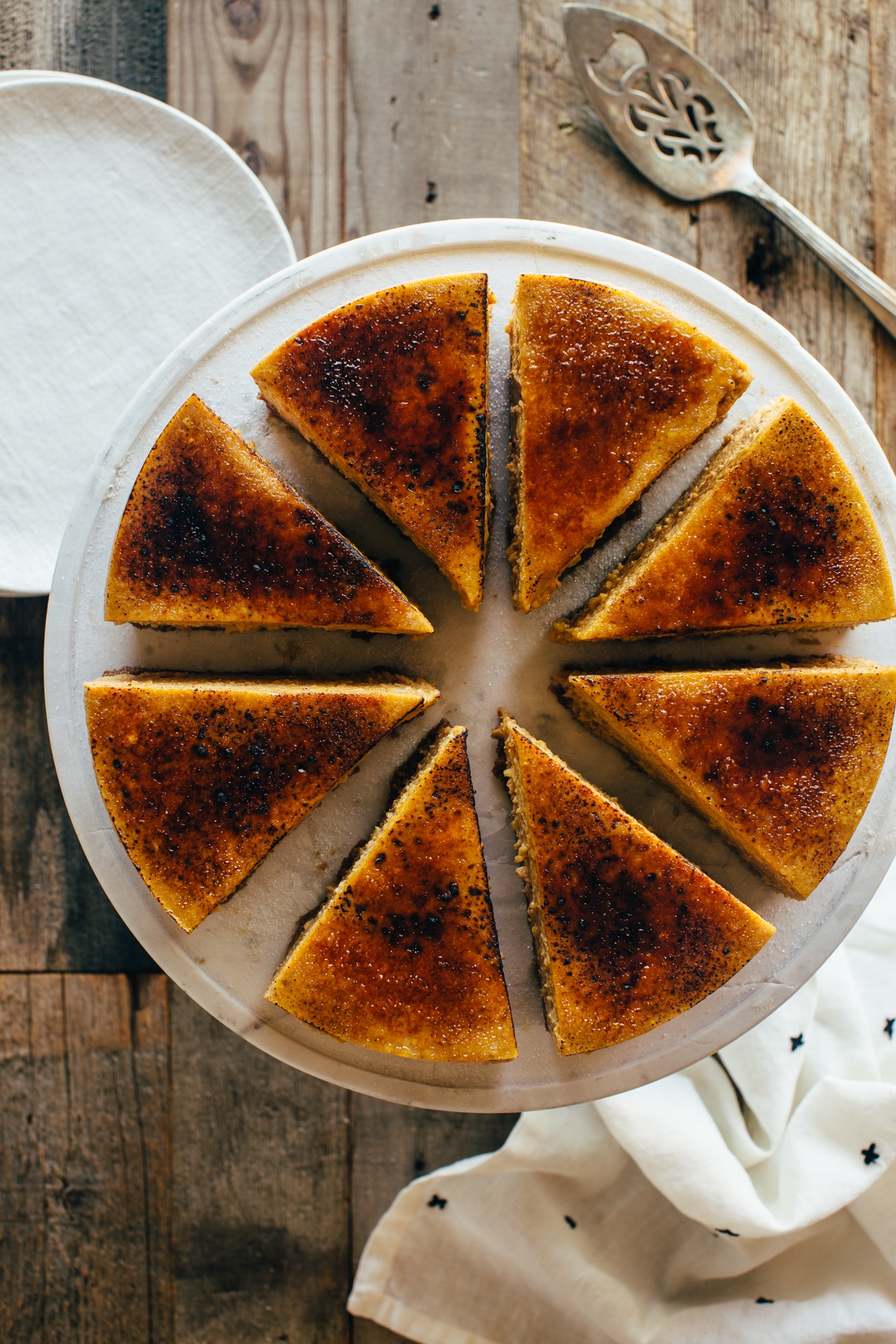 My final suggestion is to brûlée the slices right before serving. As the sugared topping sits, it will lose some of its crunch, so it's best to enjoy immediately after the torching. Plus, if you are serving this to guests, you'll get plenty of oohhs and ahhs when you fire up the torch!
Pumpkin Crème Brûlée Cheesecake
Ingredients
For the crust:
12

graham crackers

3

tablespoons

sugar

1

tablespoon

packed light brown sugar

1/2

teaspoon

cinnamon

1/4

teaspoon

fine grain sea salt

6

tablespoons

unsalted butter, melted
For the cheesecake:
1

can (15 ounces) pumpkin (not pumpkin pie filling)

3

packages (24 ounces) cream cheese, at room temperature (this is important)

3/4

cup

packed light brown sugar

2/3

cup

sugar

3/4

cup

full fat sour cream, at room temperature

1

tablespoon

pumpkin pie spice

1

tablespoon

vanilla

1/2

teaspoon

fine grain sea salt
2 tablespoons sugar, for finishing
Instructions
Preheat an oven to 350°F and set an oven rack to the middle position.

To make the crust, place graham crackers, sugars, cinnamon and sea salt in a food processor, and blitz until finely ground. Drizzle butter over the crumbs, and pulse a few times until mixture resembles wet sand. Press the crumbs into a 9-inch (9.5-inch also workspringform pan in an even layer. Bake for 10 minutes until the crust is golden brown and fragrant. Transfer to a cooling rack, and let cool completely before filling.

Reduce oven heat to 325°Wrap the springform pan in 2 layers of foil, making sure the foil comes all the way up the sides of the pan. Spoon pumpkin puree into a paper towel-lined strainer set over a bowl. Let the puree dry/drain while you prepare the cheesecake batter (at least 5 minutes).

Add cream cheese and sugars to a stand mixer fitted with the paddle attachment. Beat on medium until light and fluffy (4 to 5 minutes). Scrape down the sides, add pumpkin, sour cream, pumpkin pie spice, vanilla and salt, and beat just until combined. Beat in eggs one at a time, scraping down the sides as needed. Remove the bowl from the stand mixer and give the mixture one last stir with a spatula to make sure everything at the bottom is well incorporated.

Pour the cream cheese mixture into the prepared springform pan, smoothing out the top with an offset spatula. Place the springform pan in a roasting pan, then transfer to the oven. Carefully fill the roasting pan with water until it reaches halfway up the side of the springform pan. Make sure you don't let any of the water splash into the cheesecake. Bake cheesecake until the sides are set and there's just a slight wobble in the middle (90 – 100 minuteor until the center of the cheesecake registers 150°F.

Turn off the oven, crack the door, and let the cheesecake cool inside the oven for 1 hour. Carefully remove the foil, and let cool for 2 hours on a cooling rack. Cover the cheesecake with plastic wrap and chill completely in the refrigerator (8 hours or overnight).

When ready to serve, wrap the springform pan with a warm towel and let sit for 1 minute. Slowly unclasp the springform pan, and use an offset spatula to help release any stuck bits. Cut cheesecake into 8 even slices and transfer to serving plate. Sprinkle the tops of the slices with 1 tablespoons sugar. Using a kitchen torch, cook the sugar until deeply golden and blackened in spots. Sprinkle the tops of the slices with remaining sugar and repeat the torching process. The crème brûlée topping will soften as it sits, so it's best to serve immediately after torching.
Notes
* Don't have a kitchen torch? You can brûlée the cheesecake under the broiler instead. Just make sure you keep an eye on it, because it can burn very quickly.
Tried this recipe?
Tag @brandiego on Instagram so I can check it out!
This post has been sponsored by Happy Egg Co. All thoughts and opinions are my own.
38