Are you getting excited for Thanksgiving next week?! I certainly am :). This Bacon and Cheddar Green Bean Casserole recipe is my latest addition to the Thanksgiving dinner table.
This post may contain affiliate links.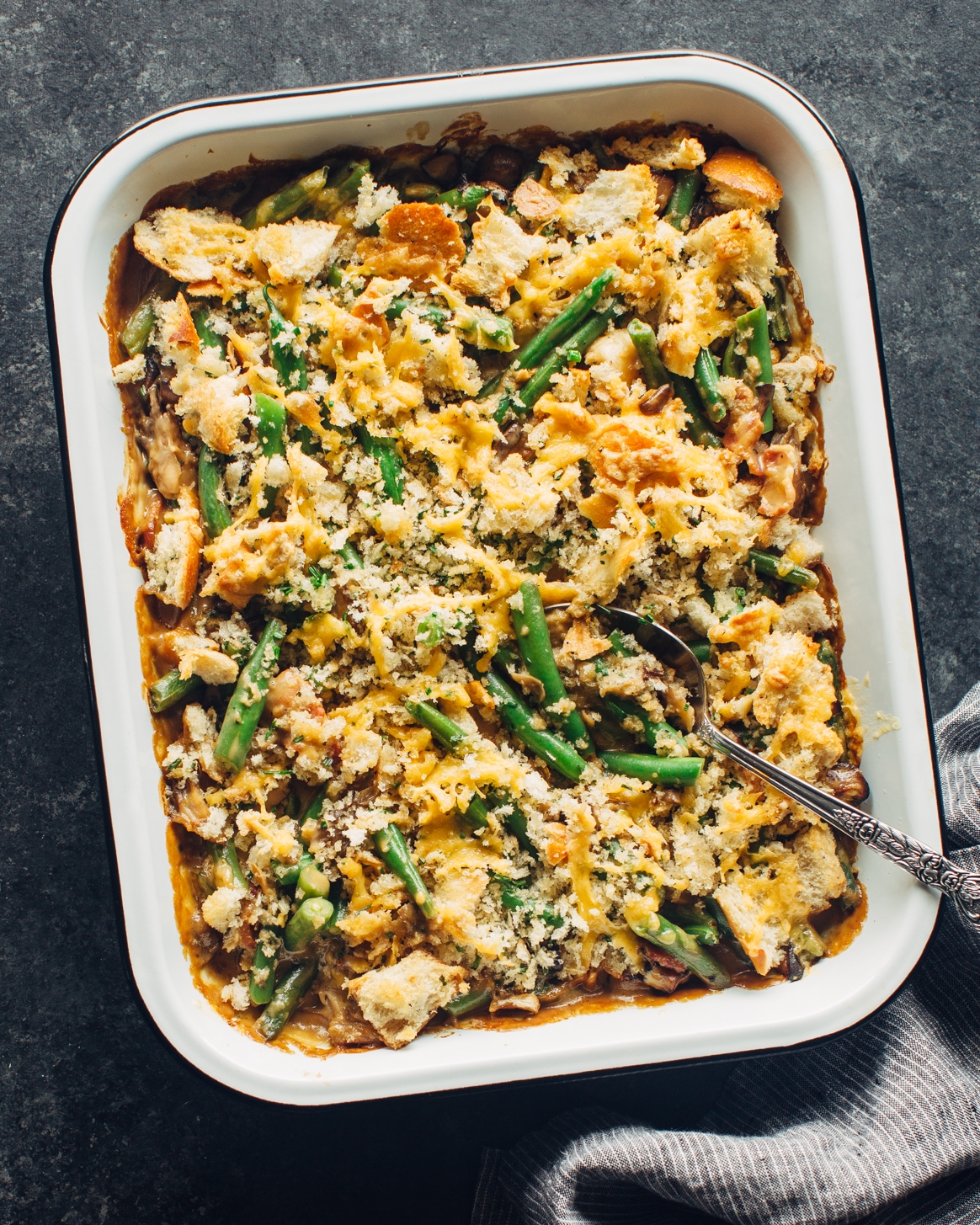 A few months ago, we were having dinner with friends and the topic of Thanksgiving came up. One of our friends mentioned that each year, he makes his green bean casserole from scratch and adds bacon and cheddar cheese. If you didn't already know, I am not the biggest fan of green bean casserole, but something about that combination of flavors sounded SO delicious. I just had to give it a try.
This green bean casserole recipe starts out with fresh green beans blanched for just 2 minutes in salted, boiling water. This cooks them just a bit while locking in their bright green color. The green beans are then cut into bite-sized pieces and tossed with homemade cream of mushroom soup (more about that below), crispy bacon and shredded sharp cheddar cheese. Everything is transferred to a baking dish and topped with buttery, chive bread crumbs before baking in the oven until golden and bubbly.
With each bite you'll get an intense savory mushroom flavor contrasted with the freshness of the green beans, along with pops of salty bacon, gooey cheese and crunchy breadcrumbs. If you love green bean casserole, then you must give this recipe a try. Continue reading for more details!
The star flavors of this dish are green beans and mushrooms, so be sure to purchase the best ones possible! Look for green beans that are vibrant and plump (not shriveled and browned). I used a mix of cremini, shiitake and maitake mushrooms here, but feel free to use whatever is available to you. Just stay away from white button mushrooms.
To make homemade cream of mushrooms soup, you start by steeping dried mushrooms in boiling water. The rehydrated mushrooms will get chopped and added to the soup along with the steeping liquid.
Next, cook chopped mushrooms in butter over medium high heat. Let mushrooms cook for a few minutes before moving them around in the pan. This allows you to develop a deep golden color on the mushrooms (that's where the magic happens!).
Then, stir in flour along with the steeping liquid, chicken stock and milk. Let the mixture simmer and reduce until you've got a rich, creamy soup. Finish by seasoning with salt and pepper. This homemade cream of mushroom soup provides such a flavor-packed base to the casserole. So much better than the canned stuff!
Normally, you would top green bean casserole with fried onions. Here, I've opted for fresh breadcrumbs tossed with butter, salt, pepper and chopped chives. It still gives you that crunchy, oniony thing without all the hassle of slicing and frying up a bunch of shallots!
This recipe does require a little effort given that each element is made from scratch, but luckily, everything can be done in advance, so you don't have to stress on Thanksgiving!
You can prepare this side dish up to 1 day in advance, but I would recommend adding the breadcrumbs right before you bake it.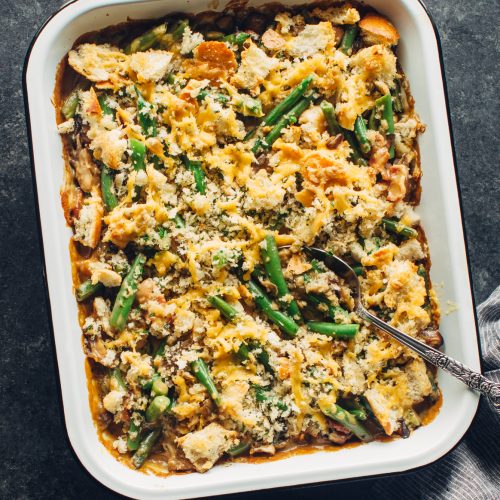 Bacon and Cheddar Green Bean Casserole
Ingredients
For the casserole:
1/2

ounce

dried mushrooms

1

cup

boiling water

1 1/2

pounds

fresh green beans, trimmed

4

tablespoons

unsalted butter

3/4

pound

wild mushrooms, diced (I used a mix of cremini, shiitake and maitake here)

Kosher salt

Freshly ground black pepper

1/4

cup

all purpose flour

1

cup

low sodium chicken stock

1

cup

whole milk

4

slices

bacon, cooked until crispy and chopped up

6

ounces

grated sharp cheddar cheese, divided
For the topping:
3

cups

coarse fresh bread crumbs

3

tablespoons

unsalted butter, melted

2

tablespoons

minced chives

1/2

teaspoon

kosher salt

1/2

teaspoon

freshly ground pepper
Instructions
Preheat an oven to 400°F. Lightly grease a 9 x 13 baking dish with butter. Prepare an ice bath (a large bowl of cold water and ice). Set aside.

Add dried mushrooms to a small bowl with boiling water. Steep for at least 10 minutes. Once rehydrated, take the mushrooms from the water and roughly chop. Measure out 3/4 cup of steeping water, making sure not to include any grit that has settled at the bottom.

Meanwhile, bring a large pot of salted water to a boil. Blanch the green beans for 2 minutes, then transfer to the ice bath. Dry the green beans, then cut into 1 to 2-inch pieces.

In a large skillet, warm butter over medium high heat. Once the butter starts foaming, add the diced mushrooms in an even layer, tossing to coat. Do not stir the mushrooms for 2 to 3 minutes. Once golden and caramelized, toss the mushrooms and cook for 2 minutes on the other side. Add the rehydrated mushrooms to the skillet along with a pinch of salt and pepper and cook for 1 minute, stirring occasionally.

Sprinkle the mushrooms with flour, stirring to coat. Pour in 3/4 cup of the mushroom steeping liquid and chicken stock, then stir to break up any clumps. Add the milk, reduce heat to medium and cook, stirring frequently, until the mixture has slightly thickened (about 4 to 5 minutes). Take the wild mushroom soup off the heat and season to taste with additional salt and pepper.

In a large bowl, toss together green beans, mushroom soup, bacon and most of the cheese. Season to taste with salt. Transfer mixture to the prepared baking dish. In a medium bowl, toss together breadcrumbs, butter, chives, salt and pepper. Top the casserole evenly with breadcrumbs, then sprinkle over remaining cheese.

Bake uncovered until the breadcrumbs are golden and sides are bubbling (20 to 25 minutes). Let stand for 5 minutes before serving.
Tried this recipe?
Tag @brandiego on Instagram so I can check it out!
42