This Eggplant Lasagna recipe features layers of creamy basil ricotta, roasted eggplant slices, lasagna noodles and tangy tomato sauce. It also has a crispy cheese layer on top that adds a little contrast to the tender fillings below. If you love eggplant, then you must give this recipe a try!
This post may contain affiliate links.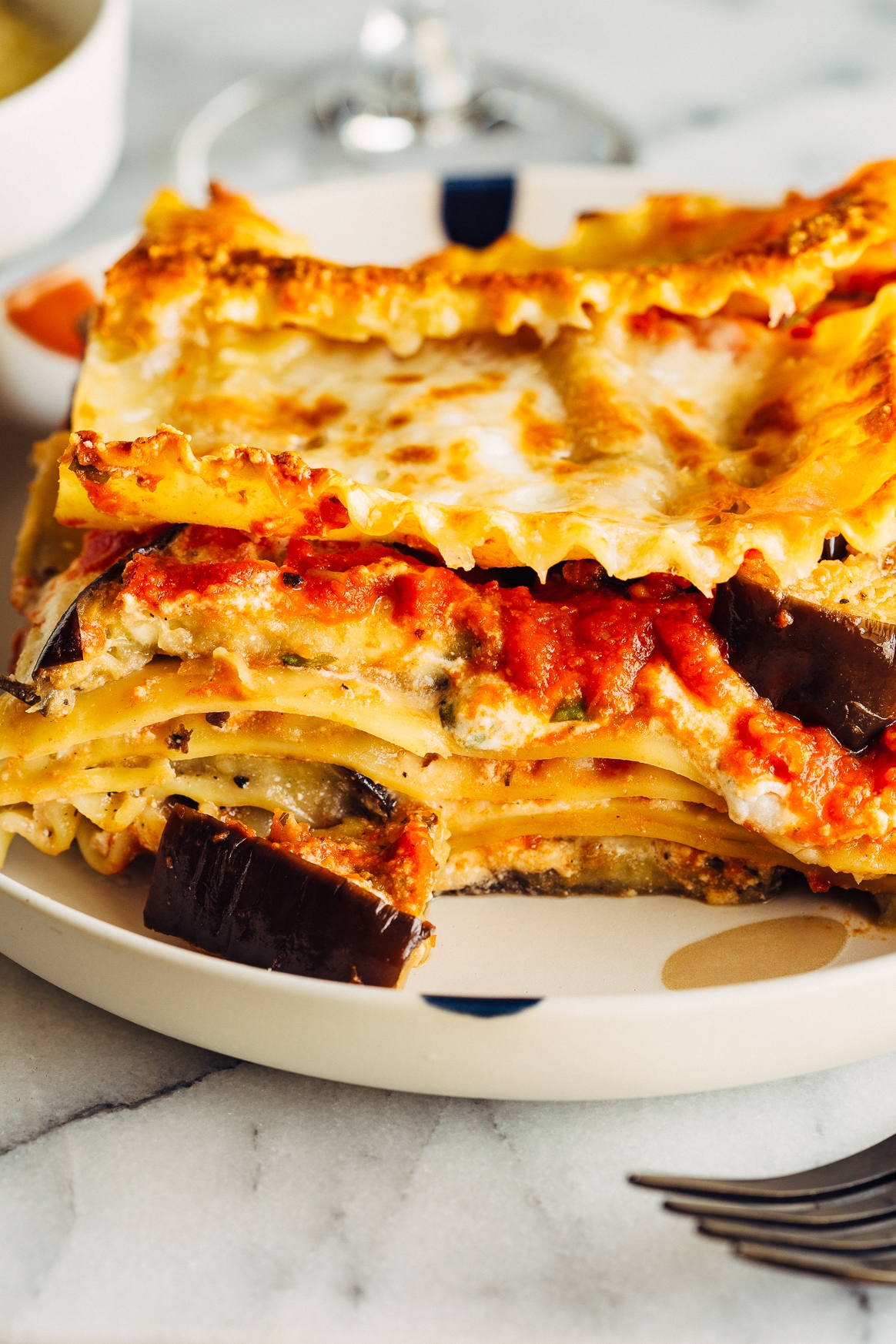 I love to make this lasagna during the summer months when eggplant is in season. Roasting the eggplant slices in advance ensures that the eggplant is well-seasoned and has a melting texture in the finished lasagna. No chewy eggplant here!
The flavors here are similar to my Eggplant Parmesan; however, instead of a bread element, there are layers of al dente lasagna noodles. Jorge isn't the biggest fan of eggplant, and I'm happy to report that he devoured this lasagna. Continue reading for the recipe.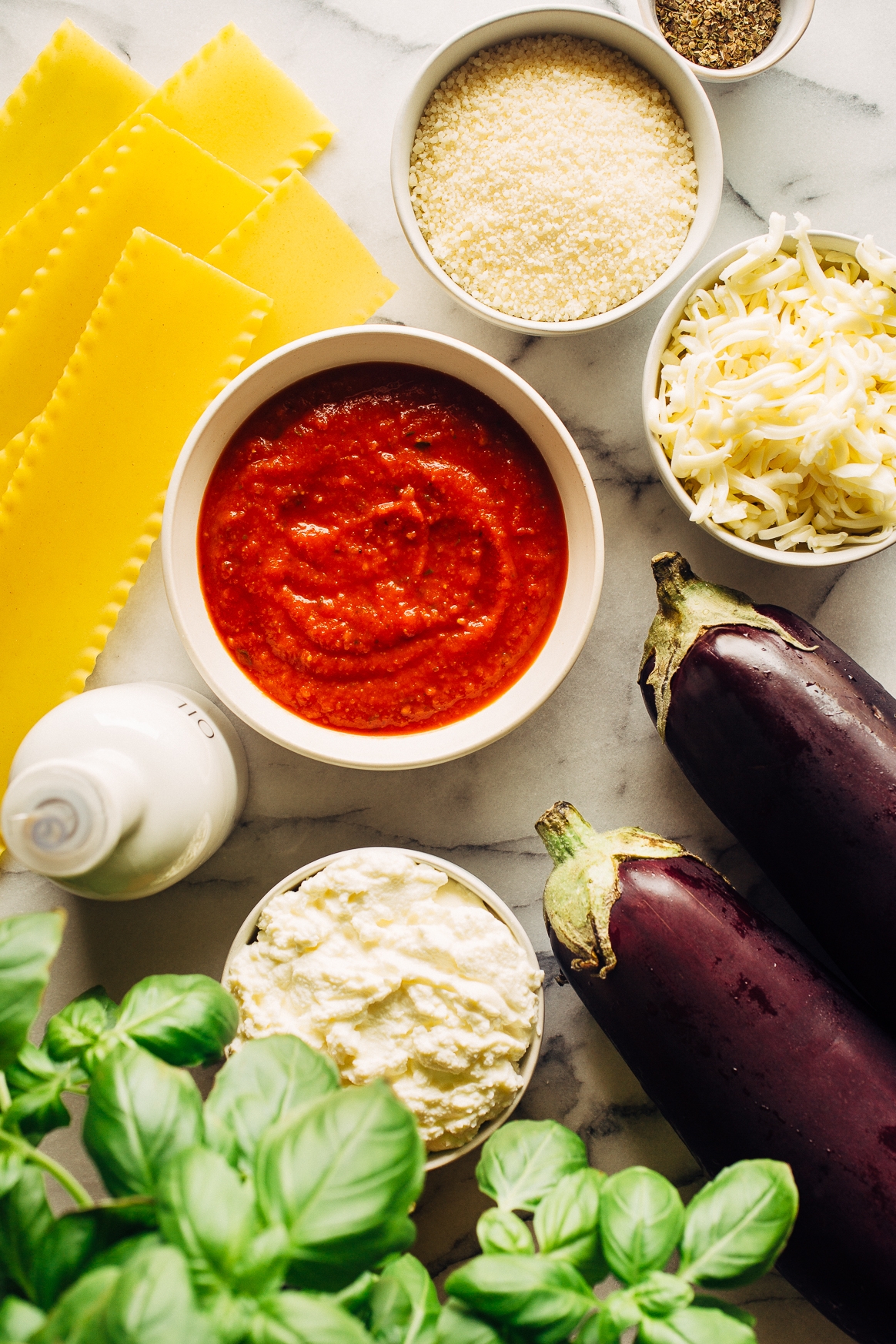 How to make eggplant lasagna
To make Eggplant Lasagna, you start by seasoning slices of eggplant with olive oil, salt, pepper and dried oregano. Then, you roast the eggplant in a 400°F oven until tender and golden (flipping halfway through).
Meanwhile, you can prepare the cheese mixture, a creamy blend of ricotta cheese, shredded mozzarella, grated Parmesan cheese and chopped fresh basil. Also, you can prepare the lasagna sheets by boiling them for just 4 minutes. They'll be very al dente, but this will ensure that the pasta doesn't overcook in the oven.
Once you've got all the layers prepared, then you simply need to assemble everything in a 9 x 13″ baking dish. Here's how this lasagna stacks up:
Tomato sauce (homemade or store bought)
Roasted eggplant slices
Cheese mixture
Lasagna noodles
You'll repeat these layers 3 times, then finish with the remaining tomato sauce and lasagna noodles. There's also a final layer of grated mozz and Parmesan.
You cook the lasagna covered in a 400°F oven for 40 minutes, then for another 15 minutes with the cover off. Let the lasagna rest for 10 minutes before enjoying!
How to prepare eggplant for lasagna?
When preparing eggplant for lasagna (or eggplant parm), I like to roast slices of eggplant in the oven to concentrate their flavor and improve their texture. You start by cutting eggplant widthwise into 1/2-inch slices. Then, you brush both sides of each slice with olive oil and season well with salt, pepper and dried oregano.
Next, you roast the eggplant slices in a 450°F oven until tender and golden. I like to let them roast for 15 minutes on one side, flip and then roast the other side for 10 minutes. If you want to develop a little more golden color, you can pop the eggplant under the broiler for a few moments. At this point, the eggplant is ready for lasagna!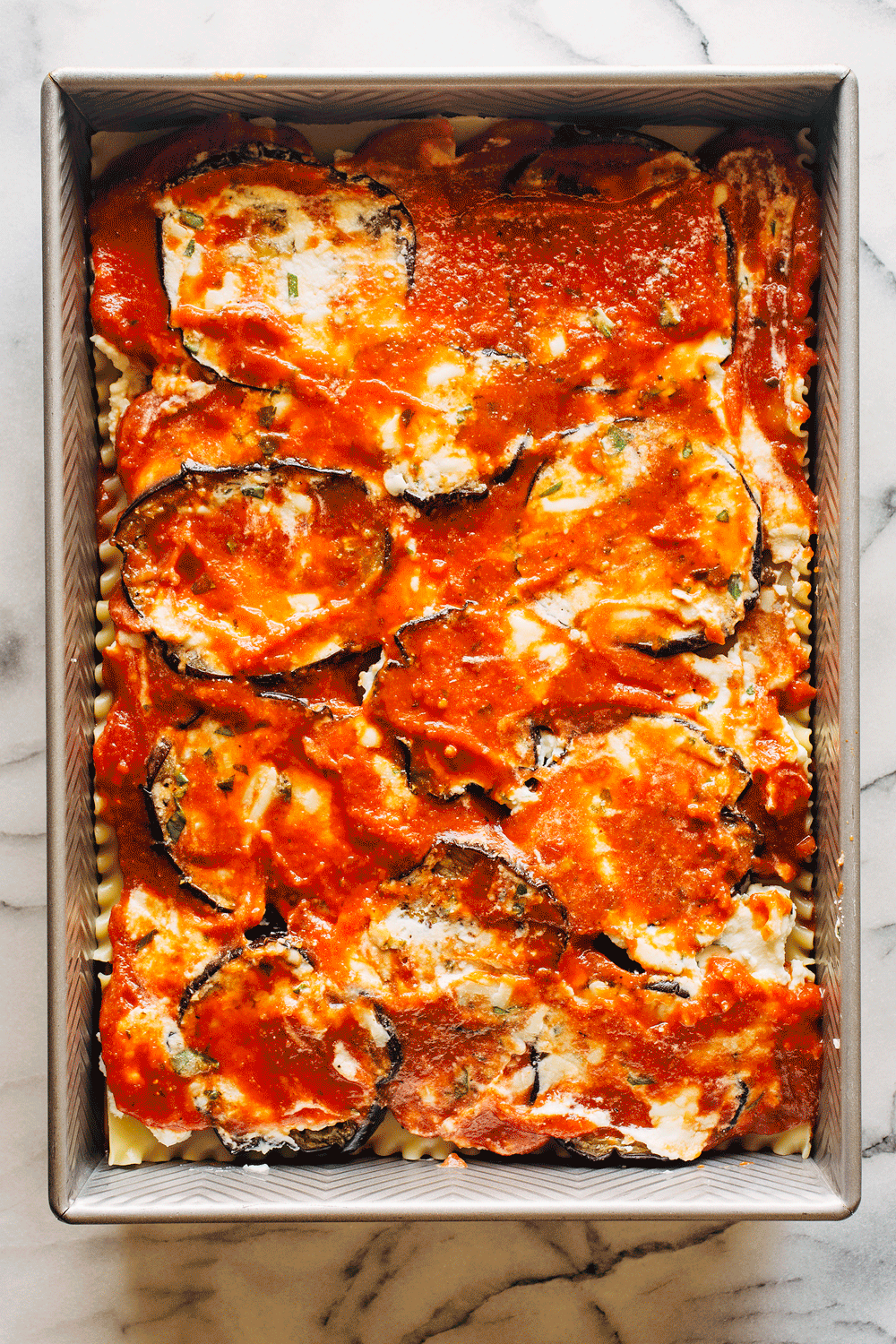 How to bake eggplant lasagna?
You cook Eggplant Lasagna for 55 minutes in a 400°F oven. I recommend cooking the lasagna covered for 40 minutes, and then uncovered for 15 minutes. During that last 15 minutes, the cheeses on top will get all melty and golden. You can also pop the lasagna under the broiler for a few minutes at the end to get even more golden color on top.
Can you freeze eggplant lasagna?
You can definitely freeze Eggplant Lasagna! You'll want to prepare the lasagna through step 5 below – fully assemble, but don't bake it. Next, wrap the baking dish tightly with plastic wrap, then tightly wrap with foil. At this point, you can freeze your uncooked Eggplant Lasagna for up to 3 months.
To cook the lasagna from frozen, first let the lasagna thaw in the fridge overnight. Then remove the plastic wrap and cover again with foil. At this point, you can continue with Step 6 below.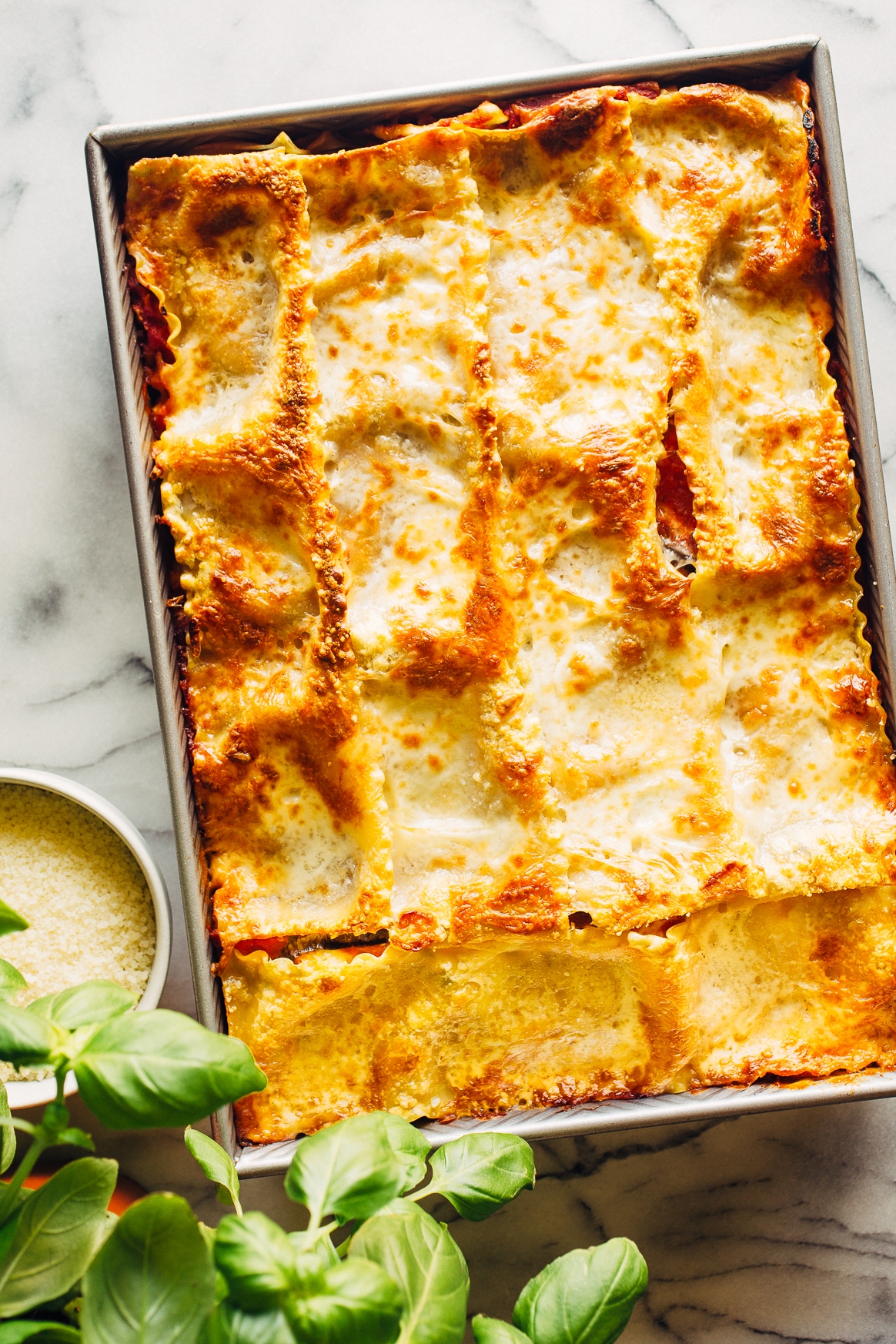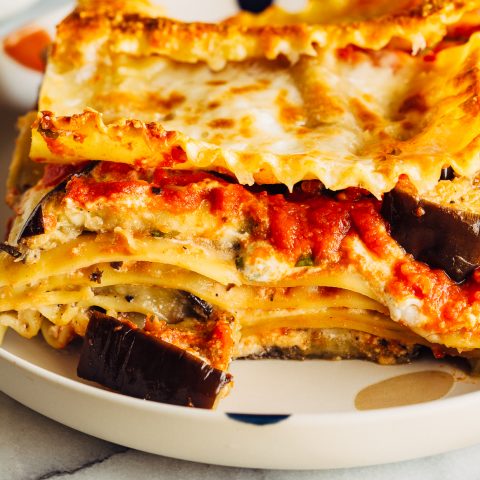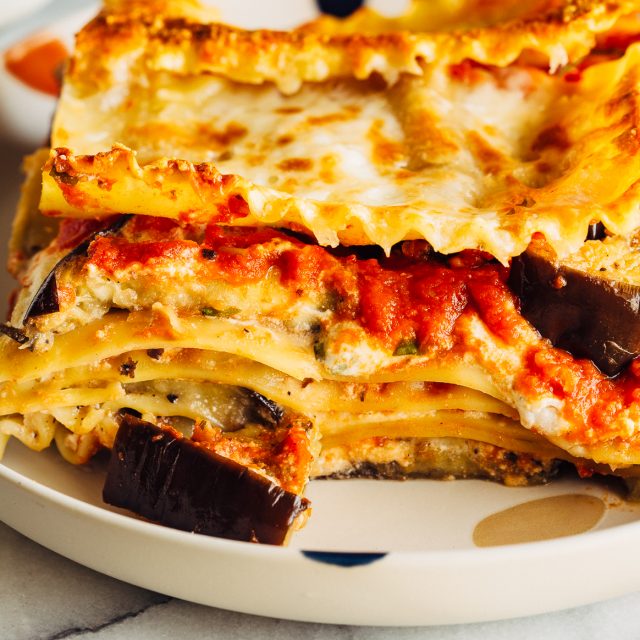 Eggplant Lasagna
Ingredients
3 1/2

pounds

eggplant, cut crosswise into 1/2-inch slices (about 3 large ish eggplants)

1/2

cup

extra virgin olive oil

1

tablespoon

dried oregano

Kosher salt

Freshly ground black pepper

1

pound

lasagna sheets

1

pound

whole-milk ricotta cheese

7

ounces

grated low moisture mozzarella cheese, divided

3

ounces

freshly grated Parmesan cheese, divided

10

large fresh basil leaves, finely chopped
Instructions
Preheat an oven to 450°F. Evenly space out 2 oven racks.

Lay the eggplant in an even layer on two or more rimmed baking sheets. Brush both sides of the eggplant slices with oil, then season each side with oregano, salt and pepper. Bake for 15 minutes, then flip and bake until other sides are lightly browned (about 10 minutes more). Set aside. Reduce oven temperature to 400°F.

Meanwhile, bring a large pot of salted water to a boil. Cook lasagna sheets for 4 minutes. They will still be fairly firm. Drain and rinse under cold water. Transfer cooked lasagna sheets to a parchment-lined baking sheet in even layers separated by parchment.

Add ricotta cheese, 3 ounces mozzarella cheese, 1 1/2 ounces grated Parmesan and chopped basil to a medium bowl, mixing to combine. Season to taste with salt and pepper.

Spread 3/4 cup of tomato sauce in an even layer in the bottom of a 9 x 13 baking dish. Top with 1/4 of the cooked lasagna sheets, arranged in an even layer. Top the noodles evenly with 1/3 of the eggplant, then 1/3 of the cheese mixture. Repeat even layers two more times with remaining sauce, lasagna sheets, eggplant and cheese mixture. Finish with remaining 3/4 cup of tomato sauce and lasagna sheets. Top evenly with remaining 4 ounces mozzarella and 1 1/2 ounces Parmesan cheese.

Cover with foil and bake for 40 minutes. Remove the foil, then bake until the cheese is melty and golden on top (about 15 minutes more). Let cool for 10 minutes before serving.
Tried this recipe?
Tag @brandiego on Instagram so I can check it out!
48