This post may contain affiliate links.
You are probably wondering… what the heck is a pluot??  I know I certainly was when I spotted a huge pile of speckled, plum-like pluots at the Farmer's Market recently.  A pluot is a complex hybrid of a plum and an apricot.  Both sweet and tart, pluots are a juicy stone fruit that exhibit a stunning combination of pinks, reds and whites when sliced open.  If you can't find pluots at your local market, you can also make this recipe with plums or apricots.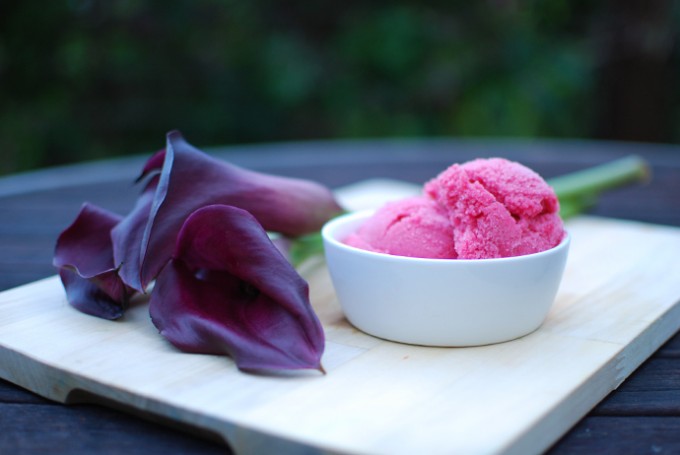 Pluot Sorbet
Ingredients
3

cups

sliced pluots, pits removed (about 4 to 5 pluots)

½

cup

sugar (or to taste*)

Juice of ½ lemon

Pinch

of salt
Instructions
Place all ingredients in a food processor or blender and purée until very smooth. Drain the pluot purée using a fine mesh basket strainer, pressing to squeeze out as much juice as possible. Discard leftovers skins.

Place the purée in an ice cream maker and freeze according to the manufacturer's instructions.
Notes
* I started with a ¼ cup of sugar and then tasted the purée to see if it needed more sugar. The amount of sugar needed depends on how tart your pluots are. Continue to add sugar and taste until you reach your desired balance of sweet and tart.
Tried this recipe?
Tag @brandiego on Instagram so I can check it out!
8