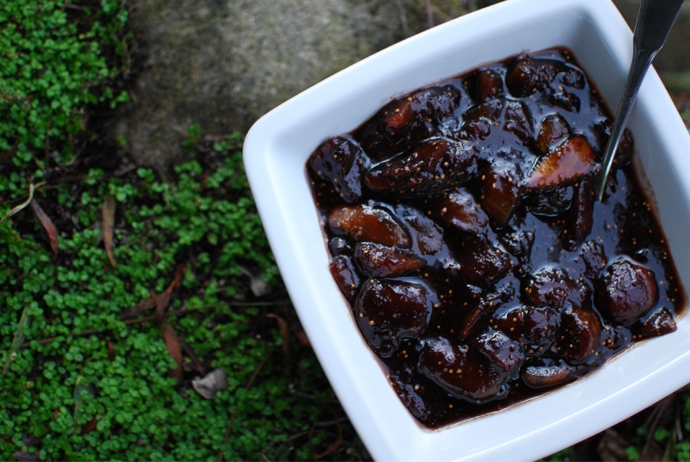 This post may contain affiliate links.
I was first introduced to figs when I was very young.  My Italian grandmother lived in an urban neighborhood  just a stone's throws away from New York City.  I still have vivid memories of the small garden she kept on a plot of land next to her garage.  The garden was home to several pots of crawling vines studded with ripe, fragrant tomatoes and a tall, green fig tree.  I never tried figs when I was younger; however, I remember my family enjoying them.  Since then, I have grown to love this sweet, earthy fruit.  The crunchy seeds of a fig provide an interesting textural contrast to its smooth skin and flesh.  This Fig and Balsamic Jam features two pounds of fresh figs simmered with sugar, balsamic vinegar and black peppercorns.  The finished product is un. real.  Spread this jam over a crunchy piece of toast for breakfast or spoon over a few scoops of vanilla ice cream for dessert.  Continue reading for the recipe.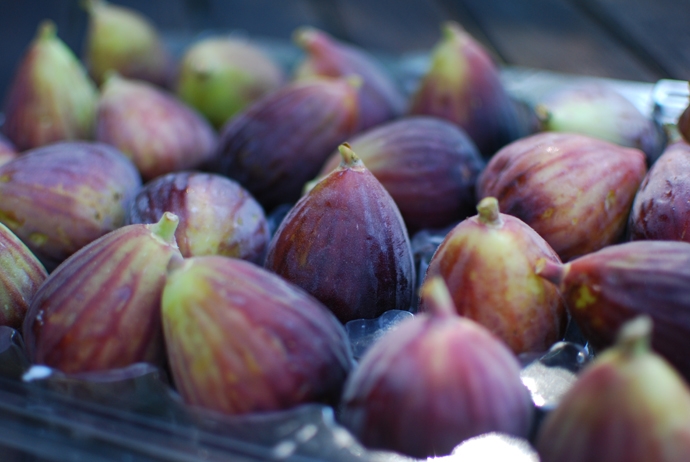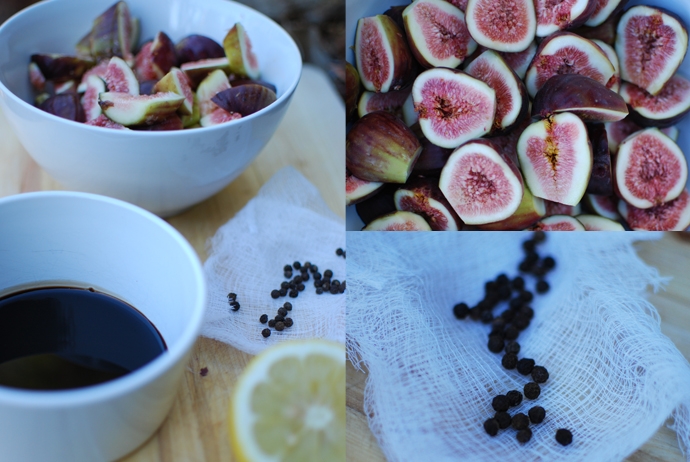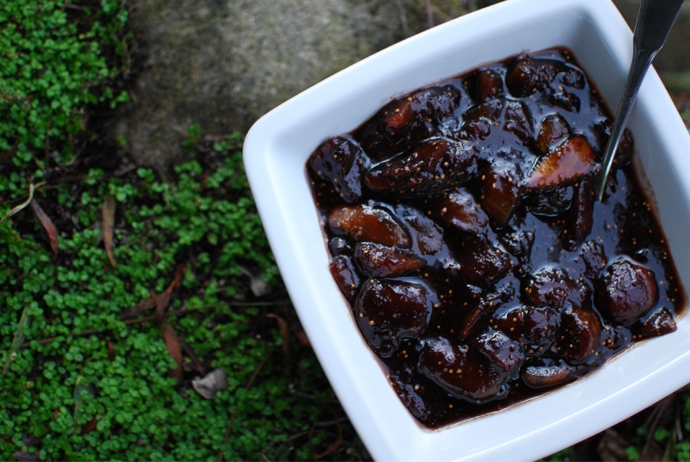 Fig and Balsamic Jam
Adapted from Thomas Keller's ad hoc at home.
Ingredients
2

pounds

fresh figs, stemmed and roughly chopped

1½

cups

granulated sugar

½

cup

balsamic vinegar

1

teaspoon

black peppercorns, bundled in cheesecloth*

1

teaspoon

lemon juice (or to taste)

Special equipment: candy/oil thermometer
Instructions
In a large saucepan, combine chopped figs, sugar, balsamic vinegar and bundled peppercorns. Bring mixture to a boil over medium-high heat, stirring occasionally. Reduce heat to low and simmer until the mixture reaches a temperature of 220°F. Continue to stir occasionally while the mixture is simmering. Try to break up any large chunks of fig while stirring; however, you want to keep the consistency of the jam chunky.

Once the mixture reaches 220°F, remove the saucepan from the heat. Test the consistency of the jam by placing 1 tablespoon of the mixture in small bowl. Place the bowl in the refrigerator for 10 minutes. If you find the jam is a bit too runny after 10 minutes, return the saucepan to the heat and simmer away for another 5 – 10 minutes.

Once you have reached a desired consistency, remove the saucepan from the heat and let cool. Remove the bundled peppercorns and discard. Stir in 1 teaspoon of lemon juice and taste the jam. Add more lemon juice if needed. Transfer mixture to a canning jar or other container. Once the mixture is completely cooled, store in the refrigerator.
Notes
*Bundling the peppercorns in cheesecloth will make it much easier to remove them from the jam later. Start by cutting a small square of cheesecloth. Place 1 teaspoon of peppercorns in the middle of the square. Fold up the corners of the square to make a pouch. Tie the top of the pouch with a piece of kitchen twine.
Tried this recipe?
Tag @brandiego on Instagram so I can check it out!
6