Pancakes are a favorite breakfast at our house, and recently I've been looking to make some healthy ingredient swaps. After much testing, I've landed on these Healthy Banana Pancakes. They're light, fluffy and packed with protein and whole grains.
This post may contain affiliate links.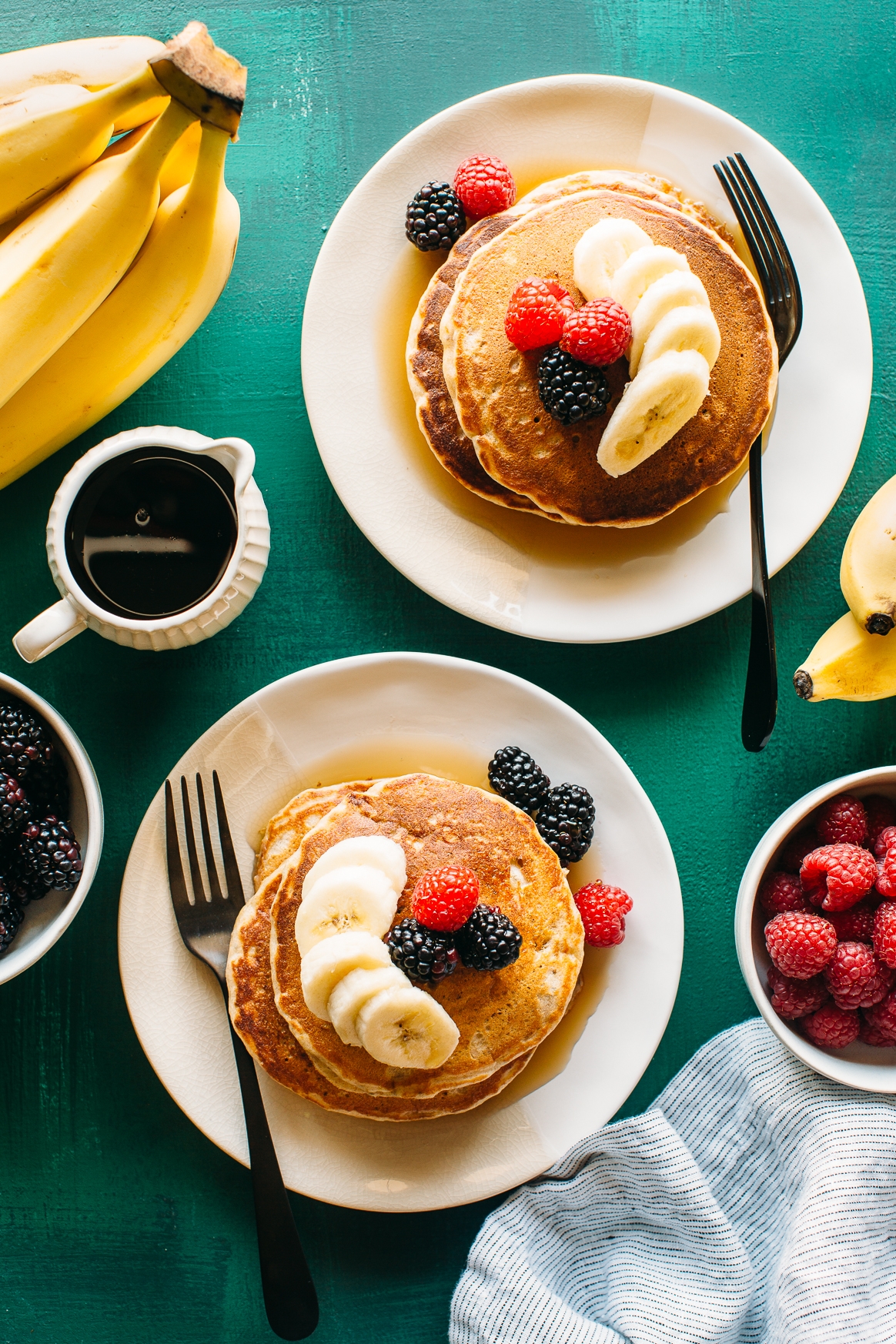 I should start by saying that I'm not a nutritionist, so please don't take any of my healthy recommendations as actual medical advice. What I can say for sure, is that these pancakes are delish and I always feel good after eating them!
The batter is made with a mix of whole wheat flour and regular flour. I find the texture of 100% whole wheat flour pancakes to be not the best, so I keep just a little white flour in the recipe for lightness. Rolled oats and chia seeds are also added for some nutritional heft while a mix of mashed ripe banana and sugar add sweetness. Instead of using all milk or buttermilk here, I've swapped in some whole milk yogurt to give these pancakes a protein boost.
Despite all of the added heavy ingredients, these Healthy Banana Pancakes are so light and airy. Top with fresh fruit and maple syrup for a satisfying, balanced breakfast. Continue reading for the recipe.
Pancake batter is all about balance, so you'll notice that I haven't gone in 100% on the healthy swaps. 100% whole wheat can be too dense. 100% sweetened with banana wouldn't be sweet enough. 100% yogurt would be too thick. So instead, I've chosen to partially swap in each, resulting in a beautifully textured pancake with added nutritional boosts.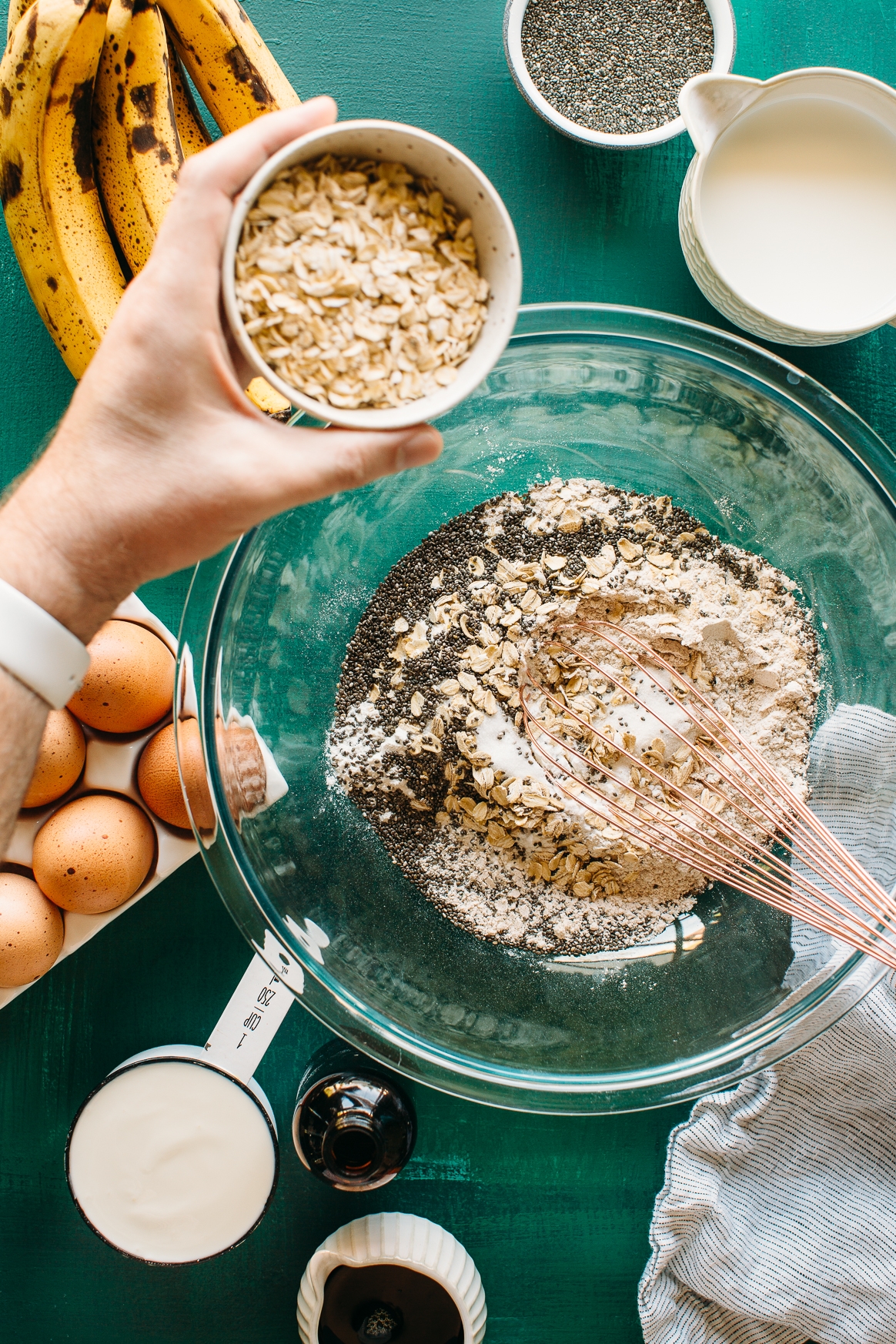 Here are some health benefits of the ingredients in this recipe:
Chia seeds are a good source of omega-3 fatty acids, fiber, antioxidants, calcium, and iron. They also add a little protein to the mix.
Whole grains provide nutrients and fiber that can help to lower cholesterol and maintain steady blood sugar.
Bananas are rich in potassium and can help reduce blood pressure.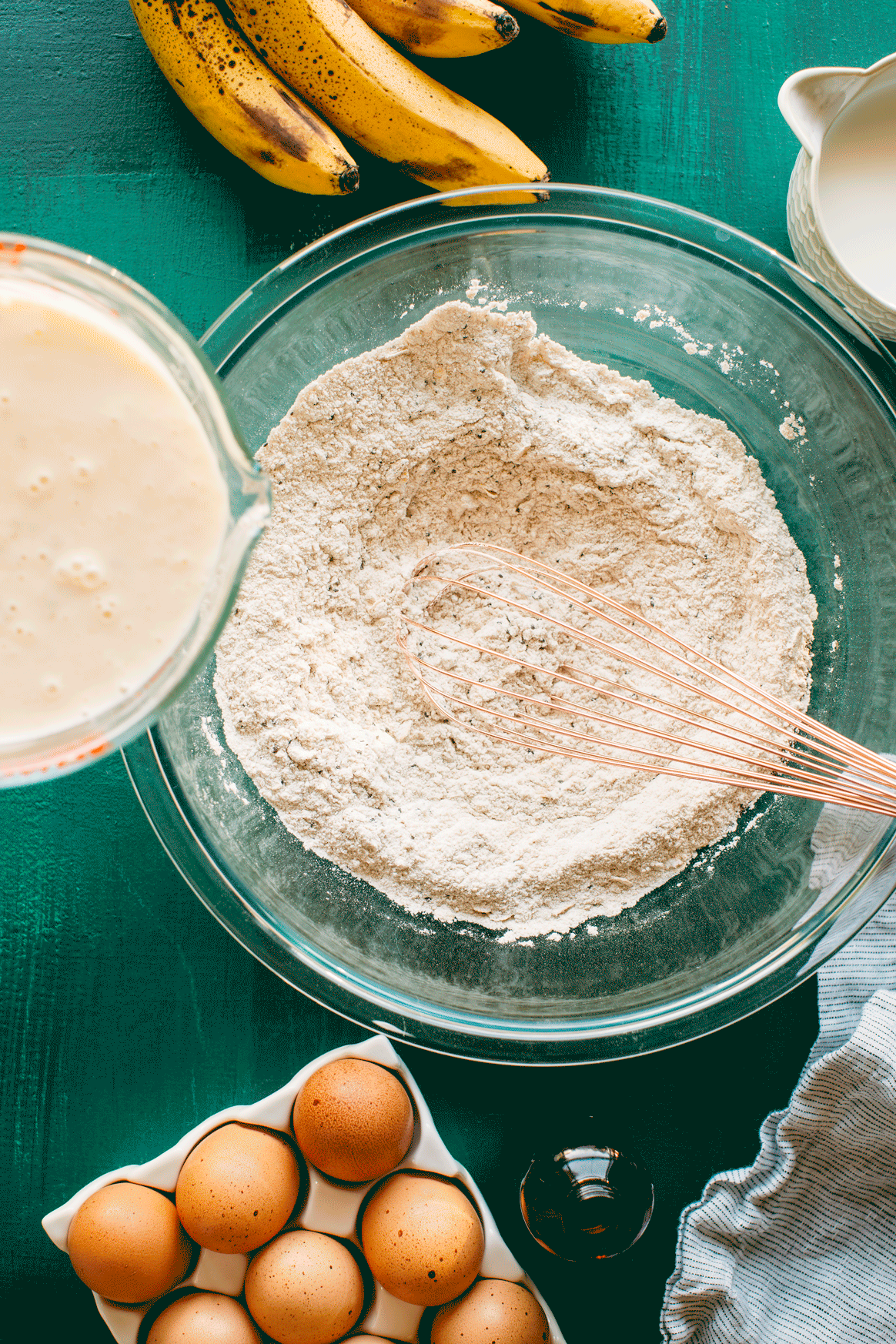 These pancakes are finished with sliced bananas, fresh berries and maple syrup. The sweetness level of the pancakes themselves isn't too high, so I would highly recommend you drizzle on some maple syrup. Use whatever fresh fruit you've got on hand, and you could even add a sprinkling of chopped nuts or dark chocolate chips. The base flavors of banana and vanilla are very versatile, so have fun with your toppings!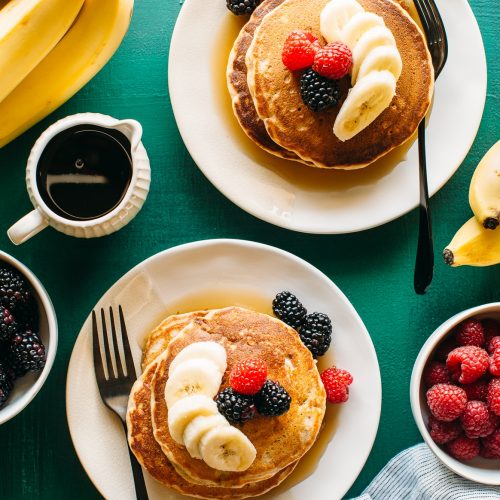 Healthy Banana Pancakes
Ingredients
1

cup

whole wheat flour

3/4

cup

all purpose flour

1/4

cup

rolled oats

2

tablespoons

chia seeds

2

tablespoons

sugar

2

teaspoons

baking powder

1/2

teaspoon

fine grain salt

1/2

teaspoon

baking soda

1/2

cup

mashed ripe banana

2

eggs

1

cups

plain whole milk yogurt

3/4

cup

whole milk

1

teaspoon

vanilla

3

tablespoons

unsalted butter, melted and cooled
Sliced bananas, for serving
Fresh berries, for serving
Instructions
In a large bowl, whisk together the flours, oats, chia seeds, sugar, baking powder, baking soda, and salt. In a medium bowl, whisk together the mashed banana and eggs. Then whisk in the yogurt and milk. Using a spatula, add the wet ingredients to the dry ingredients, stirring and folding to combine. Stir in the melted butter. Don't overwork the batter here. It should be a bit lumpy with no large pockets of dry ingredients.

Preheat a cast-iron skillet over medium-high heat or an electric griddle to 375°F. Brush the skillet lightly with melted butter. Using a ladle, pour pools of batter on the hot skillet. I can get 3 pancakes on a 12-inch skillet or 6 on a rectangular electric skillet. Adjust the size of your pancakes based on taste (I like mine not too small, but not too big). When the pancakes have bubbles on top and are slightly dry around the edges, about 2 minutes, flip over. Cook on the other side for an additional minute, until golden. Repeat with the remaining batter. You can keep the finished pancakes on a baking sheet in the oven at 175°F covered with a clean kitchen towel.

To serve, top each stack of pancakes with sliced bananas, fresh berries and drizzle with maple syrup. Enjoy warm!
Tried this recipe?
Tag @brandiego on Instagram so I can check it out!
Here are some other healthy breakfast recipes on Kitchen Konfidence: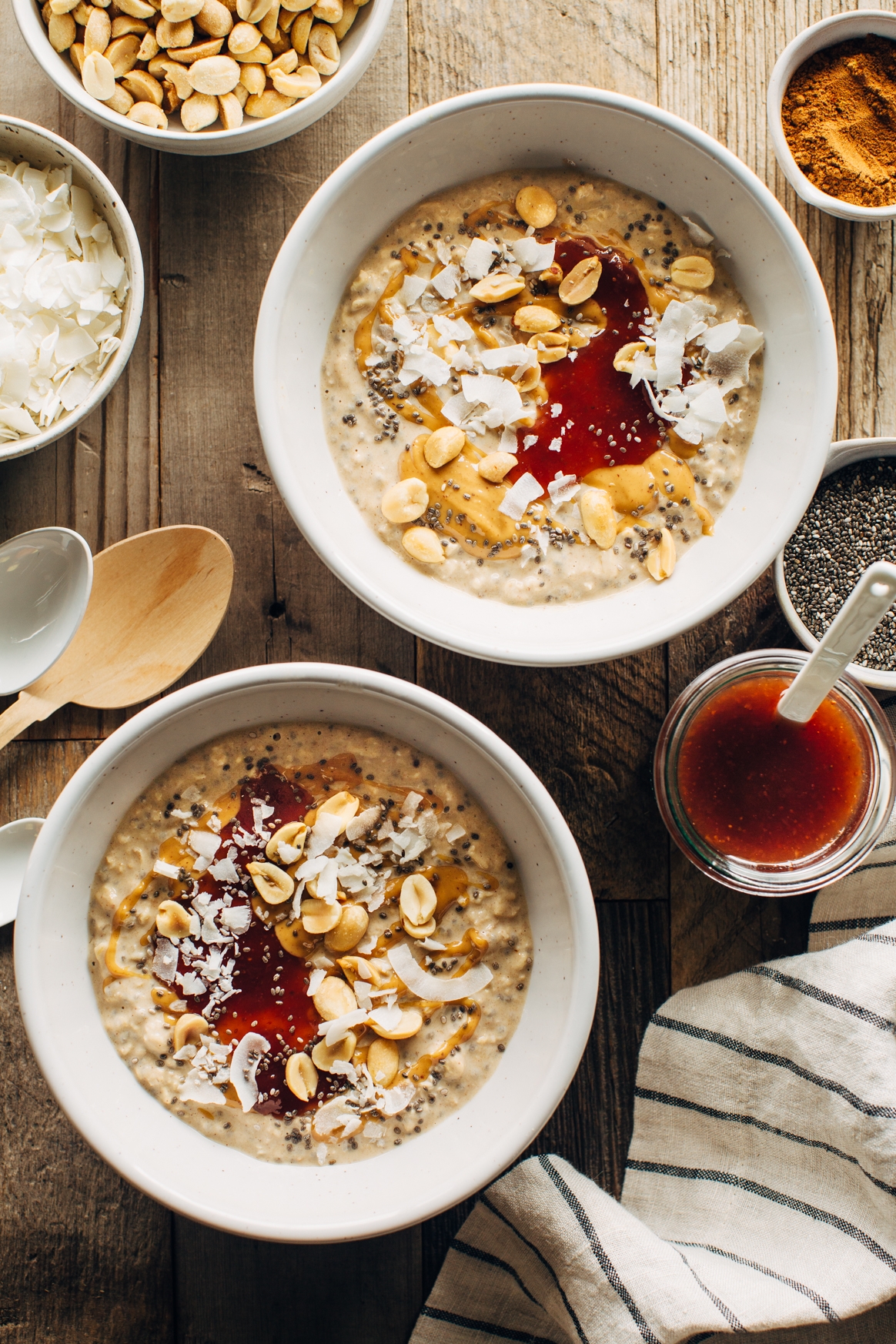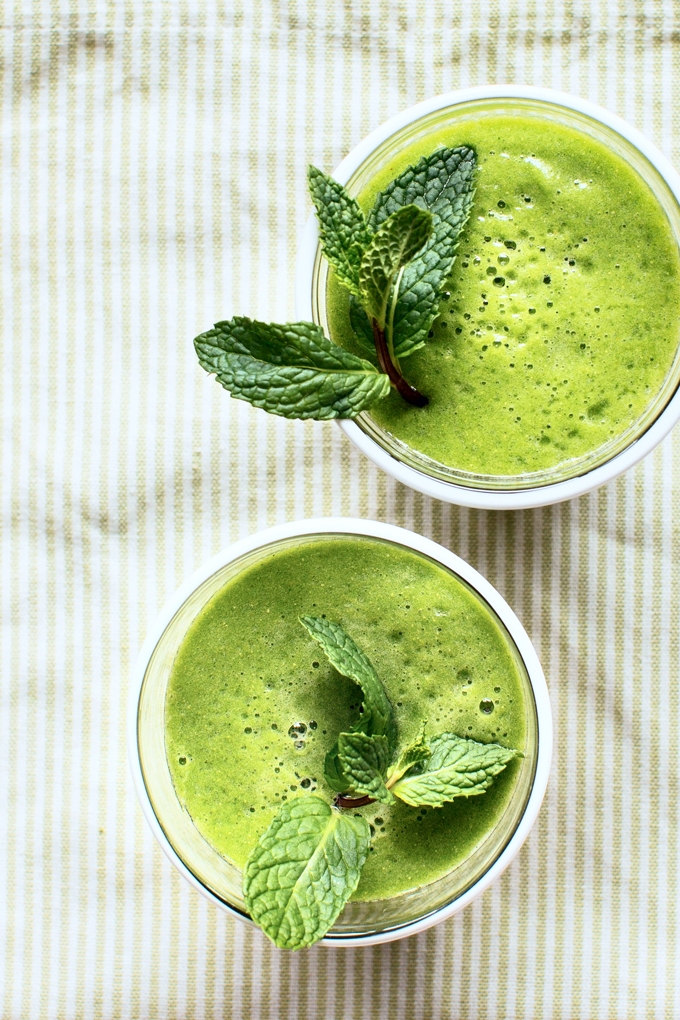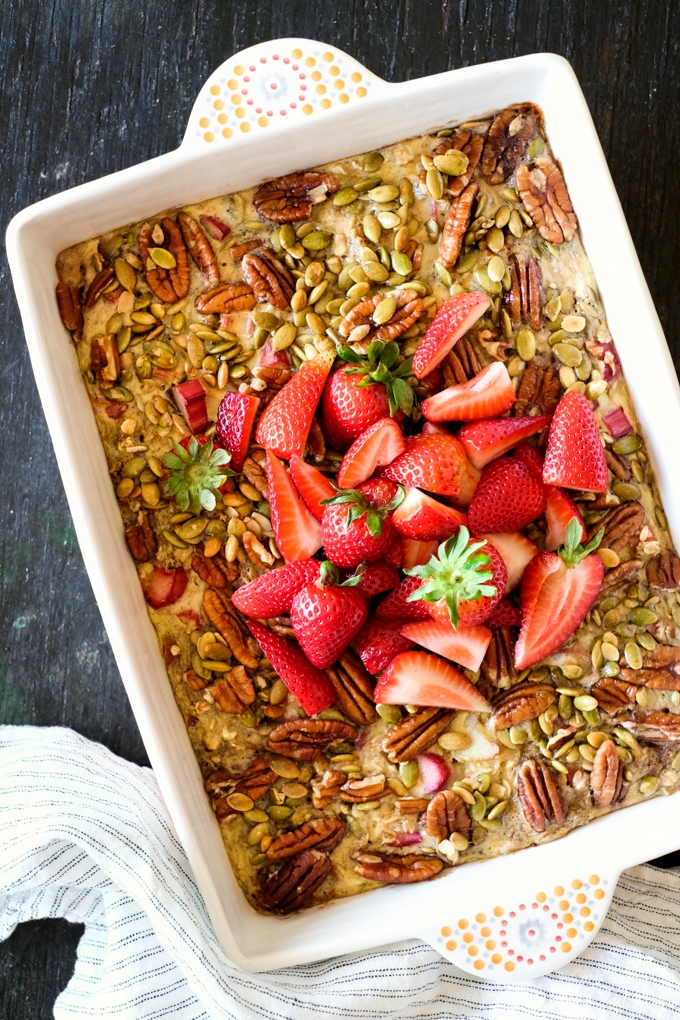 24