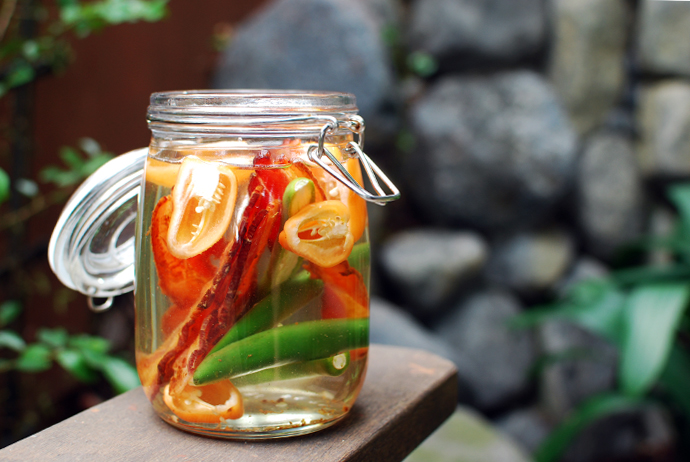 This post may contain affiliate links.
I recently had a delicious brunch at Croce's Restaurant & Jazz Bar.  Dining alone and al fresco, I enjoyed a substantial breakfast quesadilla partnered with a killer brunch cocktail – a bloody mary with bacon and ghost chili infused vodka.  Since I have a great love for fiery alcoholic beverages, upon tasting this bloody mary, I immediately knew I was going to have to recreate this at home.  An intense mix of savory and spicy, this Bacon and Habanero infused vodka makes the perfect base to a mouthwateringly complex bloody mary (cocktail recipe to be featured next week).  Continue reading for the recipe.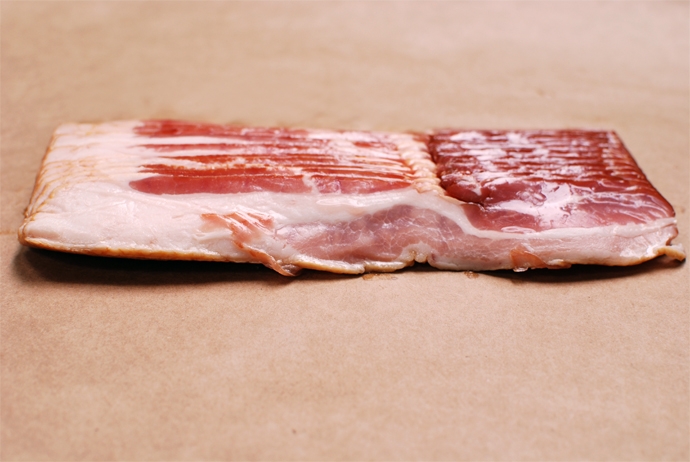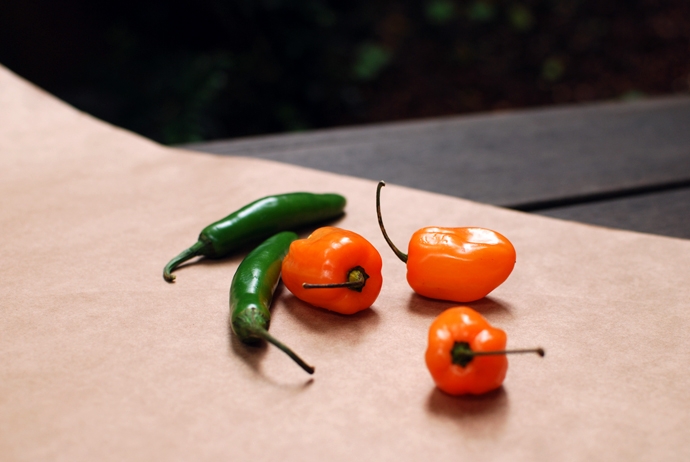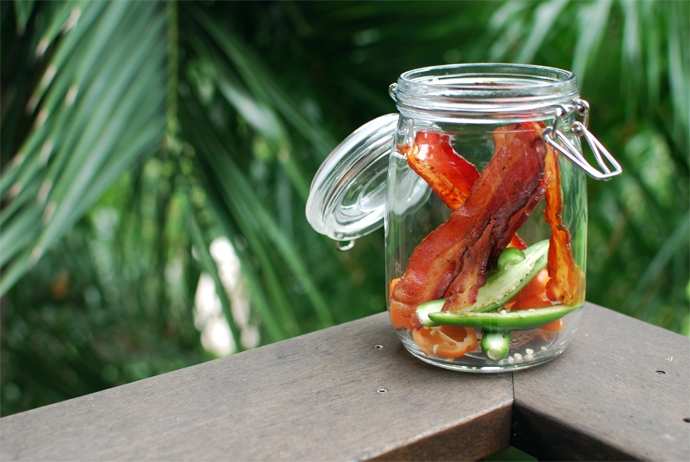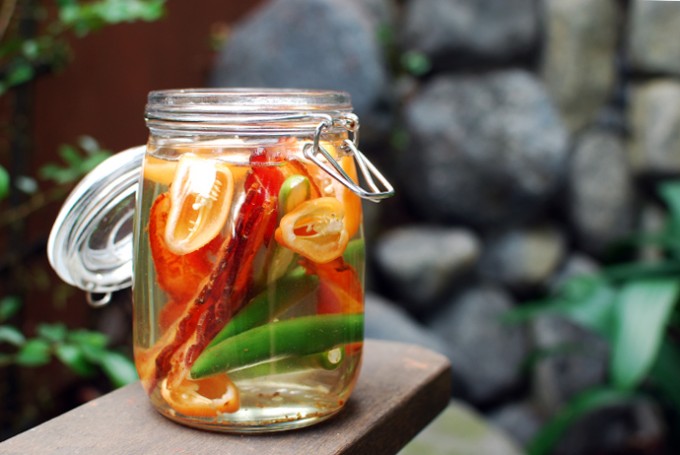 Bacon and Habanero Infused Vodka
Adapted from Croce's Restaurant & Jazz Bar.
Ingredients
6

strips of bacon

3

habanero chili peppers

2

serano chile peppers

1

liter

good quality vodka (this is not exact)
Instructions
Add strips of bacon to a dry, cold, large skillet. Warm the skillet over low heat. Cook bacon until crispy, flipping the bacon several times throughout the process. Transfer cooked bacon to a paper towel lined plate and set aside to cool.

Remove the stems from each chili pepper and slice in half lengthwise. Add peppers (with seeds) to a large, airtight jar. Once cooled, add bacon to the same jar. Fill the jar with vodka to cover the bacon and peppers. Seal the jar and let steep for 7 days in the refrigerator.*

After 7 days, strain the vodka through a cheese cloth lined fine mesh basket strainer into a clean jar or bottle. If you see any major particles floating in the vodka, strain a second time. Discard the bacon and peppers. Store in the refrigerator.
Notes
* Letting the vodka steep with the chili peppers for 7 days will result in an extremely spicy infusion. If you have a low heat tolerance, I would recommend steeping for a shorter period of time. You can start tasting half way through and strain the infusion once you reach your desired heat level. Keep in mind that this vodka will be used in a bloody mary. You want it to be overly spicy because the tomato juice will turn down the heat level a bit.
Tried this recipe?
Tag @brandiego on Instagram so I can check it out!
97