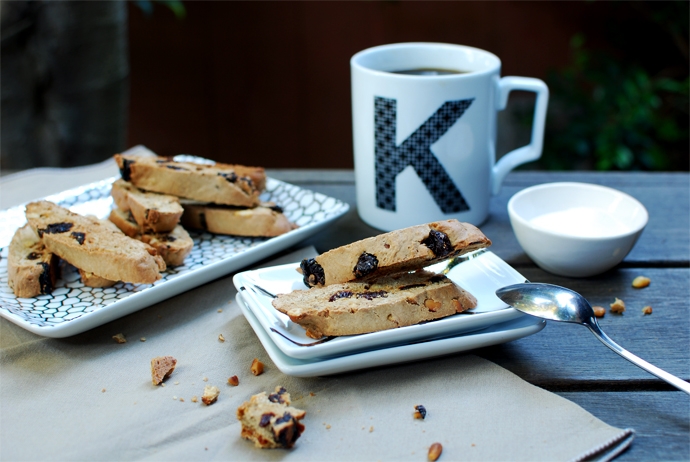 This post may contain affiliate links.
Over the past few months, I've downloaded a number of beautiful cooking and recipe related iPad apps including Mario Batali Cooks, Gourmet Live, Food Network In the Kitchen, Mark Bittman's How to Cook Everything, MasterChef Academy and two Photo Cookbooks.  I finally decided this week to start putting these apps to good use beginning with this Tart Cherry and Pine Nut Biscotti, an adaptation of a recipe found in The Photo Cookbook – Baking.  Dried tart cherries and toasted pine nuts are mixed into a spiced dough, then baked twice till golden brown and crunchy. I was very pleased with the end result because the biscotti were a bit softer than the usual tooth breaking variety, yet still had a satisfying crunch.  Continue reading for the recipe.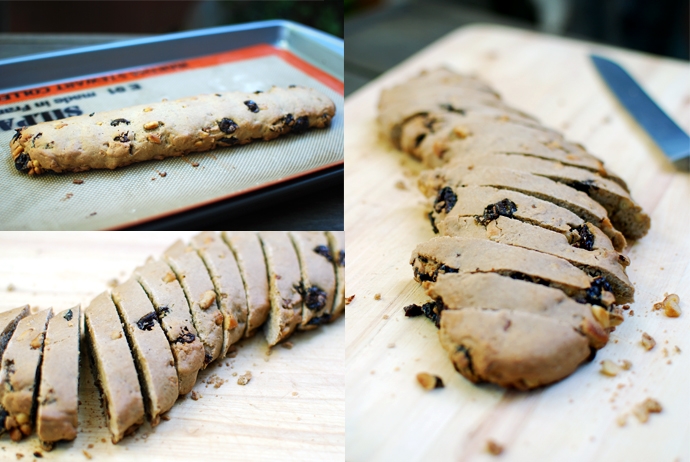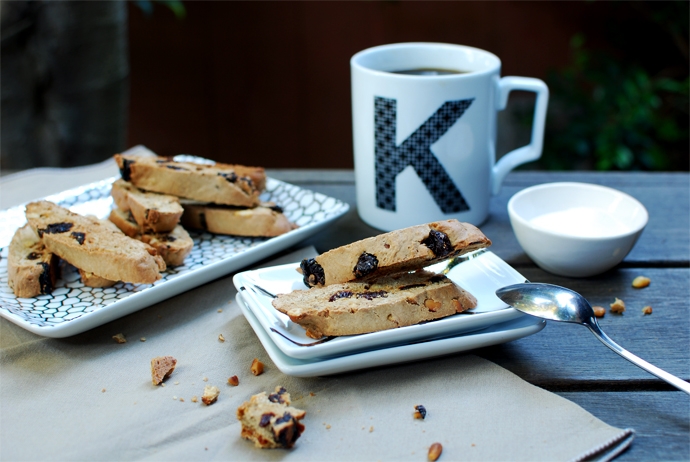 Tart Cherry and Pine Nut Biscotti
Ingredients
Scant ½ cup light brown sugar

1

large egg

1 ½

cups

all-purpose flour

½

teaspoon

baking powder

1

teaspoon

ground allspice

Scant ½ cup dried tart cherries

Scant ½ cup pine nuts, toasted
Instructions
Preheat oven to 350°F . Place a rack in the middle of the oven. Line one baking sheet with a silpat or parchment paper and set aside.

Place light brown sugar and egg into the bowl of a stand mixer and whisk until thick and pale brown (this took me 5 minutes with my stand mixer on medium speed).*

Sift the flour, baking powder and allspice into the sugar and egg mixture. Using a wooden spoon (or silicon spatula), fold until dry ingredients are incorporated (but do not overmix!). Stir in the tart cherries and toasted pine nuts and mix gently until combined.

Turn dough out onto your lined baking sheet and form into a long log (11 - 12 inches long). If you find the dough is sticking, lightly flour your hands and continue forming. Press the log down gently to flatten it just a bit.

Bake for 20 - 25 minutes, until golden brown. Remove the log from the oven and let sit until cool enough to handle (about 4 minutes). Transfer the log to a cutting board and cut on a bias into ½-inch thick slices. Place slices back onto the lined baking sheet and baked for an additional 10 minutes, until golden brown. Remove biscotti from the oven and transfer to a wire rack to cool.
Notes
*You could also use a hand mixer or whisk. If you do, the process could take longer than 5 minutes.
Tried this recipe?
Tag @brandiego on Instagram so I can check it out!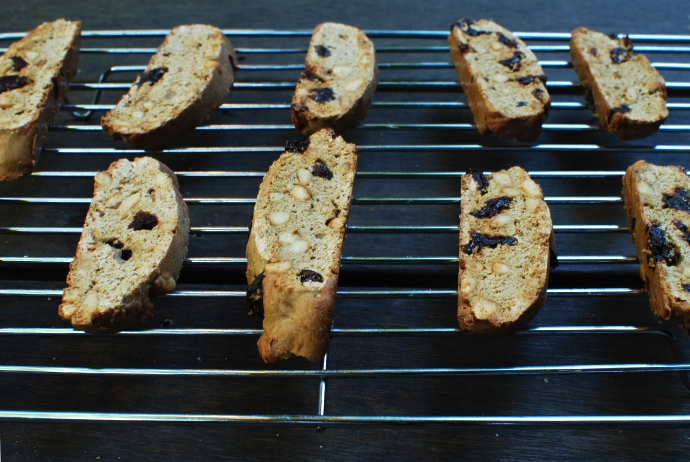 0