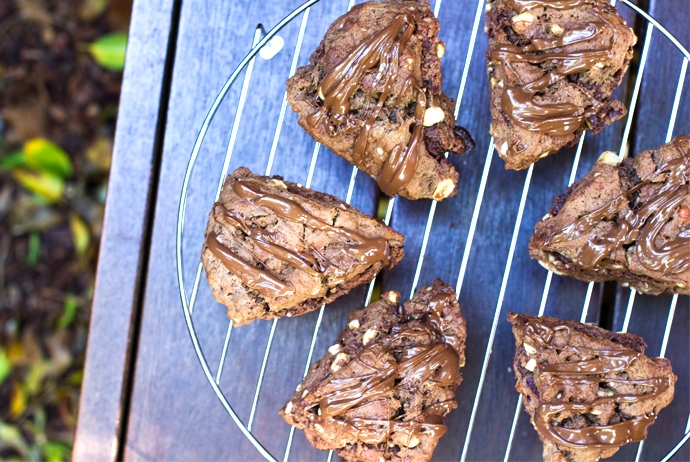 This post may contain affiliate links.
Nutella.  Scones.  Need I say more?  Ok perhaps I'll give a brief introduction for those of you who are unfamiliar with Nutella.  Nutella is an Italian chocolate and hazelnut spread known for its rich flavor and creamy texture.  I first encountered Nutella during my time spent in Germany when I was young.  I remember spreading a sizable spoonful on a warm piece of crusty bread.  The first bite was heaven.
These scones are a decadent chocolate pastry studded with toasted hazelnuts and drizzled with warm Nutella.  Oh yeah… there is Nutella streaked on the inside too.  Perfect with a cold glass of milk, these scones can be enjoyed for breakfast or dessert.  Continue reading for the recipe.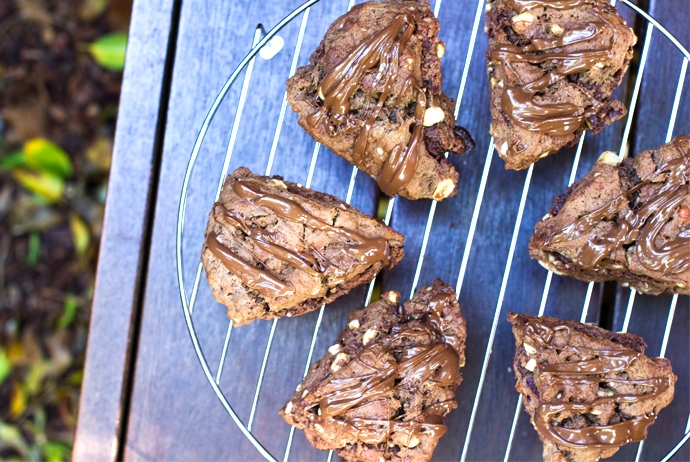 Nutella Scones
Ingredients
¾

cup

hazelnuts

2

cups

unbleached all-purpose flour

¼

cup

granulated sugar

¼

cup

unsweetened cocoa powder (I used Ghirardelli... yum)

1

tablespoon

baking powder

½

teaspoon

fine grain sea salt

6

tablespoons

unsalted butter, cold and cubed

1

large egg

½

cup

heavy cream

½

cup

Nutella, divided (¼ inside, ¼ drizzle)
Instructions
Preheat oven to 275°F and place a rack in the middle of the oven. Spread a large kitchen towel out on a flat surface.

Place hazelnuts on a rimmed baking sheet in an even layer. Bake for 15 minutes, shaking the sheet every 5 minutes (aka toasting). Transfer hazelnuts to the center of the kitchen towel. Fold over the sides of the kitchen towel to completely cover the hazelnuts and let sit for 10 minutes. This will steam the hazelnuts and help release the skin. After 10 minutes, vigorously rub the hazelnuts inside of the kitchen towel to remove the skins. Don't go crazy with this task. If there are some skins left on the hazelnuts, it isn't too big of a deal. I was able to remove about 75% of the skins and my scones turned out amazing. Finish by coarsely chopping the toasted hazelnuts.

Increase the heat of your oven to 375°F. Line a baking sheet with a silpat or parchment paper and set aside.

Combine flour, sugar, cocoa powder, baking powder and salt in a food processor. Pulse several times to combine. Add cold butter and pulse until mixture resembles coarse meal. Transfer mixture to a large bowl.

In a small bowl, whisk together egg and cream. Slowly pour wet ingredients into the dry ingredients. Gently stir until the dough just comes together (it will seem dry and crumbly).

Turn the dough out onto a silpat or a lightly floured surface. Gently knead the dough with your hands. The warmth from your hands will start to melt the butter a bit and the dough will go from crumbly to smooth and pliable. Do not overwork the dough here. Knead just until it comes together. Once pliable, knead in toasted hazelnuts. Flatten the dough into a rectangle approximated 6 by 12 inches (precision is not needed here). Spread ¼ cup Nutella on top in a crisscross pattern. Starting from the shorter end of the rectangle, roll up the dough to make a 6 inch long cylinder (my pastry scraper really helped here). Stand the cylinder up vertically, then gently flatten into a disk about 1 inch high (this was pretty fun). Once again, don't overwork the dough. You don't want tough scones.

Cut the dough into 6 to 8 wedges and place them on the prepared baking sheet. Bake for 18 to 20 minutes, rotating the baking sheet halfway through. I would recommend doing the toothpick test at minute 17 or 18. Insert a toothpick into the center of a scone. If it comes out clean, the scones are done. These scones are a little tricky, because the warmed Nutella streaked on the inside can throw off your toothpick test (it will come out chocolatey even if your scones are done). If your inserted toothpick encounters the warmed Nutella, try a different spot with a new, clean toothpick.

Transfer the scones to a cooling rack. Place your baking sheet with the silpat or parchment paper still on underneath the rack (easy cleanup after chocolate drizzling).

Warm the remaining ¼ cup Nutella in a microwave until pourable (10 - 20 seconds on high). Drizzle warm Nutella over the scones in a zigzag pattern. Let cool completely before serving.
Tried this recipe?
Tag @brandiego on Instagram so I can check it out!
3