This post may contain affiliate links.
So I've been a little obsessed recently with homemade soda.  I'm not sure why though.  Perhaps it's because I like the idea of turning beautiful, seasonal produce into a delightfully refreshing beverage.  Or maybe because I like that I can control the ingredients that I am drinking.  No strange chemicals, dyes or sweeteners.  Now don't get me wrong, I still love my Coke Zero, Diet Dr. Pepper and Cream Soda (and… Mountain Dew Baja Blast?).  But homemade soda is a delicious, natural alternative that is easy to make and can come together in a snap.  This Pink Dragon Fruit Soda is made with the juice of a pink dragon fruit, lime juice and simple syrup topped off with a glug or two of effervescent soda water.  If you are in the mood to get all crazy, you can also throw in a shot vodka.
Some of you might be thinking right now "This is all good and all, but where the hell can I find a pink dragon fruit?!"  I purchased one at local farmer's market.  If this is not an option for you, don't fret.  The process outlined below can be applied to any fruit.  Blueberries, strawberries, watermelons, peaches, pluots, pears, blood oranges, etc.  Use whatever is accessible to you.  Continue reading for the recipe.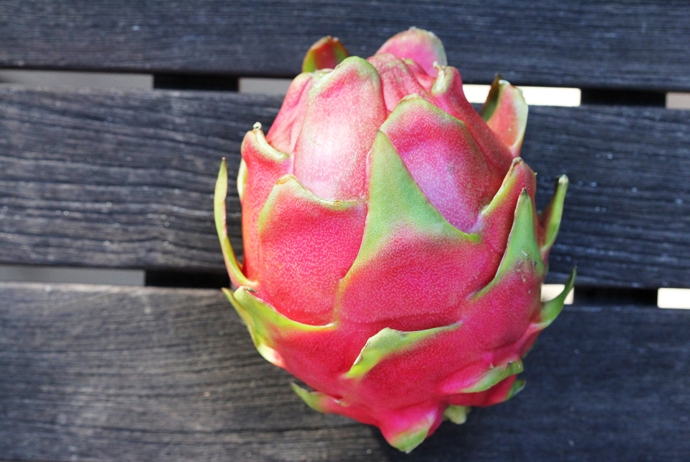 Dragon fruit comes in three colors – white, pink and red (or magenta).  White dragon fruit is the most accessible, but is not as sweet as its colorful counterparts.  If you use a white dragon fruit, you may need to add more simple syrup.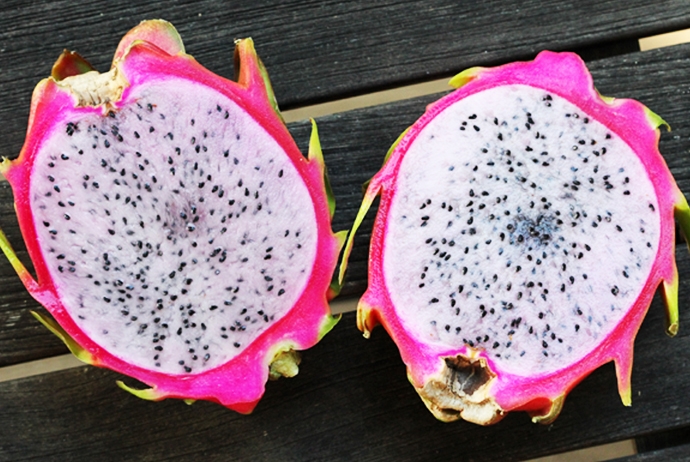 Here is a halved pink dragon fruit.  The flesh is sweet, slightly tart and somewhat crunchy.  The flavor of a dragon fruit is like a cross between a pear and a kiwi.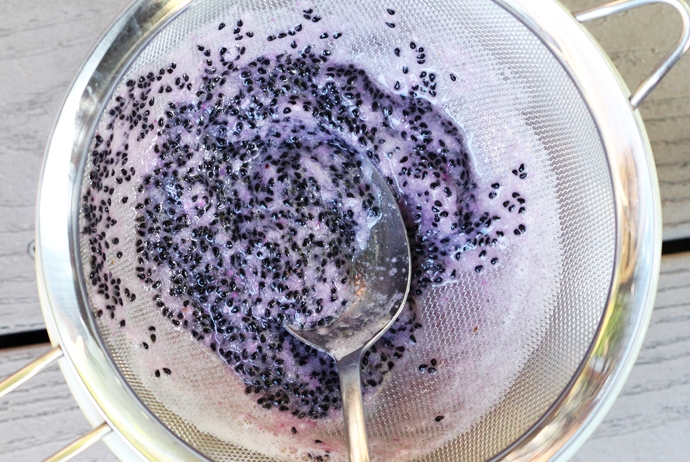 Pink Dragon Fruit Soda
Ingredients
1

Pink Dragon Fruit

Freshly squeezed lime juice

Simple syrup (recipe below)

Soda water
Instructions
Halve pink dragon fruit then scoop the flesh into a food processor or blender. Process until smooth. Strain pink dragon fruit puree through a fine mesh basket strainer, using a spoon to expedite the process. Discard solids.

Add lime juice and simple syrup to taste.* I started with 1 tablespoon of each then added a teaspoon at a time until I was satisfied with the sweet-tart balance. In total, I added 4 teaspoons of lime juice and 5 teaspoons of simple syrup (1 tablespoon = 3 teaspoons).

Fill a tall glass with ice. Add 3 - 4 ounces of pink dragon fruit syrup. Top off with soda water, stirring gently to combine.

To make simple syrup: Warm equal parts white sugar and water over medium heat (I usually do 1 cup of sugar and 1 cup of water), stirring until sugar is completely dissolved. Bring mixture to a boil, bubble for 1 minute, then remove from heat. Let cool before using.
Notes
* Amounts will vary based on the size and ripeness of your pink dragon fruit.
Tried this recipe?
Tag @brandiego on Instagram so I can check it out!
91