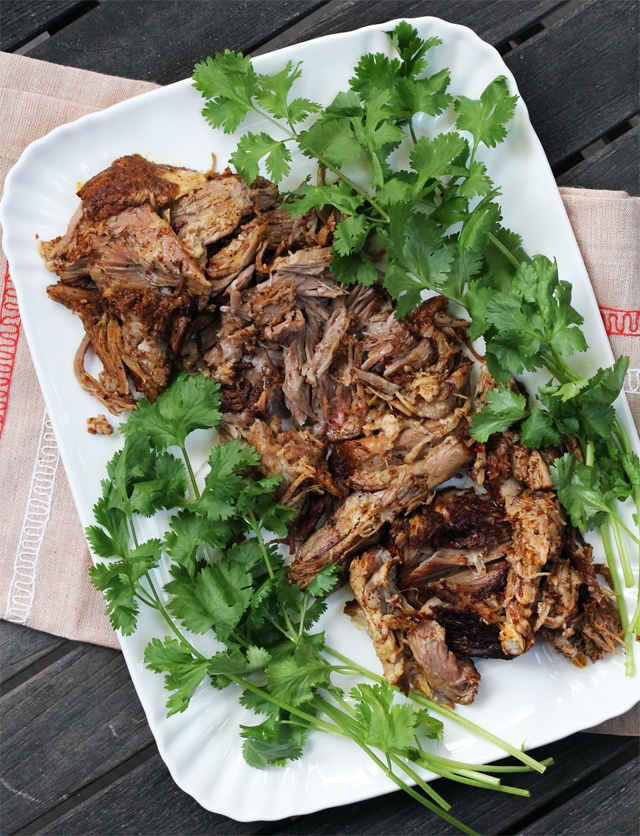 This post may contain affiliate links.
With autumn each year, cravings for slow-cooked pork and beef always seem to work their way into my thoughts, creating an almost insatiable hunger for tender, spiced meat.  I find that nothing banishes the dreariness of a cold, dark evening quite like a warm plate of succulent, slow-cooked meat.  This Yucatan-Style Slow-Roasted Pork, a newer addition to my repertoire, is the perfect cure to my cool weather cravings.  The pork rub is made of a tantalizing array of spices including annatto, cumin, allspice, red pepper flake, smoked paprika and ground ancho chile.  Slathered and sealed, the 3 pound hunk of Boston butt slowly cooks for 4 to 5 hours nestled in an aluminum foil package.  The finished meat is boldly spiced and fall-apart tender.  So, so delicious.
Be sure to check out the video below for step-by-step instruction on how to make Yucatan-Style Slow-Roasted Pork.  This video is a fairly good representation of how long it would take to prepare this recipe (i.e. minimal editing and advanced prep work).  You really can prepare this dish in about 15 – 20 minutes (not including 4 – 5 hours of inactive wait time).  Continue reading for the recipe!
Yucatan is a region in Southeast Mexico located on the North part of the Yucatan peninsula known for its slow-roasted, marinated pork.  This recipe is an adaptation of the pork found in that area.  Enjoy the slow-roasted pork in tacos, burritos, tortas or any other Mexican variation.  Or pair with fresh pappardelle for a simple twist on pappardelle with braised short ribs.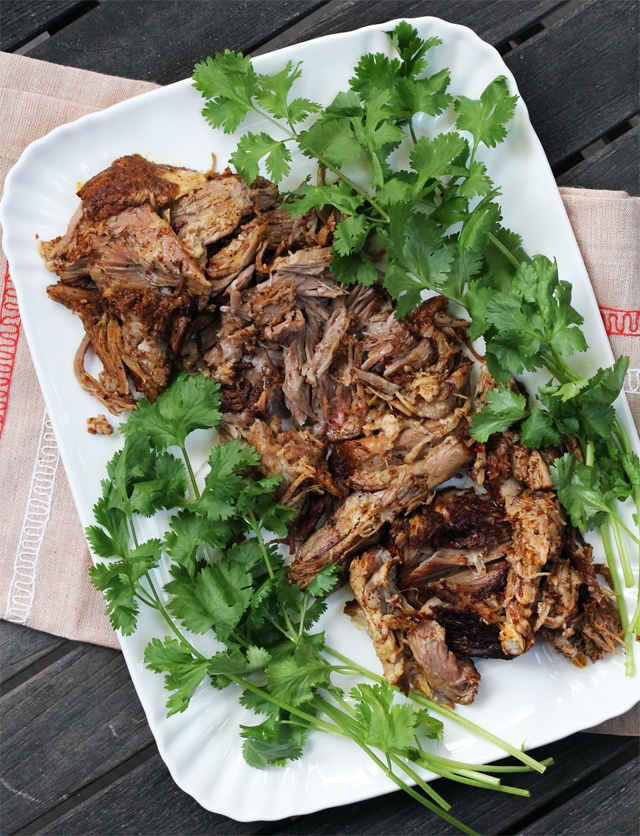 Yucatan-Style Slow-Roasted Pork
Ingredients
3

tablespoons

annatto seeds

3

tablespoons

whole black peppercorns

1

tablespoon

toasted cumin seeds*

1/4

cup

Mexican beer

1

orange, peeled, deseeded and roughly chopped

3/4

cup

peeled whole garlic cloves

3/4

cup

lightly packed fresh cilantro, leaves and stems

1 1/2

tablespoons

kosher salt

2

teaspoons

red pepper flakes

1

teaspoon

ground allspice

1

teaspoon

smoked Spanish paprika

1

teaspoon

ground ancho chile*

3 - 4

pounds

fresh pork shoulder (Boston butt)
Instructions
Preheat oven to 275°F.

Add annatto seeds, whole black peppercorns and toasted cumin seeds to a spice grinder, buzzing into a fine powder.

Pour Mexican beer into the bowl of a food processor. Add chopped orange, garlic, cilantro and kosher salt, processing until the garlic is finely chopped. Add red pepper flakes, allspice, smoked Spanish paprika, ground ancho chile and the annatto-pepper-cumin mixture and process until a loose paste forms.

Lay a large sheet of aluminum foil on the countertop and place the pork shoulder near one of the ends (we will eventually be rolling the pork up, so leave some room to fold the foil). Slather the pork with the paste, coating every inch. Tightly roll the pork up inside the foil, folding up the sides along the way (similar to rolling up a burrito). Repeat again with another sheet of aluminum foil. Just be sure your pork is sealed tightly inside foil. Place the pork "burrito" in a baking dish then pour in a couple of inches of water (about halfway up the side of the foil-wrapped pork). Tightly cover the entire pan with another pieces of aluminum foil then carefully transfer to the oven.

Roast the pork until fall-apart tender (about 4 to 5 hours). You can test the doneness of the pork by sticking a skewer through the foil into the meat. If the skewer encounters no resistance, the pork is done. Set the roast aside to cool for at least thirty minutes before cutting into the foil.

Once the pork has cooled a bit, remove the outer layer of tin foil and cut open the inner layers. Using tongs, transfer the pork to a platter. Save the juices at the bottom of the foil packet (you want the dark, spice-flecked juices - not the water surrounding the packet) to add moisture to the pork if needed.
Notes
* To toast cumin seeds, warm 1 tablespoon of cumin seeds in a small skillet over low heat. Cook, swirling the skillet occasionally, until the seeds are fragrant and slightly darker in color. This process does require some attention. Spices left alone over heat have a tendency to burn.
* Ground ancho chile can be purchased online, but it is very simple to make at home. To make ground ancho chile, start with three whole, dried ancho chiles. Remove each stem. Slice one of the chiles down the side and open like a book. Use a small, sharp knife to remove all of the seeds. Repeat with the remaining chiles. Preheat oven to 350°F. Flatten chiles out on a baking sheet then toast for 5 minutes in the oven. Crumble toasted chiles into a spice grinder, then buzz into a fine powder. The smell is un. real.
Tried this recipe?
Tag @brandiego on Instagram so I can check it out!
3