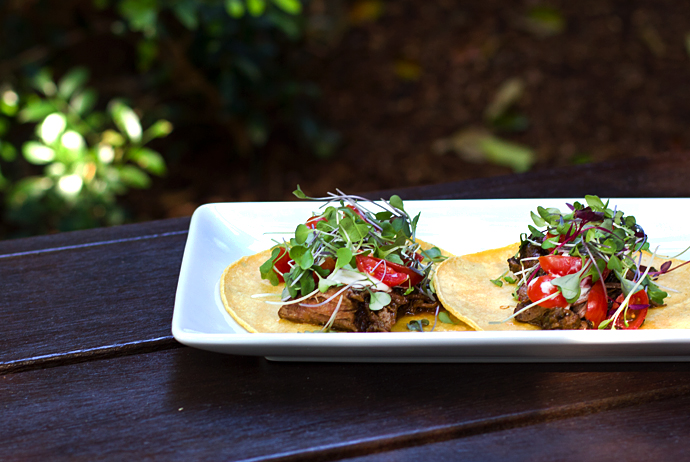 This post may contain affiliate links.
Earlier in the month, I showed you how to make some delicious Mexican dishes including homemade salsa, chips and slow cooker mole.  Today, I am going to tackle Mexican Braised Beef Tacos.  Seared beef is braised for hours with fire roasted peppers, red wine, tomatoes and caramelized onions.  The finished beef has a deep savory, spicy flavor with melt in your mouth texture.  Topped with Mexican crema, tomatoes and greens, this taco could easily be mistaken for its authentic street style counterpart.   FYI, this is a slow cooker recipe (I just didn't feel like putting slow cooker in the title).  Continue reading for the recipe.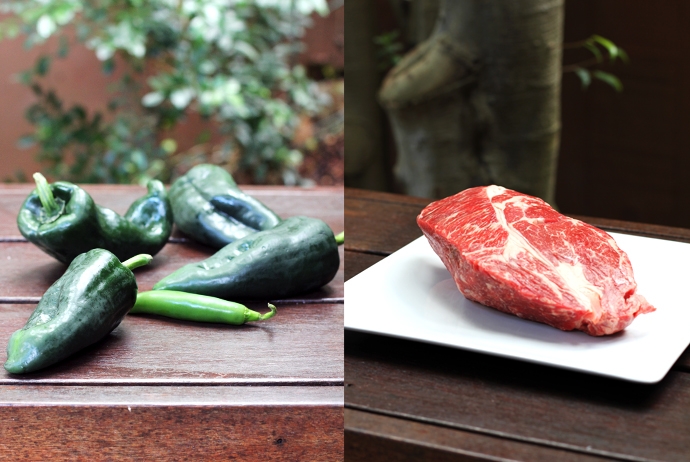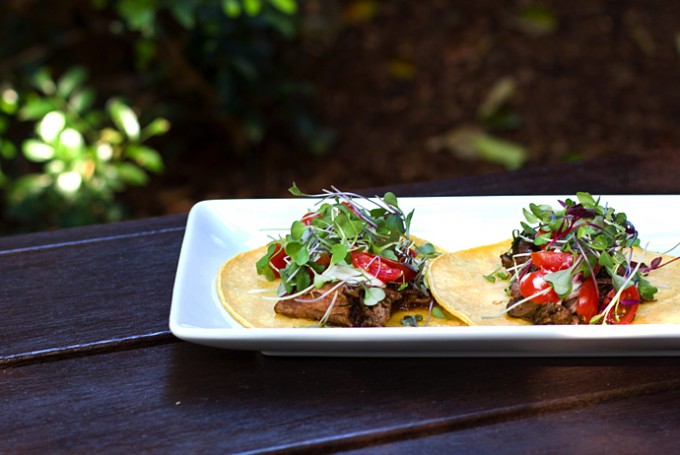 Mexican Braised Beef Tacos
Ingredients
2

pounds

boneless beef chuck roast, trimmed of excess fat

4

poblano peppers (sometimes labeled pasilla in the grocery store)

1

serrano chile

2

tablespoons

vegetable oil

Kosher salt

Freshly ground black pepper

1

medium yellow onion, sliced (not thinly, but not too thick)

1

clove

garlic, minced

½

cup

red wine

1 (14.5

oz.

can) diced tomatoes (preferably fire roasted)

1

tablespoon

fresh oregano, chopped

Corn or flour tortillas

Tomatoes, chopped (I used cherry tomatoes)

Mexican crema (you can also use sour cream thinned out with fresh lime juice)

Greens (I used microgreens for aesthetics. Any type of lettuce would work here)
Instructions
If your beef is refrigerated, take it out of the refrigerator 30 minutes before you plan on making this dish.

Turn your burner on full flame. Using a long fork, hold one of the poblano peppers directly over the flame until the skin starts to bubble and blacken. Flip the poblano and blacken the other side. Once completely roasted, place the chile in a bowl and repeat the same process with the remaining poblanos and serrano chile. Cover the bowl with a kitchen towel or plastic wrap and let the chiles steam and cool for several minutes. If you don't have a gas stove, you can also roast the chiles under a broiler.

Transfer roasted peppers to a cutting board. Scrape off the blackened skin using the tip of a knife. Discard the skin. Cut off the stem end of each pepper and slice in half. Remove the ribs and seeds. Chop peppers into ½ inch pieces and set aside (a rough chop is fine here).

Season the beef with a generous amount of kosher salt and freshly ground pepper. Heat a large skillet over high heat. Once smoking hot, add the vegetable oil and then quickly and carefully add the beef. Sear for 2 minutes on each side and set aside. Leave the drippings in the pan.

Reduce heat to medium-high, then add the onions. Cook until softened and slightly caramelized (brown, but not black), stirring often (4 - 5 minutes).

Add chopped chile peppers and garlic. Cook for an additional 2 - 3 minutes. You want the garlic to be fragrant and lightly brown, but not blackened.

Add red wine and stir, scraping up any brown bits off the bottom of the pan. Cook until the wine has reduced by half. Add diced tomato and bring mixture to a boil.

Pour the mixture into a large slow cooker. Set the seared beef down in the middle of the vegetables. Cook on low for 6 to 8 hours. You will know the meat is done when it easily shreds apart when pulled between two forks.

Turn your slow cooker to the warm setting (or off if you don't have a warm setting) and scoop out the beef with a slotted spoon. Shred the beef using two forks, then return the shredded beef to the slow cooker. Season to taste with kosher salt and freshly ground black pepper. Finish with a sprinkling of fresh, chopped oregano.

To warm your tortillas, wrap them in a damp paper towel and microwave on high for 1 minute.

To serve, place some of the shredded beef in the middle of a tortilla. Drizzle with crema and top with tomatoes and greens.
Tried this recipe?
Tag @brandiego on Instagram so I can check it out!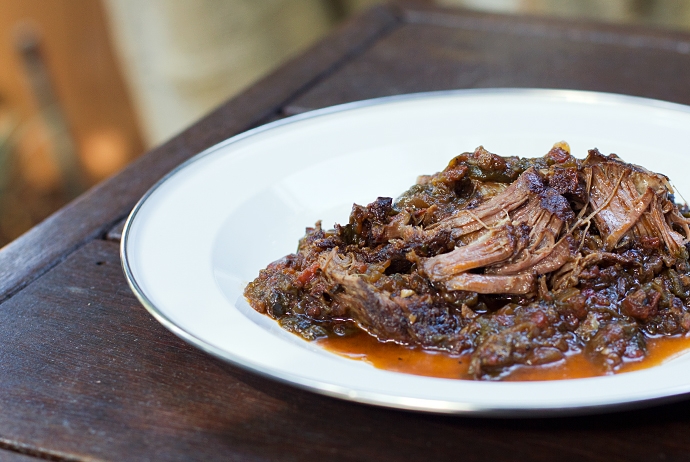 23